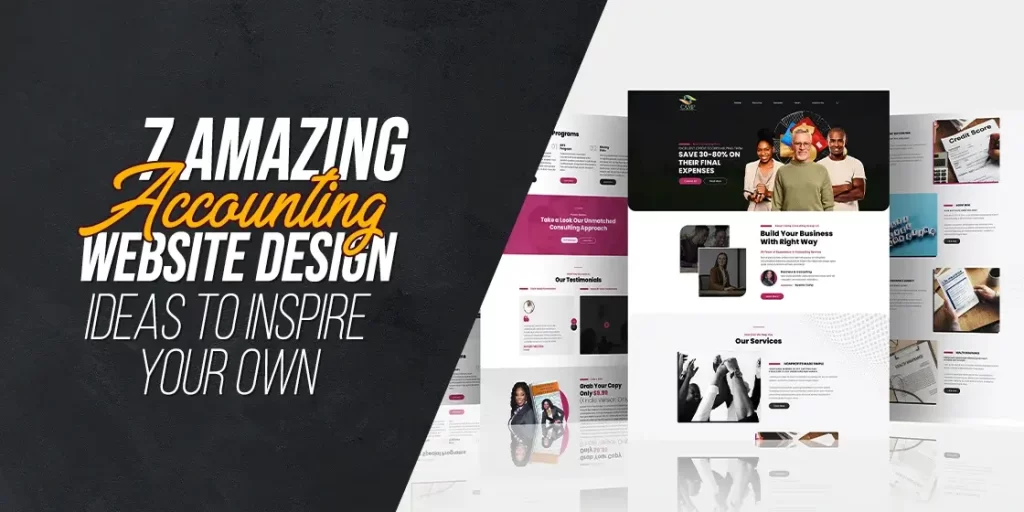 Table of Content
How to Create an Awesome Website Design for Accountants That Attracts and Informs
Businesses today, no matter the profession, require a well-designed website to showcase their services to prospective customers. This is especially important for companies and service providers that offer professional business services such as recruitment or booking/accounting.
That is because these services are essential to the proper and seamless working of an organization, and there are many companies always on the lookout for high quality service providers. But in order to portray those services effectively, you need to come up with the right recruitment or accounting website design ideas.
So what does a great website design for accountants look like? What are the metrics that dictate whether the web design is good or bad? And how can we ensure that the web designs we create suit and embody the aesthetic of the accounting firm it represents?
Let's take a look at some great accounting website designs and see what it is about them that makes them so success. We will also discuss how an accounting firm can help the hired web design company bring their vision to life, incorporating some great UI/UX principles to enhance the experience.
Understanding the Need for Accounting Website Design Ideas Today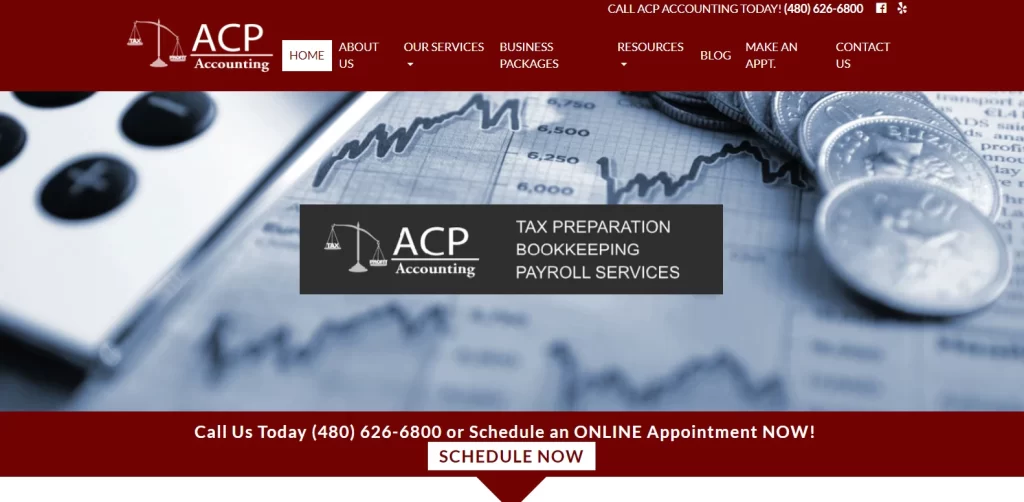 Accounting and bookkeeping is the backbone that helps a business run effectively. Without it, there would be utter chaos, as businesses would have no idea how much money they had, the expenses they had incurred, revenue generated, or profit earned.
In fact, without accounting, there would be no business, as even the system of barter requires some form of calculation for give and take. That is why businesses today, no matter their niche, look to invest in quality accounting service, whether in-house or via a service provider.
For larger firms, it makes sense to hire an in-house accountant or accounts team to manage the workload. Smaller companies, on the other hand, can make do with hiring an accounting firm when needed, or use an accounting software.
But how will these brands who need an accounting services provider find potential candidates? For that, the accounting firms and even independent accountants would need to create a website. That would allow them to show up when a potential client looks for their services over the internet.
But why a website? Why not opt for a social media account? Well, accounting is a serious business, and appearances matter. For an accounting firm that gives off a laid-back vibe, potential customers may think them too relaxed to handle such a critical business task. Moreover, the lack of a website may also give off a feeling that the accounting business isn't doing well, which doesn't offer confidence in their services.
Therefore, a well-designed website, such as the one for ACP Accounting, that portrays the accounting firm's services perfectly for its consumers is essential for that company's success. It would allow them to have a well-defined digital presence, which would help them gain exposure among potential clientele, as well as allow for marketing opportunities in the future.
Moreover, it would also allow them to gather publically accessible testimonials for their services, which will help them establish a market reputation in order to stand out from competitors that don't.
What Defines a Great Website Design for Accountants?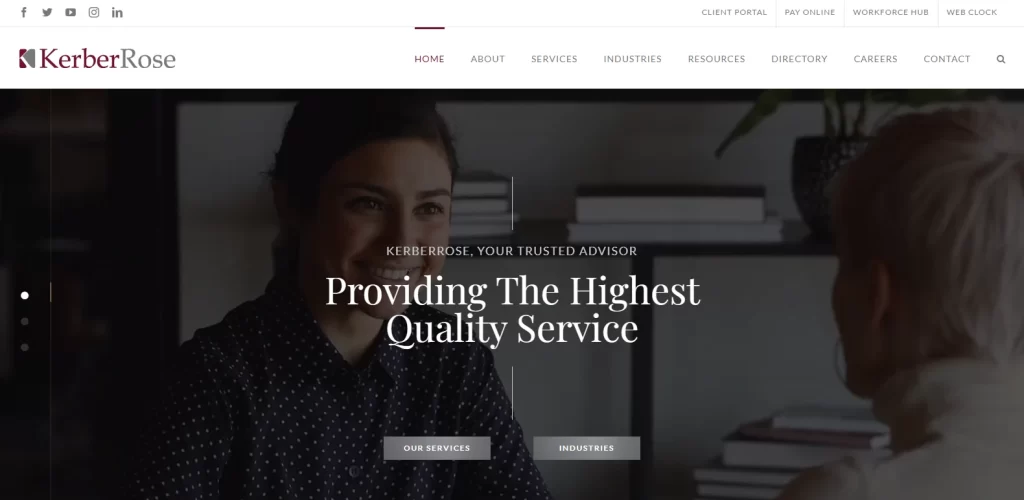 Unlike some businesses such as marketing and advertising services, accounting website design ideas generally tend to follow a neutral, corporate style, similar to Kerber Rose's website. Rather than highlight factors like creativity and out-of-the-box thinking, accounting firms pride themselves on being a serious addition to a business, helping them stay afloat and grow.
Therefore, a great website design for accountants would have a clean and distinct design, with a UI that is easy and intuitive to use, as well as some form of social proof like testimonials or case studies. Moreover, it would provide an easy way to contact the company, and via multiple channels, including calls and email. That is how an accounting firm would ensure that their website design is a success.
7 Examples of Great Accounting Website Design Ideas to Inspire You
Now that we have discussed why an accounting firm needs a website, as well as the characteristics that define successful accounting website design ideas, the question is, where to start? Knowing what a good website design should have is a far cry from knowing what a successful web design would look like.
Therefore, whenever you start designing a new website, it is always recommended that you observe established websites within that same niche, so that you have an idea of what works and what does not. That will help you establish the design elements and aesthetics that your target audience expects, ensuring that your website is well received.
However, not all business websites from the same industry would suit your brand vibe either. For example, if your firm specializes in serving small business such as single proprietor or corner stores, then your website design needs to appeal to that subset of consumers. And if you take inspiration from an accounting services provider that deals with corporate clients and other big entities, then your design efforts would fall flat.
Therefore, to find the right design inspiration, you need to understand the style of your business, and match the inspiration accordingly. Listed below are some examples of accounting website design ideas that offer a variety of inspiration, from corporate firms to single-accountant services, and even a SaaS option.
Let's take a look and find out what they have to offer in terms of design inspiration.
Accounting Center "Cifir"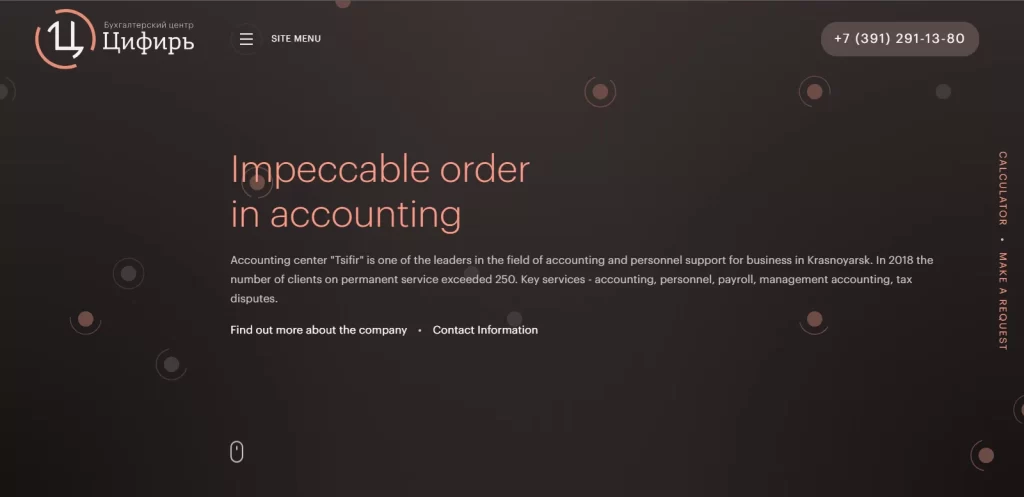 The first option on our list is a design for a Russian accounting firm called Accounting Center "Cifir" that offers a novel idea to website design. The website uses a unique way of navigation, where instead of the page scrolling down itself, a new card comes into view representing the next fold of the webpage. It starts with an aesthetically pleasing homepage, which tells the user to scroll downwards. Once a user does that, they are automatically taken to the services page, which has an interesting navigation scheme.
To make the process more intuitive, there is a numbered navigation bar to the left of the webpage, where a user can directly click on the desired fold instead of scrolling through the cards manually. Moreover, if the user continues to scroll after the last card, the website automatically loops back to the starting fold, making it an awesome design feature.
The color scheme is a light pastel, which makes it easy on the eyes. The logo fonts used for its headings are easy to read, colored a dark shade that allows them to be quite visible against the lighter background. That, combined with the navigation style, makes this one of the best accounting website design ideas to emulate, no matter if you serve small businesses or large corporate firms.
RHN Chartered Professional Accountants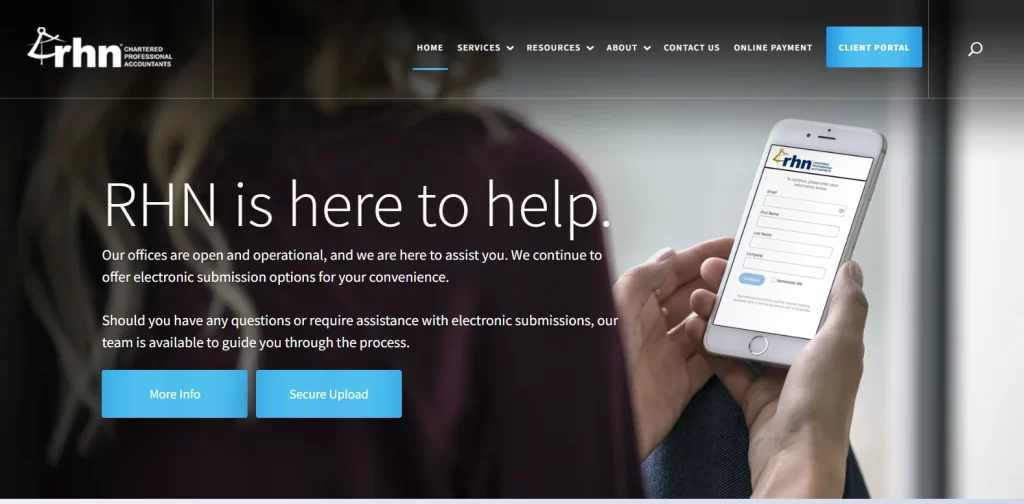 The next option on our list is the website for RHN Chartered Professional Accountants. RHN is an accounting firm that prides itself on hiring registered CPAs only, hence the name of the company. And this elitist mentality is reflected in their corporate-style web design.
Based out of Canada, the website and the business it represents portrays a vibe of professionalism and etiquette. The design starts with a call-to-action that either takes a converted visitor to a secure portal to upload their financial documents, or redirects someone still on the fence towards more information.
The design they follow is a traditional layout style found in nearly every web design guide, and followed by many different professional websites, not just accounting firms. This layout is designed to guide the visitor through a small tour of the company, such as their history, culture, locations, and testimonials, before taking them to an order form for them to sign up.
This style conforms to the belief that the best way is to go the tried-and-tested way to ensure that the final website is successful both commercially and among its users. And there is no better way than to use the traditional business website layout style when creating a website design for accountants.
Bromhead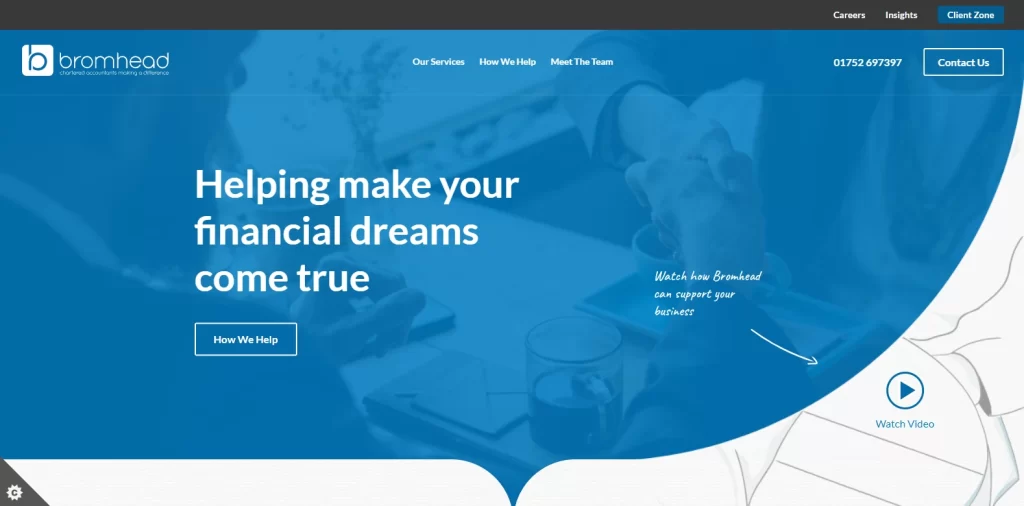 Bromhead is another unique accounting website that utilizes some creative elements into its business website design in order to enhance the user experience for those that visit their website. The layout is clean and intuitive, and the color combinations of bright blue and white make an awesome duo.
The intro takes us to a call-to-action that takes the visitor to their "How We Help" page. To the right side of the header the design is made to mimic as if a sheet is pulled back, underneath which you find the option to play a video.
Clicking on it opens up a media player within the window, where an animated whiteboard video t3ells the story of the brand to its users.
Over the next few folds, we see that the brand uses the concept of negative space quite effectively, using whiteboard-style drawings to elevate the impact of the negative space. Moreover, the arrangement of the text throughout the homepage is quite aesthetically pleasing, something rarely seen in many types of websites representing professional service providers.
Van Reybrouck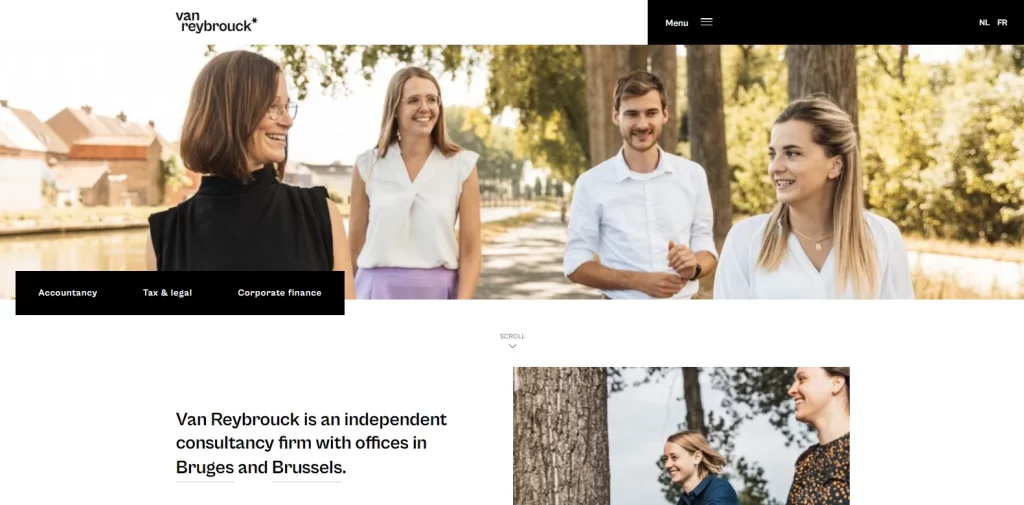 Representing the Belgian accounting firm of Van Reybrouck, this website design for accountants takes a unique approach to make their layout interesting. The design uses an asymmetric block content format, which constantly draws the eye from one section to the other.
Despite the unusual layout style, the website is one of the more successful accounting website design ideas, due to the fact that their designers have managed to bring a sense of harmony to it. Nowhere throughout the design does one feel as if something is out of place, or runs into confusion as to where to go next. This balancing of the asymmetric visual elements requires careful expertise, and is no easy task.
The color scheme, for the most part, is black and white, with images providing relief from an otherwise drab and minimalist website design. However, combined, the elements complement and uplift each other for a great visual impact.
Swallow Accountancy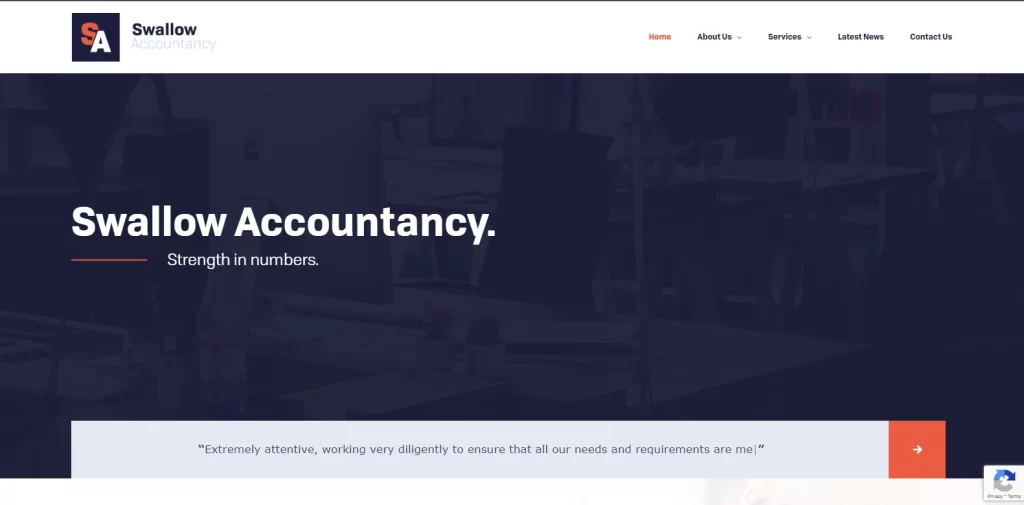 While Van Reybrouck has a somewhat minimalist design, no other entry on our list of accounting website design ideas has a design so utterly minimalistic as the design for Swallow Accounting. Using modern web design trends, the website uses a clean and sleek design to portray themselves as a modern accounting firm.
The header is dark gray, yet translucent that shows hints of a business image behind it. Below it, a small banner has scrolling and unfurling text on it that displays customer testimonials right at the start of the website.
The color scheme is a mix of black, light blue-gray and pastel red, which uses a white background to make the colors pop. The homepage is quite sparse, with little text in each fold, but each element easily visible even on small, mobile device screens.
Carrie Braswell Accountant Services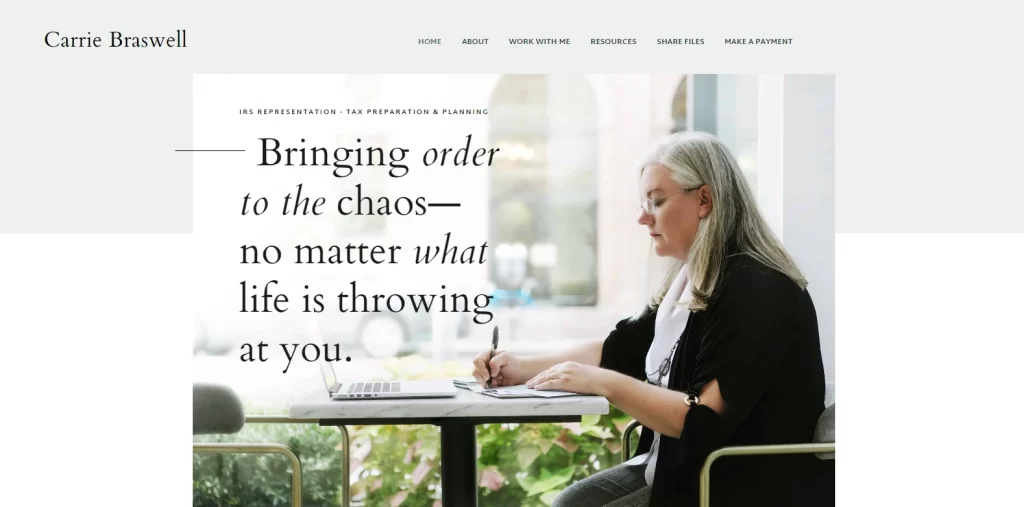 The website design for Carrie Braswell Accounting Services shows us how to create a successful website design for accountants who work independently. Carrie Braswell is a professional tax accountant practicing out of the United States, and has a professional website that effectively portrays her expertise in the field for potential customers.
You will notice that unlike the previous websites that represented entire accounting firms, this one takes a different approach in terms of both design as well as the content. In fact, this style of website design can often be considered among personal branding examples, as it promotes the individual as well as the service they provide.
The typography utilizes a mix of vintage fonts that have been modernized a bit, yet retain that feeling of history and hidden meaning. The color scheme is as a beautiful gray over white, which is interspersed with images that make the overall website easy to view and read. Overall, it is a great example of how an individual professional can create a website that can compete with larger firms.
FreshBooks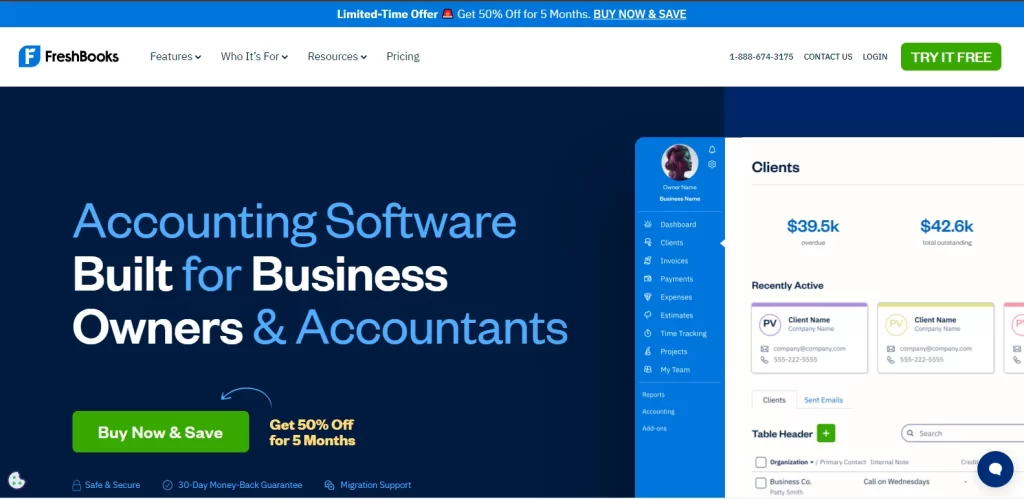 Finally, we have the website for a SaaS accounting website called FreshBooks that offers a subscription-based accounting tool for businesses who prefer to do their bookkeeping themselves, yet need the right tools for it. Many businesses, especially ones that are quite small, often do not care to hire an accountant for their bookkeeping. That is because they believe that their business doesn't justify the cost entailed. Similarly, business owners who have someone on their staff skilled with accounting may not feel as if their need to hire a professional accountant.
In that case, the best option is to subscribe to an accounting software service like FreshBooks here, that simplifies and streamlines the process for the amateurs. Now, while still part of the accounting website design ideas list, the approach required creating a website for such an accounting business is quite different.
In cases such as these, the approach is similar to what you would follow when developing your product design strategy. The purpose is to make the product simple to understand and use, and that is what you want for your website.
Rather than market your services, your website would promote your SaaS accounting software product. And the web design would incorporate elements that showcase the product in its best light, while at the same time slowly influencing the user into converting, so that they sign up or subscribe to it.
Overall, if you are promoting your accounting software, using the right websites for inspiration could be the difference between success and failure.
FAQs
What is an accounting website?
An accounting website is defined as a business website that represents an accounting firm or an independent accountant. It is designed to promote the service provider and their list of services to potential clients, as well as allow them to display their testimonials and case studies.
What makes for a good accounting website?
A good accounting website should have a clean layout, with easy to read text, intuitive navigation, a color scheme that is easy on the eyes, highlights the service provider's success, and is responsive.
Conclusion
To sum it up, finding some good accounting website design ideas is not difficult. In fact, it is downright easy. However, finding the right website design for accountants for your specific business type, that is a little more difficult. Therefore, before you embark on the process of creating your own accounting website, you need to ensure that the websites you took your inspiration from have a similar business style.
And if you still need help finding the right type of website inspiration, this article and its list of inspiring accounting website designs is a great place to start the process.