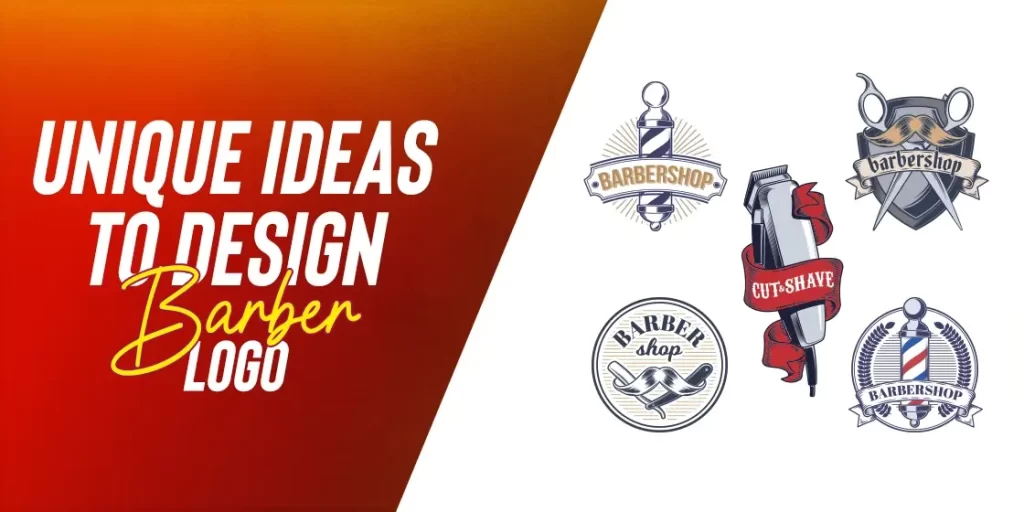 Table of Content
Know About Creative Barber Shop Logo Ideas That Can Elevate Your Branding

We all know the fact that branding is considered important for every business. It is an essential thing that helps businesses to get recognition in the market. Without doing branding effectively, no businesses can market its services strongly in the industry. For a barber shop, it is equally considered important like for others in the market. It lets the people know about the services of a barber that precisely helps in spreading word of mouth marketing. In this case, the logo of a barber shop play a vital role in the success of branding. It is therefore advised to work with unique barber logo ideas that can give your branding an edge over others.
Generally, people think that barber shops do not need any kind of branding. This concept is quite outdated because branding has become an integral part of every company. In our opinion, barber shops specially need them because of having high competition in the industry. From logos to advertisements, they need to do everything perfect, so that people can take note of their services. If they will try to think conventionally having no branding plan in mind, then their growth will certainly remain stagnant just like others.
So designing a creative branding logo is quite important for barber shops. In this blog, we will be looking into this topic in detail, so that you can know which type of barber logos can be used for branding. It is best recommended to always take professional logo designing services to create these logos, as experienced agencies precisely know how to create catchy branding stuff for companies.
Let us first start from the basics below understanding why logo branding is considered important for hair-cutting shops and other grooming centers.
Importance of Barber Logos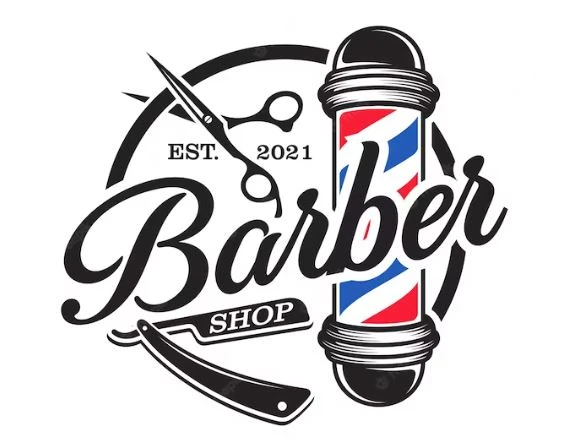 It is a common perception among the people that barber shops do not need a logo design. They think of it as a random shop, which is why this false perception has been made lately. Factually, every business that is offering some sort of services should need a creative logo design. It is important because logos represent the identity of any business. It lets the people know about the background of a company and what it has to offer customers. Without having a logo, there would be no recognition, as well growth for any company in the market.
For barber shops, the case remains the same. They cannot get the market attention unless their logo is known to the people. Nowadays, there are so many grooming centers working around, hence the competition among them is also rising quite fast. To get an edge over this competition, branding is considered to be the best marketing tool, and for that, logos matter a lot. It is the first thing that comes into the notice of people, hence it should be designed very carefully.
Currently, different types of logos are being used by barber shops. Some of them look conventional, while some are created with unique shapes. Both of them works well for branding, but it is best recommended to always go for those emblem logos that can define your company identity distinctively. It helps to highlight your logo among others, allowing customers to show more interest in them. This design technique not only works well for barber shops, but for all types of men grooming centers.
Key Barber Logo Ideas That Can Solidify Your Branding
Many people do not know how to create a barber logo that can showcase a perfect image of their business. Some people think that this logo can be randomly created by using simple scissors and blades. Well, this is a partial approach, as there is a lot to showcase in this stunning logo.
If you are also one of them who do not have any barber logo ideas to start with, take a look at the few key points defined below. It will clear up your concept and will give you tons of ideas to design this logo efficiently. Let's take a look at them below.
Illustrated Logo Design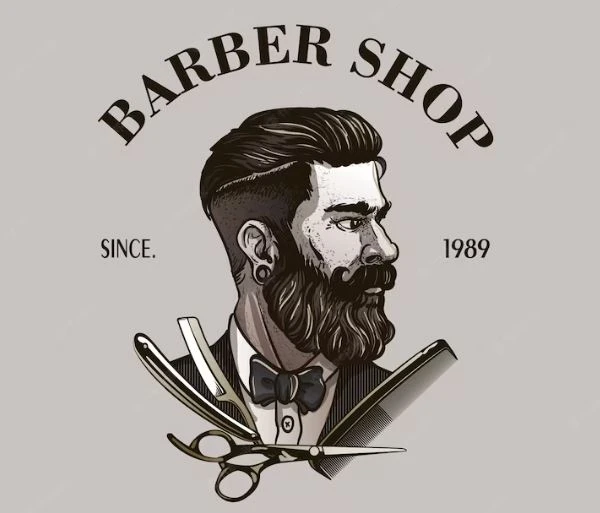 The most popular barber logo design is the illustrated figure of a barber. It is used commonly by the barber shops, as it depicts a clear theme to the customers. From adults to kids, everyone can easily understand the meaning of this logo as it gives a clear message about the grooming services. A lot of shops use these logos with a little variance of vector pictures. Some of them showcase a guy with stylish beard, while some go for ecstatic hair styles in the picture. It basically depends on their own preference how they want to represent the shop identity to the people.
Talking about the color selection, you can use different types of colors in the barber logo. Generally, people prefer to go with the color combination of white and black, as it fits perfectly with the barber logo theme. However, if you want to add a bit of flashy flair in the logo, then you can choose other colors such as blue, red, brown and more others. Just make sure that these strong colors do not look extra gaudy in the design, as people often commit such mistakes in a bid to make the logo more prominent.
Abstract Shape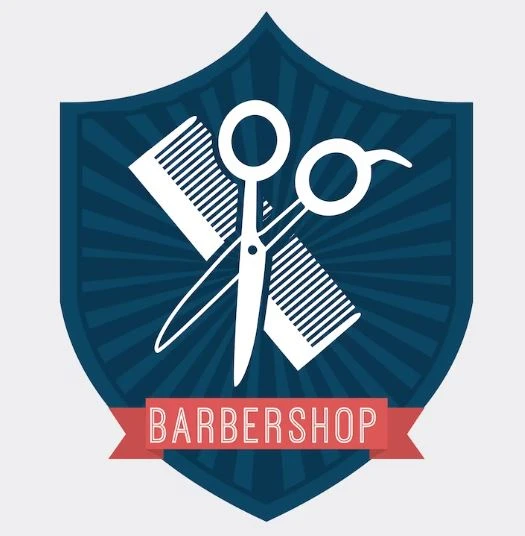 Another logo type that is popular with barber shops is the abstract logo. This is a kind of an interesting choice when it comes design barber logos. The abstract shape, as we all know, is quite different from the conventional figures. It does not depict any figure that you can understand easily. Instead, it goes with a random yet creative shape that can grab the attention of people at the first glance. Due to this reason, many companies like to go with abstract logos, as it offers a distinctive branding identity to the companies.
Considering the branding of barbers, you might think how an abstract shape will define their identity. Well, it is certainly a right thought, but to bring uniqueness in the design, you can go with type of logo. The color selection for an abstract logo should be done very wisely, as any wrong pick could ruin the visuals of whole design. If you do not have much idea how to design an abstract logo or what type of colors should be picked for it, take a look at the examples available on the web. It will let you know how others have designed this logo using different types of techniques and styles.
Wordmark Logo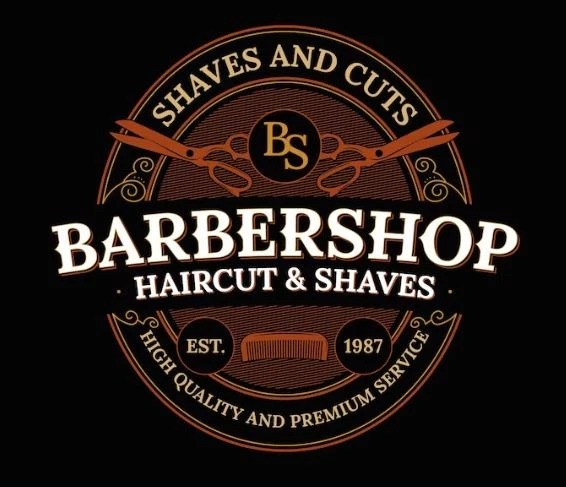 If you want to showcase a simple identity of your haircutting business, go with the iconic wordmark logos. This is a type of emblem that is used by many companies around the world. From IT to medical firms, wordmark logos are popular among everyone. The reason is that these logos look very simple and their styling always look decent to the eye. Earlier, it was used only by tech teams, but afterwards other firms also got attracted towards them. They liked the idea of defining their company name in the logo, so that people can directly know about them.
If you have a barber shop that is looking to exhibit a simple branding identity in the market, go with the option of wordmark logos. It will give you a great opportunity to showcase your name in the logo. This way, people will get to know about yourself as professional haircutting expert. It will help to enhance your personal branding, and will build a strong reputation of your name in the industry.
Best Tips for Barber Logo Design
Many beginners often struggle while creating a barber logo. It looks quite simple, but is quite difficult when it comes to practical work. It is therefore recommended to work with right barber logo ideas that could help you to design a quality emblem.
Below, we have listed some important tips that will let you know how to design these logos perfectly. Let's take a quick look at them below.
Create Appealing Visual
The first thing that is important for a barber logo is to look appealing. It is a sole trait that works well to attract customers at the first sight. People generally think of grooming whenever they see any logo of a barber shop. This is a instinctive perception that is found among everyone. It is therefore advised to get advantage from this perception by creating a logo that looks visually appealing. It will help to get everyone attention at the first glance, enabling people to show interest in visiting your shop.
Pay Attention on Typography
Next up, you need to pay attention on the typography of your barber logo. It is important because the wordmark will represent your name in the logo. People generally look at the barber names with a lot of interest. So, mentioning it on the design creatively is quite important. You can pick different types of fonts to describe your name smartly on the design. From recursive to masculine fonts, there are a lot of options with which you can design these logos boldly.
Pick Catchy Colors
Another thing that should be kept in mind while creating a barber logo is the selection of colors. A lot of times, logos only look bad due to having bizarre colors. This problem can be avoided by knowing your core theme in advance. This will help you to pick the right color combination that can showcase the business background accordingly. Meanwhile, it is best advised to go with the combination of black and white, as it suits more with barber logos.
Frequently Asked Questions (FAQs)
Why logos are important for barber shops?
Just like any other business, branding is also important for barber shops. It helps them to get a strong recognition, which precisely allows to spread awareness in the market. This is the reason why logo branding is considered important for barber shops.
What type of logos can be used for barber shops?
Nowadays, barber shops use different types of logos. From simple wordmark to illustrated design, different types of logos are used for barber shops depending upon the preference of personal branding.
Where to find best barber shop logo ideas?
Many beginners often fail to work with right barber shop logo ideas. It generally happens due to lack of experience and knowledge of the market. It is therefore best recommended to look for the real world examples that can let you decide which type of logo should be made for barber shops.  
What type of colors should be used in a barber logo?
You can use different types of colors in the design based on the variety of your barber logo ideas. Generally, you can go with black and white colors, however, other options can also be selected according to personal choice.
Which is the best typography recommended for barber logos?
If you are creating a wordmark logo, it is best recommended to select a typeface that can exhibit boldness in the design such as recursive, 3D typography and more others.
Final Words
That takes us to the end of this blog in which we have discussed different barber logo ideas in detail. It is quite important to work having these ideas in mind. They allow you to conceive right concepts that can exhibit a strong image of your business. However, of you will try to work without having any barber shop logo ideas, you will struggle to create an attractive design. It will not only waste your time, but will also put an unnecessary pressure on your thinking process. It is therefore best recommended to work smartly by following right tips, so that your logo can have a distinctive look.
Meanwhile, if you are looking for a design agency that can help you to create quality barber logos, contact us today. We've got years of experience in branding, and our experts precisely know how to design different types of logos as per the client needs.