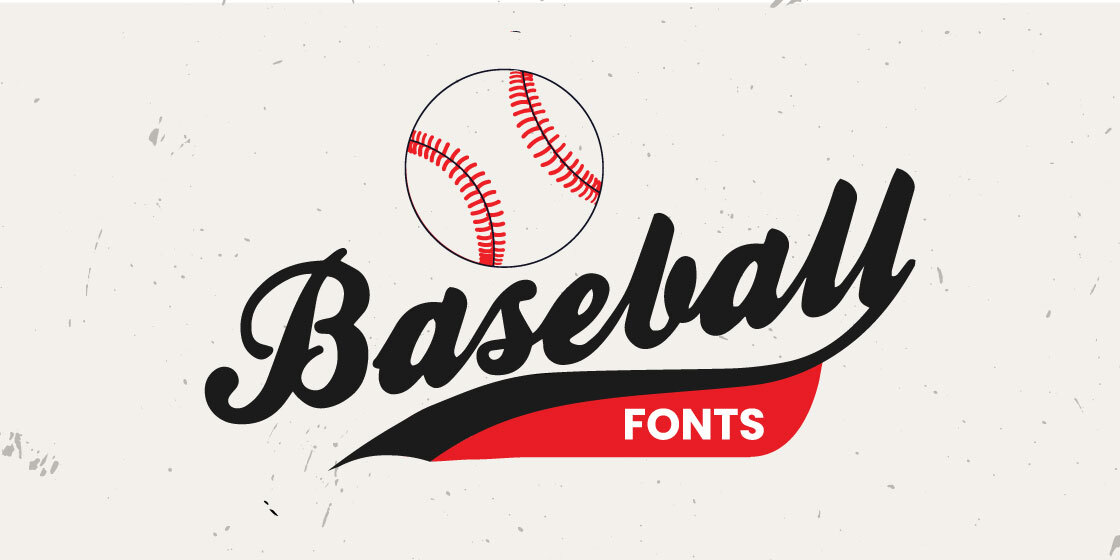 Discover the best baseball fonts that you can use for your brand's logo
Baseball – America's favorite pastime. The classic baseball font has a retro vibe, intricate characters with flares and tails. Looking at a typeface sporting similar designs automatically takes us back to the days of our childhood.
Considering that pro baseball came into existence over a century and a half ago, the font and letters used by the teams were designed to look good on various mediums. That includes clothing and apparel, print media, even hand-painted banners, and signs. That made them easy to reproduce before the advent of industrialization and commercialized printing setups.
For a logo designer, choosing the right font that enhances the logo's essence is very important. Listed below are 15 of the coolest baseball-themed fonts, which can help a designer choose the typeface that best suits their needs. Let's read on to find out which sports fonts made the list.
1. Vintage Baseball Fonts
Baseball and vintage are two concepts that go hand in hand. With pro baseball starting over 150 years ago, the aesthetic of the sport is timelessly retro. From the uniforms' design to the typefaces used for team logos, the effect of this long legacy can be seen in everything.
When going for a unique look, it is good to ensure that the graphic design services you hire understand the aesthetics you want your design to embody.
Below are some of the best old-school-style baseball script fonts inspired by baseball's historic designs. Let's find out what they are.
1.1 The Blendhes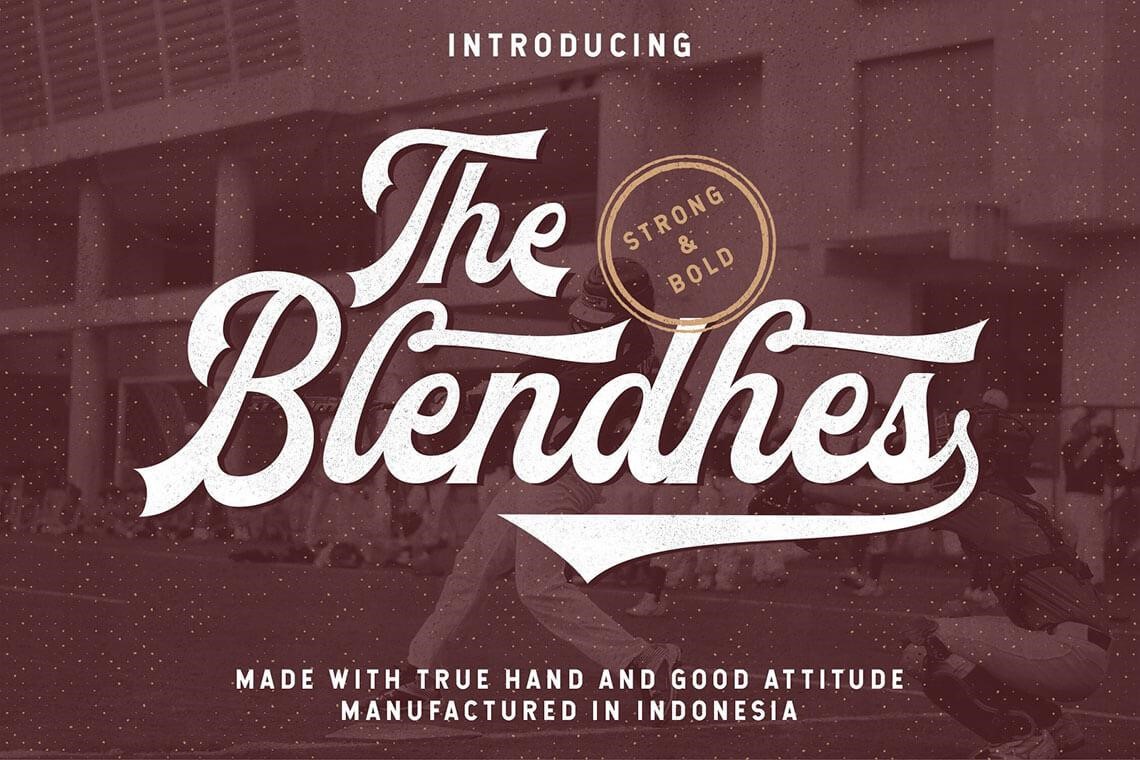 This baseball font features a bold script, which brings to mind the vintage logo scripts of old. It provides many artistic stylings that allow designers to create and customize their logotypes to their liking.
This script is excellent for a variety of uses, including:
Logos
Branding and promotional materials
Apparel designs
Digital art
And many more.
This font is available as a limited version for free, containing just the primary characters needed for personal projects or testing the font before buying the complete version. The full version features:
Uppercase letters
Lowercase letters
Numbers and common symbols
Stylizing features such as ligatures, swashes and trails, and both contextual and stylistic alternates
Characters for different languages are also included in the set
While the main characters are used without additional software, the symbols for other languages require any OpenType-capable software such as Adobe Illustrator.
With this retro script font in your quiver, you will be set for any vintage-themed logo projects.
1.2 The Buinton Script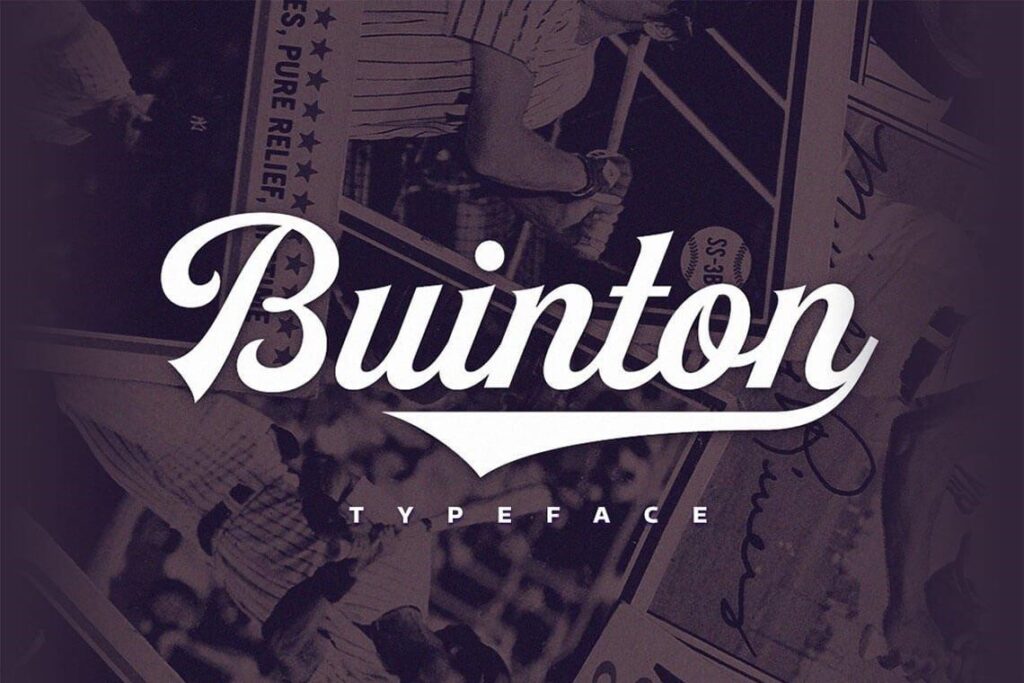 This baseball script font embodies an old-school sophistication. The characters utilize a mix of various design elements to form a visually appealing formal design that works well for multiple applications like:
Logos
Letter-based digital art
Apparel design
And many more
This versatility of use is because the font set gives us a vast collection of characters to choose from. That allows designers to diversify their designs by using the various styling elements accordingly.
Designed by Mika Melvas, the Buinton script features:
Serifs at the beginning of each stroke of a character
Swashes and ligatures
Both contextual and stylistic alternate characters
Differently shaped tails with different sizes according to the design's needs.
Using this font for your sports logos and related designs is a great choice, especially if you want to incorporate the opposing concepts of vintage and modern into your brand. That shows your commitment to the balance between honoring a legacy yet moving forward with the times.
1.3 The Marcelle Font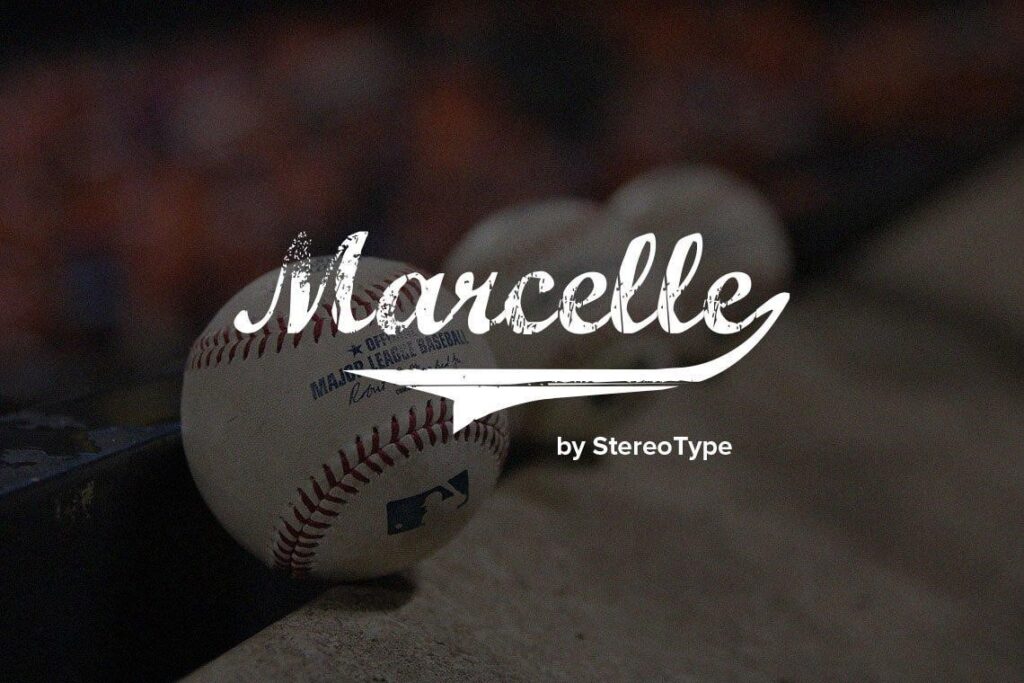 Marcelle is an old-style baseball font, which has seen more than a decade of use. This script's look is quite rustic, making it an excellent choice for designs that call for a vintage or weathered look.
The thing that sets this font apart from all the other fonts on this list is that this font has the most significant number of swash styles available for use. That helps the designers use this font to stand apart and be distinct by using the swashes judiciously.
The script's smooth-flowing design ending in a swash brings to mind the classic cursive script style, which has always been a sign of elegance and sophistication.
The Marcelle can be used for:
Logo designs
Apparel design
Creating digital art such as digital album covers, etcetera
Banners and other promotional materials
Suffice to say that using this time-proven baseball script font can be a great choice to design your baseball team logo.
1.4 Fenway Script and Sans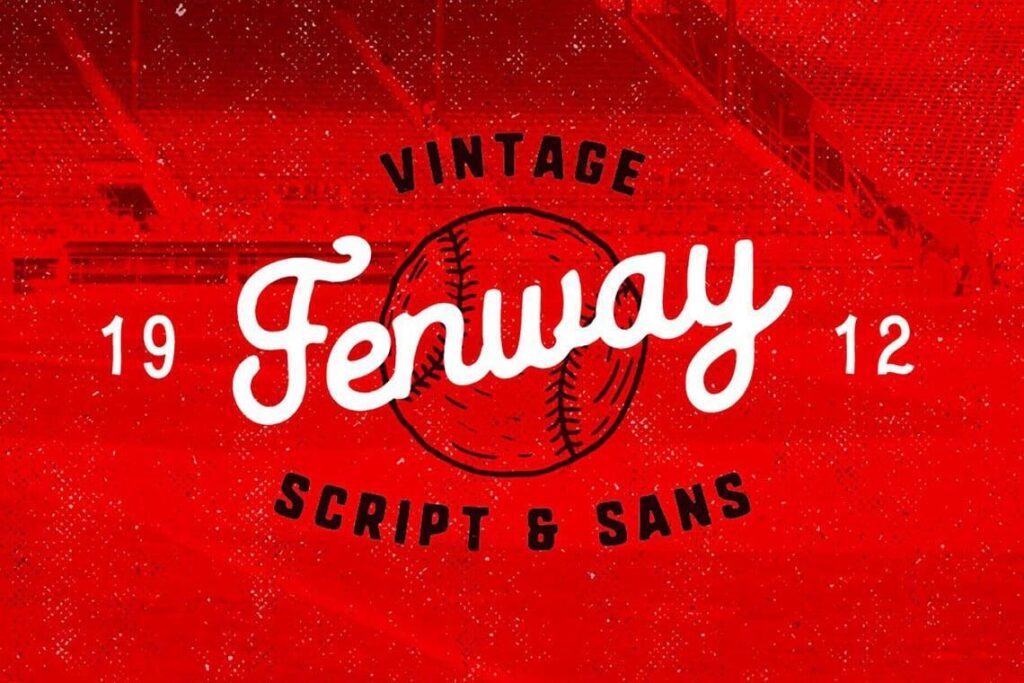 Fenway Script and Sans is a classic sport-oriented font inspired by the vintage sports-based scripts used in the USA, named after the famous Fenway Park in Boston, Massachusetts. Fenway Park is a popular baseball field in America, hosting baseball matches for more than a century.
Knowing the origin of the font's name, we can safely assume that the font has been inspired by the teams' retro baseball logo art in the decades past. By incorporating design elements from such classic fonts and typographic art, this font can be used for:
Baseball related Apparel design
Banners, posters, and other promotional material.
Souvenirs and other memorabilia design
This font's versatility comes from the various styles it has incorporated into its design, which makes it suitable for use in multiple instances.
Fenway script and sans is available in two main styles, mainly:
Regular and vintage
The vintage sans
This font is best suited for logos and designs directly relating to baseball. The entire aesthetic and even the name revolve around that sport.
2-Free Baseball Fonts
Buying a premium font does not guarantee that it will be the best choice for your logo. Sometimes, the best fonts might be found in the last place you could imagine.
Below are some of the most versatile baseball-inspired fonts, helpful in designing logotypes, banners, headers, and much more. And the most important part? They cost nothing if you want them for personal use!
2.1 The Makeup Font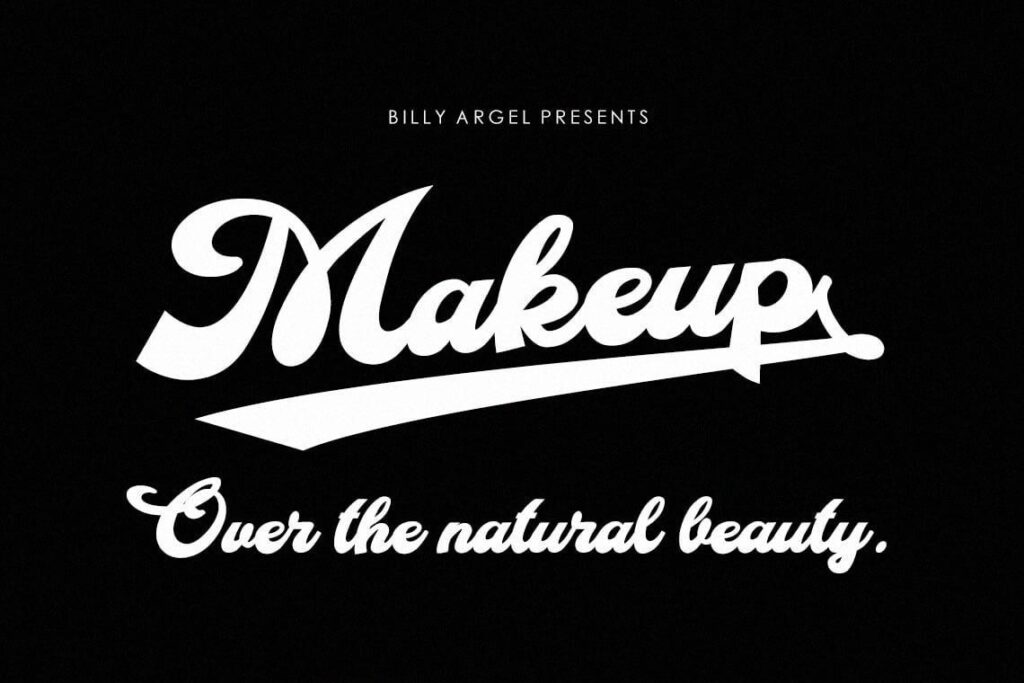 The makeup font is quite an unknown font. This handwritten font consists of bold, smooth strokes, which feature a mix of modern design trends and a prominent vintage design inspiration from the old-school baseball fonts.
The characters for this font are characterized by:
Tapering strokes, which go from broad at the start to perceptibly slimmer towards the end
The smooth connectivity of the characters offsets a slightly slanted tilt of characters.
The characters can be visually pleasing by adding tails and swashes, making it easier to use the font to design a logotype for a baseball team or company.
Designed by Billy Argel, this font mixes the best vintage and modern to exponentially enhance the resultant font's effect. The font version available for free does not have all the characters. Still, they are more than enough for personal use or want to try the font out before buying a commercial license.
All in all, it is a strong contender for the baseball fonts list.
2.2 The Headster Layered Style Font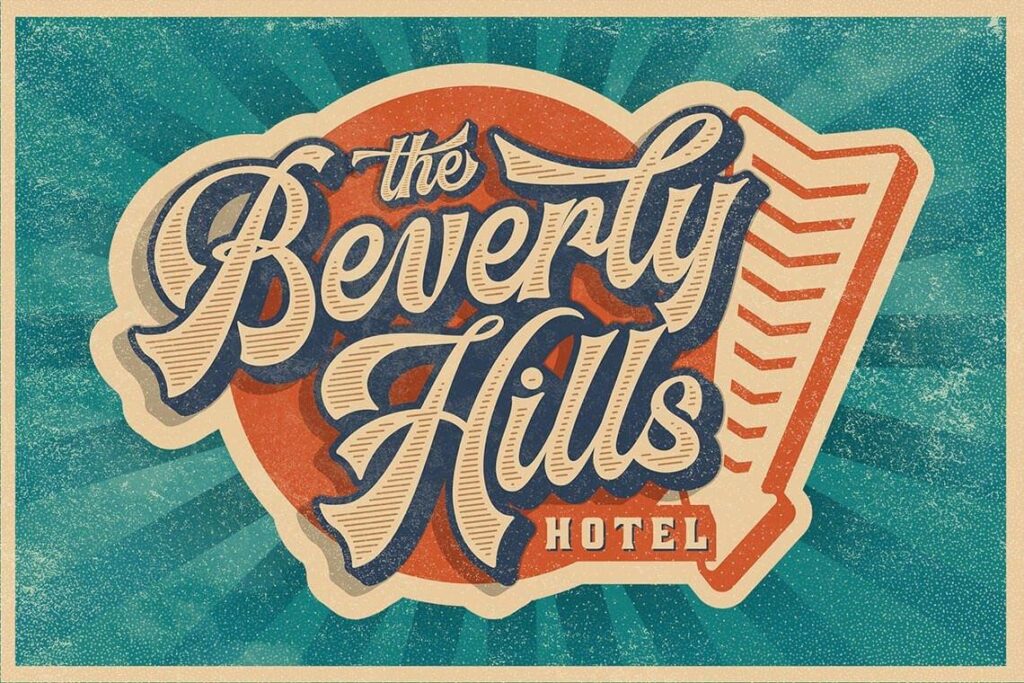 The Headster layered font is a baseball font based on vintage script designs. A bold typeface, it utilizes a layered approach which gives the font a layered or three-dimensional look.
The font features five different styles, all of which are designed to complement each other. That allows the designer to play around with the different combinations to find out what works best for their logo design or any other application they use it for, such as:
Banners, posters, and flyers
Headers
The lettering's visual style gives it a retro vibe, which is excellent for designing a baseball-related logo. The font includes many stylistic features like:
Textured layers to give the text a different look
Swashes to add flair to the characters on the logotypes
Different types of shadow depths can be used to add vibe of the retro logo.
Designed by Bombastype, this font family allows you to layer multiple effects together to create an innovative and eye-catching logo design. It is a great option to portray a brand's vintage vibe.
2.3 Auckland Bold Script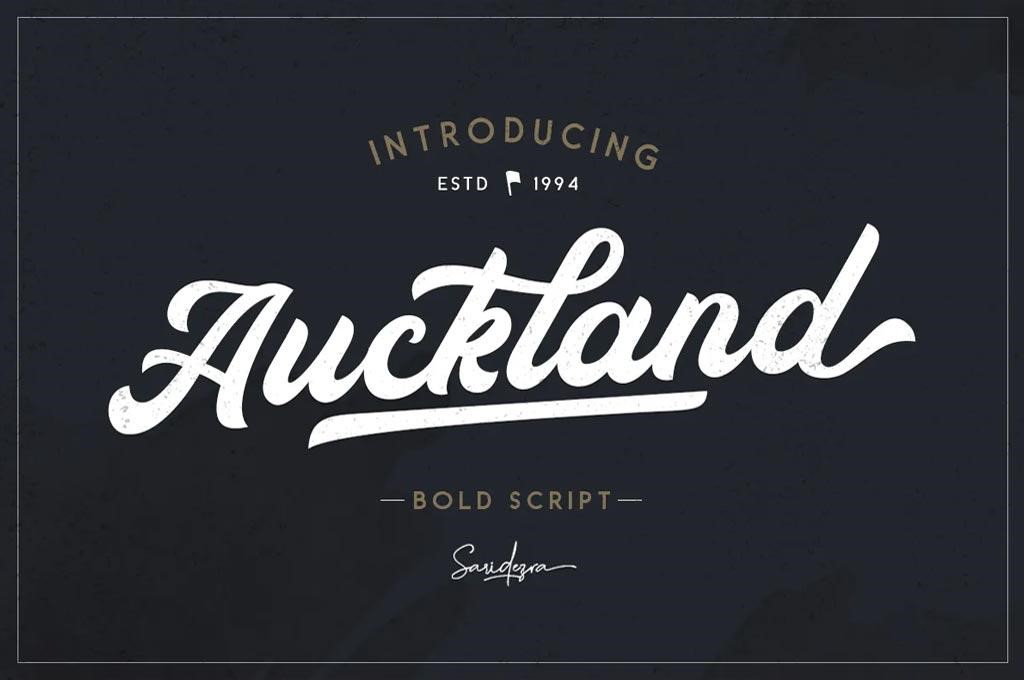 Auckland is a retro-style font type that uses the modern design concepts of minimalism and simplicity in its characters' design. As a bold typescript, this font works well for applications where prominence is a priority.
Logotypes, headers, banners, and the like are just some applications that can benefit from using the Auckland bold script. The script contains:
Uppercase letters.
Lowercase letters.
Numbers.
Accents and Punctuations.
Five sets of alternate characters.
Swashes, Ligatures, and Underlines.
Designed by Sarid Ezra, the Auckland bold font looks appealing due to its smooth strokes, flowing designs, and soft corners. That makes the script versatile for use on a variety of materials and mediums, including apparel.
The font's free version does not include alternate characters, swashes, ligatures, or underlines. But even without these additional characters, this is a great option to design your team's logo.
2.4 Ristella Baseball Font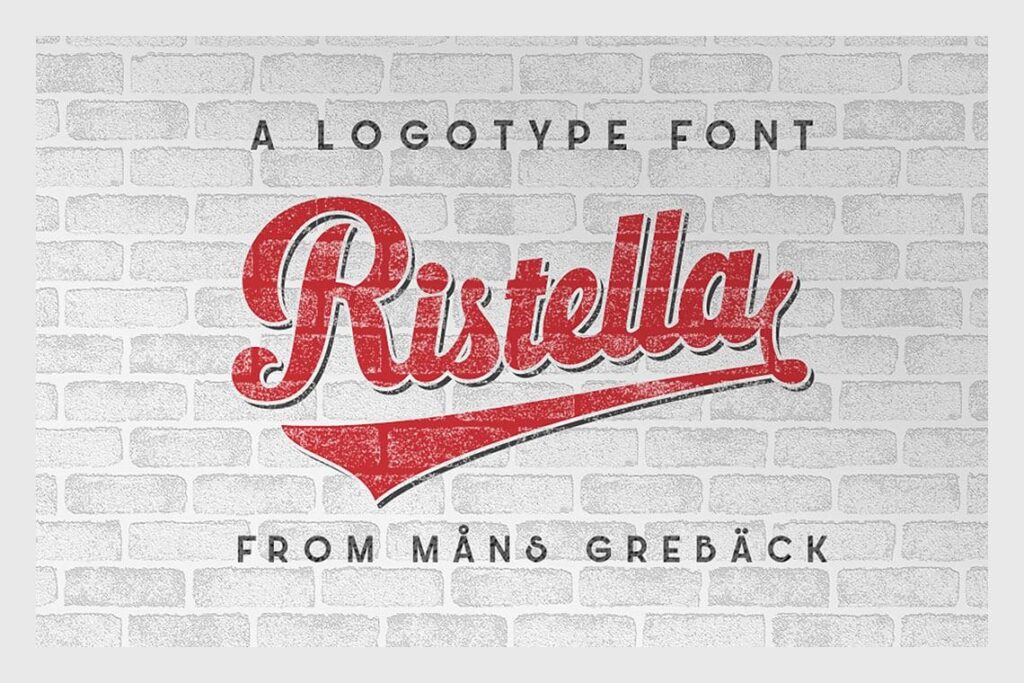 Ristella is a baseball-inspired font that is designed to work as a logotype. It contains many characters and symbols for many languages. This font is quite versatile in terms of use and support.
The letters, symbols, and numbers for this font are characterized by:
Large curving upper case letters, which are quick to grab the attention of the viewers.
Multiple alternates for the font glyphs make the written form look smoother and more natural.
The intuitive use of ligatures makes the characters mesh together in a way that looks appealing.
As a font sporting characters with tails, the font also supports adding a swash to the end of the letters and joining the ending letter. Adding multiple tail symbols will allow a designer to use longer swashes, depending on their design aesthetic.
Designed by Måns Grebäck, this is free for personal use stylized font that will work for many industries. It is beneficial for those using it to instill a vintage or retro vibe into their logos, banners, or other content mediums.
3-Major League Style Baseball Fonts
Looking to amp up your minor league team's visual impact? Do you require a classic MLB Logo style font to design your baseball team's logo?
The following fonts are based on the typefaces of the Major league teams, and using them will help you capture the essence of team legacy and history.
3.1 Wild Pitch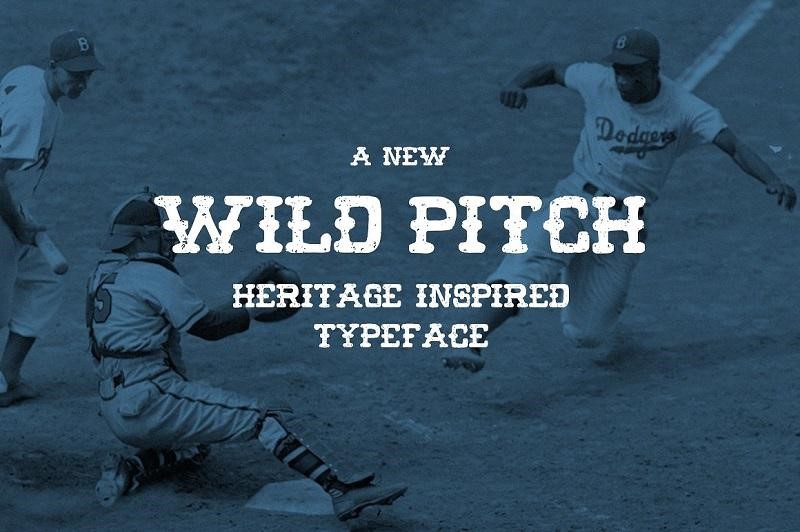 Wild Pitch is a baseball font that comes in two different styles. The design for this font is vintage, and the overall look of the characters makes it suitable for sports or other athletic-themed purposes.
Designed by Victor Coreas, who goes by the name boldversion, the font started as a personal project. He decided to build a font for use when creating some packaging materials. His handmade font soon became quite popular, so he converted it into a typeface for commercial use.
According to the designer himself, the font has been designed to be used for:
As it is designed for prominent use, the font only comes with uppercase letters in both styles.
The rough and gritty style is for use where the purpose is to give a retro look as if printed using a low-resolution printer.
The clean version sports a smoother character design, which helps print headlines or titles when designing promotional posters or banners.
3.2 Slugger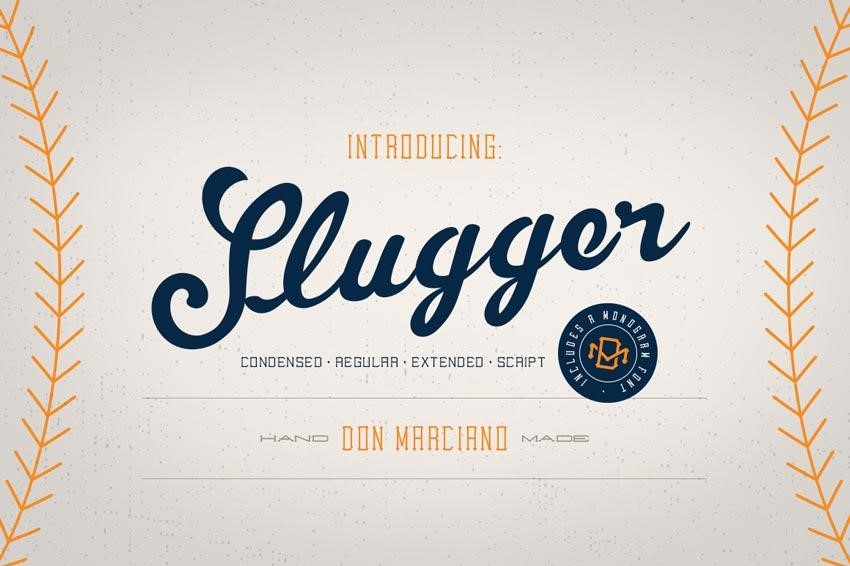 At first glance, The Slugger font looks like a quintessential baseball font. Still, the retro style typeface can be a great font to use in other instances.
The font was designed as part of a project to rebrand a local sports bar that wanted to show a retro look but did not want it to be too cluttered or intricate. The result was the Slugger font family.
The typeface has five different styles:
Regular
Script
Condensed
Extended
Monogram
The characters have been designed to portray a nostalgic and vintage feel without going overboard with the design.
The Slugger font combines the old-world script style with the modern, simplistic, and minimalist aesthetic. That makes it a great option to design the team logos for your minor league team or design any baseball-related materials such as souvenirs and promotional content.
3.3 Milestone Jersey Font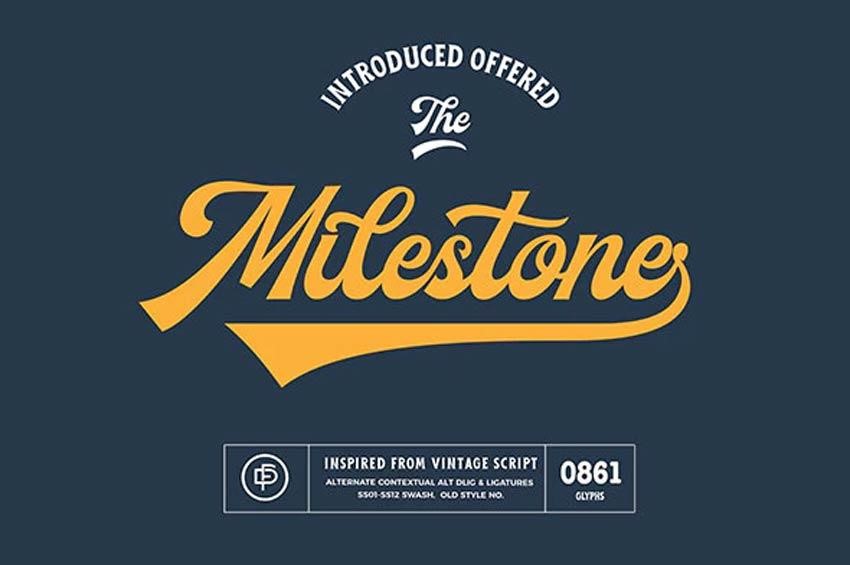 Also known as the Milestone Script, this font is a great choice when your purpose is to evoke a sense of old-world charm. The inspiration for this font comes from many instances of the bygone era, like:
The hand-painted signs and posters
Intricate product labels rich in detail
Highly stylized logos and signs
Using this font for your logotype can help the business leverage the sense of nostalgia it evokes and use that to its advantage.
People tend to gravitate towards something they know or once loved, something that many brands like Pokémon have been using for decades to their advantage. It is conducive if that emotional connection is to the consumer's childhood. A classic font can be the way to do that.
The Milestone Jersey font can be used to add some flair to your baseball team's logotype and is available in two different formats – the regular font and the script.
3.4 Flanders Baseball Jersey Font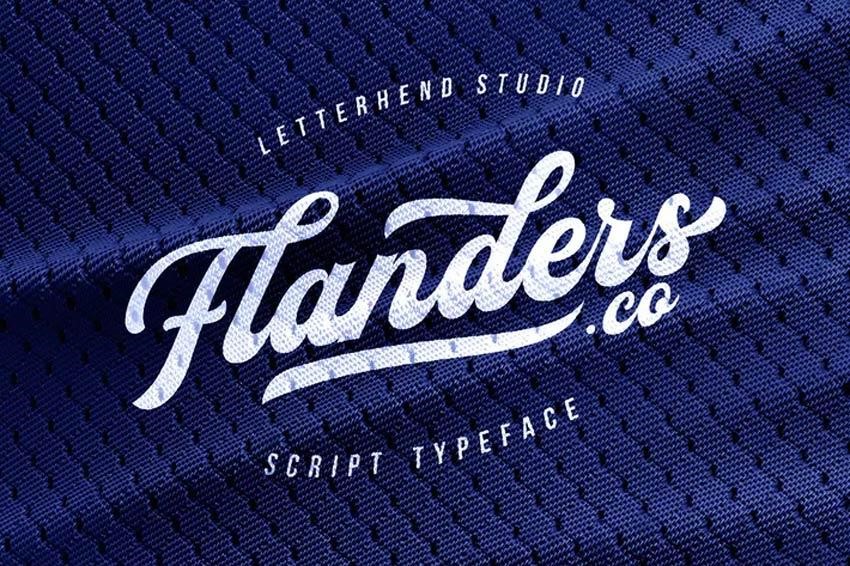 This stylized font has a beautiful script, making it possible to use this typeface in various ways. The font works really well as part of the logo, or even as a standalone logotype, and exudes a sense of style and elegance. This script contains many OpenType features, such as:
Ligatures.
Stylistic and contextual alternates.
Swashes.
The characters' flowing strokes give way to the tails at the end of words, providing the design with an extra oomph when this font is used in a logo. Moreover, as the name suggests, this font's design makes it highly suitable to use for both digital and physical applications. That is because the flowing script looks good on a screen and is printed on an article of apparel.
Combining the retro aesthetic with a modern digital design, this font is a great option to use for high-quality logos, as well as:
4-Our Top Picks for the Best Baseball Fonts for a Team Logo
Some logo fonts are capable of combining vintage styles with modern designs to enhance the overall effect exponentially. These versatile typefaces are popular for teams that want the classic script's nostalgia and legacy and are trendy and contemporary.
Below are our top picks for the best baseball fonts, which embody the best of both retro and trendy design elements.
4.1 Season Times Vintage Font Duo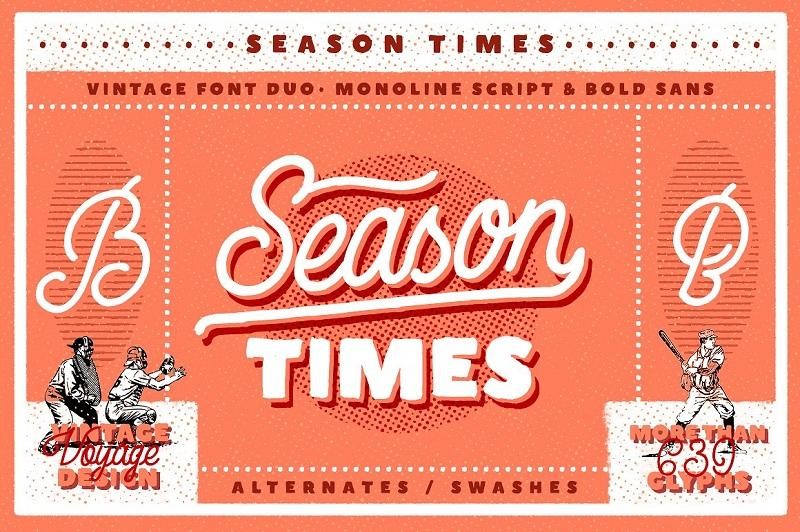 Season Times Vintage Font Duo is a set of two hand-drawn fonts, which look amazingly retro. Using this font for your logo will imbue it with a certain rustic charm, which is the best way to subtly incorporate vintage vibes into your design.
This font duo has been designed to work either standalone or even paired together. Both these fonts' styles complement each other, meaning that using them together in your design will help bring together the various elements.
The Season Vintage Font Duo is drawn in a monoline script style and feature:
22 stylistic and contextual alternates
Six ligatures
103 types of swashes based on different characters
A bold Rustic Sans style
This font is one of our top picks because the script portrays a playfully retro vibe, making it a great font to use for minor league or softball team logos. The font duo goes excellent with various printing mediums, including logos, banners, flyers, and display was around long before apparel.
4.2 Houston Italic Font Family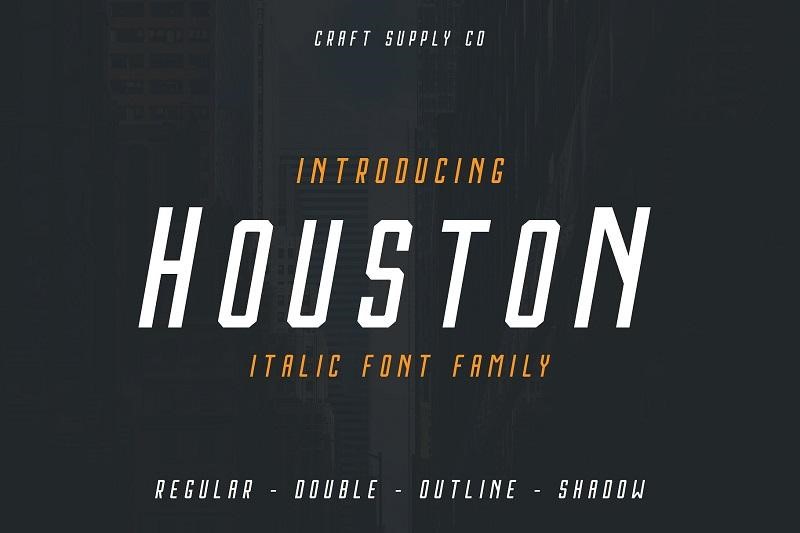 This font is a modern design drawn in the American sports teams' typography, primarily baseball. It is a versatile font, which can work equally well for sports-related activities and other instances.
The font family is available in four different styles:
Regular
Double
Outline
Shadow
This variety of font styles means that this font can work well for projects ranging from modern to vintage quite easily.
The Houston Italic Font Family is drawn in a modular sans serif style popular in modern design. The typeface is compact and formed by a solid block font. This font can work well in a variety of situations, including:
Posters and banners
Flyers, invitation cards etcetera
Headers and titles
For various typography projects
It doesn't matter what project you are working on; this font is a great choice to try out for it. Even though the design is based on modern aesthetics, the font can embody a certain rustic charm when used the right way. That makes it an excellent font for use for baseball team logos and promotional materials.
4.3 Sea Dog Athletic Display Font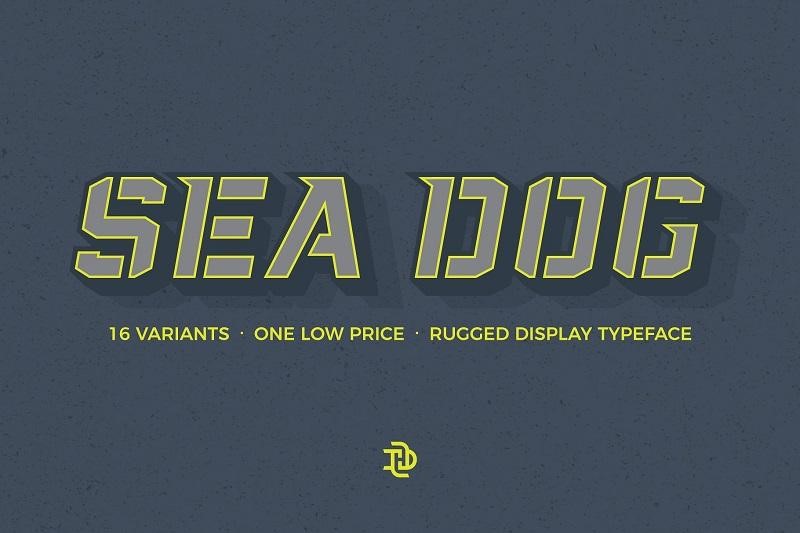 The Sea Dog font is designed by Doug Houvener; it is a no-nonsense, high visibility font suitable for hard-working displays. It has been around in essence long before applications such as athletic and sports activities. The font is based on the stencil lettering on boats and ships the designer saw near the shipyard; this font is one to last.
Using this font for your logotype or branding shows the viewer that your brand means business. The font features:
Two different design styles – the Regular and the Swift
16 different font varieties
Solid block letter
This trendy font is a great option to choose when you want your design to portray a sense of rugged charm and a solid presence in its viewer's mind. That makes it an excellent choice for sports teams' logos and other related design needs. Other great uses for this font include:
Sports branding
Apparel design
Labels for sports drinks
Retro-style badges and flyers
The font bundle also includes six different color swatches for the font, which are proven to work well for the typeface, as they have been selected from active examples. All in all, this font is a worthy candidate for the list of our top picks.
5- Using a Custom font versus a Commercial font
Many new designers have difficulty deciding between opting for a commercial font or designing their own for a logo project. But there is a simple answer to that indecision. It is always better to customize your font, but either option could be used depending on the scenario.
In the world of professional sports, you can see that nearly all NBA or NFL logos have a proprietary font that has either been modified for their use, or has been designed from scratch.
You can design a new font from scratch by taking inspiration from an existing font, or you can customize a current font enough so that it looks distinct from the original. Here are numerous examples of this in the world of baseball.
5.1 The Pittsburgh Pirates baseball font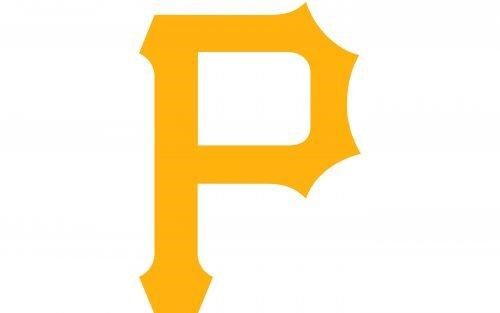 The Pittsburgh Pirates baseball team logo was around long before designing and using custom fonts came into use. Over the years, the symbol has been changed various times, either centered around a prominent uppercase P or a pirate head logo.
The font was designed for various team uses based on the letter P from "Pirates." The baseball font's name is MLB Pirates and is available for commercial use. Since its advent, the team uses the same font for all their branding purposes, with the word "Pirates" in big, bold letters and the word "Pittsburgh" below in smaller and simpler characters.
When the original logo was designed, there was no specific font used for the logo. Instead, an artist created a custom wordmark that was converted into a font at a later date. It is an example of using a font designed from scratch.
5.2 The Major League Baseball number font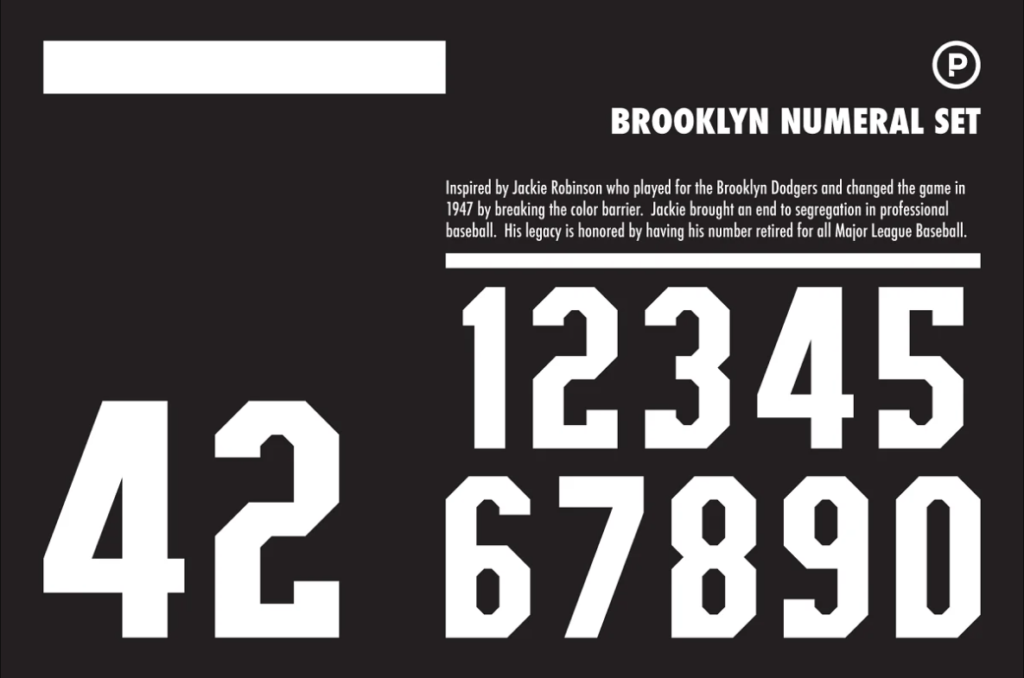 The numbers used in MLB games are a modification from various fonts. The transformation is subtle yet allows the numbers' design to look distinct.
Various fonts, such as the Jersey M54, have been suggested as the source of inspiration behind the numbers' design. Still, the simple fact is that those numbers do not fit into one single font style. They are a font in their class, which makes them unique to Major League Baseball itself.
It is an example where modifying an existing font worked well in favor of the designer.
Frequently Asked Questions
The Indiana script is a trendy baseball font for baseball-related activities due to its bold brushstrokes and a classic tilt to this script's characters.
A modified form of Gill Sans script is the font of choice for the Oakland Athletics logotype.
The script for the New York Yankees' logo is not technically a font. It is an old custom logo art explicitly created for the team at the team's conception in the late 1800s. Fonts such as the Metroscript are based on that logo's script.
The font used by the Boston Red Sox is called the Bosox font.
Conclusion
Whether it is a classic baseball font you are after or a modern and trendy typeface that is more to your taste, the options above are the best in these baseball-related categories.
With these awesome fonts at your disposal now, you can quickly fulfill any graphic design project with ease.
Looking to create awesome graphics for your baseball team? Our designers are experts in creating a variety of visuals to boost your team's brand identity.