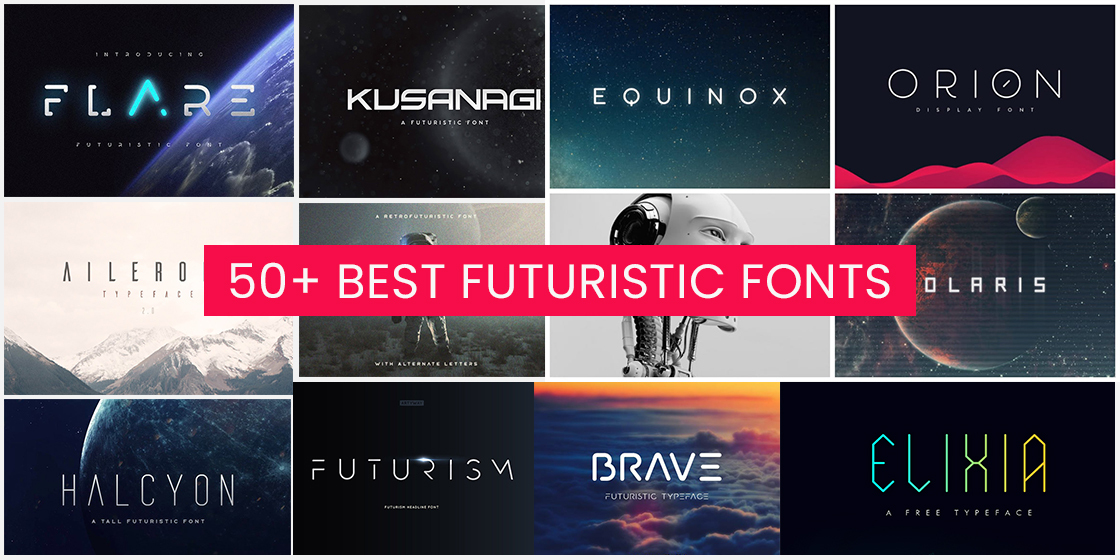 Various futuristic fonts for your creative project
Who doesn't want their creative designs to leave a lasting impact? But, how? You might be wondering what are the elements that take your logo or web designs two steps ahead. Futuristic fonts are one of those elements that can transform a decent project into a superb one.
Incorporating futuristic typefaces into a design inspires imagination and makes people wonder. It's also a smart way to add an optimistic feel to your design project. You can play and experiment with modern typography to include aesthetics and contemporary vibes in your design.
Here's a list of cutting-edge fonts that complement your creative design.
1. Polar Vertex Futuristic Font
If you're a dreamer or free thinker, Polar Vertex is likely to inspire you. The font carries all elements that make it perfect for an illustrative logo design, from nautical to geometric details.
Do you know what the fun part is? These details hide when you decrease font size making it a great display font.
If you're on a hunt for finding an outside-the-box and futuristic fonts for personal use, you can get polar vertex free of cost.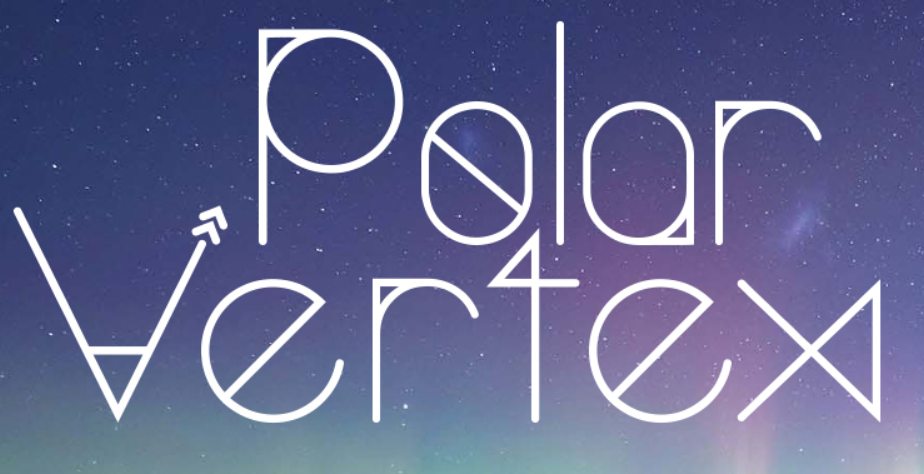 2. G Display Futuristic Font
Do you want to incorporate maximum uniqueness into your design? G display can help you achieve that. The font is undoubtedly a strange one with straight lines and rounded-off angles.
If you look at the characters "R" and "B", they look strangely unique, making it a viable option for a display font. If you're wondering, the G display is free for personal and commercial use, isn't it great?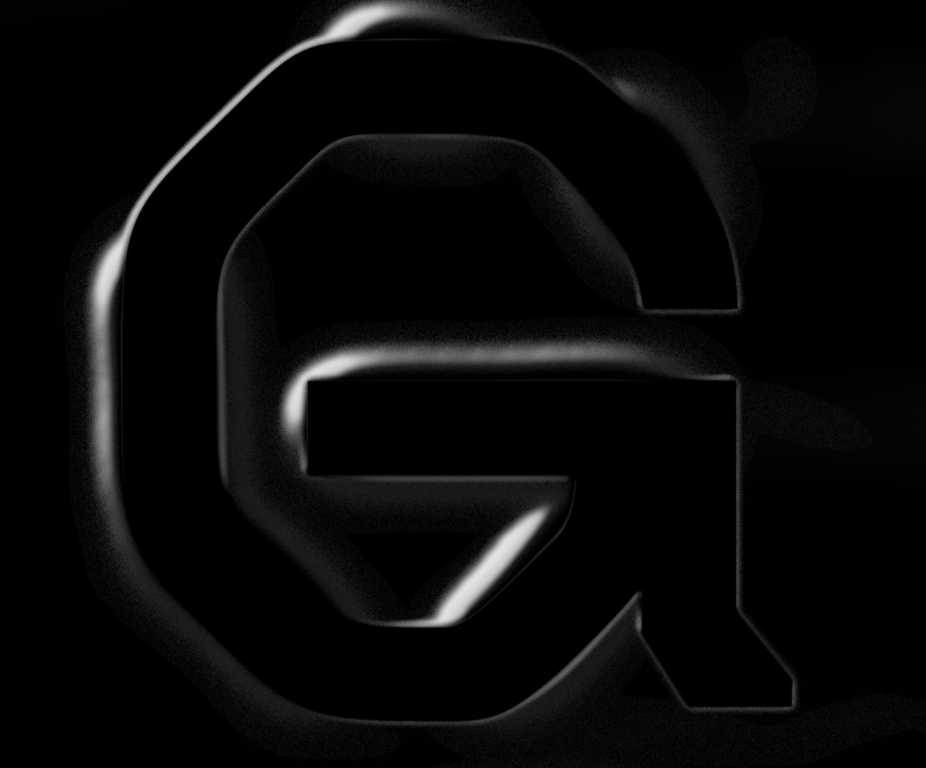 3. Atlantico Futuristic Font
A harmonic combination of Atlantic beauty, Atlantico features two cutting-edge free fonts. The letterforms were achieved using minimal geometric sans serifs with the slightest strokes.
The all-caps variety is ideal for a design that needs squared font with rounded corners. The best part is you can get it for free if you need Futuristic looking fonts.

4. Galaxy Futuristic Font
Galaxy is the best option for personal and commercial use with space-age vibes and resemblance to Helvetica Rounded Black font.
The little slices have taken out of the characters to draw plenty of attention. The edges of the gaps are kept rounded to maintain a beautiful and soft look. The elements of this futuristic font are likely to complement your creative design project.
Do you think incorporating fonts to your design project is time consuming? Refer to how to add fonts in Photoshop in a few simple steps to learn the process.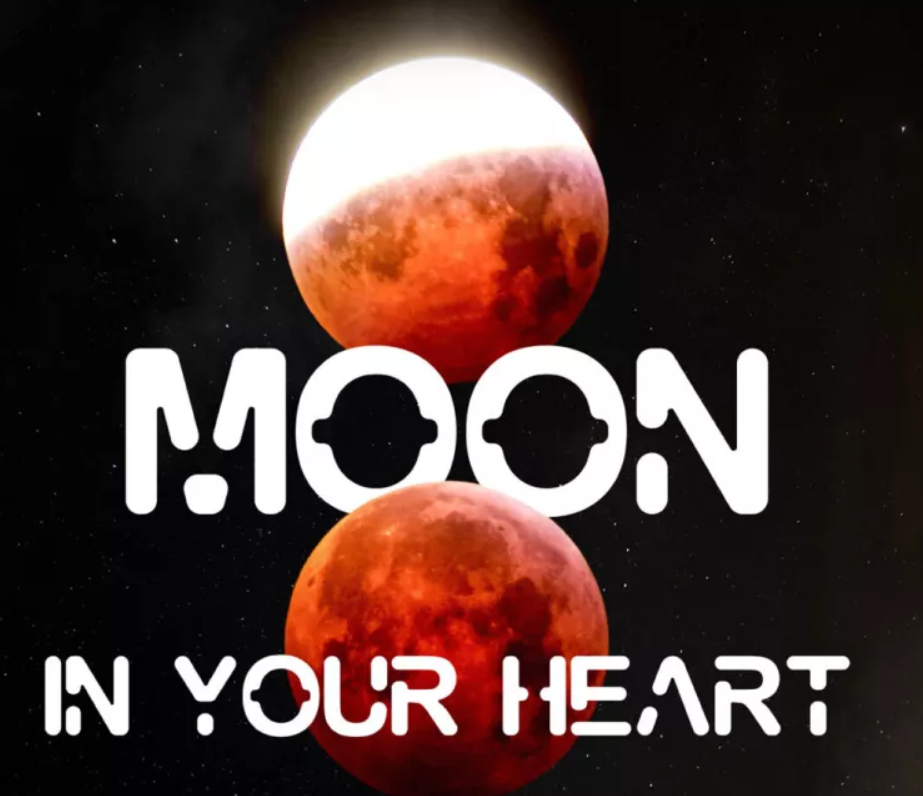 5. Architectural Futuristic Font
Using Architectural font can make your design look modern effortlessly. The tall characters of the font are simplistic, but they give a skyscraper-like feel.
These stratospherically tall characters also form an art deco look. Architectural is one of the futuristic fonts that may suit your commercial or personal design assignments.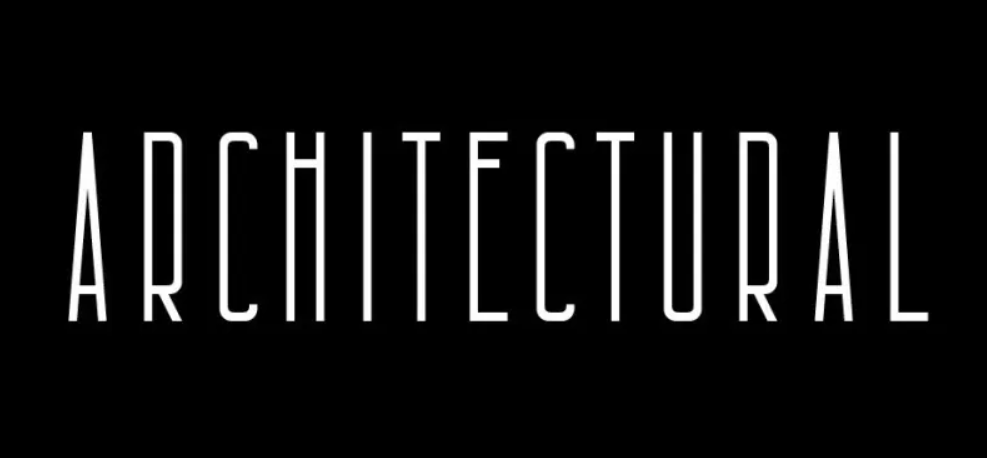 6. Pulsar Futuristic Font
Are you looking for a font option with a definite sci-fi feel? We have an all-caps font option, which is perfect to use as a display font.
If you observe, pulsar resembles the original logo of Star Trek, such as the letter "A" with the upward sweep of the crossbar.
This futuristic font is less angular than a Star Trek font and features gentle curves. The idea of keeping gentle curves makes it a softer and friendlier futuristic logo font.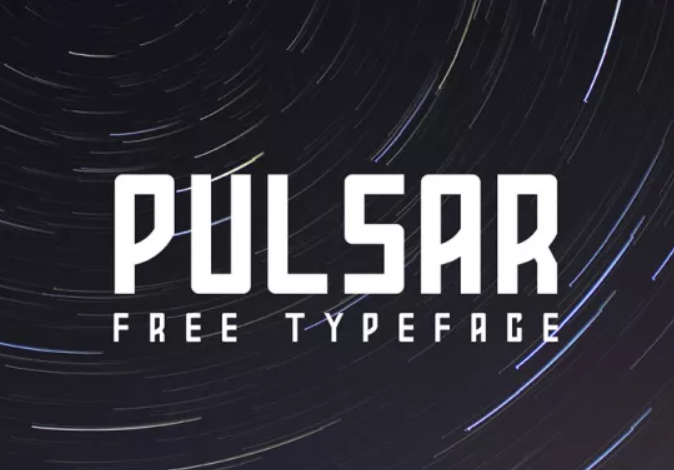 7. Caviar Dreams
Thin and elegant, Caviar Dreams counts in the category of modern fonts. It might remind you of "The Jetsons" – an American animated sitcom. The font has a fantasy contemporary design style.
Did you know the best part about Caviar Dreams? It's readable regardless of the size, isn't it fantastic?
If you're wondering about the thin letters, the futuristic font allows you to adjust its features according to the medium you're using.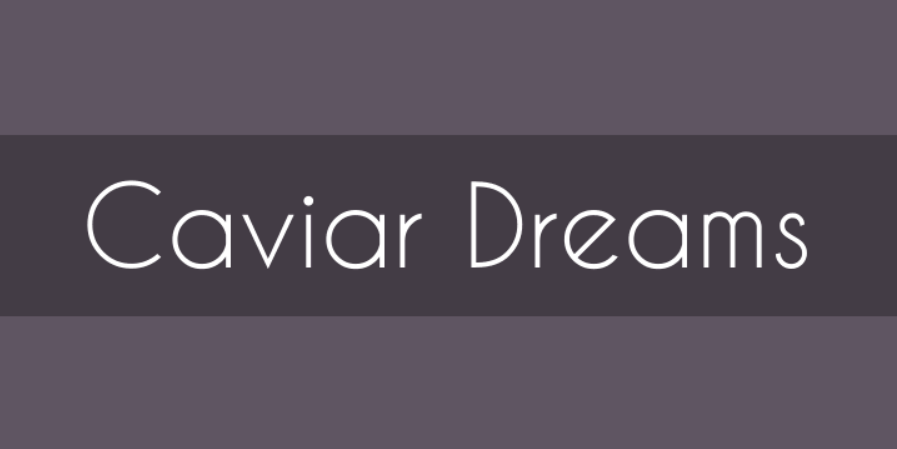 8. Anurati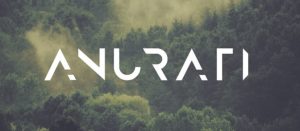 With angled letterforms and missing portions of the letters, Anurati makes the best example of contemporary fonts that add an ultramodern vibe to any design.
This futuristic font has letters with missing portions, but they are still readable. You can go for a compressed serif or sans serif font to incorporate additional emphasis. Anurati is one of the ideal futuristic fonts to use for display.
9. Forty Second Street
Did you know retro-futuristic fonts are becoming a norm? And Forty Second Street has the same retro vibe and style to it. The font features a single stripe in each letter to incorporate 20's faux aesthetics.
It's a futuristic font but it reminds you of classic cinema or old-school logos. However, if you want uniqueness and aesthetics in a creative design, you can go for Forty Second Street.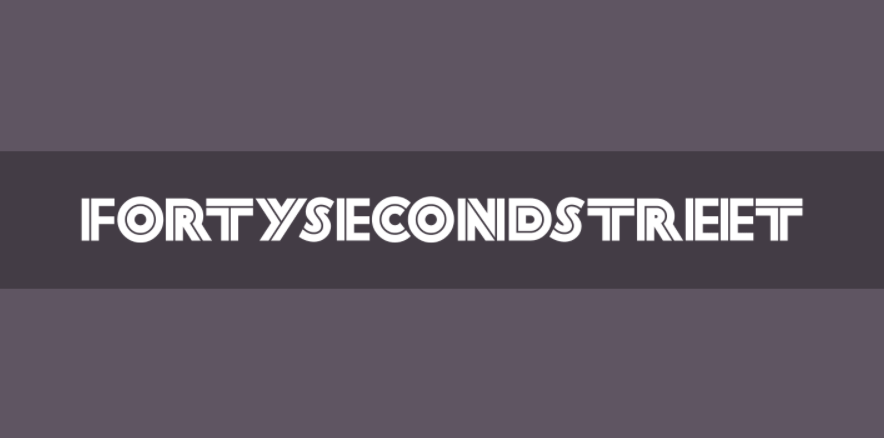 10. Exan-3
A mono-spaced font is available in uppercase only. Exan-3 has all elements that make it a cutting-edge font. It has retro vibes that incorporate immense aesthetics to any graphic design project.
If you're into highly futuristic fonts, Exan-3 is truly a font to fulfill your desires.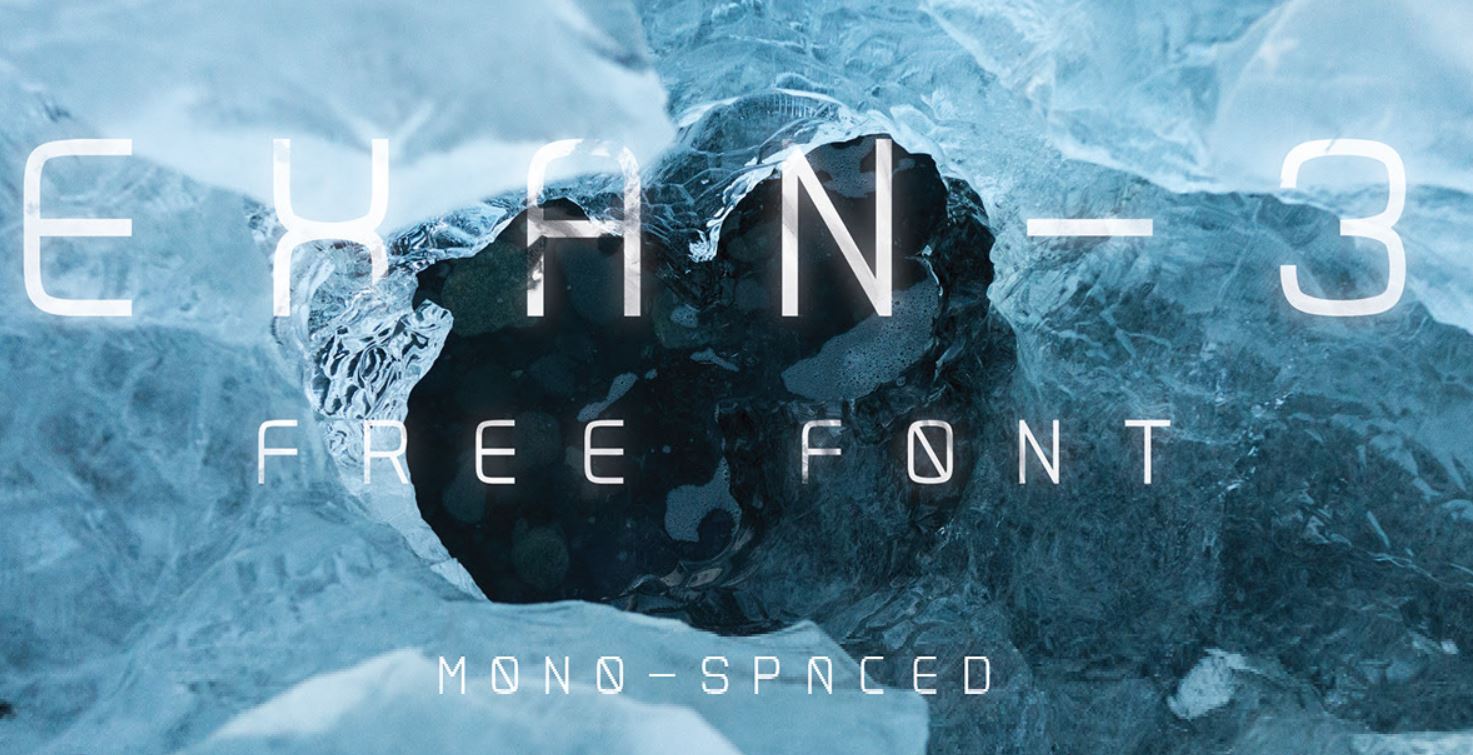 11. Fuerte
When you need a cutting-edge vibe, but without overdoing it, you can use Fuerte. It gives just the right amount of contemporary feel. Fuerte is a semi-futuristic uppercase font that you can find in a medium weight.
Guess what? You can find the font in plain and patterned letterforms to use according to your creative requirements. Do you need an attention-grabbing font for personal use? Fuerte can do the job!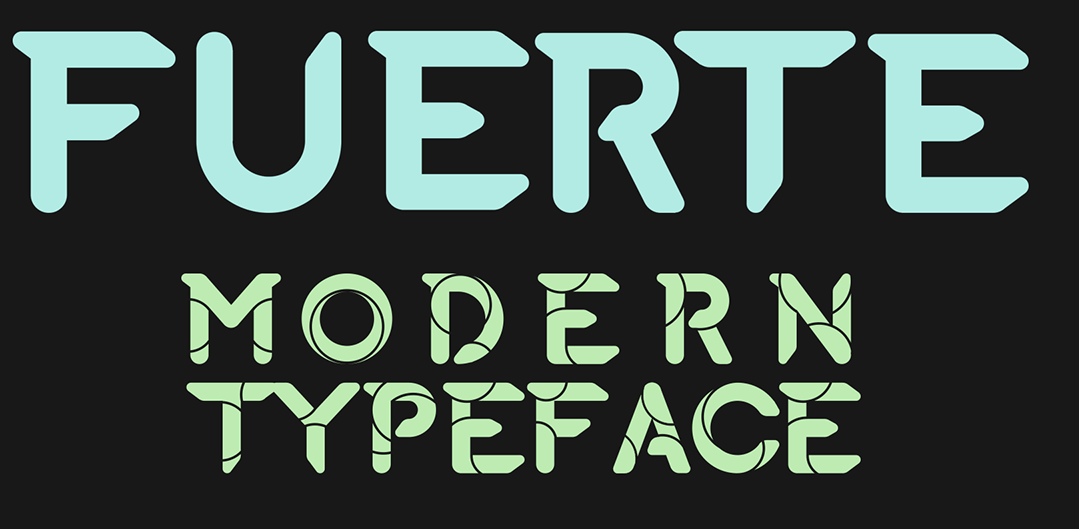 12. Digital
The Digital font carries a straightforward digital design style. You can see the curved letterforms that add uniformity and beauty to the font design maintaining contemporary vibes.
If you're into futuristic fonts with compelling aesthetics, you can go for the Digital.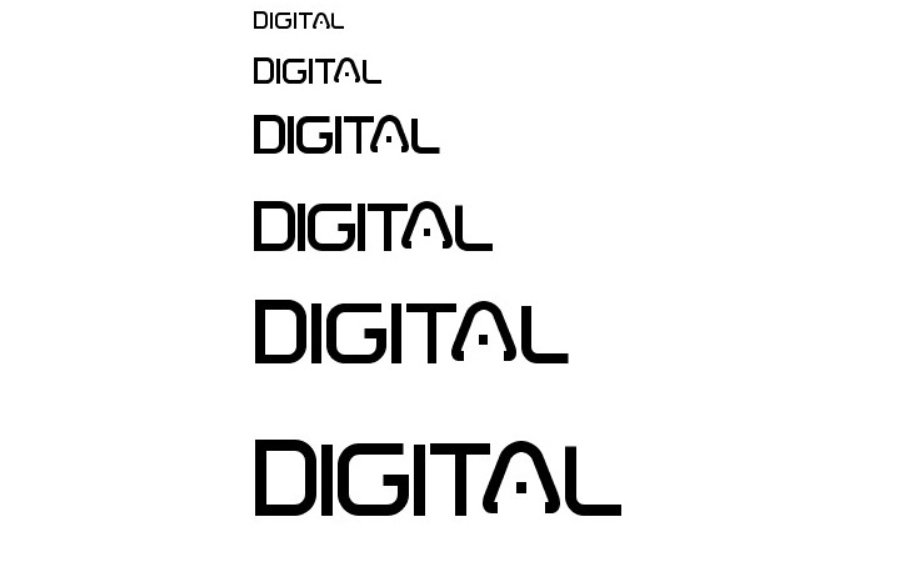 13. Good Times
A digital-style font with upper and lowercase letters, Good Times, brings the future to your creative design assignments. It has decent style portions and patterns.
If you observe, most of the curved lines in the font have a symmetrical angle that gives off a futuristic typeface's vibes. It might not be a flashy font, but it can add a contemporary style to your design.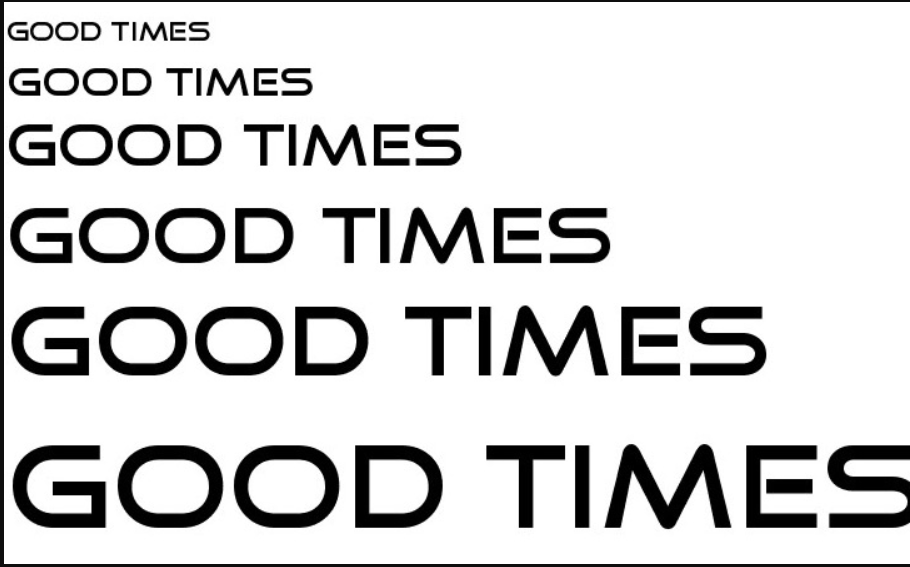 14. Freedom
Who doesn't adore fantasy futuristic style fonts? The naturally curved letterforms in Freedom stand out and make all the difference. .
You will find the retro, contemporary and innovative vibes in its various applications. However, if you're looking free futuristic fonts for personal and commercial use, it's the best option.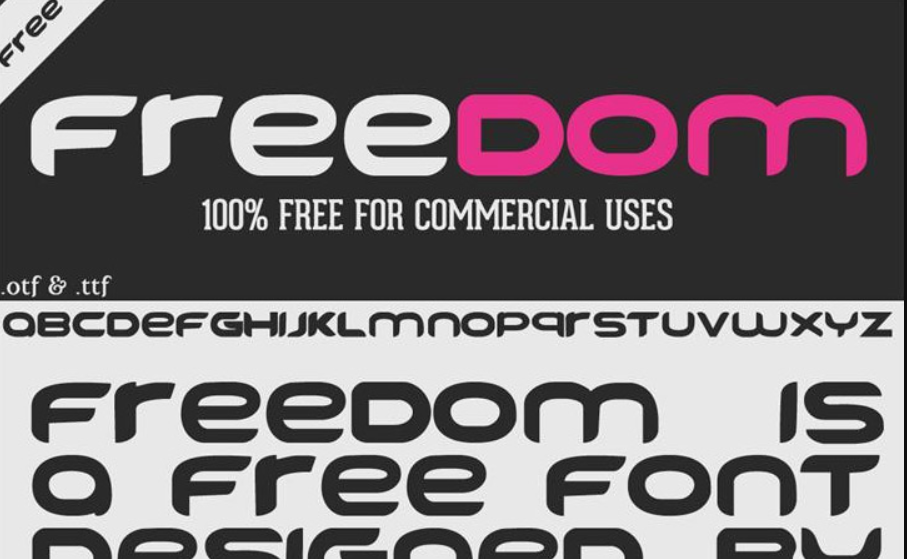 15. Luciana
Do you need something modern and compelling? Luciana is a monospaced font and has a different vibe to it than other futuristic fonts. It is incredibly eye-pleasing as it features ultralight strokes with unique swashes.
Using it will give any creative design a feminine and dynamic feel. You can use it for display, poster, or make it a beautiful monogram logo design.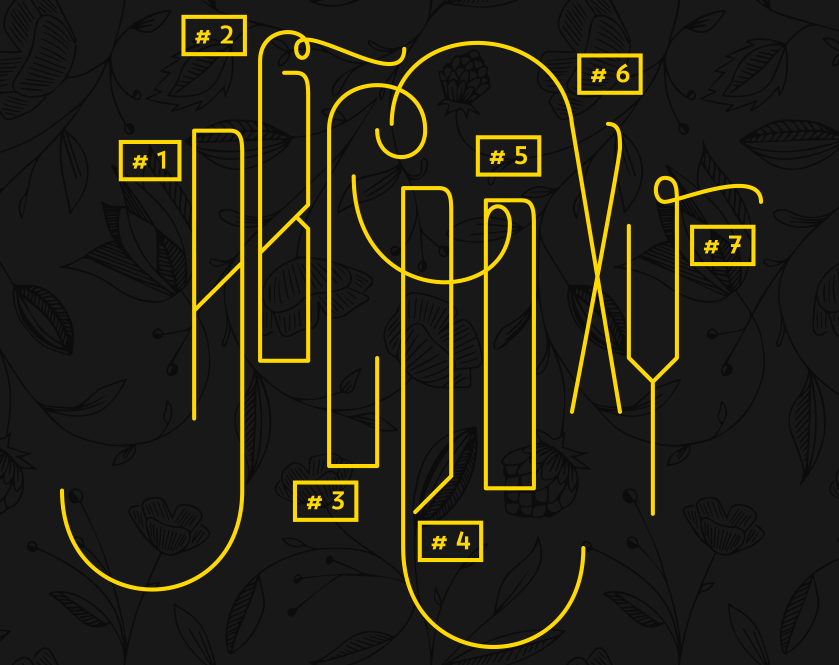 16. Neogray
It's hard not to include Neogray when talking about contemporary typefaces. This futuristic font has classic alien forms that stand out. It makes a design pop and draws attention to it.
If you prefer variety, you can find Neogray in medium and regular types. Therefore, you can use any types of graphic design according to your design's requirements.

17. Blanka
Are you into minimalistic typefaces? Take a look at Blanka. This futuristic font is unique and looks like it belongs to a time that is still ahead.
The missing portions from the letterforms add aesthetics and cutting-edge vibes to the font style. You can give Blanka a shot if you want to incorporate playful vibes into a design.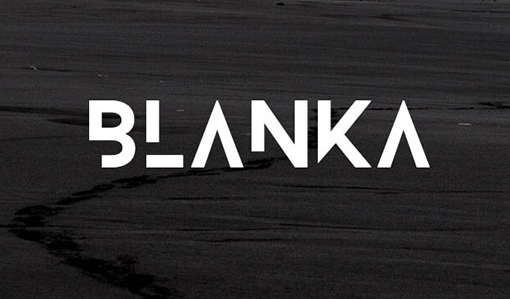 18. Three-Sixty Condensed
Take your fondness for futuristic fonts to the next level with Three-Sixty Condensed. The typeface is simple but has edgy vibes to it.
However, its quirky letterforms make all the difference. When there's a need to incorporate personality to the most muted copy, use Three-Sixty Condensed to get the job done effectively.

19. Sacred Geometry Futuristic Fonts
Do you love to experiment with different typefaces? If so, you need to look at Sacred Geometry. It's complicated, but it's the ultimate way to bring plenty of attention to your design.
There's no denying that the font is compelling and has characters made uniquely. Sacred Geometry looks excellent on large sizes, but you can also use one glyph at a time as a part of the design element.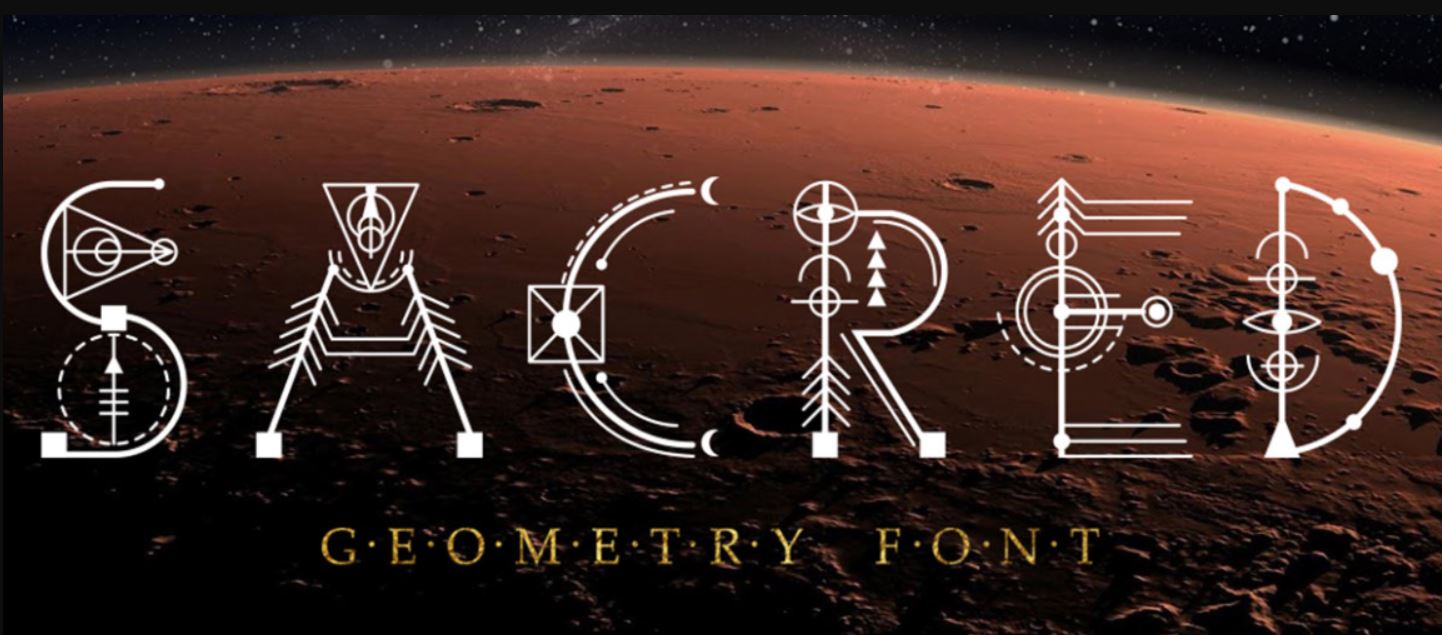 20. Mylodon
Available in light and regular weights, Mylodon is another simplistic yet compelling font on the list. You can find a lightweight variant of the font for free. It's an extended display font, which is inspired by round edges and geometric angles.
On the other hand, Mylodon works well with international characters. It also includes all standard glyphs of the English language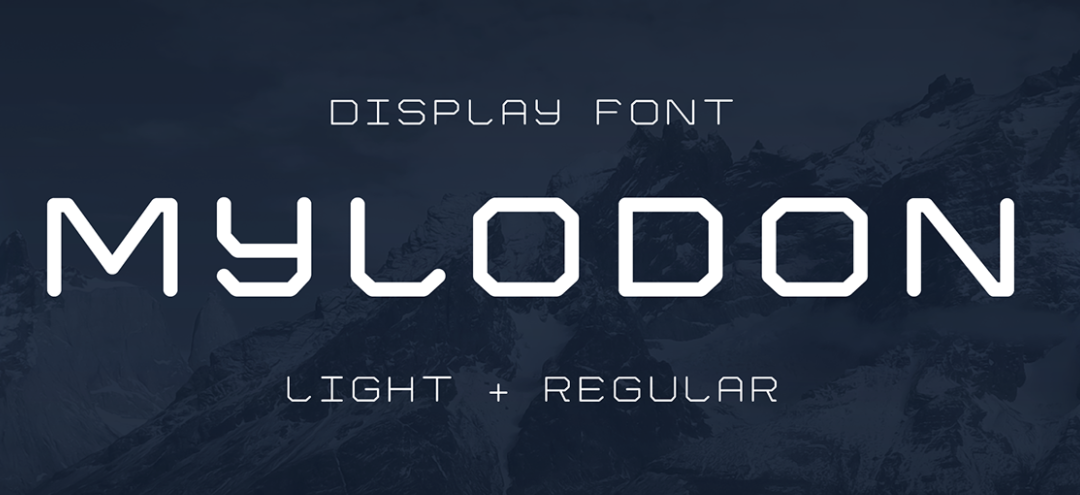 21. Dylovastuff
With its rounded letterforms and cutouts, Dylovastuff is ideal for drawing attention to any creative design project. The font elements help contemporary feels to design.
You can even use it on a poster to make it appealing. If you love to experiment with unique but futuristic fonts, Dylovastuff can become the right choice for you.

22. Beams
Do you need a bold and eye-catching font? Your hunt is over here, as Beams is precisely the type of font you were looking for. It's a stunning combination of angles and rounded corners that create distinct letterforms.
Using it can be a smart way to grab your audience's attention. This futuristic font is available to use free of cost.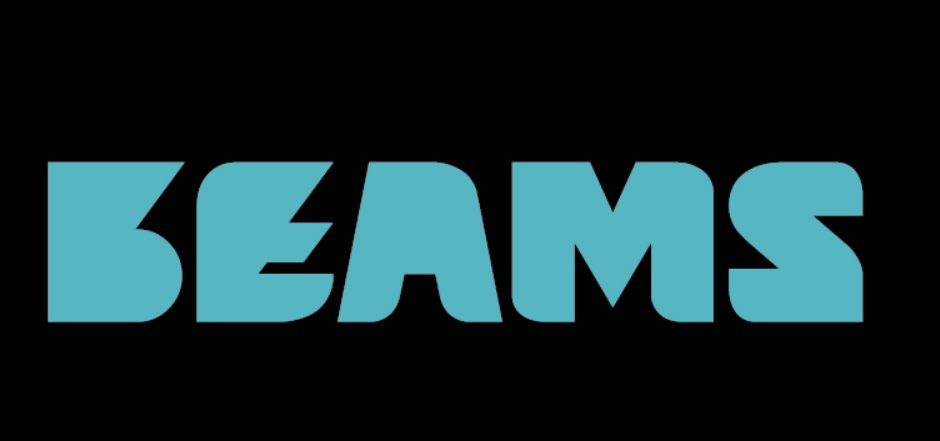 23. Yukarimobile Futuristic Font
With italicized bold geometric letterforms, Yukarimobile is another excellent futuristic typeface on the list. No doubt, the bold geometric font can incorporate uniqueness and turn an average design into the best one.
This futuristic font also features great ligatures that add pleasant details to a logo or other designs. Therefore, don't wait and use Yukarimobile to take your creative design projects to the next level.

24. Wormbox
A fixed height modular font, Wormbox can help create captivating wordmarks and titles. Moreover, it feels like this futuristic font is perfect to use in the titles of video games.
Wormbox will work as the cutting-edge typeface and complement the overall design if you're planning to design something creative like video games.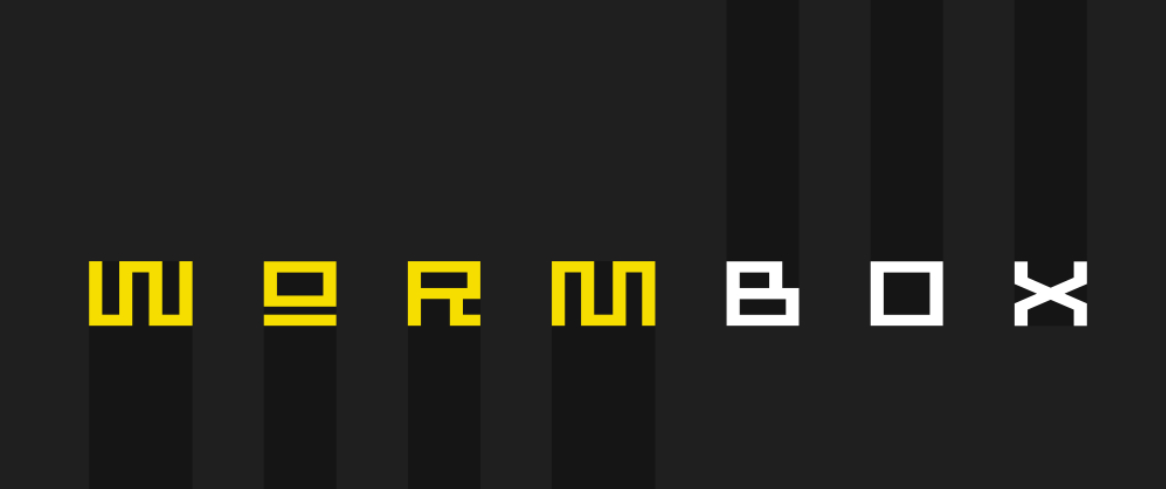 25. VGER Futuristic Font
Do you often struggle to select the right font combinations to maintain a proper hierarchy? Don't worry! VGER is here to do the job for you.
This futuristic font comes in various weights enabling you to build the perfect hierarchy using only one font. Isn't it cool? Also, the rounded corners of the characters give a distinct yet compelling feel.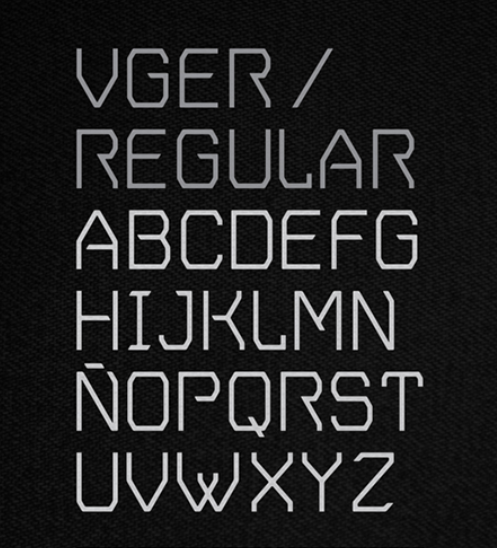 26. Strato
Are you looking for an expressive typeface to make your design stand out? You need to learn about Strato. Its geometric inline alphabet looks like they have made of lights.
The geometrical alphabets carry inspiration from different shapes to execute slightly minimal letters. Indeed, using the futuristic font will make your creative design project look something ahead of its time.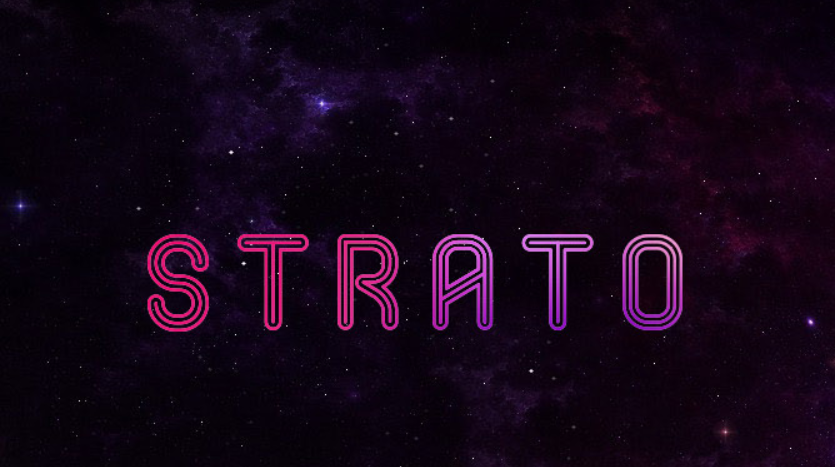 27. Baron
Baron fits the definition of futuristic fonts. You can use it in various ways to accomplish different feels. It has fantastic stylistic alternates or ligatures, and we suggest you to give them a shot.
Moreover, the uppercase display font took inspiration from the classic sans serif typeface.
Apart from the innovative designs, Baron works fine for posters and headlines. What's even exciting? This futuristic font variety is free for personal use!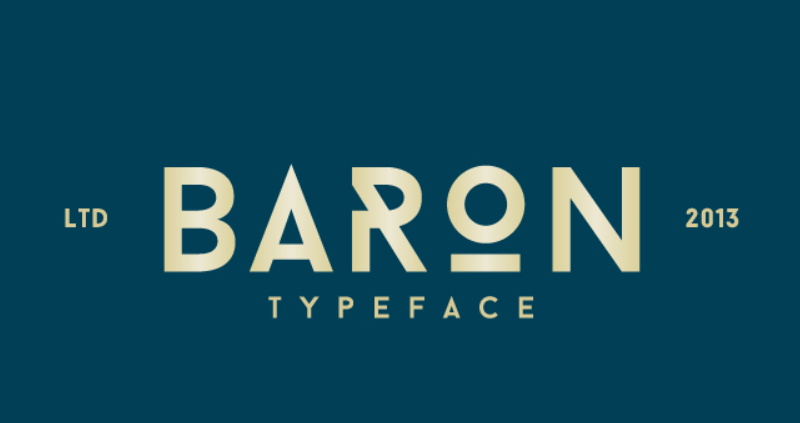 28. Lambok
You can see the space between the letterforms, which is kept to maintain visual interest. No doubt, the idea is fantastic and is truly fascinating.
For example, take a look at the letterform "B" and observe how it differs from how we write the alphabet.
Using the futuristic font like Lambok in your logo or website development project will incorporate contemporary vibes to it.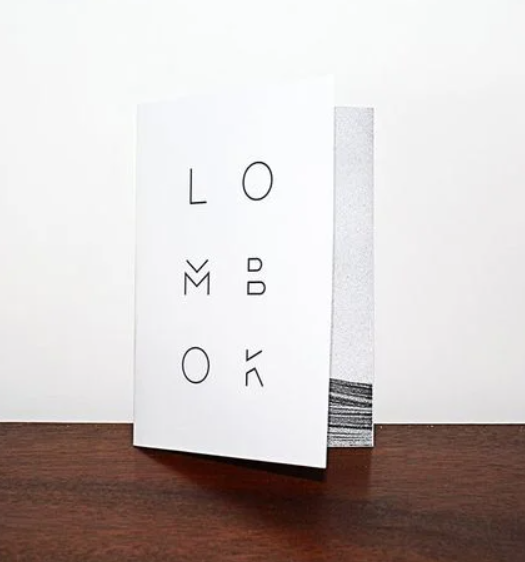 29. Nasalization
Do you remember Nasa's logo from 1975? If so, you can find Nasalization inspired by the older Nasa logo. It was designed keeping the older version of Nasa in mind.
You can find this futuristic font in six weights, which means you have a few options to be creative while deciding the cutting-edge typeface for your design.
If you're working on a project related to space, look no further than Nasalization!

30. Finity Futuristic Font
Complex but eye-catching, Finity makes the best futuristic font example. It has the potential to draw attention to whatever text or copy set in it. However, avoid using it in small sizes to prevent readability issues.
When you need a modern and clean font with elements of advanced technologies, you can consider using the futuristic font Finity as it features the mechanical system's complexity within a simplistic design.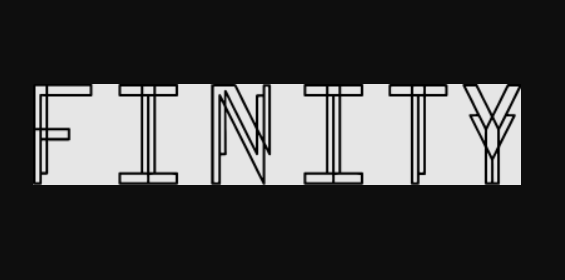 31. FM Pointifax
By looking at FM Pointifax, you will get the vibes of the early computing world. The font has a retro-futuristic feel to it.
Working with it will allow you to explore its various versions.
FM Pointifax also comes with slightly varying glyphs. Next time, when you hunt for a retro-inspired futuristic font for an innovative design, don't forget to try FM Pointifax.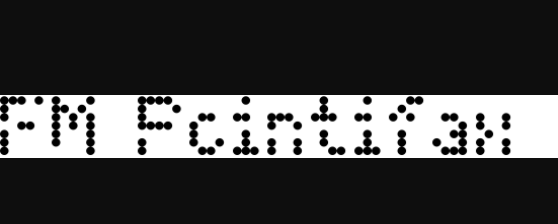 32. Outage
Next on the list is Outage – a bold geometric sans serif font. You can find two more styles, such as regular and cut, for your creative assignment. And each style carries 122 glyphs, including a sweet lightning bolt character.
This futuristic font variety will work best as the display font, logo, or you can even use it on a t-shirt to draw plenty of attention to it.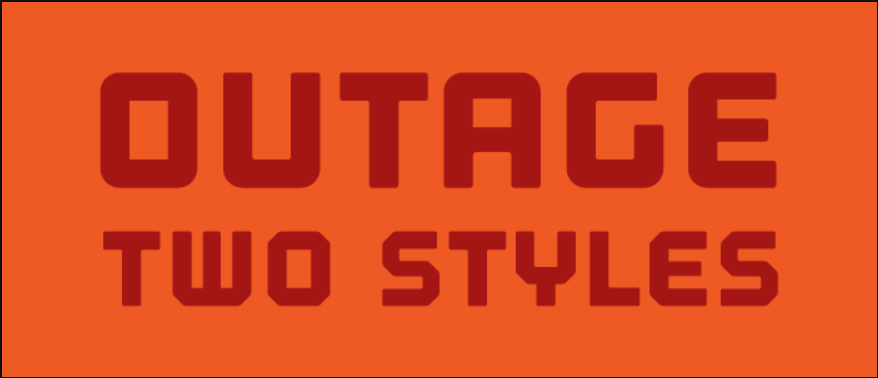 33. Oboe
Another bold and rounded typeface on the list is Oboe. It's perfect if your creative design requires a bold, geometric and rounded typeface. Oboe features the elements and stylizes the text quickly.
Using this futuristic font in your designs will make them eye-catching – thanks to the contemporary vibe that it adds to a design.

34. Celari Titling
Celari Titling comes with unicase stylistic, titling, and stencil swash alternates. Therefore, if you're looking for a dynamic typeface, you need to explore alternates that Celari Titling offer.
Look at the rounded cuts on the letterforms; these elements incorporate innovative vibes to the 80s graphic design and make it compelling for the futuristic use.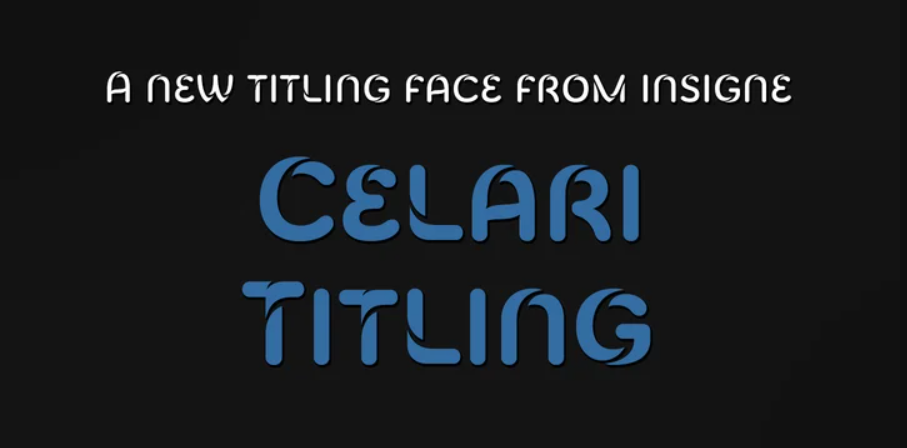 35. Chronic
Did you know Chronic was inspired by Native American Legends and Geometry? The elements undoubtedly make it a fantastic futuristic font.
On the other hand, its glyphs will look stunning at a large size or as a headline. Know that it has over 300 glyphs, stylistic alternate characters, and four different styles.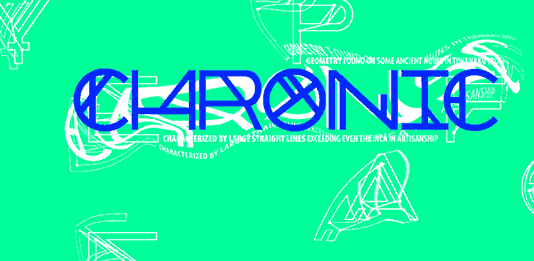 36. Neptune
Do you need outside of the box typeface? Let's talk about Neptune. With its innovative elements, the font complements creative designs.
Neptune offers crazy angles and funky glyphs, which are expressive and drive attention to the design. You can use it to develop creative posters, logos, or primary font to complement a modern design.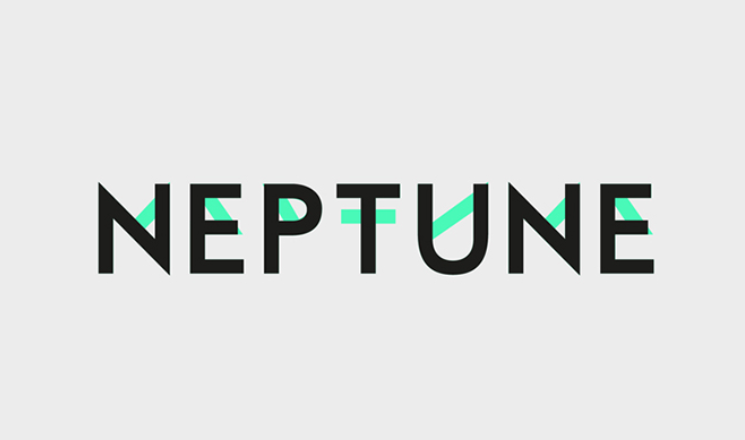 37. Savone
Bold angles and expressiveness incorporate modern vibes into a font. Savone features the same elements with sparingly wielded angles, which is why its usage is restricted to headlines and large text.
There's no denying that the font is unique and has futuristic vibes to it. You can even call it a fantastic combination of retro and science-fiction.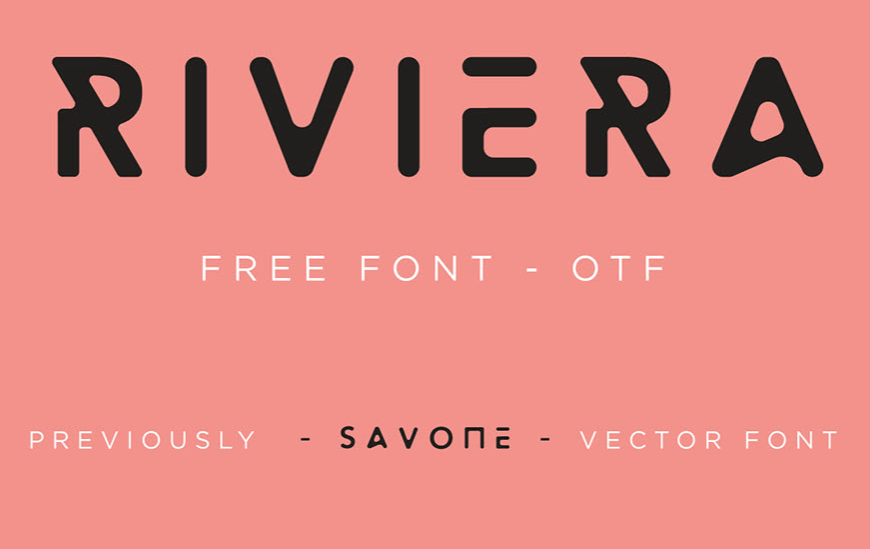 38. UFO Nest
Cropped circles and mystery elements around them, UFO Nest, makes the best example of a futuristic font.
No doubt, this is a busy design for a typeface, but it makes the final product look outside of the box.
You can use it for headlines or set it at large sizes because the UFO Nest can make the body copy hard to read.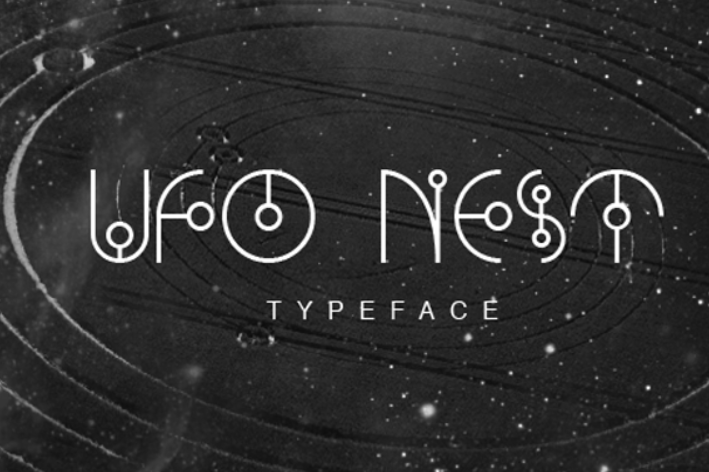 39. Phage
Are you looking for a hard-to-miss font? Phage is all you need! It's a free display typeface, which you can find in two styles.
This futuristic font option is clean and perfect for incorporating futuristic vibes into your creative assignment. And guess what is the exciting part?
Phage is available free of cost for personal and commercial purposes.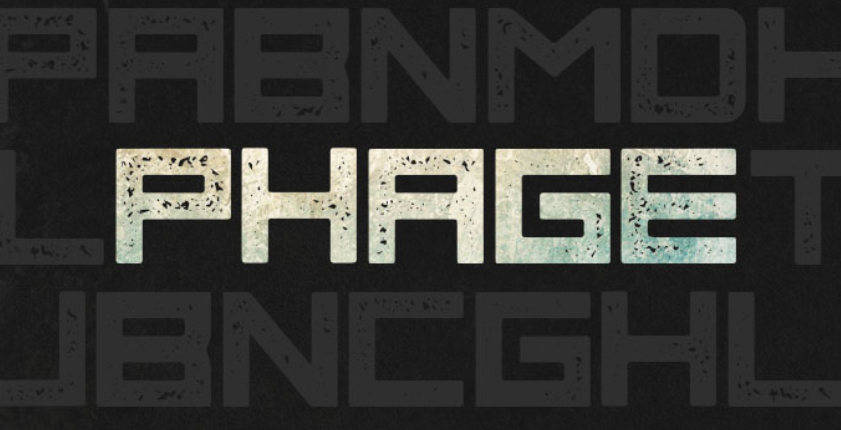 40. Arkhip
Did you know creative letterforms incorporate movement and visual interest to a font? Arkhip is one of the futuristic fonts that features innovative elements that drive attention to creative designs.
Its wave-like curves look aesthetically pleasing and incorporate contemporary vibes to a design. The best part is that Arkhip can work well at various sizes without compromising readability.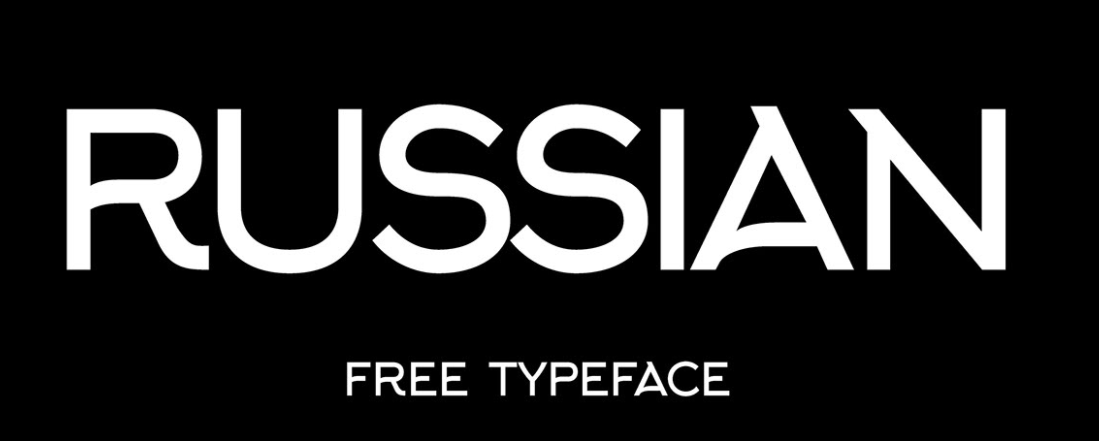 41. Marske
Inspired by stencils, Marske is an all-caps display font. Its letterforms are strong and bold, which will highlight the text and draw attention to the design. The space between the characters gives contemporary vibes.
Marske can become the best choice for modern design. And if you're wondering how to use the cutting-edge font for your creative projects, it's free to use and download.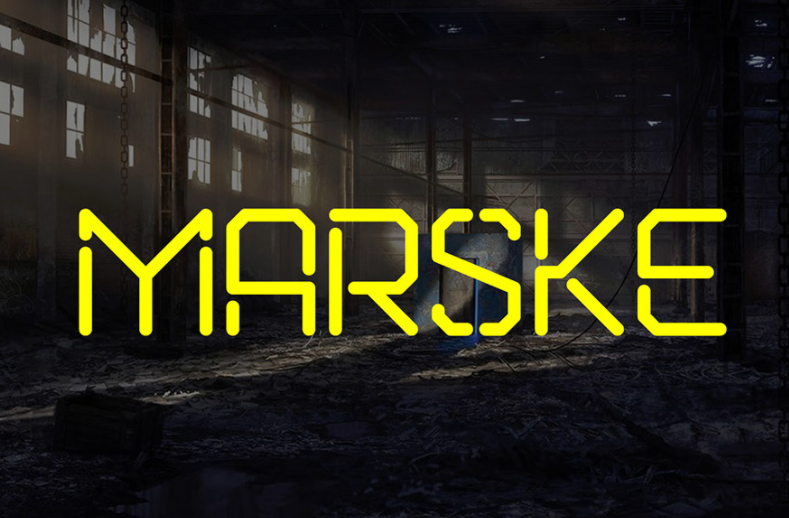 42. Dual
With over 250 stylistic alternates, Dual is here with endless possibilities for what you can create! It is a full-width sans-serif typeface inspired by Proxima Nova, Neue Haas, and Gotham.
Dual features straight lines and 90-degree angles that maintain a geometric feel to it without compromising its legibility.
From the art student to a professional designer, anyone who wishes to experiment with futuristic fonts option can use Dual.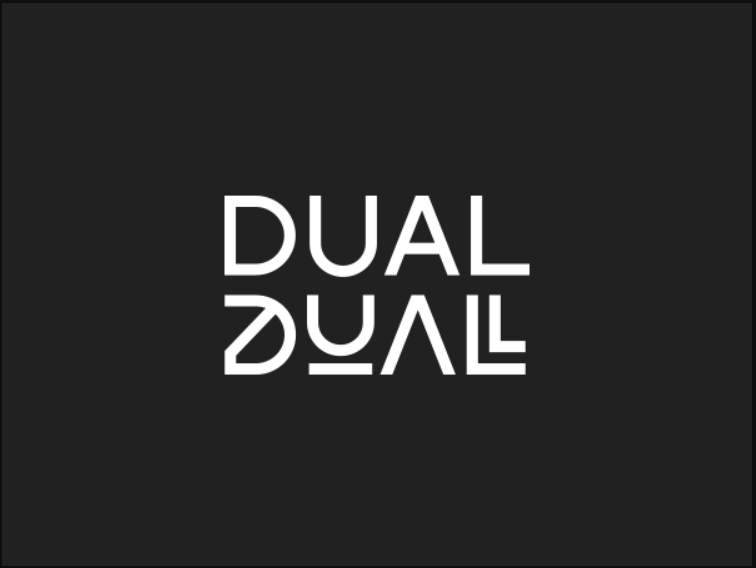 43. Halogen
Bold, strong with several stylistic alternates, Halogen is another contemporary font on the list. With the help of several stylistic alternates, you can take a design project from average to excellent in no time.
Apart from alternate characters, you can find its western European accents and rough version of the original typeface. Halogen is an all-caps typeface, which you can download free of cost.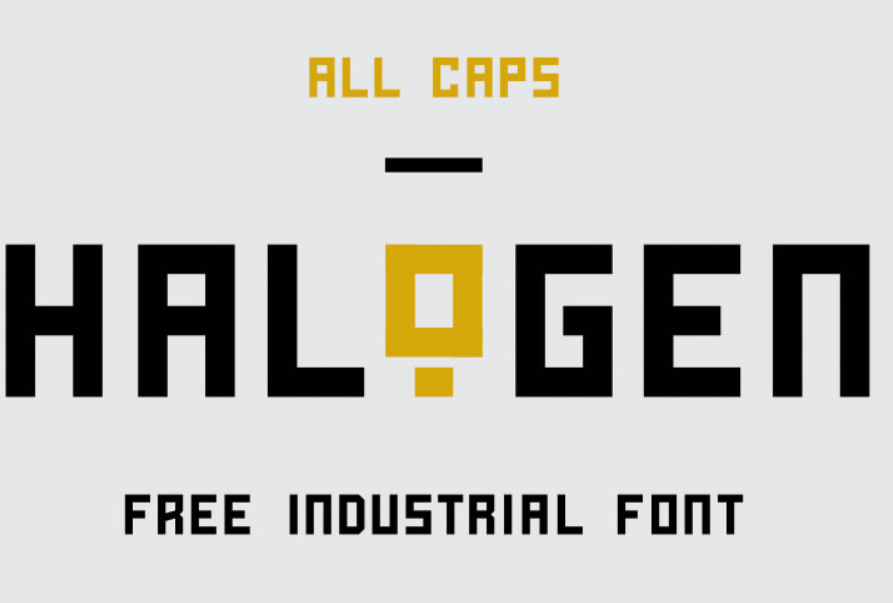 44. Astro
Are you looking for a suitable font for your astrology-related design projects? Look no further than Astro, which is a modular typeface. This futuristic font option is inspired by astronomy and is perfect for assignments that are relevant to the niche.
If you want additional aesthetics, try using it in lowercase. The simplistic font with interesting characters can add charm to any graphic design project and make it stand out.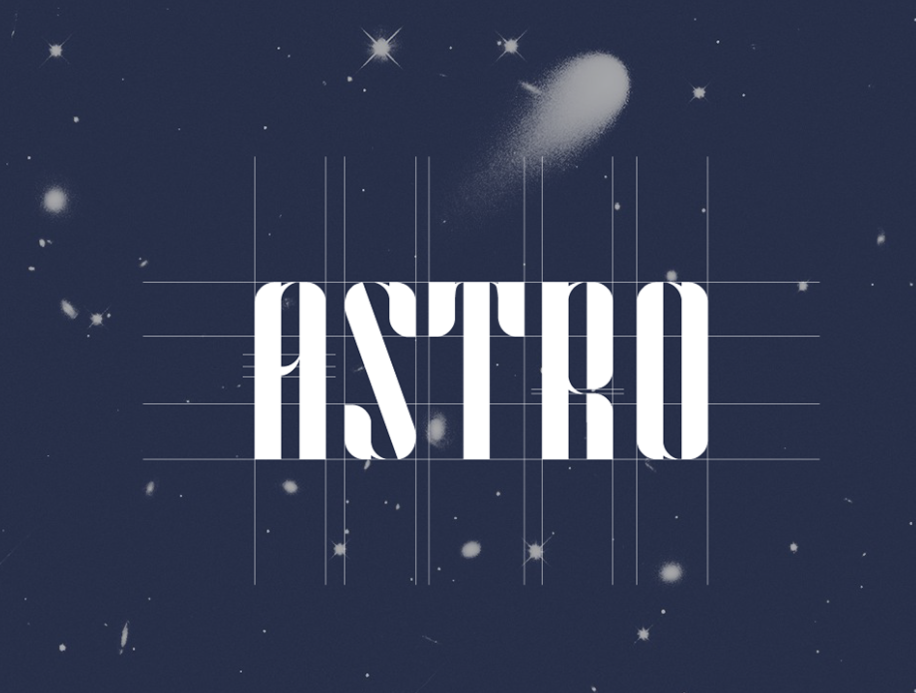 45. Azedo
Do you want to work with a highly creative font? Take a look at Azedo, which is a low font with visually appealing details on its glyphs. The uppercase "A" and rounded crossbar can steal the show.
There's no denying that the font features elegant details that make it an ideal choice for a captivating logo. You can also use it for a headline to incorporate creativity into your project.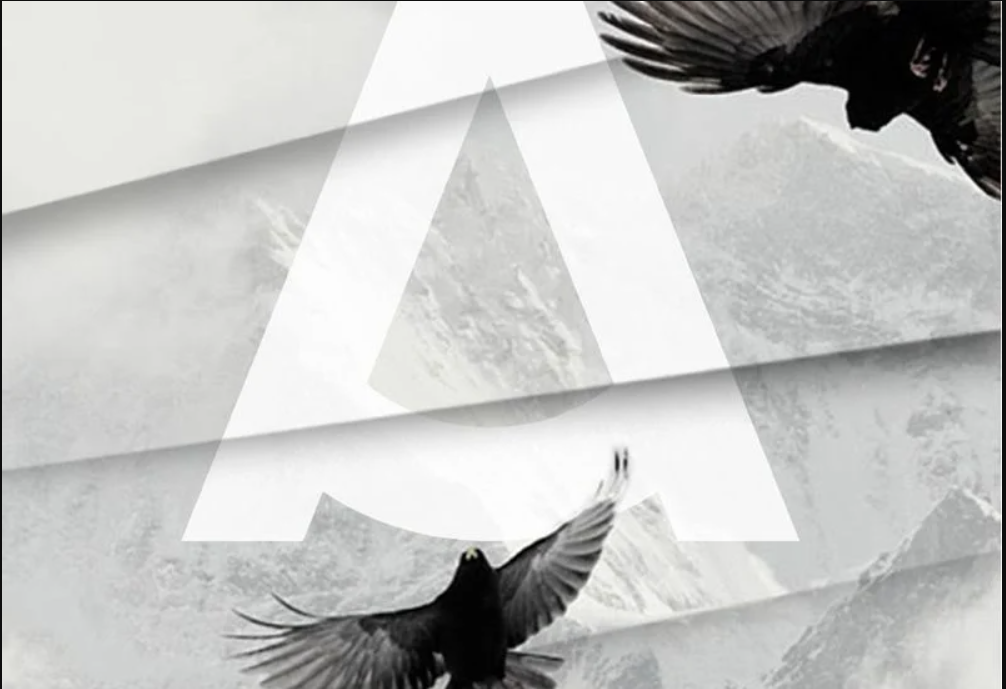 46. Ultra
Did you know Ultra was inspired by neon lights? The designer, Fabien Korn, even recommended setting it using multiple colors. Therefore, you can experiment with any color of your choice and turn it into a genuinely contemporary font.
From lime greens to hot pinks, don't hesitate to try unusual colors, as the font is neon-inspired. It comes with a commercial license, giving you the right to use it for personal and commercial assignments.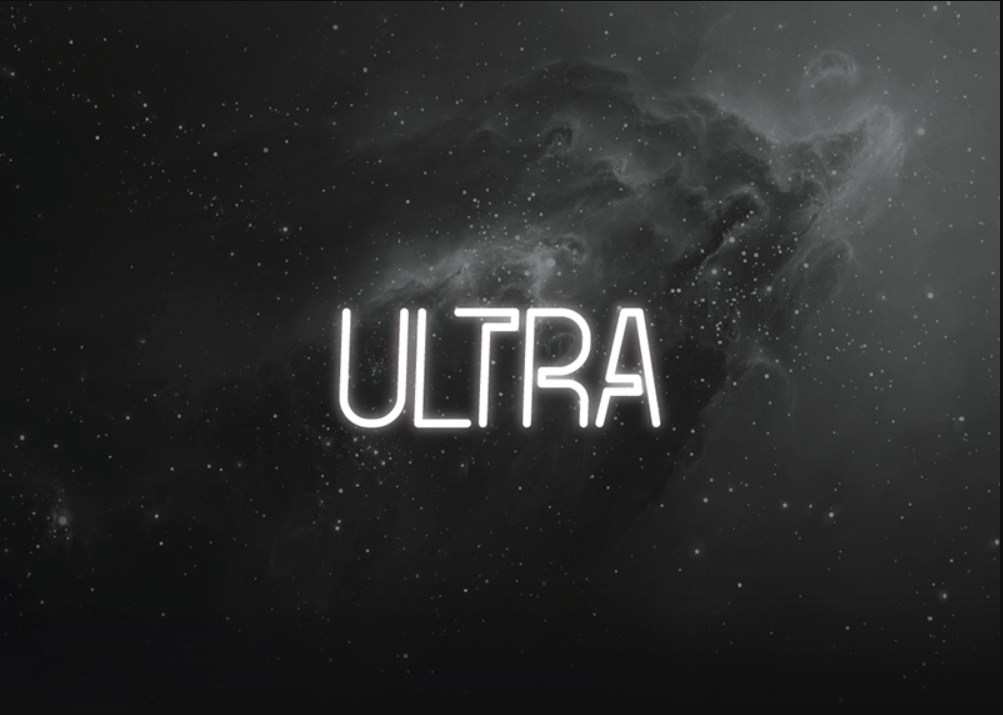 47. Stellar
Who doesn't want to use versatile font options and make their design stand out? If you're in the same boat, try working with Stellar.
It's a slightly condensed sans serif type, and its taller x-height is kept to maintain personality and legibility. You can find four more weights of Stellar to incorporate purpose into your creative designs.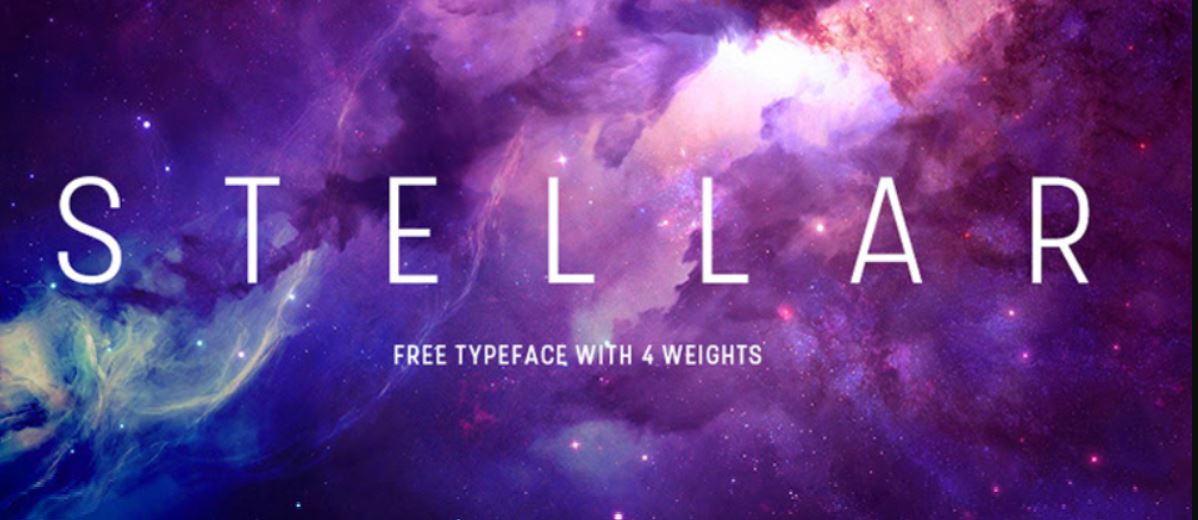 48. Elixia
Available in both lower and upper cases, Elixia offers just the right amount of contemporary vibes. It was built using hexagons with stylistic alternatives for specific glyphs.
Take a look at its ruler-straight lines, unique shape restrained forms, and proportions that incorporate dynamic and futuristic aura to innovative designs.
Using the font will make your creative project futuristic while giving it a mystical and archaic feel. It can also be used as one of the sharp futuristic fonts.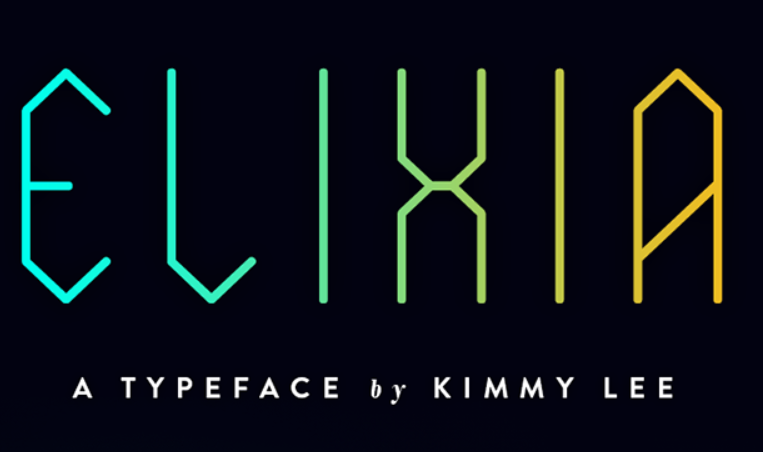 49. Elianto
Are you on the outlook for a free of cost innovative font for your creative assignment? Take a look at Elianto. It's available in lower and uppercase with stylistic alternates for various glyphs.
Did we mention the triangle, which is kept for the letter "A"? The idea makes it a futuristic font that you use to create an innovative design.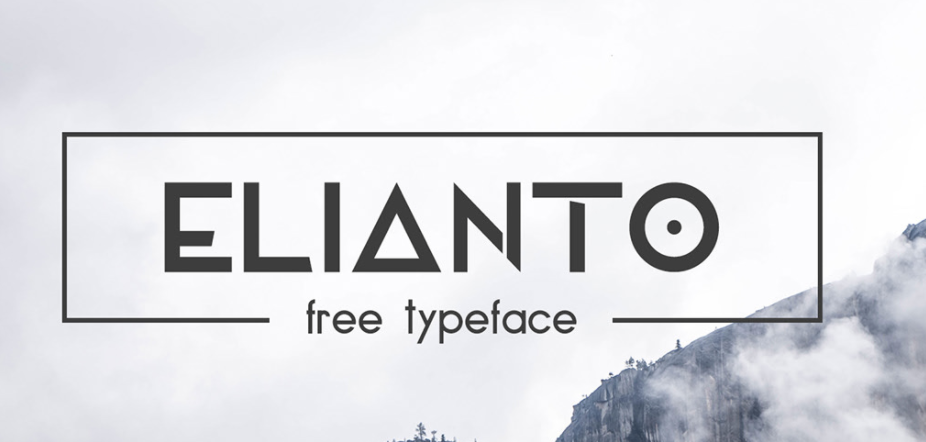 50. Nidus Sans
If you aren't a fan of incredibly expressive typefaces, Nidus Sans can become your go-to option. It follows a conservative take on contemporary fonts.
The best part of using Nidus Sans is that it goes well as a display face and body copy. It's legible in all sizes, and includes punctuation, currency and is one of the best futuristic number fonts.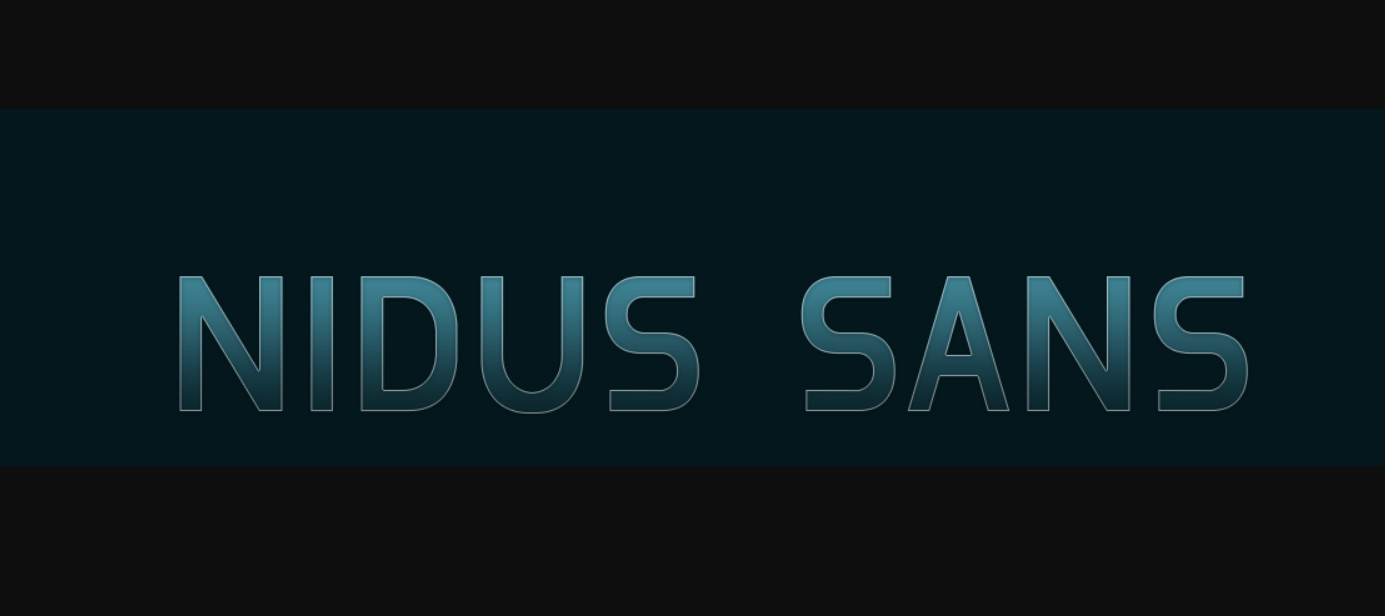 51. Borg
Borg is another eye-pleasing and futuristic font on the list. If you observe, each glyph features a curved opening that incorporates movement to the letterforms. Isn't it look cool?
The stunning glyphs look super clean and crisp too. Do you need a cutting-edge font for a professional logo? Use Borg. It makes the best futuristic font option for t-shirts or other creative projects.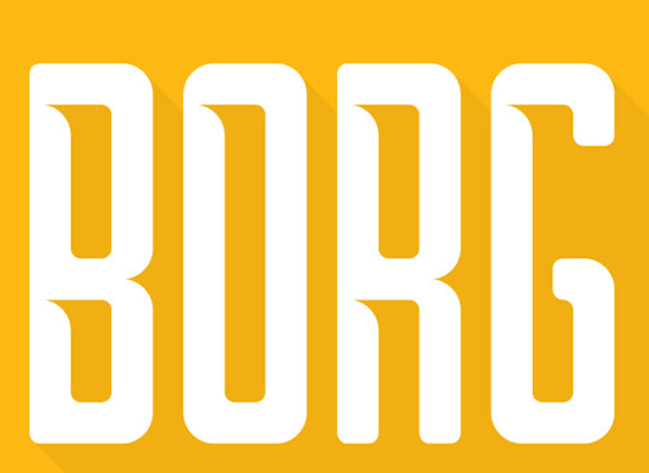 52. Geometric Hurricane
Do you need a futuristic font with the thinnest strokes? Geometric Hurricane is what you need. It makes the best display face choice. From alphabets to punctuation, each glyph is designed to clean and readable.
Do you want to know that exciting part? Uppercase and futuristic font, Geometric Hurricane can be used for both personal and commercial use.

53. Beyno
The quirky and distinct letterforms make Beyno one of the best innovative fonts. The uppercase font can stylize any creative design and draw plenty of attention to it.
Beyno features some of the interesting glyphs, such as "n" and "y." These glyphs make the design visually interesting and make it stand out.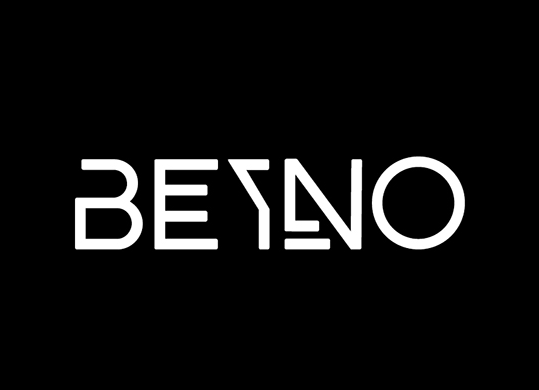 54. Raptor Sans
Bold, simple, and straightforward Raptor Sans is another cutting-edge font on the list. If you observe, it has a retro sci-fi feel to it. Therefore, if you need a bold futuristic font for a design project, look no further than Raptor Sans.
Designer Panos Voulgaris redesigned 60's and 70's book covers to demonstrate the awesomeness of the font. If you're into retro stuff, you can access Raptor Sans free of cost!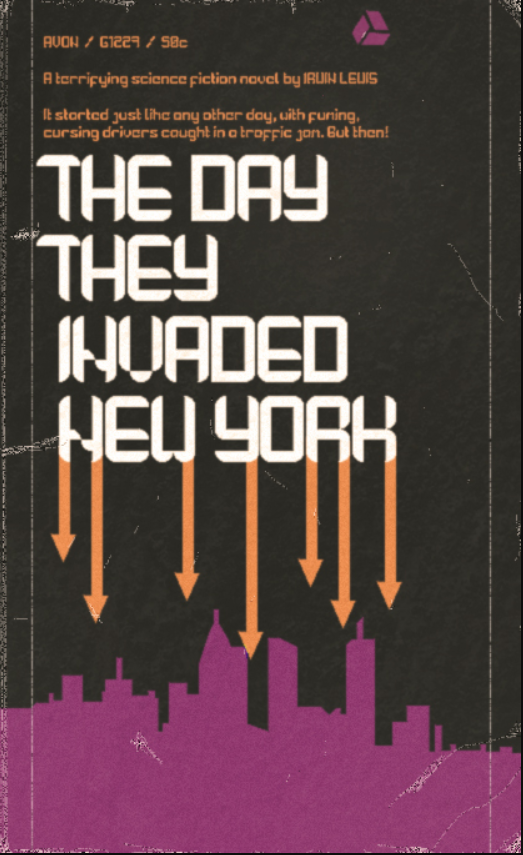 55. Ailerons
Did you know Aircraft Models from the 40s were the source of inspiration for Ailerons? It's a clean and crisp typeface with tall letterforms that is one of the cool futuristic fonts. Using it in a headline can stylize in no time.
With compelling details of each glyph, it can go well even at a large size. The cutting-edge font was designed for the experimental air-models projects; it is now available for personal use for free.

56. Lazerz Additktz
When talking about the best futuristic fonts, it's impossible not to add Lazerz Additktz to the list. A lowercase contemporary font includes numbers and alphabets.
The unusual typeface is solely for you if you admire digital or retro finesse.
You can incorporate it in creative gifs and excellent treatments to see the magic. If you want to ace a creative assignment, go for futuristic font Lazerz Additktz.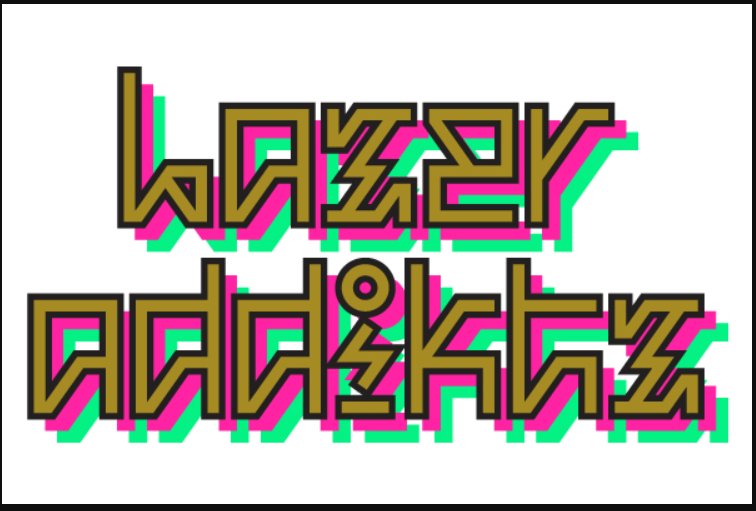 Factors to Consider When Choosing Futuristic Fonts
If you think finding a contemporary font that draws attention and fulfills the purpose is challenging, you can opt for the following ways to make the process hassle-free for you.
1.1 Branding
A font reflects the spirit and characters of your brand. Therefore, you need to ensure that the futuristic font you choose matches your brand's characters.
1.2 Legibility
If a font makes people take extra time to read what's written, they are likely to disregard the design. To avoid this unpleasant experience, you need to go for a futuristic font that maintains readability in various sizes.
1.3 Serif vs. Sans
It's essential to consider your target audience when choosing one from Serif or Sans. Serif typefaces are appropriate for lengthy copies, whereas Sans works well for children or people with visual impairments.
1.4 Font Family
Futuristic Fonts have styles and weights that give creative freedom to designers. You need to focus on how large your project's font family meets typographic requirements.
1.5 Decisive Contrast
Establishing a clear hierarchy is essential when combining two fonts. One font needs to be prominent from the other. You can do that by opting for a different size and weight of each typeface.
Frequently Asked Questions
There are plenty of futuristic fonts. Some of the most famous are:
Caviar Dreams
Borg
Yukarimobile
Forty Second Street
Elianto
Anurati
Minster| Poster WHG
Exo
Blanka
Fuerte
Good Times
Exan-3
Helvetic is known as the readable font. It's a sans-serif font, a modern classic variety, which is one of the popular typefaces.
There are three most popular fonts available for technology-related design projects: Rational TX, FF Din, and Proxima Nova.
The following fonts are tagged as the ugliest fonts:
Hobo
Courier
Times New Roman
Scriptina
Arial
Bradley Hand
Arial is a default font for most browsers and websites compared to the typefaces that are mainly created for the websites. It doesn't go well on the web and is unreadable when used for the paragraph text.
With unique and eye pleasing elements, Luciana is a monospaced font that makes it a perfect futuristic font. Its ultralight strokes give it a dynamic feel. The font is free of cost and editable.
Summing it Up!
The ideas for futuristic fonts are endless. Whether you want to create a retro look or need to incorporate a sci-fi feel, you can find a font for whatever your design's requirements are.
Be it a website design or an innovative logo, there's no denying that font makes the difference and helps a design stand out.
Are you struggling to find the right font? The design lead at our graphic design company helps you find the cutting-edge fonts for your design projects.