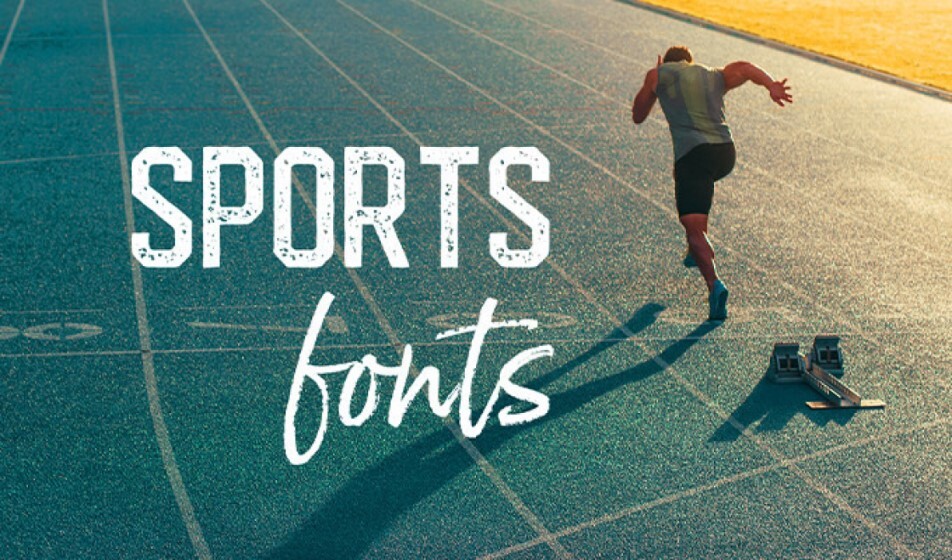 Finding the Best Sports Fonts for Every Logo You Create
Fonts are a great visual tool to incorporate within a logo. It enhances the value and impact of the overall design provided that you use the correct font. But choosing the right font can be a daunting task, especially if you are unaware of the fonts currently seeing use within your niche.
Every niche has a set of fonts that portray the qualities of that business sector. Children-oriented logos use fonts that are easy-to-read, playful, and attractive. Business-oriented logos tend to use fonts that represent professionalism and a sense of formality.
Similarly, sports fonts have their aesthetic. These fonts embody a sense of dynamic energy and movement, exactly what any sports team or athletic company wants to portray. Therefore, if your graphic design agency provides its services to an athletic association, choosing the right fonts that suit their aesthetic is very important.
In this article, I will list the fonts that are your best options when designing a logo for a sports team or company.
1- Top Choices for Athletic Fonts in Logo Design:
There are many sports fonts and typefaces available online nowadays. Some of them are specific to a particular sport or athletic activity. In contrast, others might be common in sports-related merchandising. Similarly, many of these fonts are the primary choices when designing a sports team or company logo.
Frankly, there are too many fonts available for any given task, but choosing the right font for your logo is a daunting task.
The list below consists of the top 12 fonts used to create great sports logos. The list features a mix of both free and premium fonts, so you can find the option that works best for your project.
2- Modern Sports Fonts
Fonts with a modern design are very popular with brands nowadays. The idea behind their use is that a modern font portrays that the brand is fresh and trendy, which can attract a younger crowd towards the brand.
The sports fonts below can help your logo embody a modern vibe, similar to that found in many iconic NBA logos.
2.1- ESPORTE – A call to the classics
This font sports a more classic look than most of the fonts in this list yet sees extensive use in the sports logos industry. ESPORTE is an excellent example of why classical designs are still in vogue years after their inception, despite the arrival of modern styles and fonts.
The ESPORTE font features a mix of sharp angles, straight lines, and pointed outer edges for its characters. This font is better suited for the uppercase letter type. Still, the lowercase letters, too, are a visual treat to look at and enjoy.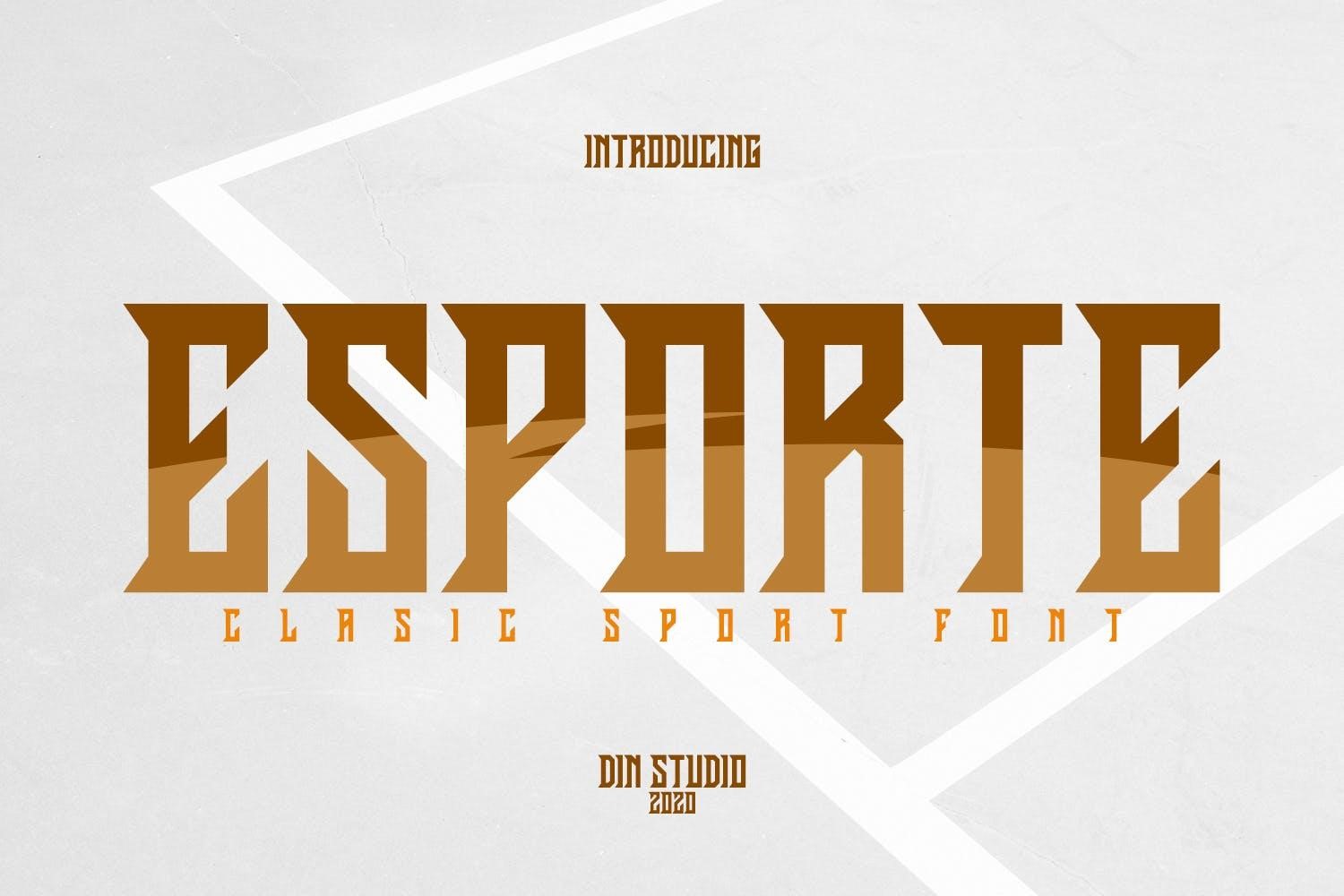 This straightforward mix of design elements means that it is a versatile font to work with and can benefit some athletic teams, e-sports teams, and companies.
Created by Din Studio, designers consider it one of the classic sports fonts, developed to be used for various designs relating to sports or gaming. This font is quite effective when we use it to:
Create logos for athletic sports teams, as well as e-sports teams.
Print text on promotional and branding materials such as banners, flyers, and posters.
2.2- Overhead – Geometric designs to attract the eye
Overhead is a font that relies on geometry for its visual elements. The design of its characters relies on various shapes and geometric patterns joining together to create an alphabet or a digit. That makes a mix of straight lines and sharp angles that draw the viewer's eyes.
The design of its characters makes it an ideal font for sports-related graphics. The addition of the serif on the top left of the characters gives them an air of streamlined efficiency and speed. Moreover, characters' artistic geometric patterns make it possible to incorporate image-based designs such as logos.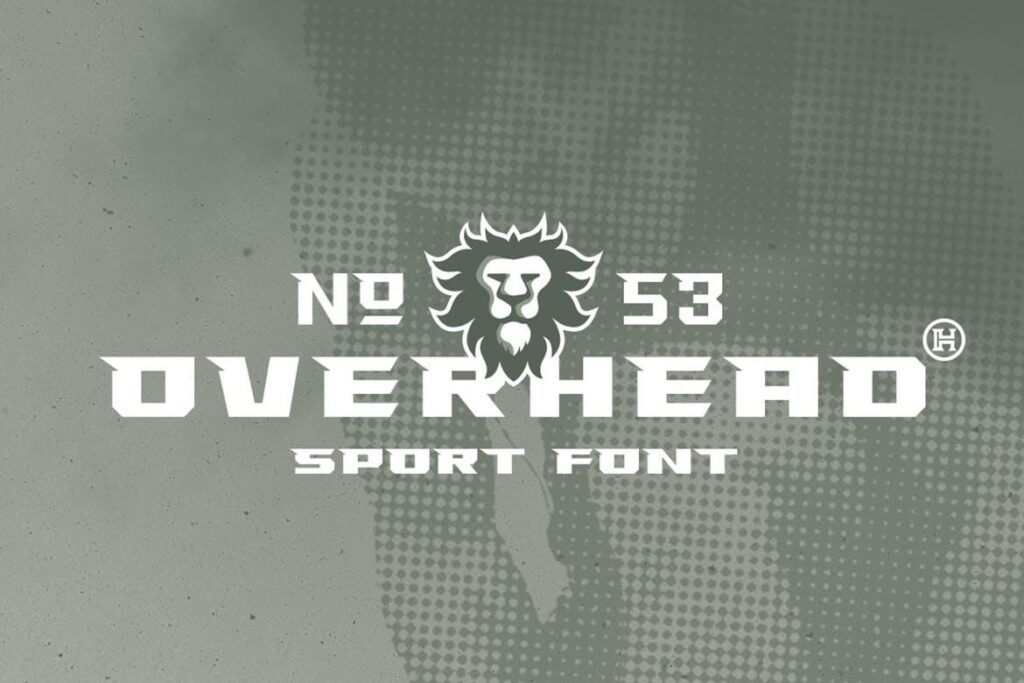 Created by Headfonts, it is a bold and aggressive font, which helps boost the sense of energy and the drive to dominate, which is a typical portrayal for a sports team.
Its characteristics allow this font to be a popular choice for a typeface with a significant effect on multiple mediums, such as:
Page headers
Logos for teams and sporting companies
For captions on banners and posters
Flyer designs and other promotional materials
So, if your font's choice aims to portray vigor and an energetic drive, then this is one of the perfect sports fonts for you.
2.3- Tigerious – Rough-hewn elegance
Tigerious is an interesting font, to say the least. Its design consists of straight lines and sharp angles, with various elements of the characters canted at an angle, making this font an attractive contender for this list.
This typeface is a popular candidate in many e-sports fonts' lists, as the abstract angles of the script lend themselves well to the digital iteration of the font. And according to its designer, Tigerious has been designed by combining various elements from classic athletic fonts and giving the resultant script a modern twist.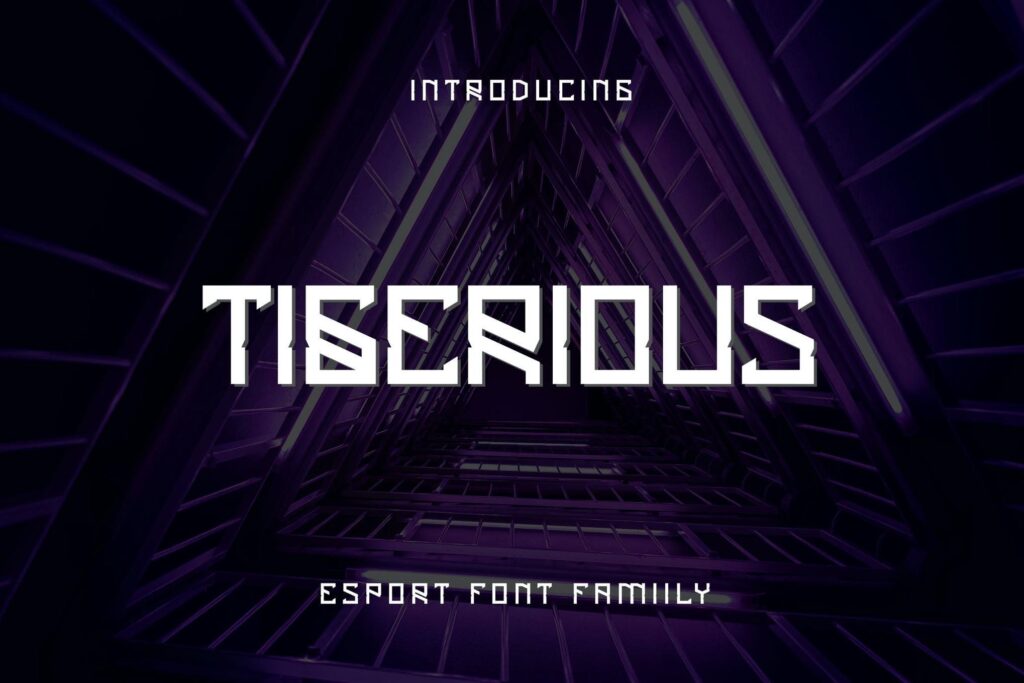 Taking inspiration from the Greek script of old, the characters for Tigerious bear a striking resemblance to Cyrillic script. Moreover, the specific rough-carved imagery of the font makes it look as if the letters are carvings made in stone.
The result is a script that embodies the essence of solidity within it. As such, it can be used in various ways by a smart designer. Besides seeing use in various athletics or sports logos, it is a popular font for:
Promotional posters or banners
Event tickets
Digital album art
Page headers for websites and social media handles
Stickers, decals, and other merchandise.
Designed and distributed by Rometheme, this font can be effective when a modern aesthetic needs to offer strength and solidity to a design. That makes it an excellent choice for many sports teams and athletic companies and the brands that work in close quarters with such institutions.
2.4- Predator 0316 Sans – Show no mercy
This font might look plain initially, but it is a striking typeface that leaves its impact where intended.
The Predator 0316 Sans is a sans serif typeface featuring clean lines, sharp angles, and a left-pointing notch on the characters' internal arcs. That gives it a sense of speed and coiled strength.
Modern design combined with tried-and-tested design principles makes it a great font to design logos and other art for sports teams and brands. It is beneficial for sports where strength and ferociousness are the central characteristics.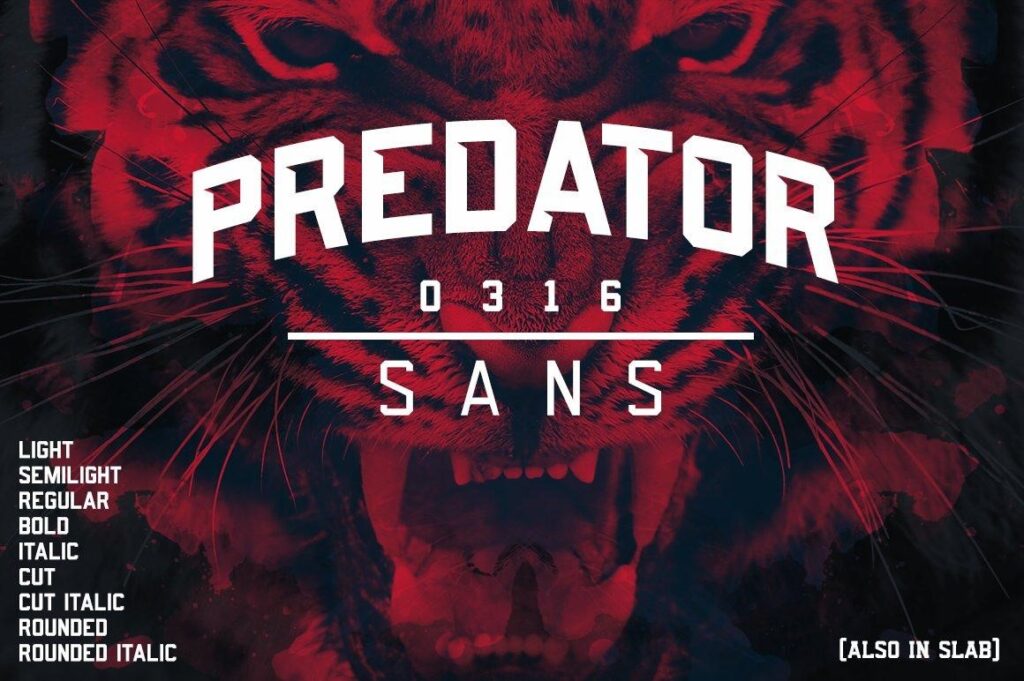 This font is an excellent choice for teams in:
the NFL,
the NBA,
even amateur sports teams in the NCAA basketball or football divisions.
One of the popular sports fonts by American Eargle designers, this typeface can give your logo an edge in intimidating your opponents. You can use it to generate a significant effect centered around a large and powerful team mascot.
3- Vintage Sports Fonts
Vintage or retro style fonts are a great way to appeal to your consumers' sense of nostalgia. Now create a throwback to the simple charm and excitement of yesteryears with the following fonts.
3.1- Curveball Vintage – A throwback font for the nostalgic
This is a font that is primarily associated with the game of baseball. The font's design elicits a sense of nostalgia for the old days before we got caught into the clawed grips of our digital-centric lives.
This font's design brings to mind the style of the days gone by, when ballplayers donning woolen uniforms got down in the dirt, with huge crowds of people cheering them on. No distractions, just concentrating on the game for all its worth.
Curveball vintage is a serif font and uses Tuscan-style letterforms as its inspiration. This gives it a certain old-fashioned charm and character and makes it look like the serifs are thick stitches joining the cloth patch letters to a woolen ball jersey.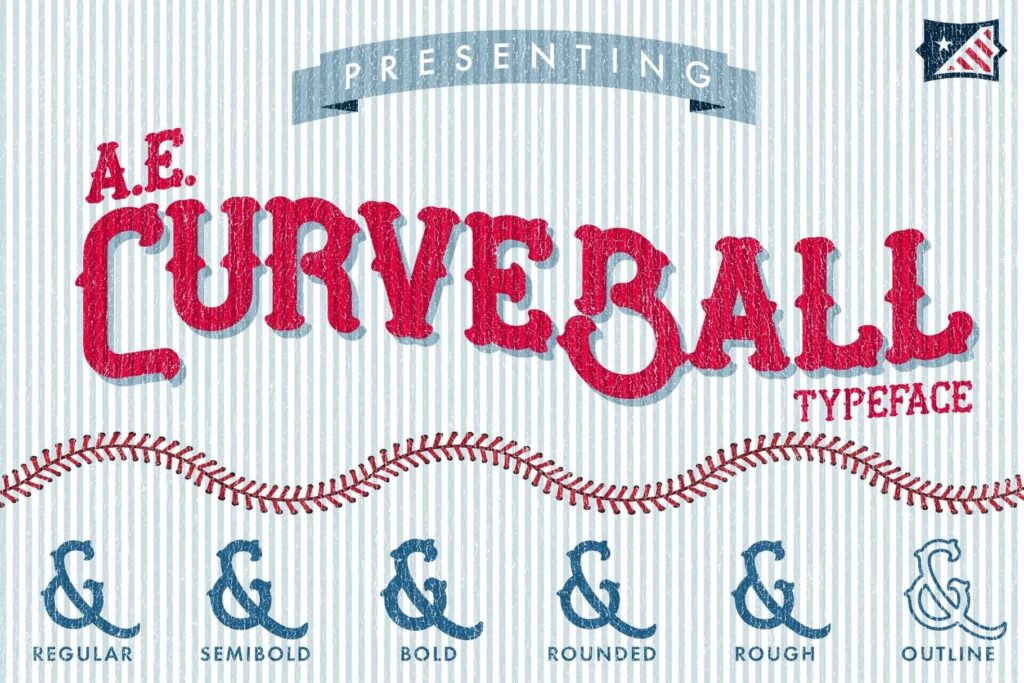 Designed by American Eargle, whose design portfolio contains other iconic sports fonts, this font would work great on a team logo and a variety of merchandise and memorabilia.
3.2- Integral CF – Strike hard
Integral CF is a great font that embodies unwavering strength and power in its bold and blocky script. This makes it an excellent choice for companies that focus on explosive power and their equipment strength. Fonts of this style have been in use for quite a few decades now, so they are far from modern while not exactly retro.
A popular typeface in the world of motorsports, it has spawned many popular sports fonts variants used by many brands in motorsports. Many teams at NASCAR, the Indy 500, and at Daytona use this font for their branding and promotional materials, which includes: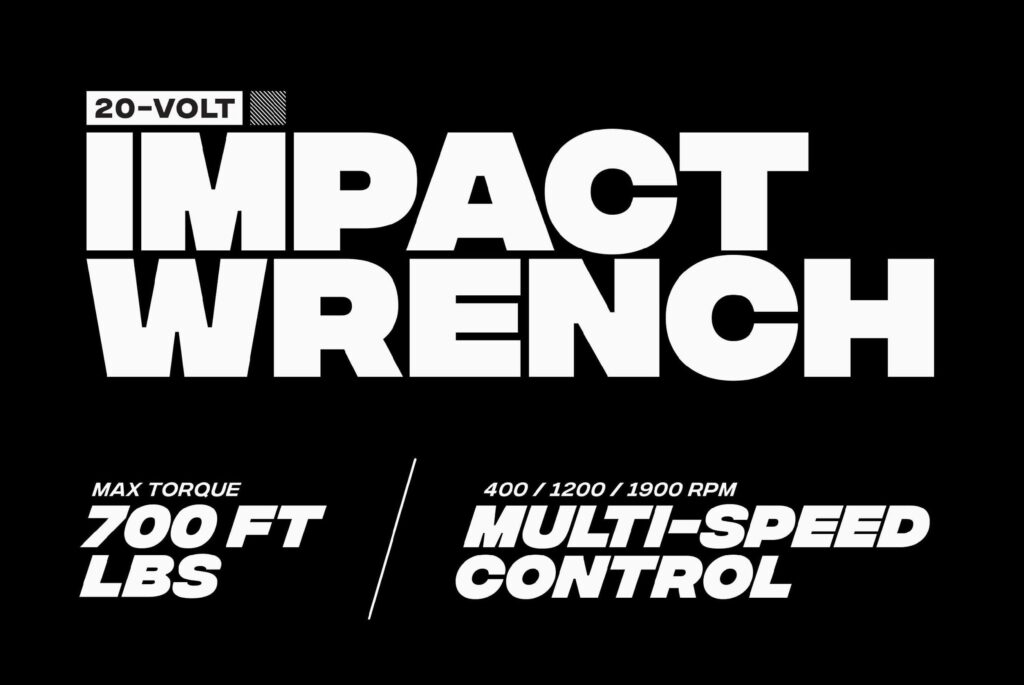 Various decals on the sponsored cars
Banners around the tracks
Promotional posters near the pits
On various clothing, commemorative mugs, keychains, and other merchandise.
Created by Connary Fagen, this font exudes a sense of confidence that tells those who see it that this is something that they can trust. With sharp angles, bold lines, and strong corners, this font makes a strong statement, fostering a sense of dogged determination and competitiveness.
3.3- Vintage Varsity – A throwback font for the nostalgic
This is a font that is quite familiar to many of us. The idea for this font comes from the old iron-on cloth patches that people used to modify their apparel before the era of digitally printed clothing.
The Vintage Varsity font enjoyed extensive use on Letterman jackets, college sweatshirts, and other apparel articles. That made it a well-known typeface associated with the athletics teams at various high schools and colleges across the country.
The font features: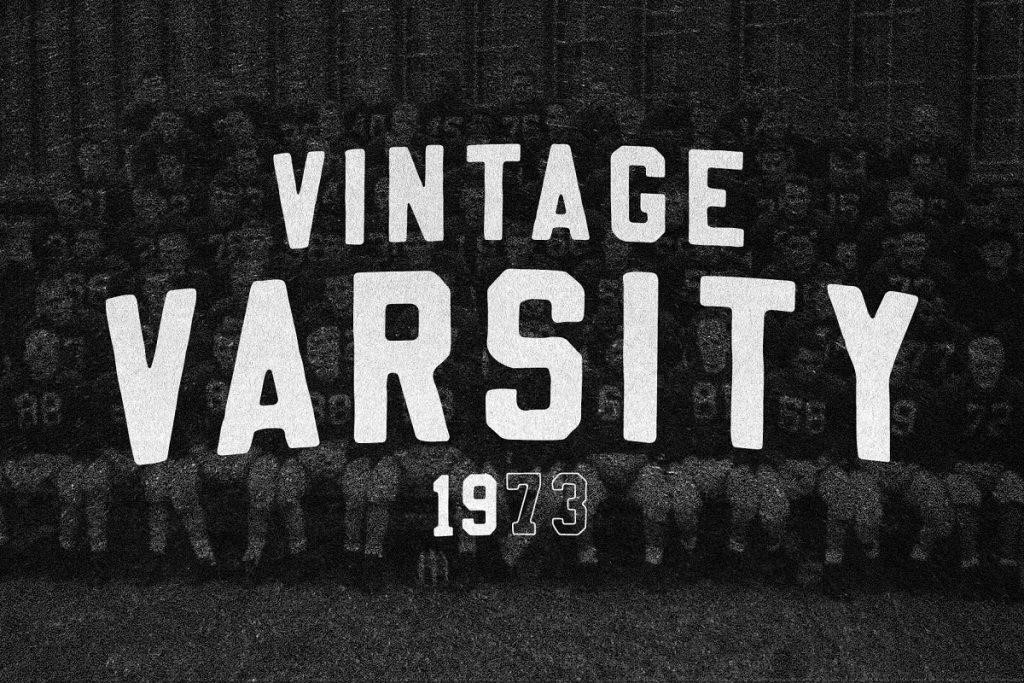 a sans serif typeface.
Clean, bold lines.
Soft angles and corners.
A slightly textured look to the strokes, giving it a vintage feel
Designed by Grant Beaudry, this classic typeface is an excellent choice for designers looking for retro-style sports fonts to design their logos.
3.4- Empera – Fearlessly bold
Empera is a versatile font that is suitable for many applications, including sports logos. Available in six different styles, it is an excellent addition to any logo designer's toolbox.
The six creative styles it comes in make it versatile for use in various ways within a single design. Moreover, each of its types complements the others perfectly while still being distinct enough to stand on their own.
The characters for Empera feature a mix of chamfering and straight lines and intuitive use of serifs to make the characters look prominent, creating an athletic font with a sharp outline. These design elements make it perfect for use in many sports-related materials, such as: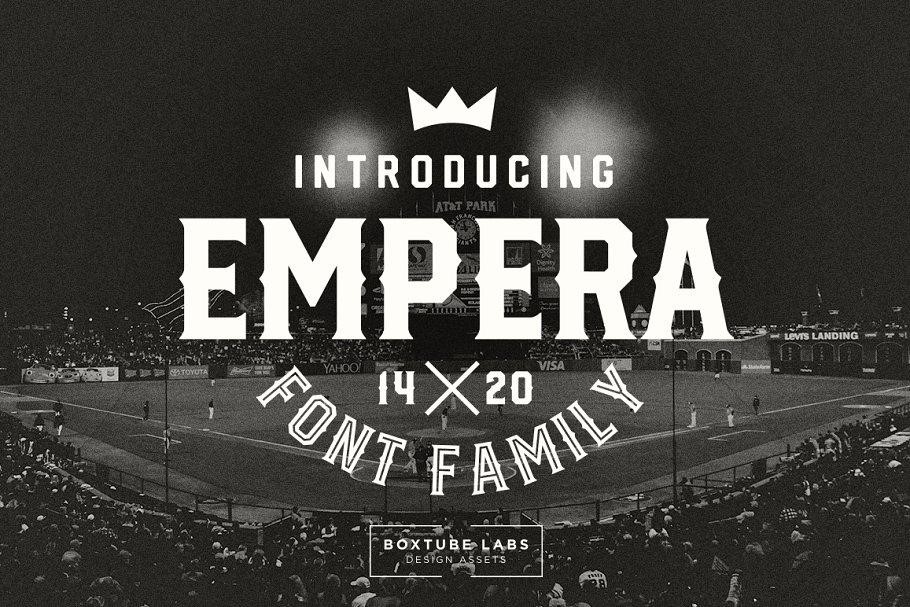 Design logos for sports teams and athletic companies.
Develop branding and advertising materials such as billboards, digital or physical advertisements, and much more.
For promotional apparel design, such as peaked caps, hoodies, t-shirts, sweatshirts, and more.
Created by Tobias Alexandersson in 2019 and published by BoxTube Labs, this font features a mix of modern and vintage design elements. The upper and lowercase letters differ in visual designs to help each character stand out rather than blend in within the structure.
4- College Sports Fonts
Most of them feature bold fonts with distinct lines and simple designs from high school to college athletics teams. Logos printed in these fonts see many uses, from athletic apparel to sports equipment and even commemorative souvenirs.
Have a look at the following fonts designed just for this aesthetic.
4.1- Helofone – A great first option for a sports logo
Helofone is an excellent option if you are looking for versatile sports fonts for use in many different athletics-related designs. This font works great for both physical sports team logos or e-sports team logos.
This font is quite attractive and appealing, with sharp angles countered by smooth roundedness in its characters' formation. Its impact is maximum when using uppercase characters to provide a better visual balance between the design elements.
A dual gradient font, this typeface is a great way to make your logo attractive while keeping the overall design simple, which is an excellent way to: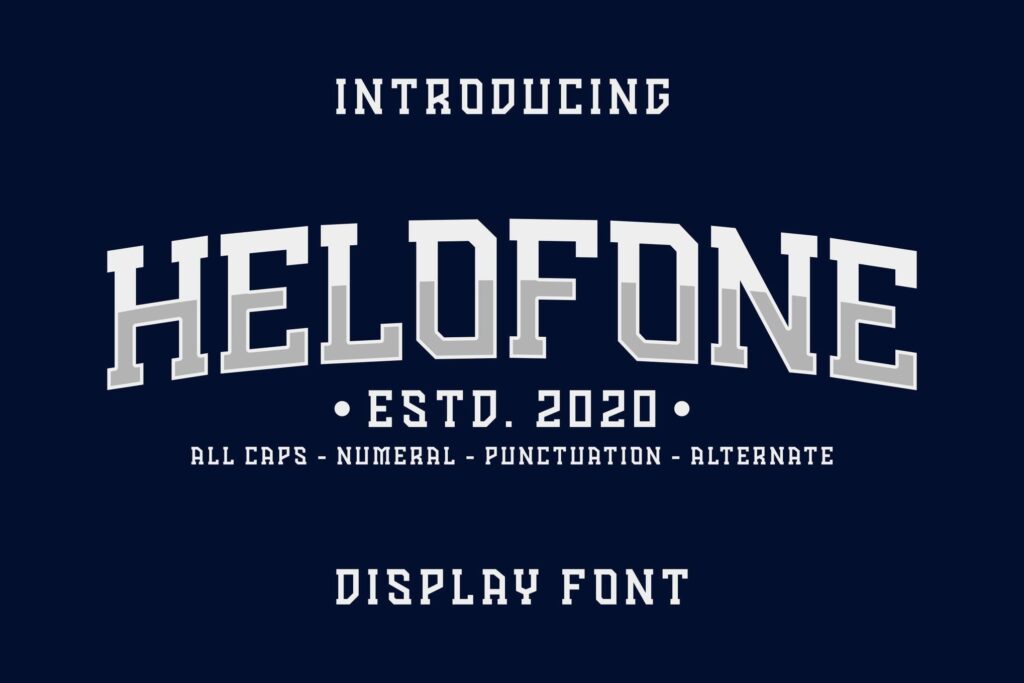 Attract more consumers to your brand.
Design your logo and, in turn, make your brand more memorable.
Make your logo embody youthful energy and drive.
This font is popular with many high school and college sports team logos and sees extensive use in several promotional materials.
It can create posters and banners used for sporting events or those hyping up star players and teams.
Event tickets.
As a popular sports jersey font.
On hoodies and decals.
4.2- Norwill – When classic meets modern design
Norwill is a relatively modern font, yet it shows that it carries over old-school sports typefaces' legacy. That is because Norwill uses a mix of elements from several old sports-oriented fonts.
Looking at the font, you will see that it looks similar to the fonts on many a high school letterman jacket or game jersey from a decade ago. Many schools and colleges still use identical fonts for their sports teams and related merchandise.
The Norwill font is a great font to design a sports logo, as well as: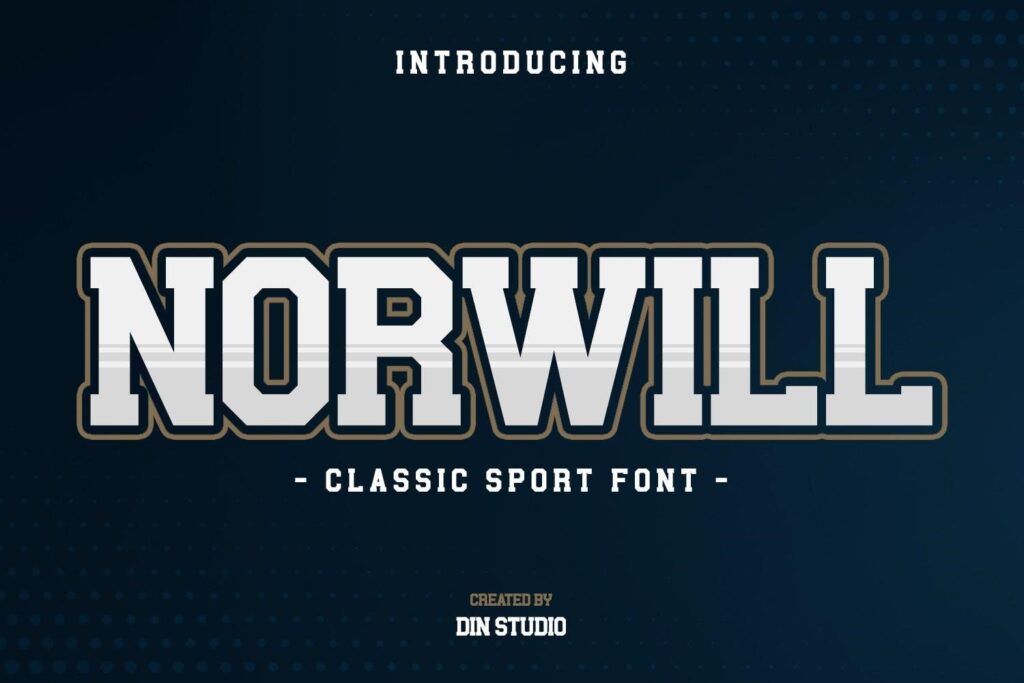 Promotional banners and posters.
Team jerseys and kits
Letterman jackets
Cloth patches for team memorabilia
Another innovative creation from the designers at Din Studio is that this font features a prominent slab typeface, making it easy for people to see even smaller. This makes it ideal for sporting logos and other similar uses. It makes it easy to create legible designs even at a distance, such as on a football field or a baseball diamond.
With simplicity at its core, this font is an excellent addition to a designer's font collection.
4.3- Freekick – A simpler design
Unlike most sports fonts in this list, this typeface relies on rough edges and bold strokes, similar to characters written using a paintbrush.
Freekick is a font that portrays a casual environment, which lends well to organizations geared towards an entertainment aspect. Created using a digital brush pen, Freekick has clean strokes, which give way to feathered and rough edges towards the end of the brush stroke.
This makes it a great font to create logos for many athletic teams and e-sports companies, looking for a creative way to stand out in a crowd of competition by their fans. Moreover, this font can work well in a variety of other ways as well.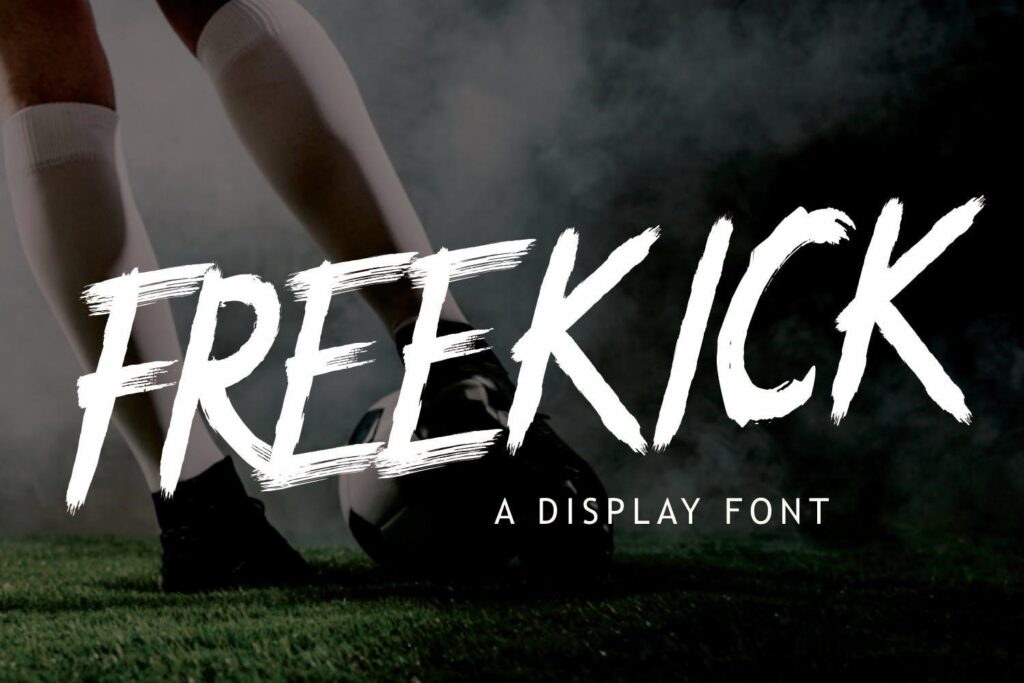 To create digital cover art for games.
It can be pretty effective as an excellent font for custom printed apparel such as t-shirts and ball caps.
Branding merchandise for crafted or DYI products can work very well with the font's brushstroke aesthetic.
Designed by Girinesia, this font has a bold slab typeface softened by somewhat uneven brush strokes. This versatility makes this font a great addition to any designer's font collection.
4.4- College – The true classic
When we list down the most popular sports fonts in use, one font is the true epitome of a vintage font. Despite that, this font is still popular with many companies and sports teams even after seeing decades of service.
The College font is an enigma. A simplistic typeface, this font dominated as the most commonly used font for the team logos in several professional sports. Whether it is the NFL, NBA, or even NHL, this font has been used by some pro teams and a majority of school or college-level athletic teams for a few decades now.
This font features: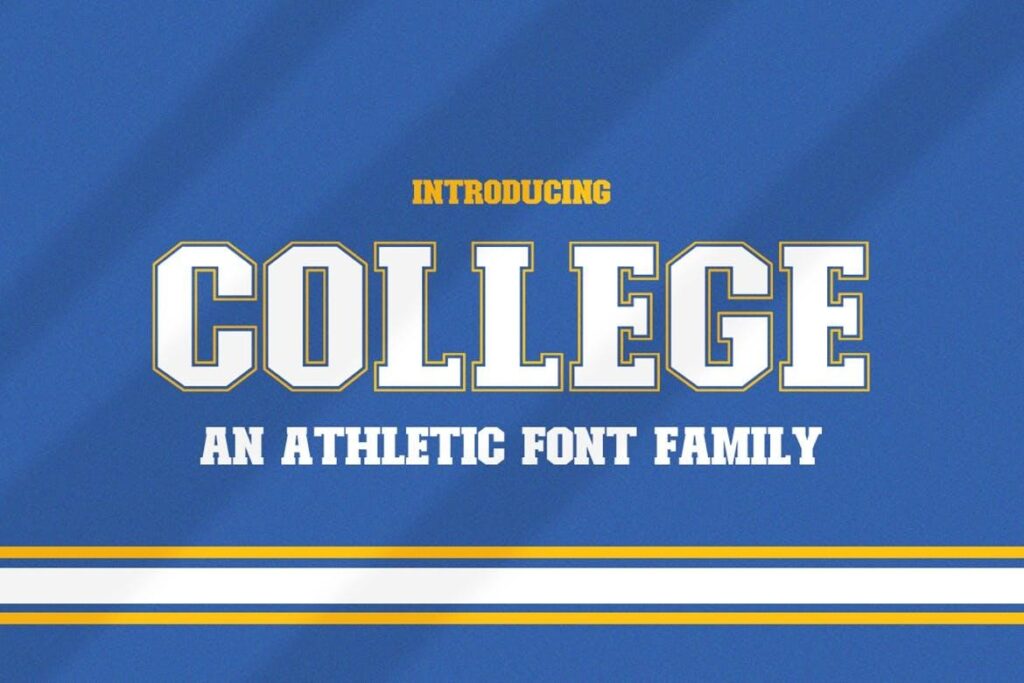 a slab typeface,
clean straight lines,
more distinct character shapes.
These features combined make this font a great option to print in various sizes without losing its clarity. That way, it can be used to print team logos and mottos on various merchandising and branding equipment, such as:
custom clothing apparel
mugs, keychains, and other souvenirs
promotional posters, banners, flyers, etcetera.
Designed by Matthew Welch, this free font personifies the concept of efficiency in simplicity, which is how it has been a popular choice of fonts for years now.
5- Pro Sports logos and the importance of the right fonts
Font-based logos are pretty common in the world of sports, both athletic and e-sports, and have been for a long time. The colors, imagery, and the right font combined bring us many of the fonts we love today.
Studies have shown that the logo with the best impact is simple and easy to grasp at a glance. While many images use simplified images or silhouettes to accommodate this, the simple fact is that no design, however simple, is easier to understand than a word or a phrase.
In high-intensity sports like the Formula races or extreme sports, prominent fonts either accompany the emblem or appear alone. That proves that people have an easier time recognizing characters than images.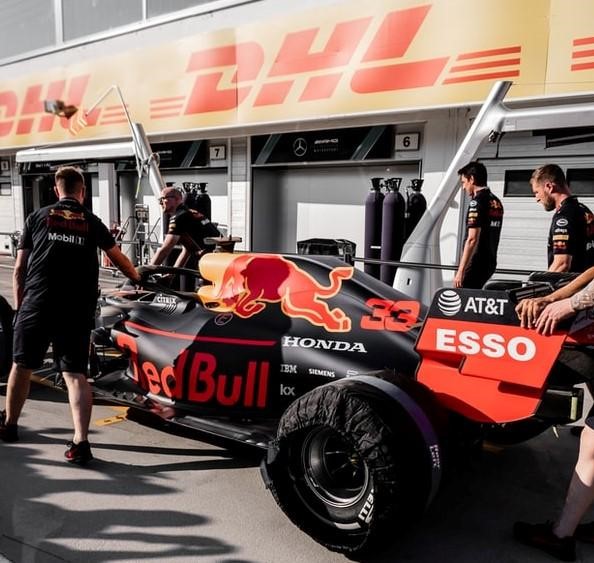 6- Finding Best Free or Paid fonts for your Sports Logos in 2023
When designing a logo for your client, an important factor is finding the font which suits the logo. It does not matter if the font is free or requires a premium as long as it serves your logo's purpose. You can find the required font on one of many online repositories which host typefaces in many styles.
While most of these purpose-built designs are free for personal use, using them commercially might require that you buy a commercial distribution license from the designer. The cost of that license varies from font to font, as well as the application of use.
Listed below are some resources where you might find the right font for your project:
Dafont is a great online resource that hosts fonts catering to various topics and uses. If you search for sports fonts on dafont, you will come up with several options, a few of which could be the font of choice for your logo.
Envato is an online design marketplace, which hosts everything from fonts to WordPress themes. You can find many options to choose from if you search for sports-related fonts on the web repository.
Canva is a great online tool that can design a logo for your amateur or school sports team. Some popular fonts in Canva come in-built, making it easier to design your logo with the correct font of your choice without downloading additional typefaces.
Frequently Asked Questions
There is a highly modified typeface in NFL logo with similarities to multiple fonts. Popular fonts suspected are the Dispatch typeface, the Clarendon, or the Freshman font. Still, so far, NFL has declined to confirm any of them.
The Dallas Cowboys logo features a script logotype similar to the incidentally named Cowboy font. The font is a creation of Sharkshock and features capital letters, numerals, and a limited set of punctuations.
One of the primary typefaces that the Philadelphia Eagles Logo uses is the Diamante, a sans serif font suited for the main or supporting texts. The other primary logo is the Copperplate, which is an elegant serif font.
Conclusion
When designing a logo, we need to consider every visual element that will go into it. From the color scheme to the fonts, every aspect should complement the overall idea of the logo.
A strong brand logo is good because it fulfills its purpose. No matter how visually appealing a logo looks, if it fails to embody the essence of the brand it represents, then it is a failure.
The sports fonts listed above are the 12 best options commonly used to design logos for various sports teams. Finding the right font requires patience, but the result is a logo that will leverage its full potential to be the face of the group it represents.