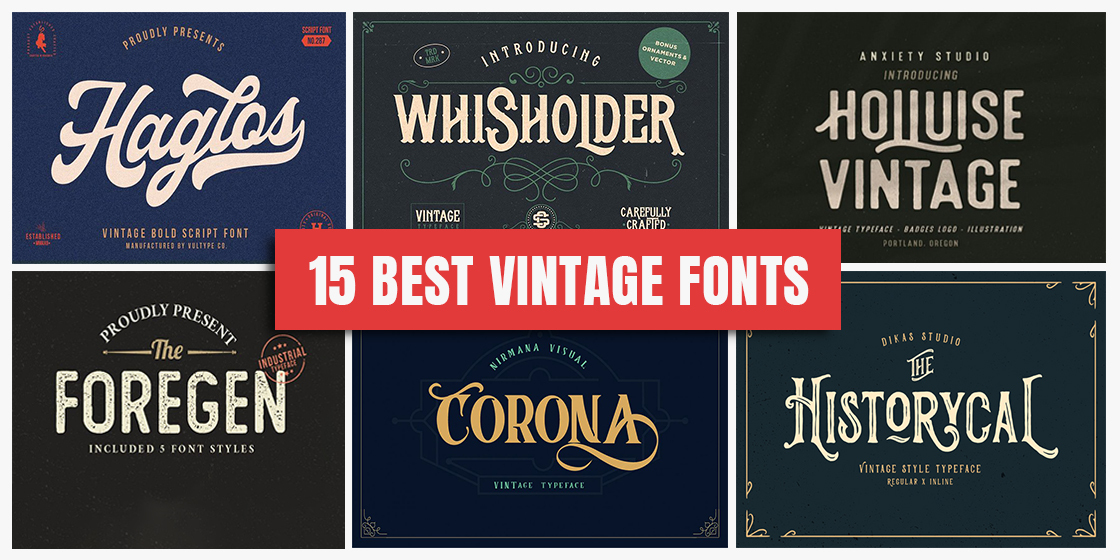 Discover the Top Retro-themed Fonts Perfect for Your Designs
We all know that designing is an art and needs an intelligent piece of mind to execute the ideas that can engage the onlookers. The branding of a company depends explicitly on designing its logs, banners, and other related stuff.
Creatives providing professional graphic design services need to know how to utilize various attributes to make their artwork creative. For instance, many experts highly recommend vintage fonts, rightly due to their uniqueness in style. These fonts offer a stunning vibe of exclusivity that helps grasp the viewers' attention every time.
Till to date, these retro fonts are regarded as the best typographic material by designers. Introduced during the golden era of the 60s and 70s, these vintage typefaces haven't become old by any means. Their usage in the logos, product sales banners, and other marketing material has increased thoroughly with time, offering a great emblem of creativity to the whole design.
1. Why People Still Prefer Vintage Fonts & Logo Designs
There is a reason why the 60s and 70s are referred to as the golden era of the world. The design aspects created during those times have got a vibe of creativity, so they are still preferred heavily by the designers.
But, you might be thinking about what could be the reason behind that?
Well, people do like to associate with the attributes of the golden era. Whether it is fashion symbols or sports logos, the essence of the vintage era can be seen everywhere, rightly due to the vast engagement of people with it.
This blog will look into a specific aspect of the vintage style, i.e., the usage of retro fonts in designing logos, posters, etc. In a brief listicle view, we will cover some of the unique retro fonts that are still loved by designers worldwide.
We know you love them too, right? Let's take a look at their names below.
2. Top 15 Retro Fonts You Should Know About
Retro-style fonts can be categorized in a variety of ways. However, we have broken down our list of vintage fonts into three main types based on their style. These categories include:
Bold Retro Fonts are vintage fonts available in only a bold style, with characters featuring a vintage design similar to those found on old postcards and ads.
Cursive Retro Fonts include typefaces that feature a cursive, script-like design. A few of these fonts mimic handwritten characters, while other styles are more popularly found in LED signboards or print ads.
Miscellaneous Retro Fonts include popular vintage logo fonts that do not precisely fit into the other two categories.
3. Bold Retro Fonts
Here are some of the most common bold retro fonts used by designers.
3.1- Dillan
Suppose you have ever watched movies dating back to the times of the 70s. In that case, you must have noted their titles written in a bit thick style, which represents the Dillan font. It is derived from the serif family, so it has a remarkable resemblance to it. They are perfect for giant banners and cards but require an excellent catchy sense of background as well.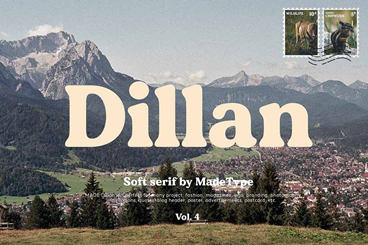 3.2- Geomancy
Designing a brand logo to attract the eyes in huge numbers? Geomancy could be the right choice for your next artwork.
It looks a bit bold and bulky, which is why it allows you to attract attention quickly. It is one of those fonts that has got the feel of both retro and modern age style, which is why it is preferred to cover all types of creative typographic needs.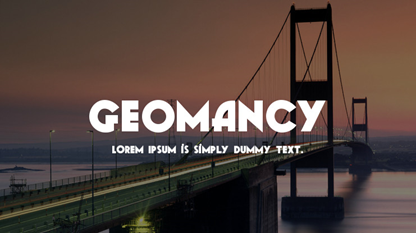 3.3- Monoton
Don't get confused with the name of this font. There is nothing monotonous about it.
It is indeed a unique typeface that is derived directly from the golden era of the 80s. It brings a bit of a classic disco vibe in its typographic style, making it look flawlessly audacious for different types of logos.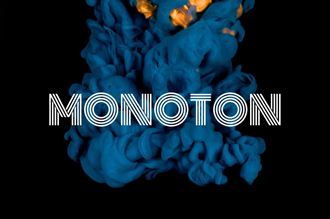 4. Cursive Retro Fonts
Cursive retro fonts are yet another popular choice among designers around the globe. Let's take a look at some of the standard cursive retro fonts below.
4.1- Ramdone
If you want to imitate your logos or banners with a specific ambiance of the 60s, take a look at the exquisite class of Ramdone fonts. They are too good to make your relevant artwork look classy, ideally with a style of its own.
These fonts will allow you to bring the feel of golden times without ruining your design to look old or outdated by any means.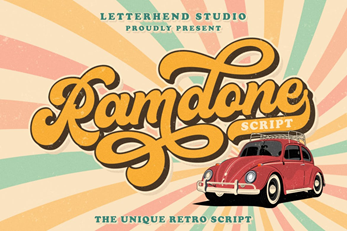 4.2- Lazer 84
As the name suggests, Lazer 84 brings the nostalgic feel of classical times, allowing your 80s graphic design to imitate a perfect classy look. Using a combination of different colors, Lazer 84 can give a great touch of the golden era to your project. That gives you a great advantage to engage the gaze of more and more consumers.
Yes, you heard that right.
This font style is creative, and it brings a meticulous pinch of 80s disco in your artwork, giving it a stunning, trendy outlook.

4.3- Conture Script Font
We all love writing letters by hand, so why not use the same practice while designing logos or posters?
Well, with a Conture script font, you can certainly do so, as it looks perfect, like a handwritten letter. It has got a unique decorative type that makes it look like a word written manually by someone.
That is the core reason why designers regularly use this font, as it gives a great pinch of self-creativity to them.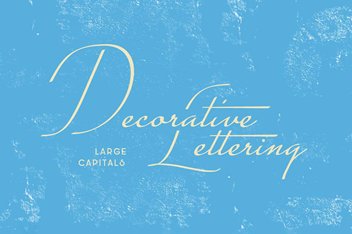 4.4- Fenway
This font style can be associated with two attributes; one, it brings an excellent old vibe. Second, its style is quite reminiscent of popular sports fonts. If you have grown up watching baseball, you must have noticed the usage of this font in earlier times. It is indeed stunning retro typography that imitates the great old culture of American baseball.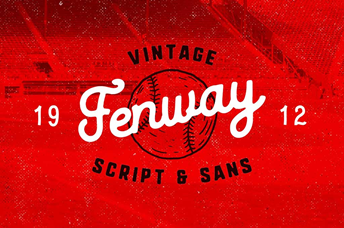 4.5- Bayshore
Coming straight out from the glowing vintage style of the 80s, Bayshore enables your artwork to attain a fabulous imitation of having an unbeatable retro edge. You can play a lot with this font style in Photoshop, as it can be customized with multiple colors, neon flashes, and more others as per your designing needs.
Sounds good, right? That is what this vintage typography style is all about.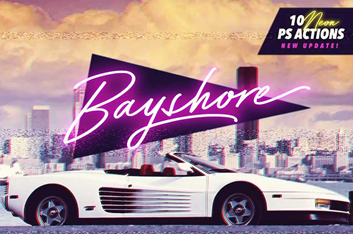 4.6- Manchester Signature Font
Turning unique handwriting into artistic signature typography, this style is one of the finest in our list of vintage fonts. It looks highly creative, which is why it imitates an unmatchable class of elegance.
Well, you must be thinking that it looks like perfect handwriting? Indeed, it is.
That is what makes this typeface different from others and a definite choice for designers around the world.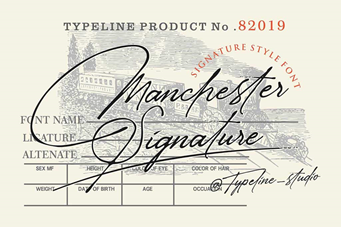 4.7- Carosello
The italic-styled Carosello font is yet another popular pick in the category of vintage typographies. It looks very trendy and fits perfectly for designing promotional banners. Introduced during the 1950s, Carosello is still preferred for designing cards, flyers, posters, and other stuff around the globe.
It looks retro and offers a chic aesthetic in the illustrative logo design, making the overall branding engaging and attractive.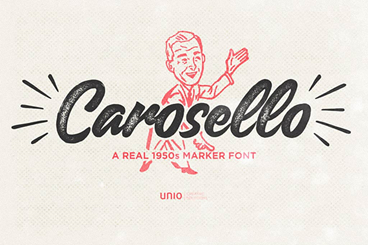 4.8- Devilion
Offering a great pinch of retro-chic styling, Devilion is highly creative typography that suits perfectly all types of logo artwork.
Wondering how well this font is crafted? Well, it is just simply outstanding.
The catchy handwritten script gives it a modish look, allowing your design to grab viewers' attention. Meanwhile, you can also do more with this font by customizing it through Photoshop. From adding layers to modifying color gradients, there are various ways with which you can alter the overall looks of this font in Photoshop.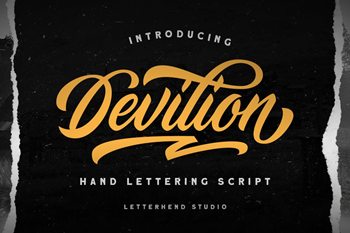 5. Other Vintage Fonts
5.1- Riesling
This font is unique from the other retro typefaces, rightly due to its unique decorative style. It can transform any conventional logo into a highly prestigious brand emblem, provided it is used with the right colors and size. Many designers prefer to use it with the black and white combination. However, you can customize it as per your design requirements.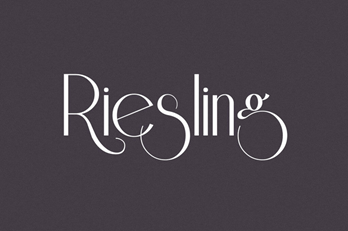 5.2- Bros Rover
Bros Rover relates with the specific category of classical sans serif, which is why it looks unique. Its great style offers a lavish feel to the logo, flyers, and other relevant materials, allowing the company to grab the interest of the targeted prospects.
But, wait, here's the thing to keep in mind.
This particular retro font only looks good in a bigger size. So, do remember to use it with the same preferences.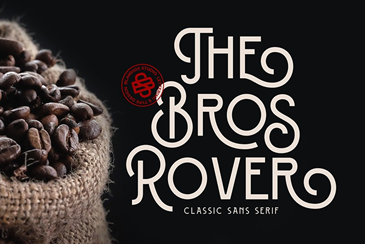 5.3- Franks
Designed by Philippe Moesch, Franks is also derived from the famous class of sans serif. Still, it looks very different as compared to all.
So, what makes it look different?
It looks a bit slender and straightforward, which is why it fits well for all types of banner typography. For logos or wordmarks, it is recommended to use them in bold style so that their visibility can become intense.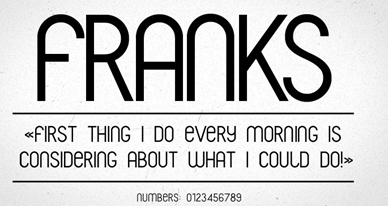 5.4- Cheque
The geometric-shaped Cheque font looks very artistic. It was developed by a student named Mirela Belova but quickly started to grow after getting the attention of designers around the world. The good thing about this retro typography is that it comes in two versions, i.e., Regular and black.
Isn't it great? Well, yes, it is.
These versions are free for personal and commercial usage, making them a good choice for designing advertisement cards, posters, etc.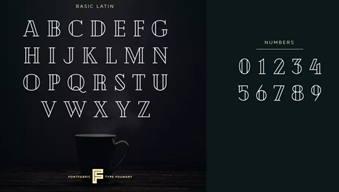 6. Best Sources to Download Retro Fonts
6.1-Envato
When it comes to offering creative design elements, Envato doesn't need any introduction. It is the premier source to find various types of themes, add-ons, fonts, and much more on the web. Over the years, it has become a top platform to find a range of quality artwork made by experienced designers worldwide.
And we know you are looking for a bunch of the best vintage fonts, right? Well, Envato is indeed your ultimate hunting place.
You can find retro fonts in tons of styles at Envato today. It has got all that you need, ranging from Bayshore to Fenway, Monoton to Riesling, and more others.
6.2-Da Font
Da Font is yet another popular source that provides different types of free vintage fonts for commercial use. The best thing about this platform is that it is pretty easy to understand and use. Whether you need Carosello or Routhers, you can find your desired vintage fonts at Da Font within just a few clicks.
Isn't that good to find all in one place? Surely it is.
Meanwhile, the UX of the website is also developed quite creatively, as it demonstrates the live presentation of the font written with your given sentence. It is undoubtedly the best feature that gives you a perfect idea about how the chosen font will look in real-time.
6.3-Design Cuts
Design Cuts takes the third spot in our list of best platforms to find vintage script fonts. It also offers a plethora of options in this fonts category, allowing you to find whatever you want as per the given requirements.
Anything? Yes, all that you want.
The online portal has a great collection of font families, including Sans Serif, Script, and more others. Not only that, but the platform has also got a vast pool of Japanese fonts, which precisely makes it a unique source among the other similar websites.
Frequently Asked Questions
This particular term denotes the fonts released in the 70s or the ones that became popular during the era. Some of the font styles that came into prominence during the 70s were Recoleta, Frito Vandito, Mustardo, and others.
There are various ways to identify a font, but the most popular is using online sources. You can try websites like MyFonts, fontsquirrel, and more others to find the exact name of your required font.
Installing a font on your computer or laptop is relatively easy. Just download your desired font from the website and extract its zip folder. Once you see the font file, open it and click the install button. That's it; now, your font is installed across all the applications on your computer. You can now use these vintage fonts in Word as well.
There is a huge list of fonts that were introduced during the 1950s. However, some of them that became popular among the people include Helvetica, Egyptienne, Meridien, Palatino, and few more others.
There are thousands of fonts used around the world. Yet, the most common among them all include Helvetica, Serif, Futura, Baskerville, and others.
There are many online websites where you can find quality vintage fonts. However, 'fontspace.com' is termed the best vintage fonts generator portal. It offers plenty of options in that category, allowing you to choose your desired retro font as per the given needs.
Wrapping up!
Summarizing all the above, we all love using vintage fonts, rightly due to their particular classy styles. Their typography style is simply evergreen, which is why they will never look outdated in the market. Be it a logo or a corporate branding card, the usage of such retro-themed fonts brings a touch of exclusivity to the artwork, allowing people to pay more attention.
For a newcomer to the field, finding the best font for their project is an essential skill. Once you know how to do that, the next step is to learn how to add fonts in Photoshop so that you can use your desired typefaces whenever you need them.
Looking to hire an expert graphic design agency for your brand's visuals? Our professional graphic designers are experienced in creating various graphic styles meant to amp up your visual identity.