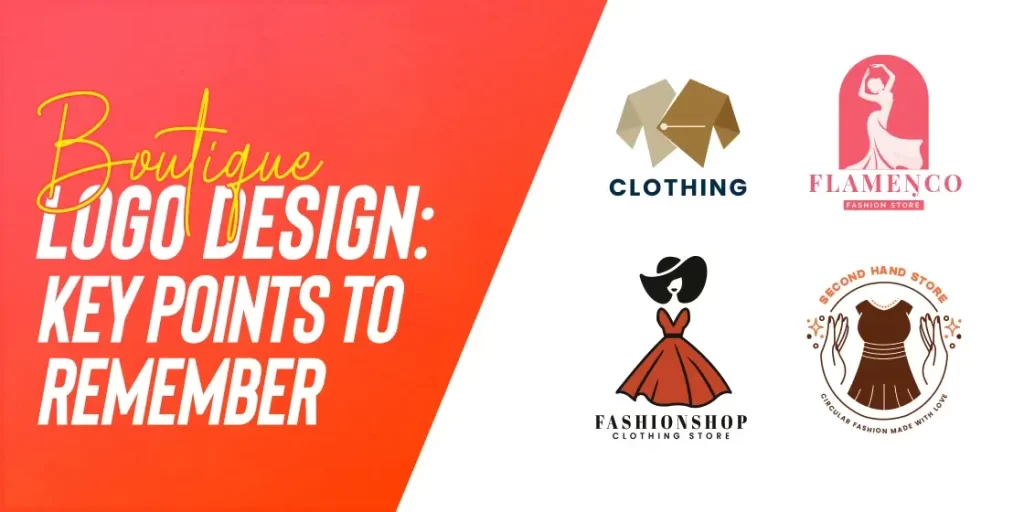 Table of Content
Creative Boutique Logo Ideas That Can Instantly Grab Attention

Every boutique connected to the fashion circuit knows about the importance of branding. They understand how crucial it is to get growth in the industry. It is especially important for startups and small businesses, because without branding and marketing, they can't spread the awareness in the industry. These boutiques must need to create a logo that can showcase their identity with strong visuals to the customers. It is therefore recommended to always work with creative boutique logo ideas that can help you create unique emblems.
Unfortunately, many boutiques do not pay attention to this fact. They think that clothing products can be marketed among the people randomly. This is certainly an amateur approach that does not offer any positive results. It keeps the business stagnant, not allowing it to grow more in the market. Many startups have also failed due to this exact fact. Their lack of branding knowledge didn't allowed them to survive long in the industry, as the competition is quite tough in this industry.
To avoid this scenario happening with your clothing business, it is best recommended to pay attention on the designing of a creative logo. It is important for every business, especially for those that are just starting their journey in the market. Ideally, the logo for boutique should be designed by taking professional logo design services. It ensures to offer quality designs that can help businesses to get the attention of customers.
Meanwhile, if you want to design a logo by yourself, but doesn't have enough boutique logo ideas to do so, read this blog in detail. It will let you know how to design a boutique logo with perfection. The article will define some important tips that will clear up your concepts, giving you a focused approach to design quality branding stuff.
Let us first start from the basics below understanding the importance of a logo for any boutique or clothing company.
Importance of a Logo for Boutiques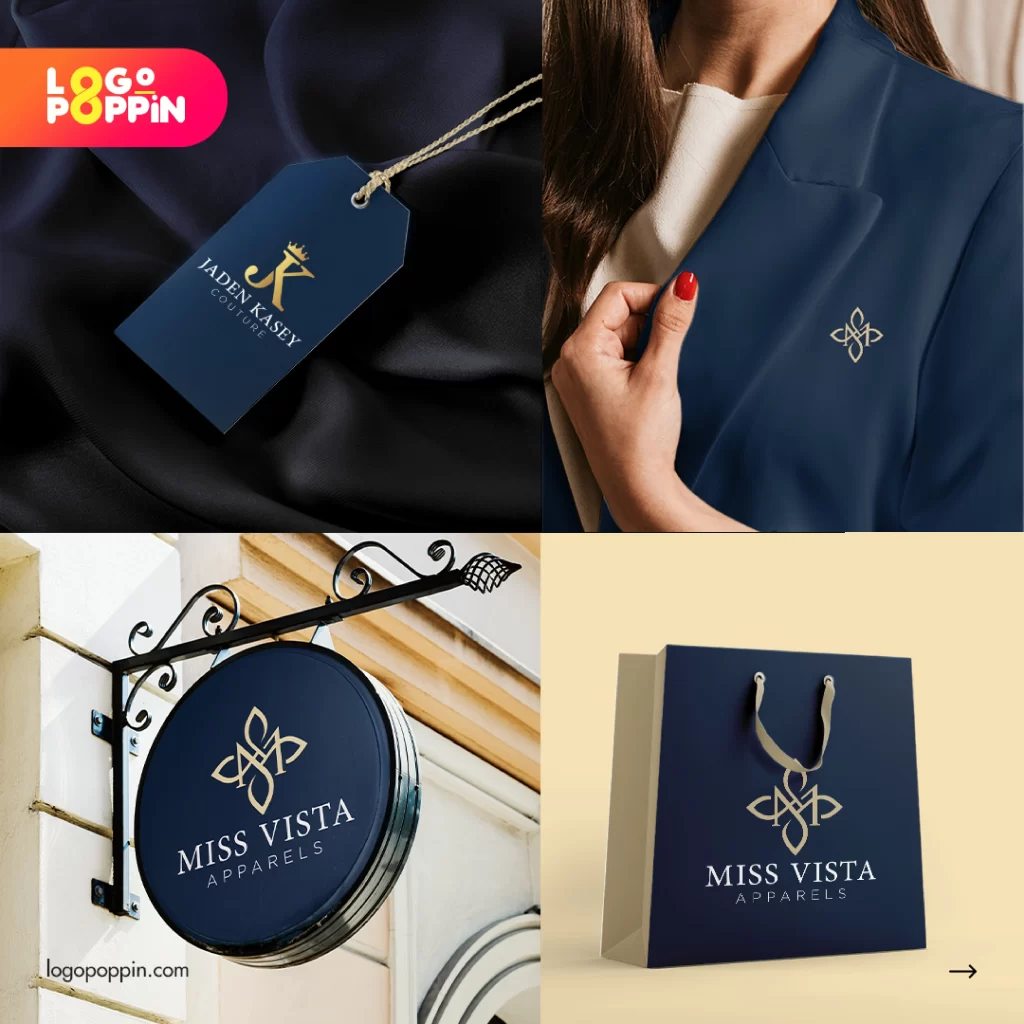 When it comes to branding, logos are considered very important. They represent the identity of any business, hence their significance can't be denied by any means. Those stakeholders that have got good know how about branding, always try to create these logos creatively. They know that tough branding competition of the industry can be only edged out by using smart branding strategies. The role of a logo is considered very important in this regard because it is the first thing that comes into the notice of customers.
For boutiques, these logos are certainly very important. It represents their identity that lets the people know about their products. If they will not pay attention to their logo, people would never bother to look at them. A lot of times, boutiques create illustrated logos due to this exact reason. They want to represent their identity strongly, so that people can show can interest in their products. It is a simple yet important branding technique that should be considered by every business stakeholder.
Today, majority of boutiques in US use catchy logo designs. They understand that the growth of a business depends on both branding and sales. While, the latter is not in their entire control, but branding is something that can be influenced by using creative strategies. This is the major reason why they always try to use unique logos that can get the attention of customers at the first glance.
Basic Tips to Design a Boutique Logo
Many designers often stay confused while creating a boutique logo. This generally happens because of lack of knowledge and technical skills related to logo designing. Sometimes, these beginners think that random concepts can work to design boutique logos. This approach is certainly wrong because random concepts can never be used for any professional branding material.
If you are also a beginner who is running short of boutique logo ideas, take a look at the important points given below. It will let you know how to design these logos properly using the correct analysis and techniques. Let's explore them below.
Detailed Market Analysis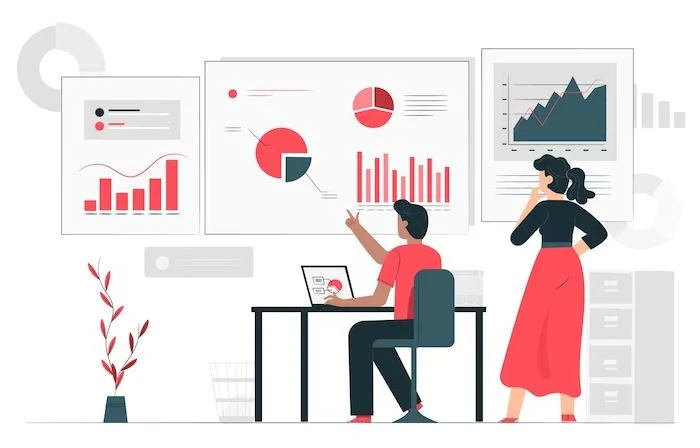 First up, you need to analyze the market properly before starting any design project. This principle is termed essential for all types of design work, ranging from logos to business card design and more others. A proper market research and analysis helps you to know how the design world is working. It showcases different strategies that are being used by other designers to create quality logos. If you will not pay attention to those tactics, you will certainly struggle to create a logo no matter how much time you spent in the process.
By doing a comprehensive market research, you also get to know about latest graphic design trends. This is a critical knowledge that keeps you focused on the right path. Many times, designers create outdated logos in terms of old design. This generally happens due to lack of market knowledge, as which type of trend is currently hot and demanded in the industry.
A good market analysis can also help you to avoid potential design mistakes. It lets you know about those tactics that are not recommended for logo design. This knowledge is quite important, as it saves your time from being trapped into doing silly mistakes.
Create Logo Prototypes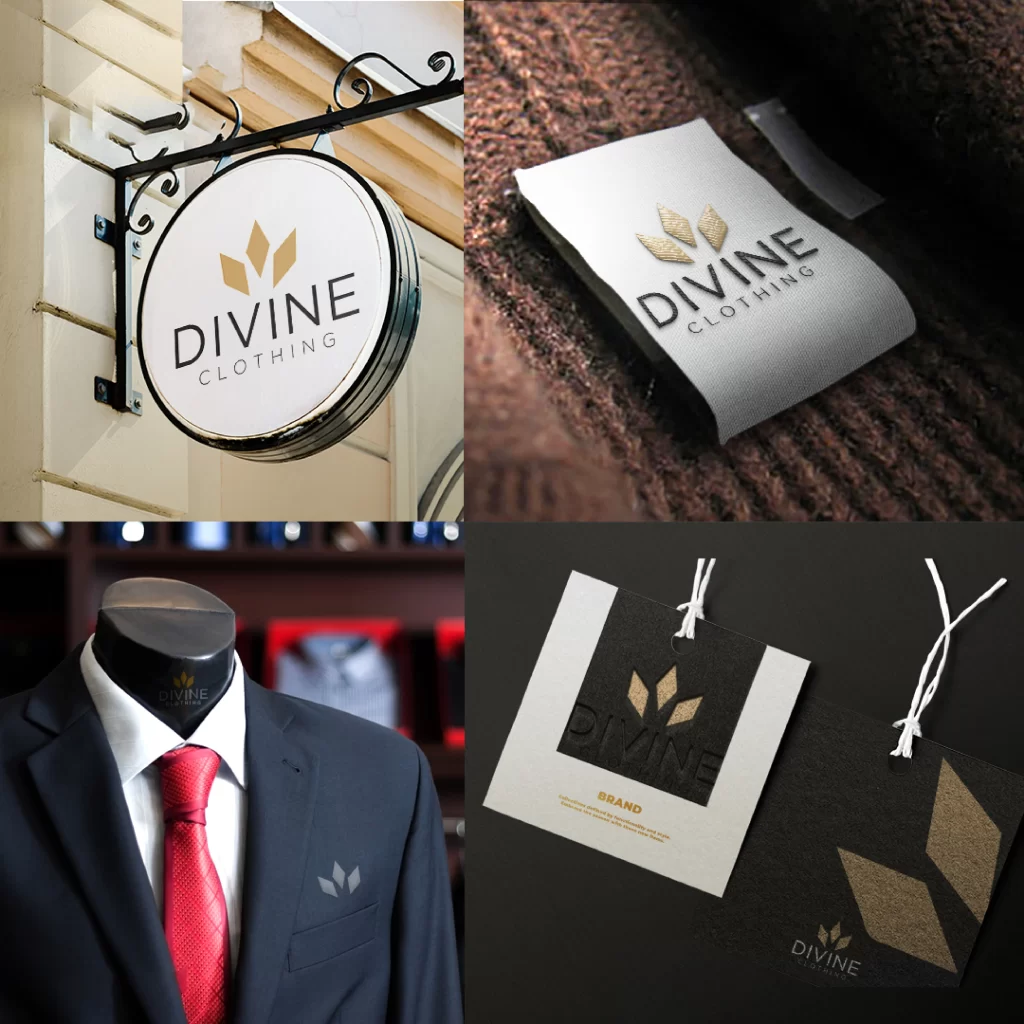 Once you have completed the research, you would have got some knowledge about the required logo design. At this stage, it is recommended to first create prototypes or sketches on papers that can describe your newly perceived concept. It will give a raw view to your thoughts and you will get an initial understanding about your intended logo design. This technique is recommended by every expert graphic designer, as it allows you to first sketch a figure that is required for the boutique logo.
A lot of times, designers try to transfer their thoughts directly onto the digital design. This technique works best only for professional designers, as they know precisely how to convey or portray any concept correctly in the design. However, those guys that are just starting in this field, often find this approach confusing. The reason is that most of them do not have clarity in the thoughts which does not allows them to portray the right concept. It is therefore recommended to first create some sketches on the paper, so that you can know how to design the actual logo.
The advantage of creating a logo prototype on paper is that it allows you to design multiple options. This approach expands your ideas, enabling you to design and pick the best boutique logo for your business. It also helps you to fix plenty of mistakes timely. A lot of times, designers commit mistakes during the first take, so it is better recommended to create some prototypes initially to resolve them properly.
Create a Simple Design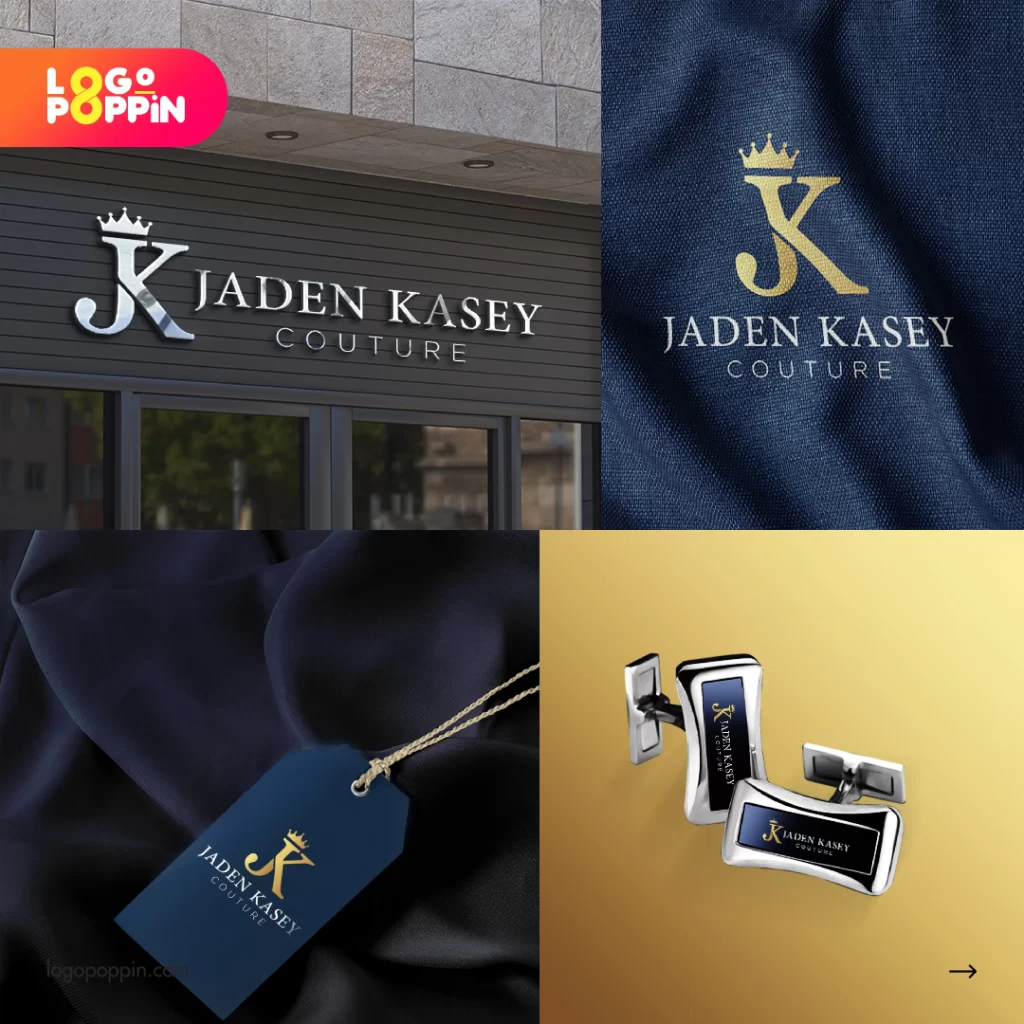 While designing a boutique logo, try to always come up with a figure that is simple and easy to understand. It is recommended for all types of logos, because simple representation is considered key to attract customers. The reason for this logic is that complicated logos are often ignored by the people. They just cannot understand the theme of that design, which is why they tend to ignore it. So, it is simply not recommended to go for any gaudy shape, as it will take the attention away from boutique branding.
Ideally, anything related to clothing would suit perfect on a boutique logo. This is a common figure that can be put inside any logo related to clothing boutique. If you will analyze smartly, you will see many popular boutiques using this particular concept in their logos. The reason is that it aligns perfectly with the theme of the boutique, enabling everyone to understand the background the company.
However, if you want to bring some sort of uniqueness in the boutique logo, you can also go with abstract shapes. These figures are quite unorthodox in looks, but they are quite simple as well. So, try to use these shapes in the logo if you are not comfortable in showcasing plain clothing. It is a bit different but very effective logo style that can grab the attention of people at the first glance.
Pick Classy Typography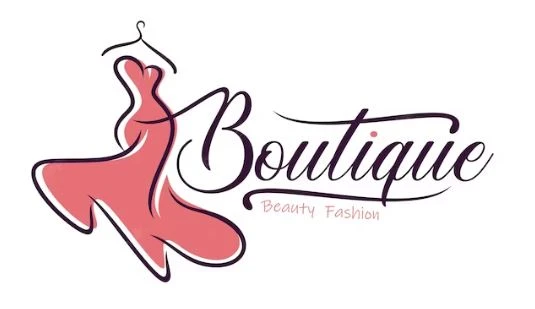 The selection of a catchy typography is quite important in a boutique logo design. The reason is that the name of a boutique depends a lot on a font style. If you will pick any ordinary typeface, then it will not define the boutique name with the required boldness. It will look plain, giving no solid impression of the company in branding. It is therefore advised to always go for catchy typography that can enhance the attractive flair of your boutique logo.
Furthermore, if your emblem is totally based on a wordmark, then the selection of a correct typeface becomes more important. A lot of fashion stores and boutiques use simple wordmark logos these days. They precisely pay attention to the style of their wordmark, as it is the sole component that defines their brand name. They always try to use strong typography in these wordmarks, so that personal branding of the boutique can be done in a prominent style.
Frequently Asked Questions (FAQs)
What is a boutique logo?
A boutique logo refers to the official branding profile of a clothing boutique. It lets the people know about the products of a boutique that helps to grab customers attention instantly.
What is the importance of a boutique logo?
A boutique logo is termed very important because it represents the core identity of a boutique. It lets everyone know in the market about the existence of the company. It helps to elevate branding activities that eventually increases sales for the organization.
Where can I find catchy boutique logo ideas?
If you are struggling to work with creative boutique logo ideas, take a look at the logos of top rated clothing companies. It will elevate your ideas and will give you proper suggestions to design a catchy logo for your business.
Which type of colors should be used in a boutique logo?
You can use different types of colors in the boutique logo. It basically depends on your branding theme, so make sure to keep that in mind while selecting colors for your boutique logo.
Which type of font should be preferred for a boutique logo?
There are different types of typography styles available in the market currently. You can pick anyone of them for the boutique logo. However, just make sure to pick a bold typeface that can present the name of the boutique prominently.
Final Words
That brings us to the end of this blog in which we have discussed about different boutique logo ideas in detail. It is certainly very important for a clothing business to know about these design concepts. It can help them to come up with a catchy logo design that can enhance their company branding extensively. A lot of times, boutiques do not pay attention to their logos, which as a result brings effect on their branding. It is therefore recommended to always design the boutique or fashion logos smartly, so that customers can show interest in your product offerings.
If you are looking for a company that can help you to design these boutique logos professionally, give us a quick call today. Our experts are well versed with all types of design concepts, hence you can trust on our services to get a quality logo design every time.