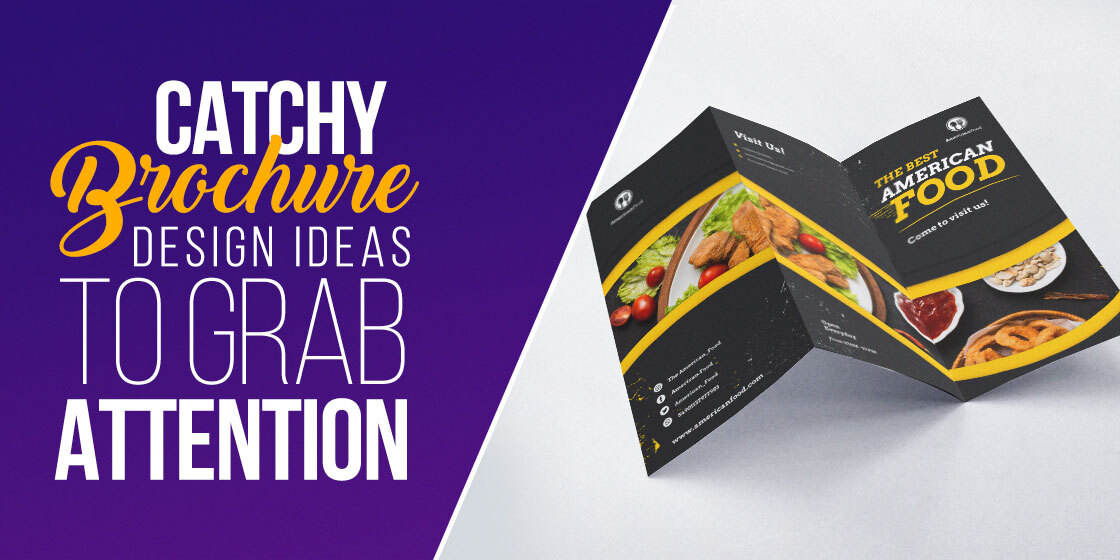 Learn How to Design Brochures That Can Attract Everybody's Attention
Every company knows about the importance of branding. It is something that allows them to build a strong recognition in the market by letting people know about the company's identity. There are various materials that helps to solidify branding such as brochures, business cards, pamphlets and more others. The usage of brochures is generally seen more when it comes to describe people about any company's services. That is why it is always advised to use creative brochure design ideas to develop something amazing for company branding. It plays an important role to represent company's services and attract customers towards the conversion.
Just like company logo, brochures should always be designed by the skilled professionals. The reason is that brochure designing cannot be done by having any random concept. It is basically a specialized job that needs proper skills and expertise in graphic designing. This is the major reason why it is recommended to take professional graphic design services to get the best results. It ensures to design company brochures that can attract customers while promoting the core services/products smartly in the market.
If you are designing the company brochures by yourself, do remember to keep some important designing techniques in your mind. Many designers often complain that they run out of ideas while designing brochures. This mostly happens when they start the designing without having any knowledge or research done from the market. If you are also facing a similar type of problem, this article would be a good read for you.
In this blog, we will define different types of brochure design ideas that could help you to come up with a creative design. Let's first start from the basics understanding why branding materials like brochures or pamphlets are termed important for company branding.
1. Importance of Brochures in Company Branding
Brochure is not just a simple marketing material that is created without having any concept. It is precisely designed and developed to educate people about company's services and products. We all have seen how new startups aggressively distribute their brochures in the market to gain quick recognition. It is precisely done to let the people know about their services, as what they are offering and how it is different from others. This technique allows them to promote company awareness among the people, as that can lead them to inquire more about the core services.
Some people argue that brochures are now becoming a thing of past. They claim that more advanced branding materials are coming into the market, hence brochures are not that relevant any more. This is certainly a wrong concept because brochures are still considered very much important for sustainable branding. It provides a professional look to the marketing activities, enabling companies to describe their services inside a proper short booklet. It is made with a summarized content aimed towards educating people about the core services of the company.
If a brochure is not designed professionally, then company branding fails to create any impact among the people. It has been noticed mostly in tradeshows that companies having ordinary brochures always struggle to get customers interest. They bounce out quickly from the booth after looking at the brochures designed with a pale look. Hence, it is quite important to use unique brochure design ideas to create brochures as majority of the company branding depends on their visual look.
2. 5 Brochure Design Ideas You Need to Tryout
Being a beginner, you could struggle sometimes to work with creative brochure design ideas. It happens due to lack of experience as well as short of market research. However, this article will clear all of your confusions, as we have listed some unique brochure design ideas below that could help you to come up with an amazing brochure template.
Let's take a look at them in detail below.
2.1 Creatively Blend Fonts and Colors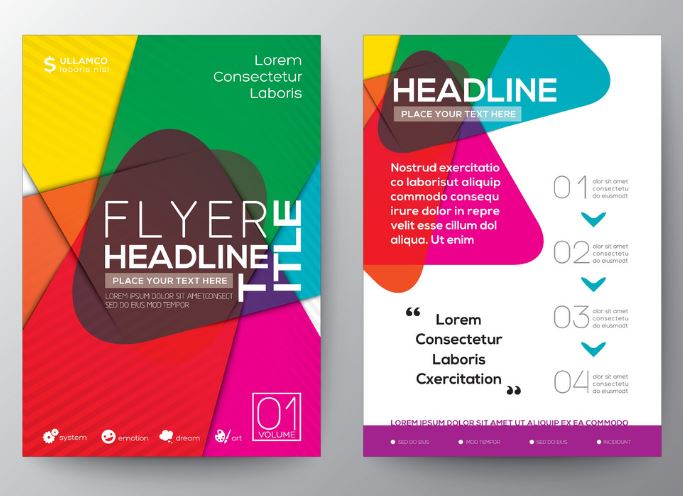 Brochure designing hits peak when fonts are creatively blended with different colors in the design. This approach is certainly not easy as it requires great aesthetic mindset to bring perfection in the results. Some people think that colors can be randomly used in the brochures without doing any research. This is definitely a very wrong perception because colors should be picked very carefully for the brochures. For each page, you have to pick a unique color, so that versatility in design can be shown perfectly. This selection should also be done by keeping the main company theme in mind, as the core representation should also be evident in the brochures.
Talking about fonts, there are plenty of options you could use in the designing of brochures. From simple sans serif to masculine fonts, you could use any font that fits best to your requirements. Generally, it is recommended to use fonts with a bold style as that helps to give a solid visual look to the brochures. If you are not sure which font should be picked for brochure designing, try looking into some examples available on the web. It will help you to get tons of creative ideas for brochure designing as per the best industry standards.
2.2 Use Section Based Content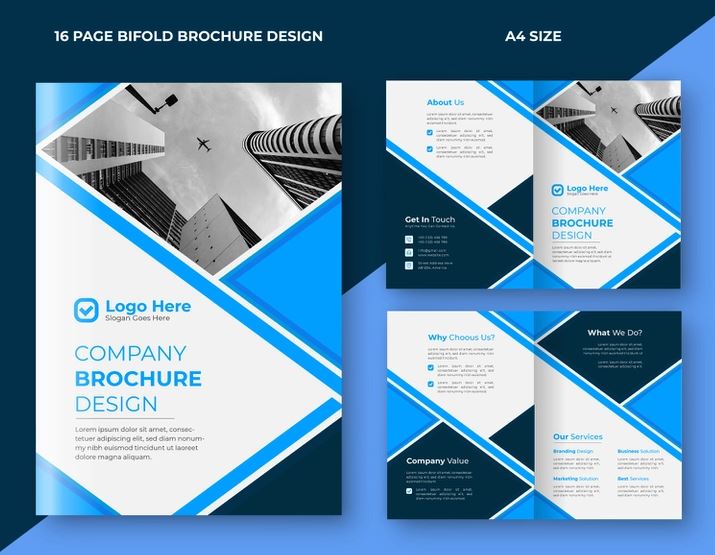 Brochure designing should always be done be keeping the latest practices in mind. As per the current standards, many companies create their brochures with a section-based design. This looks not only professional, but very decent to the eye. The content is divided very smartly in different compartments of the brochure that allows people to easily understand every section and point. They can find out all the relevant information quickly, as different sections are properly placed on the brochure to make everything evident. This type of design works for all types of brochures, especially the ones that are related to any IT company.
To create this type of design, it is best advised to first create a wireframe on any paper. It will help all the designers in the team to understand the theme required in the brochure. Based on that, different options can be made to bring more choices in the play. This will help to choose the best brochure design that looks unique among all. It will also bring versatility to the selection table, enabling you to analyze which section based brochure suits best to define company's services.
2.3 Utilize Typography in the Centre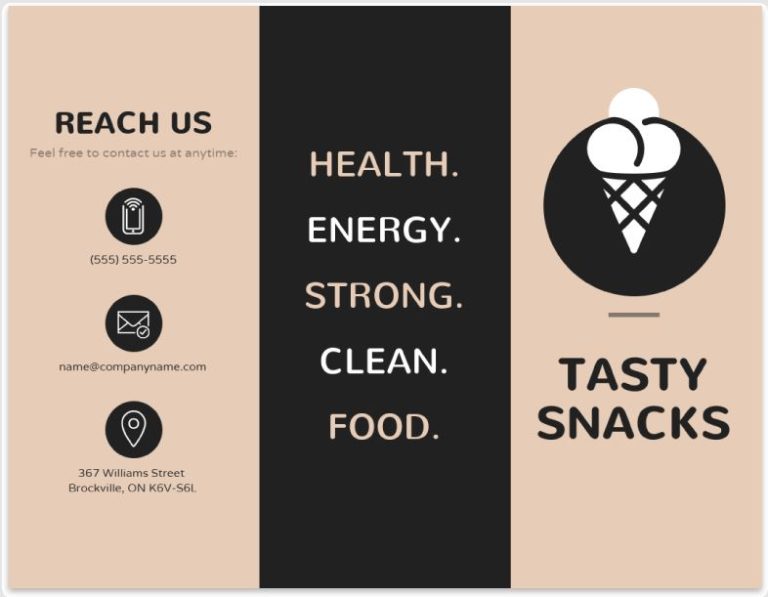 Using just typography as the centerpiece content also works well for brochure designing. It is relatively a new concept that can be used to bring uniqueness in brochures. Generally, companies prefer to design brochures with complete graphical images. They ask designers to use different types of styles and themes in the brochures to make them creative. This is an orthodox concept that is being used by almost everyone. It can be modified by using stylish typography in the center as that will give brochure a stunning look.
There are various types of fonts you can use to make the center typography attractive. From script class to futuristic fonts, there are plenty of options available to choose from. You can make the best selection by looking at the theme of your brand. This will help you to pick the best font class that fits perfect for your brochure styling. If you do not have much idea about font selection, take a look at the typography examples available on the web. It will give you a good idea which font should be picked as per the brochure design requirements.
2.4 Use Photos in the Design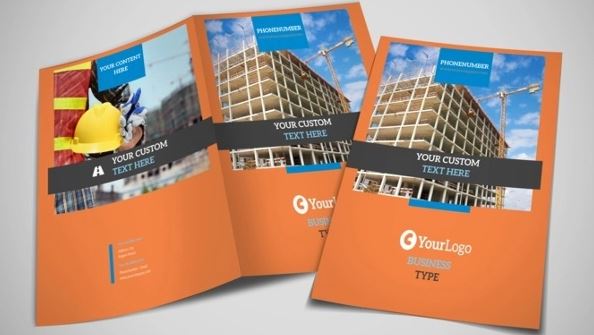 Another way to make the brochure design attractive is by using real photos in the design. This practice is not very much common, as businesses prefer to use graphical shapes in their brochures. They go with the conventional concept of designing which basically uses simple graphics in the brochure. By using real world photos in the design, you can make the brochure more interactive for the readers. They can find its appearance more engaging, as well as meaningful to look at.
This practice fits perfect for the brochures of real estate and construction companies. They can use real world pictures of properties, construction sites, etc. in the center and front of the brochures. Ideally, they can pick the pictures of those sites that have been built by them. It will help to showcase their portfolio, encouraging people to show interest in their services. If they don't have anything substantial to show in the brochure, they can use stock images smartly in place of the real ones. There are plenty of sites available on the internet where you can find these stock images such as Freepik, Shutterstock and more others.
2.5 Use Statistical Data in the Design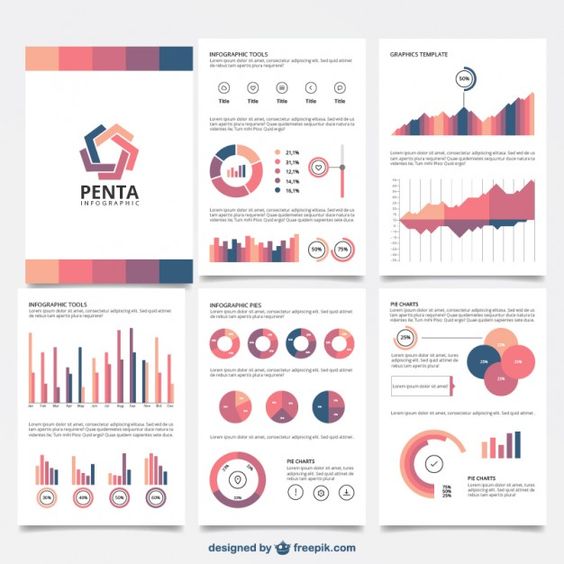 To make the brochure design interactive for readers, you need to showcase some real stats and figures in the design. This is considered a great practice that should not only be followed in the brochure, but all kinds of promotional branding elements. It has been noticed that people do pay attention to these stats more than anything. They can be smarty engaged by showing real results in the form of charts or statistical graphs. It builds a positive impact in the minds of readers that also helps to convert them at the later stages.
Considering the types, there are various options with which you can showcase business stats in the brochure design. You can either go with the conventional graphs or could also use advanced bar chart in the design to make data easily understandable for the readers. It basically depends on the theme of your brochure and how creatively you want to showcase that data to the customers.
People Also Ask (FAQs)
Brochure is a sort of short booklet that helps people to understand about the services and products of any company. It has all the information about the company, hence it is considered important for branding purposes.
It is quite important to design a brochure or pamphlet that can grab the attention of the market. This could be done by using creative themes that suits best for your company branding. Moreover, proper design skills are also required to bring perfection in the brochure design.
You can use different types of fonts and colors in brochure designing. It basically depends on your branding theme, as the colors should be picked precisely according to that. The font selection should also be done by looking at the current trends, as that allows you to pick the best typography class.
Using creative design ideas is considered important to come up with a catchy branding design. It helps you to design brochures that can instantly grab attention and engage eyeballs at the first glance.
You can find different types of brochure design ideas on many sources available on the internet. These websites have shared a large amount of tutorials and how-to-do videos to make beginners understand the overall concept of brochure designing.
Final Words
That takes us to the end of this blog in which we have discussed different types of brochure design ideas you could use to create company brochures. These ideas are quite unique as they can give your brochures a stunning distinctive look. This matters a lot for branding as potential customers do take note of creative designs. Using these brochure design ideas, your company branding can get the required attention and can also convert customers at the later stages.
Meanwhile, if you are looking for an agency that can help you create amazing company brochures, pamphlets and other branding materials, contact us today. We have got plenty of expert professionals who can help you to design quality brochures and flyer designs as per the given custom demands.