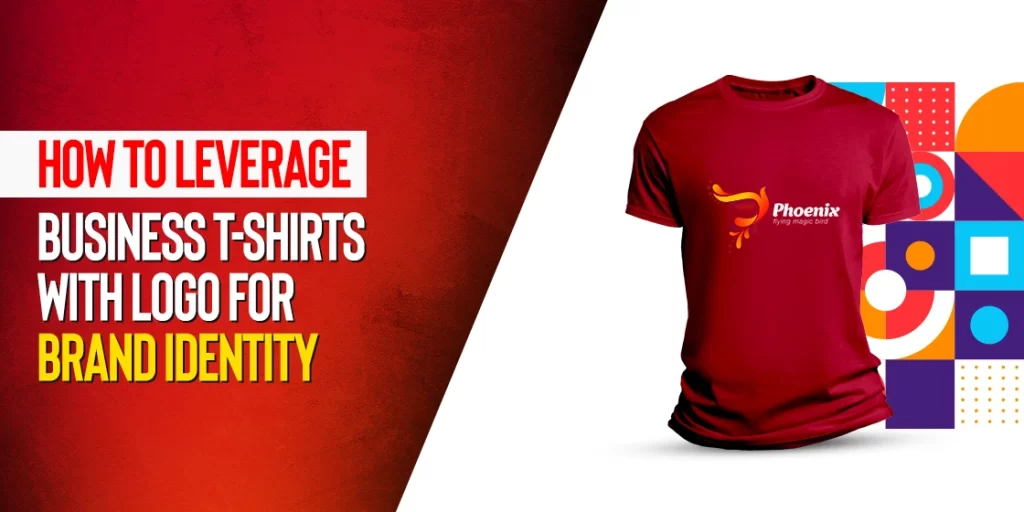 Table of Content
Discover How You Can Use Business Polo Shirts to Grow Your Brand Easily
In the competitive world of business today, establishing a strong brand identity is essential. One successful strategy that often goes overlooked is the use of custom t-shirts featuring your company logo. Now, you might be thinking how t-shirts can make such a distinct impact, considering that more consumers will be exposed to the brand via other mediums such as brand posters, ads, and etcetera.
Well, the simple fact is that by associating a human face to your logo, you automatically increase the likelihood that your consumers would be able to connect with and trust your brand. That is why companies make marketing merchandise such as caps, jackets, mugs, and more in the first place. They serve as conversation starters, ice, breakers, and as reminders of your brand to consumers without the cost associated with traditional marketing methods.
Therefore, in this article, we will dive in and explore the potential of business t-shirts with logos, and how they can be leveraged to build a robust brand identity. Moreover, we will see how professional graphic design services create logos that are perfect for printing on fabric and other physical mediums.
The Power of Branded T-Shirts and Their Role in Brand Growth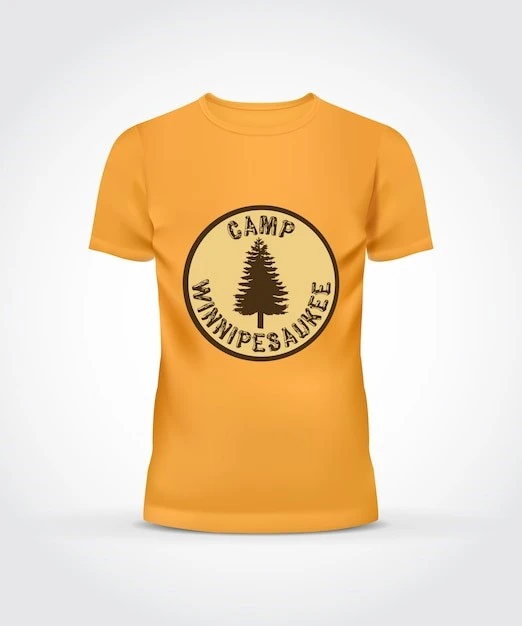 Branded t-shirts are more than just comfortable clothing; they serve as dynamic marketing tools. When your employees, clients, or event attendees proudly wear your custom t-shirts, they become mobile billboards, promoting your brand and ensuring your visual identity sticks in people's minds.
And the best part is that unlike traditional marketing tools, such as TVCs, billboards, and even online ads, this type of passive marketing is more economical and effective too. Besides marketing, it serves as a great visual branding tool, as seeing a large force of people working harmoniously while wearing similar clothing makes for a great visual impact.
Let's take a look at two proven ways for your company's branded t-shirts in helping your brand grow.
The Subtle Influence of Branded Apparel on Consumers
Branded apparel, especially t-shirts, polos, and hats, have a unique power in marketing. It subconsciously embeds your brand into the minds of your consumers, thus establishing a connection with them.
For example, let's say your company is a retail seller that sees a throng of customers around holidays like Christmas. So, you decide to incorporate your brand logo with some of the popular Christmas t-shirt design ideas from that year, thus connecting your brand with Christmas in the consumers' minds.  And this familiarity can be a deciding factor when they choose your products or services over your competitors' offerings in the future.
Business T-Shirts with Brand Logos are Natural Conversation Starters
Branded t-shirts that sport your company's logo are great conversation starters. When people notice your logo on someone's shirt, it often sparks a discussion about your business. At the very least, it engenders a sort of curiosity in the consumer, which they fulfill by discussing your brand with that person, or by looking up the company online.
This kind of word-of-mouth marketing can be quite beneficial, especially in industries and niches where personal recommendations and referrals drive business success.
How Does a Business Benefit from Business T-Shirts with Logos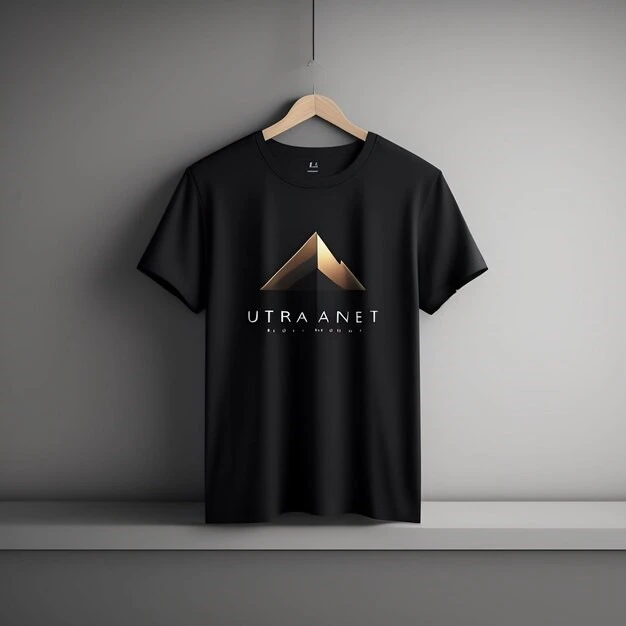 So far, we have discussed how your business t-shirts with logo can be a great tool to subliminally influence your target consumers. However, there are some obvious benefits to branded apparel as well, ones that are part of your brand's marketing and branding strategy.
Let's take a look at a few of the most common benefits of adding your business logo to t-shirts and polos.
Aids in Brand Recognition
One of the top benefits of custom t-shirts is quick brand recognition. Your company's logo on a t-shirt or polo acts as a powerful visual cue, reminding people of your brand. In the long run, this makes it easier for consumers to remember and choose your business over others.
Helps to Foster Team Unity
Business t-shirts with logo of the brand can be a source of fostering unity among employees and even consumers. When people see their team members wearing tees and polos with the company logo, it boosts team morale, improves cohesion among team members, and leads to a positive and productive work environment.
Is a Cost-Effective Marketing Strategy
Investing in company t-shirts with a logo is a cost-effective marketing strategy. These customized t-shirts provide ongoing exposure for your brand with little to no recurring costs. With their subliminal messaging ability, these shirts serve as an economical medium for marketing and branding your business with long-term positive impact, both internally and externally.
Design Elements That Impact Your Business T-Shirts with Logos
Now that you've discovered how business polo shirts with logo of the company can help your company grow, now you are ready to come to the design of these t-shirts. There are some technicalities to consider when talking about t-shirt logo design. You need to know the various design elements that can influence their visual impact, as well as the best way to counter those effects.
So let's take a look at some of the common design elements that you need to address to display your business logos on t-shirts successfully.
Choosing the Right Color Scheme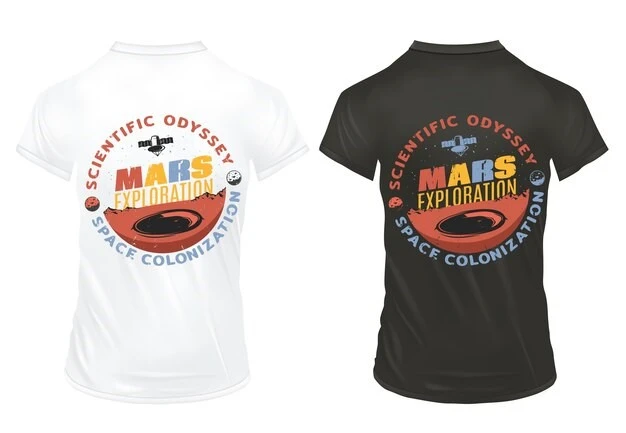 Selecting the right color palette for your t-shirts is essential for a strong visual impact. Your t-shirts would provide a colored backdrop to your brand logo. Therefore, without a color scheme that can suit your logo's color palette, your business t-shirt with logo of the brand will fail to influence people.
Colors play a significant role in brand perception and should align with your brand's identity. Imagine that your consulting business's logo is designed using burnt orange and smoke gray. The t-shirts you have prepared are colored bright yellow with pink accents. Do you think that these color combinations presents the right visual message? Consider the psychological impact of colors and ensure they represent your business's values and message.
The Typography & Placement of Your Brand Logo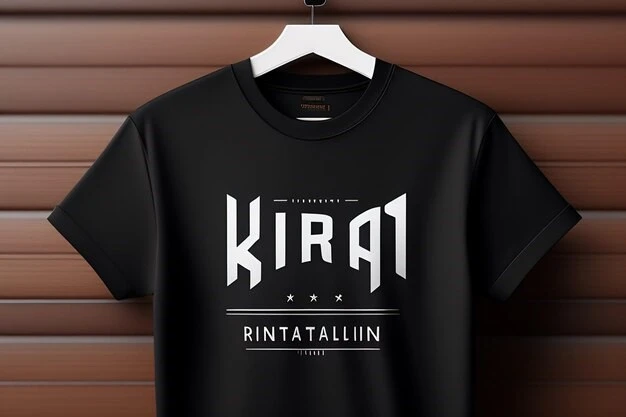 The logo fonts and typography used for your design are necessary elements in your t-shirt design. They should be easily understandable, complement your logo design, and match your brand's style. Moreover, the visibility and impact of your logo would also be determined by the logo's placement on the t-shirt, so that it gets the maximum visibility without compromising its aesthetics.
Design That Expresses Your Brand Story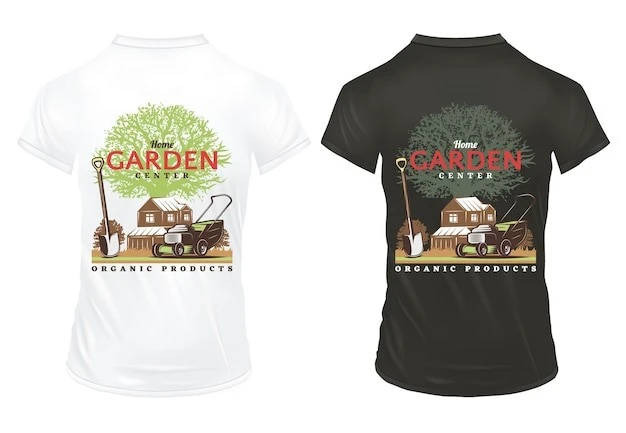 Your logo is just one part of business t-shirt design in order to tell a story. The complete design should embody your brand's history, mission, and values. When designing your business t-shirt, consider how your logo's design and placement can communicate this story effectively.
Moreover, do think about incorporating elements like your slogans if you believe that it would you're your brand symbols convey your brand story better. If you manage to accomplish that successfully, you will observe that people are more likely to wear a t-shirt representing a brand they resonate with on a much stronger level.
What are Some Popular Customization Options for Your Business Polo Shirts with Logos?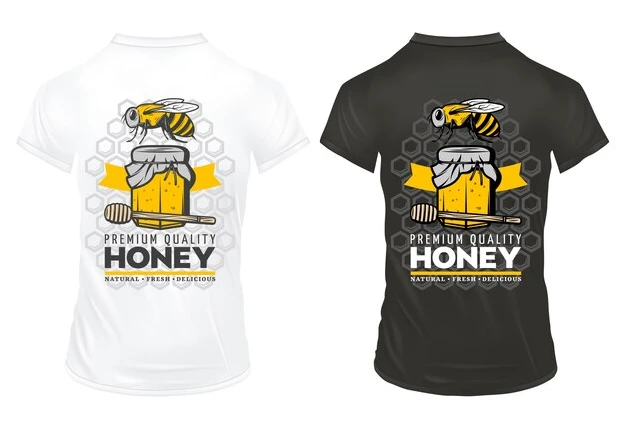 Now that you know the design elements that can be tweaked to improve the message your business t-shirt with logo portrays, let's talk about various ways to get that design onto your shirts.
Getting custom t-shirts printed with your logo is possible via various methods such as screen-printing, embroidery, heat transfer printing, and direct-to-garment printing. Depending on elements like your budget, quantity of garments to be printed, and most importantly, design complexity.
So let's take a look at these methods, and see what each of them have to offer in terms of pros and cons.
Screen Printing
Screen-printing is a garment printing technique that is quite economical, making it suitable for larger quantities. That means that if you want to have more than a couple of dozen t-shirts printed, then screen-printing offers the best cost-per-item ratio out of all the techniques on our list.
The reason it is so popular as a garment printing choice, is that it delivers vibrant colors and a long-lasting print that makes it perfect for simple to moderately complex designs. However, if your design has many fine details, then screen-printing isn't going to be the best choice.
Embroidery
For the highest quality of detailing and longevity, embroidery offers a premium and professional appearance, ideal for smaller-sized logos such as monograms. And although this technique may be priciest due to the sheer level of labor required, the quality achieved is unmatched by other techniques.
Heat Transfer
Heat transfer printing is a versatile and economical technique perfect for smaller quantities of printed garments. This technique allows full-color printing, which makes it perfect for detailed designs. Moreover, it is one of the most common techniques used globally for printing business t-shirts with logo, due to its ease of use.
Direct-to-Garment Printing
Direct-to-garment printing is a comparatively new technique, and one that has really been perfected within the past decade or so, and is touted as an improvement over screen-printing. It is perfect for vibrant, high-resolution prints with lots of little details, something that other techniques may find a little difficult to accomplish.
This technique basically uses a kind of inkjet printer to spray ink onto a pre-treated garment, where the dye reacts with the treatment to bond it to the fabric after the application of heat. That makes it a great choice for businesses whose logos are intricate with little, but important, details.
How to Order Custom Business T-Shirts with Logos for Your Team?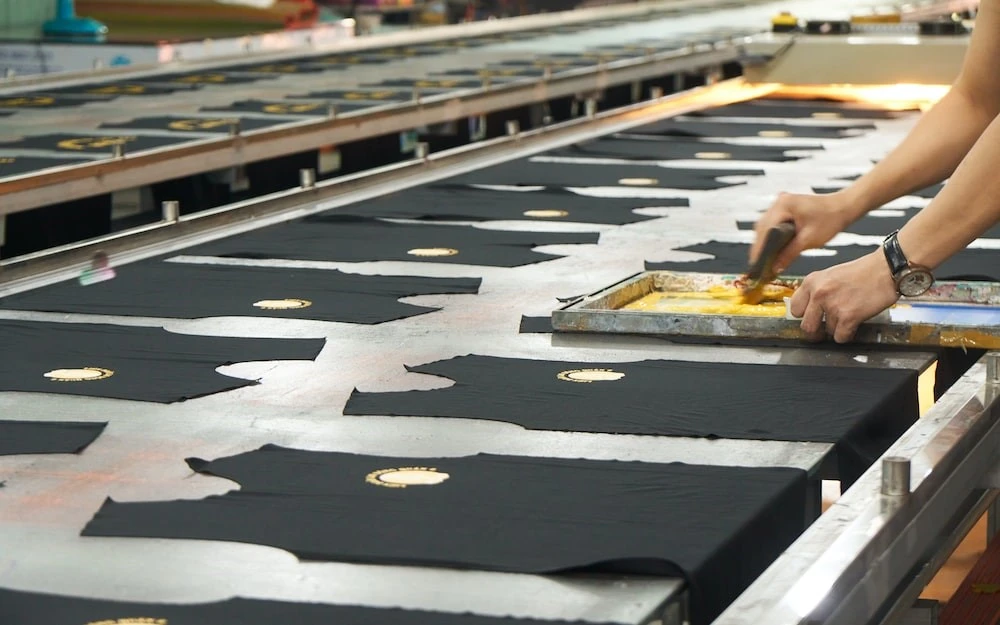 So, you have decided that your brand needs custom printed t-shirts with your brand logo showcased prominently. Now, you need to find a reliable supplier to place your order. Today, that process has become quite easy, thanks to online platforms and suppliers.
But how can you evaluate the various options, and finalize the one that best suits your aesthetic? Don't worry, we have got you. Listed below are the various elements of the process, from selecting a supplier to establishing the quantity, choosing the right printing technique, and setting a budget. Let's read on and find out how you can get your money's worth in branded t-shirts.
Selecting the Right Service Provider
Choosing the perfect service provider is essential. Look for a reputable firm with a history of delivering quality products and excellent customer service. Before making your choice, read their reviews and ask for samples to see if they are what your company is looking for.
Determining the Quantity
When you embark on a project to print business t-shirts with company logo, you never get enough just to cover your current employees. In order to determine the quantity of t-shirts to order, consider your current as well as future needs.
However, there is a fine line you need to be aware of. Ordering larger quantities can lead to lower cost per shirt, but printing large of an order can result in stored inventory that may soon be outdated.
Choosing the Right Printing Method
Consider the complexity of your logo and overall design, as well as the level of detail you require. Each printing method has its advantages as we mentioned earlier, and you'll want to choose the one that best suits your design and budget.
Budget Considerations
While custom printed t-shirts are not a costly endeavor, you need to budget for them appropriately. Account for design and printing costs, as well as any shipping fees. Moreover, you also need to consider the return on investment and whether these t-shirts are going to contribute to your brand's growth and recognition.
Measuring the Benefits & Business Impact of Incorporating Business T-Shirts with Logos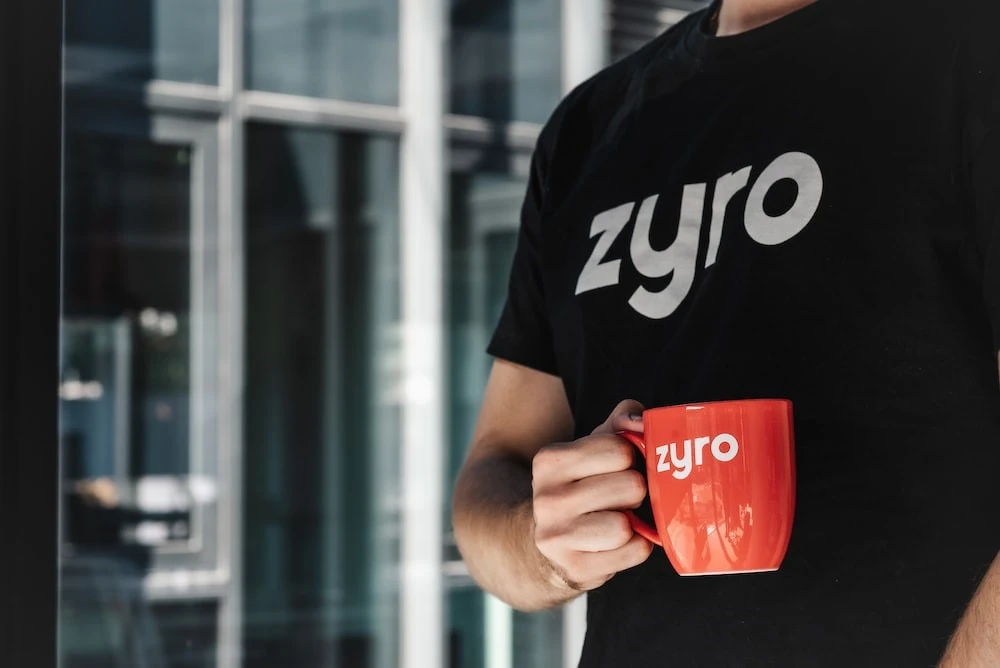 No matter how strong of a strategy you develop to market your company, if you are not measuring its impact, that strategy is of no use. Therefore, its always good to establish processes that allow you to measure various metrics affected by that strategy.
Most importantly, you need to use the results gathered for those measurement metrics to tweak and improve your strategy. So, let's take a look at a few elements that we need to track after incorporating our business t-shirts with logo strategy.
Increased Brand Recognition
Measuring the impact of your business t-shirts is possible by tracking your brand recognition. Evaluate if there is an increase in people who recognize your logo and brand. And for those that do recognize your logo, how many can connect and associate it with your business. This metric can be tracked by surveys, social media engagement, or web analytics.
Improved Employee Morale
Next, you need to measure the impact on employee morale through surveys and feedback. Are employees more enthusiastic about sporting the company logo? Is there improved teamwork and a sense of belonging among fellow employees?
These are just some of the key indicators of the positive effect of branded business t-shirts with logo, and shows how invested the employees are in the company and its mission.
Enhanced Customer Engagement
Evaluate customer engagement metrics like increased website traffic, social media interactions, and event attendance after implementing the branded shirt strategy. Are customers now more likely to engage with your brand due to the prevalent visual presence of your logo? These metrics provide valuable insights into the effectiveness of your branding strategy, as well as highlight avenues of improvement.
Conclusion
To sum it up, in the ever-evolving world of business, creating a strong brand identity is paramount. Custom business t-shirts with logo of your company are a versatile and effective way to achieve this. Not only does it enhance brand recognition and foster a sense of oneness and unity among employees, it serves as an economical marketing element.
So, if you carefully design and print business polo shirts with your brand symbol, you can enable your business to resonate with your audience and set it apart.