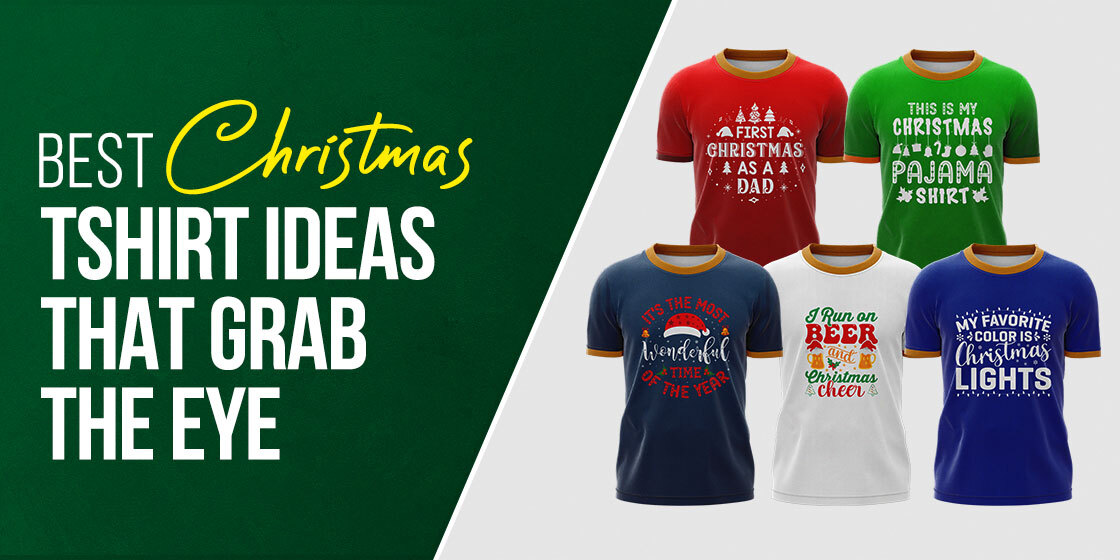 Know How to Create Catchy Designs for Christmas Themed Tshirts
Christmas is one of those most anticipated events that brings joy and happiness to our lives. It comes in the end of every year, yet it is specifically missed right from the start. Besides general public, Christmas has now also become a festive season for marketing companies as well. We have seen how strongly different companies market their products/service during the holidays of Christmas. Most of them offer merchandise apparel to increase their recognition in the industry. The usage of custom tshirts is therefore very common because they offer an opportunity to these companies. They use best Christmas tshirt ideas to design jerseys, as it allows them to become trendy and attractive for the customers.
Nowadays, you can find different types of Christmas tshirts available in the market. There are countless choices available for these jerseys, provided you are also interested in them. The sales of these tshirts always remain high during the Christmas season, as people from different walks of life prefer to wear them during the XMAS days. This gives companies an opportunity to promote their services in the market using Christmas special merchandising apparel. It provides their promotional products a strong impetus in the market, provided they also look amazing to the customers.
However, creating a catchy design for Christmas tshirts is an art that requires great creative thinking. It is often recommended to take help from professional branding services in this regard. The reason is that many people still struggle to find ideas for designing Christmas specific tshirts. If you are also one of them, read this blog in detail. It will define some great Christmas tshirt ideas that could grab people's eyeballs. But before moving into that, let us first understand why promotional products like tshirts are considered important for marketing during Christmas.
1. Importance of Promotional Products for Christmas Marketing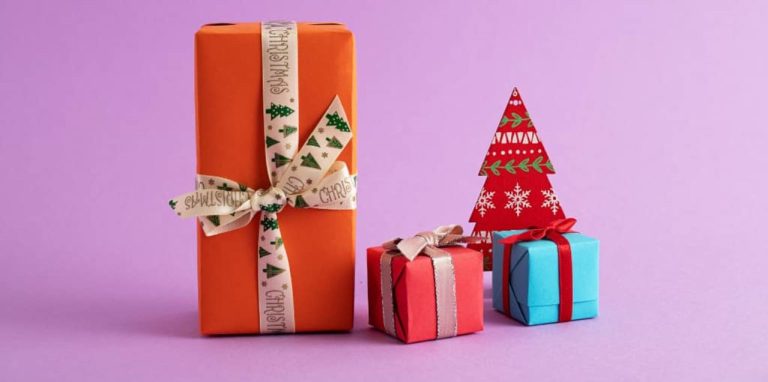 Source: everythingbranded.com.au
Promotional products are termed very important for Christmas marketing and other special events. They allow companies to represent themselves in a unique manner in front of the customers. This is termed unique because they choose products that comes into the routine usage of their customers, such as tshirts, bags, drinkware, and more others.
Not just in US, but promoting businesses through these products is quite common in the western world. People do take notice of these products if they are beautifully designed and decorated. We all have seen red coffee mugs during the Christmas and Valentine's day. They are hugely popular among the people, and their sales usually go to the sky during both of these occasions.
Similarly, tshirts or jerseys also get the same attention from the people. They are loved because they come into the regular usage of them. Not just kids, but adults also love these tshirts due to the same reason. Hence, it offers a good opportunity to the companies to use these tshirts as a part of their promotional products. They try to design these tshirts with creative visuals, so that they can strike a blow to everyone's eye at the first glance.
2. Best Tips to Design Christmas Tshirts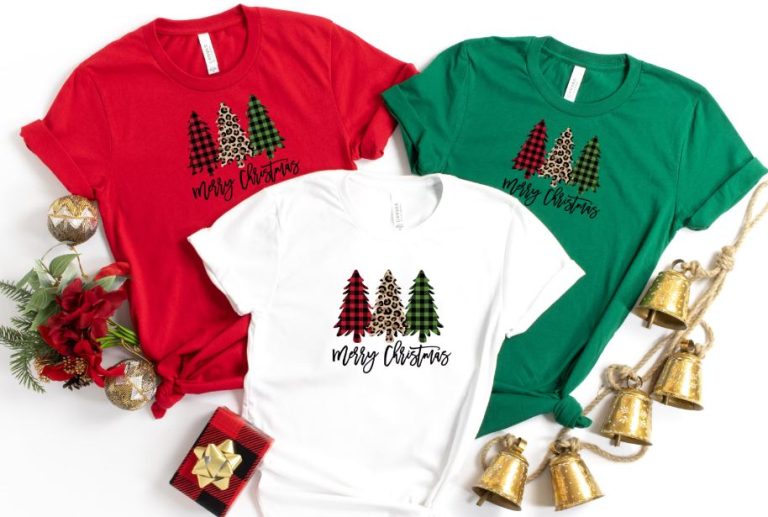 Designing a Christmas tshirt will not be easy until you would not work with some core rules. These techniques certainly brings a huge difference between an amateur and a professional looking design. So, it is better advised to learn them as they could help you to come up with better Christmas tshirt ideas. Let's take a quick look at them below.
2.1 Follow the Trends
It is always recommended to follow the latest graphic design trends to create something quality for the people. If you will ignore the practices that are currently popular in the market, you will not be able to come up with a quality design. For Christmas tshirts, this is a very important rule that should be kept in mind all the time.
Moreover, following the trends also helps you to come up with the people's most favorite tshirts. This allows better opportunity to grab their attention and promote your products alongside with it. All the top brands follow the trends to make their promotional tshirts viral in the market. It is a basic rule that allows everyone to find good attraction in the market.
2.2 Use Catchy Visuals
Christmas tshirts should be designed with a creative set of imagery. This is one of the most important rule that should be remember all the time. People only look towards those tshirts that have got some flare in their designs. They are not interested in buying simple or plain tees for the Christmas as they do not belong to this great festive season.
You can use variety of visuals on the Christmas tshirts to make them catchy and attractive in looks. If you do not have much ideas about them, take a look at Google to find some inspiration. There are plenty of mockups available there that will help you to get some great Christmas tshirt ideas quickly.
2.3 Pick the Right Color Combination
Colors matters a lot in the designing of Christmas tshirts. They cannot be ignored by any means, especially when you are creating tshirts for Christmas. Generally, people prefer to wear red and white tshirts on Christmas. Hence, many designers also use this combination to make their tshirts attractive for the people.
Meanwhile, you can also use other colors for the designing of Christmas tshirts as there are not much limitations. From green to dark black, other shades can also be picked for these tshirts, provided you are designing some unique visuals for them.
3. Unique Christmas Tshirt Ideas to Start With
Promotional marketing in the festive season of Christmas is incomplete if you are not selling custom tshirts to the customers. Many businesses tend to fail at this due to not having enough tshirt designing ideas. They try to go with simple plain jerseys to promote their services which simply do not offers any assistance in the marketing endeavors.
If you are also one of them who is facing a similar type of issue, take a look at some of the tshirt designing ideas given below. These techniques are pretty good to design Christmas tshirts for promotional marketing. Let's have a look at them.
3.1 The Santa Tshirt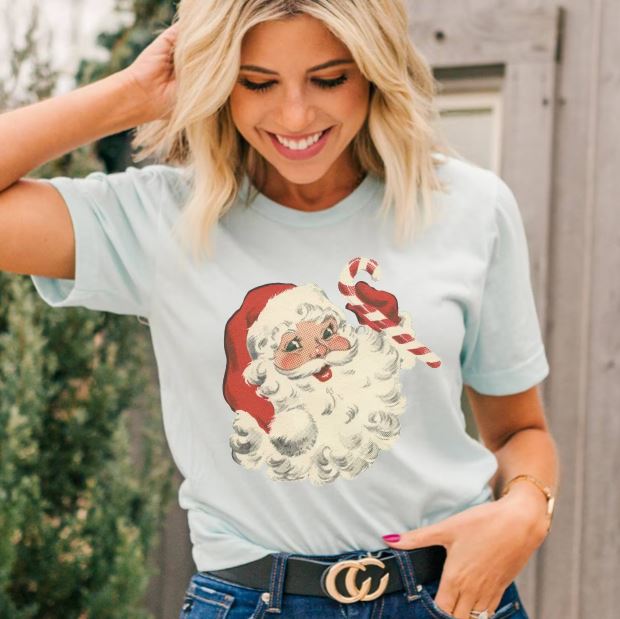 We all love Santa as it is the most fervent character of Christmas. Kids specially like the Santa uncle because he gives them plenty of gifts on different XMAS parties and events. So, it is certainly a great idea to design a tshirt with a creative visual of Santa. This concept is considered to be the most popular for Christmas tshirts, allowing brands to easily create tons of jerseys with them.
3.2 The Christmas Tree Jersey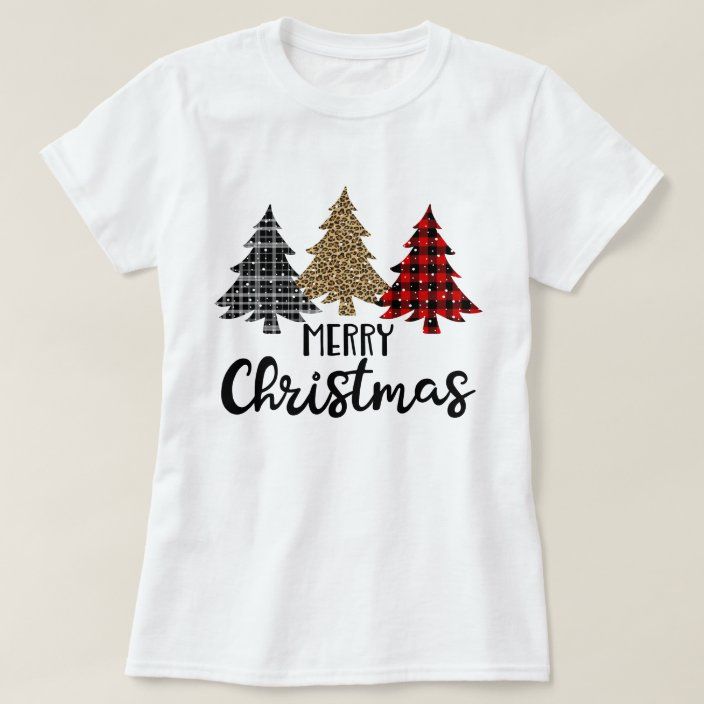 Just like Santa, the Christmas tree is also very popular among the people during the XMAS season. Many of them love to create these trees at their homes, offices and other places with sparkling bells, tinsels, and balloons. Therefore, using these trees in the tshirt design is also a nice to get some useful attention. It fits perfect for the Christmas themed jerseys, especially the ones that are used for promotional marketing.
3.3 Cross Tshirt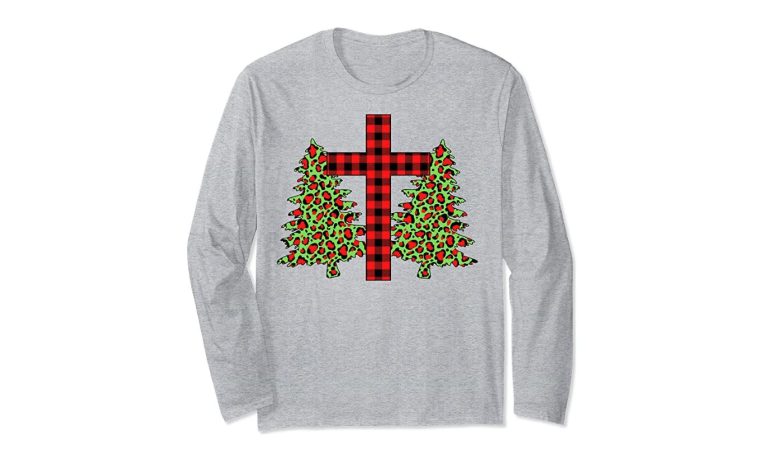 Sometimes, abstract designs look more appealing to the eye as compared to using an imagery on the tshirt. That is why many Christmas jerseys are created with the abstract sign of Cross to make a valuable statement. It is a prestigious symbol that is regarded highly by the people during the season of Christmas. You can use it to create a catchy tshirt for promotional marketing, but just make sure to use the right color combination with it.
3.4 Merry Christmas Jersey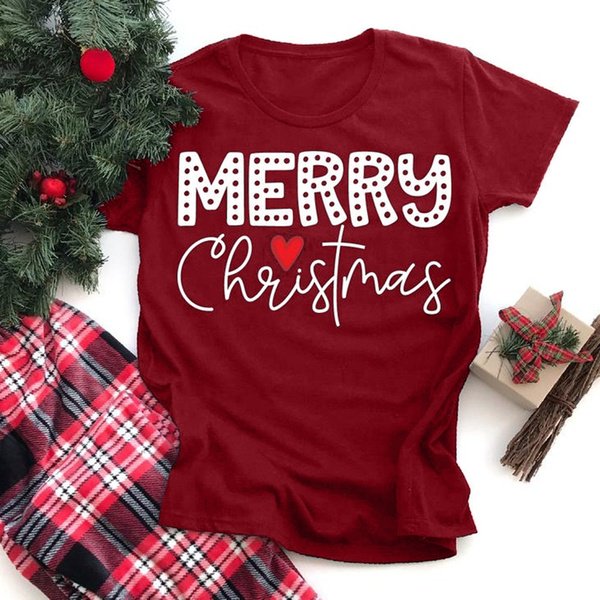 Whenever we meet someone during the Christmas, we always come up with the famous greeting of Merry Christmas. This is a very common saying that defines a happy feeling of the Christmas. It is used widely on tshirts and other promotional products as well to showcase a charming vibe to the people. These two words are certainly a perfect pick for Christmas apparel as they are quite popular among everyone.
3.5 Jingle All the Way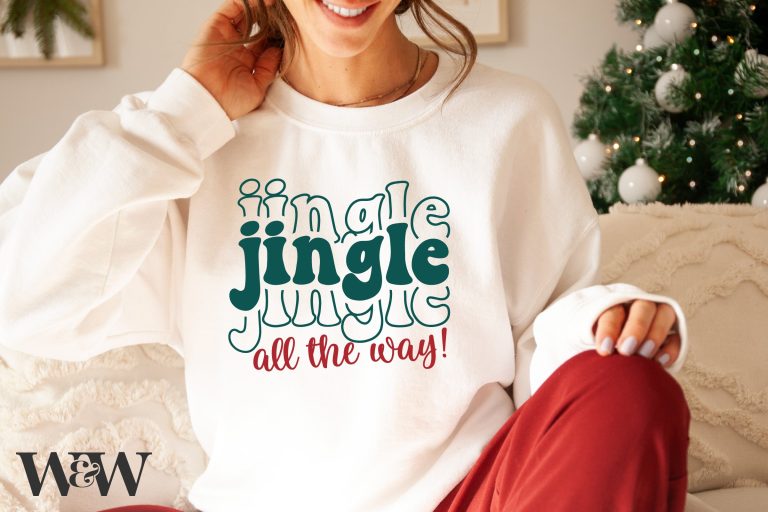 This famous Christmas song can also be used to design catchy XMAS themed tshirts. We have literally grown up listening to this song every year, as it brings the main vibe of the Christmas. Using it on tshirts could also be a nice idea, provided you use the right masculine fonts for its illustration. Furthermore, you can also add up some tinsels and bells with its wordings to make tshirts more attractive for the people.
3.6 Christmas is Coming!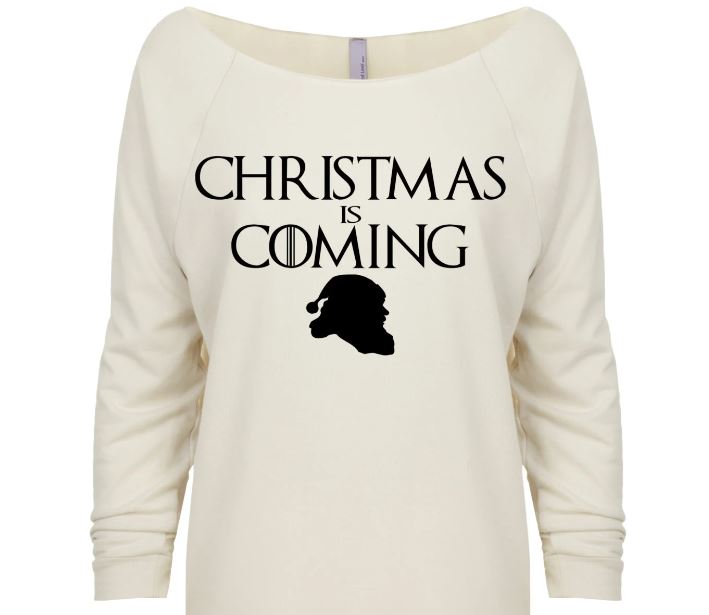 Besides creating conventional Christmas tshirts, you can also go for a design that shows the arrival of a Christmas. This would definitely be a preseason tshirt that would help to generate a little buzz in the market. You can create this tshirt in a variety of styles in which you can use different futuristic fonts as well. The selection of color also depends on you, however it is best recommended to use red colors for these jerseys.
3.7 Christmas Bear Tshirt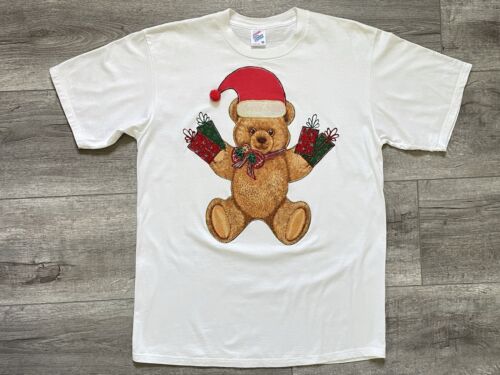 Just like Santa Clause, many brands also use the idea of designing bears in the tshirts. This is yet another a creative approach that provides a catchy look to the Christmas jerseys. You can design various types of bears in these jerseys according to your requirements. Meanwhile, you can also bring Santa alongside bears in these tshirts to make a funny combination of them.
People Also Ask (FAQs)
Tshirts are widely used as promotional products due to a variety of reasons. It works as a best present for customers, because most of them likes to wear tshirts regularly. Furthermore, tshirts are sold more on special events, hence their usage as a promotional product makes a perfect sense.
Tshirts can be used for promotional marketing at Christmas and other special occasions. People love to wear these tshirts at different XMAS parties and events. Hence, it is a good idea to use them for marketing at Christmas, as well as other occasions.
To design Christmas tshirts, you have to think creatively and smartly. Nowadays, these tshirts are designed using the visuals of Santa mostly. Other than that, you can also design XMAS tshirts with some heartwarming Christmas wishes as well.
You can use different types of colors for Christmas tshirts. However, according to best recommendations, the combination of red and white is preferred more these custom tshirts.
There are various sources available on the web where you can find catchy Christmas tshirt ideas and tips. You can find plenty of them on Google, as it provides great results within just a few clicks.
Final Words
That concludes our entire article in which we have discussed different Christmas tshirt ideas you could use for marketing. These jerseys will help to attract customers' attention, provided you design them properly according to the latest trends. The ideas defined above will help you to get some inspiration for designing good-looking Christmas themed tshirts. Furthermore, the article has also defined some useful tips to help beginners understand the overall concept of designing tshirts for XMAS season.
This makes the blog a complete DIY learning material for the people who are looking to create designs for Christmas jerseys. Meanwhile, if you are looking for a professional agency that could assist you in designing quality XMAS tshirts, give us a quick call today. Our branding and designing experts will work dedicatedly with your team to design unique Christmas tshirts, precisely as per the given requirements.