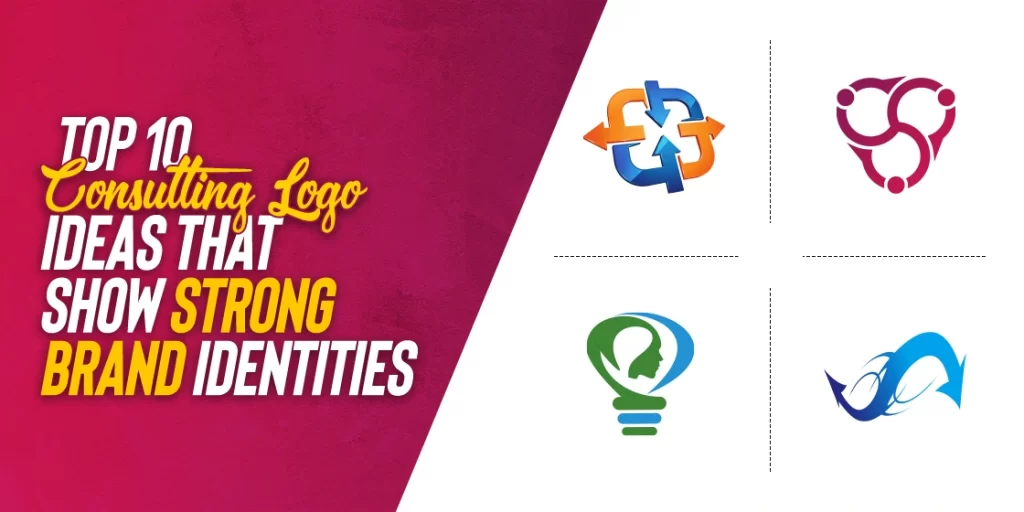 Table of Content
Discover How You Too Can Choose and Build an Awesome Consulting Firm Logo
Every industry requires some sort of consulting services to ensure that the businesses in that niche have a better chance of success. Whether it is financial, strategic, operational, growth, marketing, or more, you will find multiple firms offering consultancy services for them.
However, considering the inherent nature of the consultancy business, high visibility and alignment with client values is critical. But how can a company know which of its consulting logo ideas would best embody the core of their services?
That is because no matter how good your services, if the first thing a potential client or the market in general is something that does not match your services or business image, you would fail as a business. For that same reason, you will also notice that many of the big names in the consultancy business use quite simple logos.
So, without further ado, let's dive in and discover the secrets behind the success of some of the most popular consulting firm logos. Moreover, we will also discuss how to assess various professional logo design services before hiring the one that suits your needs the best.
What is a Consulting Firm? What Role Does it Play in Business Today
Before we begin with understanding how to build the perfect consulting logo, we first need to understand the concept and purpose behind it. A Consultancy firm is a company that provides a specialist professional service, at a certain fee.
Now most of the time that professional service provided is in the form of a plan or strategy developed by the consulting firm's subject-matter experts. For example, a financial consultancy firm will often have a mix of associates and SMEs that will work to ensure that the financial strategy and processes of the company are in line with their goals.
This is usually done through deliverables like suggestions, implementation plans, strategies, and more, which help the client company's management modify or develop their own organizational strategy. In many cases, however, the consulting companies today also offer implementation services to complement their consulting services, providing a full-circle service setup.
Now, why are they important for today's business environment? Well, a full-fledged business today requires many specialized services, which no company can fully hire or equip internally. Secondly, even if they could hire a fulltime team, the top consulting firms would still beat them. That is because for those consulting firms, the work they do is their specialty. And a small internal team within a larger organization would be unable to match them in terms of resources, expertise, and more.
Therefore, to simplify the overall process, have an advantage over their peers, and to make the most of their business potential, business consultancy services are necessary.
Top Ten Consulting Logo Ideas to Understand What Works For That Business Domain
Now that we understand the role and concept of consulting firms, you might be wondering as to what type of logos these firms sport. You might wonder about the design characteristics of these firms' logos, and how they complement the business values of diverse clients and their brands.
So, to unearth the mysteries of the success of these brand symbols, let's take a look at some of the most popular consulting logos, and understand why they have been such huge successes.
01- Accenture

The first firm on our list of consulting logo ideas is Accenture. Arguably one of the most well-known business consulting firm in the industry, besides the Big Three, Accenture is an offshoot of the Anderson Group.
If you look at their logo, it sports a simple, san-serif typography written in a monochrome black in all lowercase letters. The only spot of color besides black is the ">" symbol on top of the letter "t" in the design.
That symbol, known mathematically as the Greater Than symbol, can denote two things. One could be that it is an arrow pointing ahead, representing the firm's forward thinking. This gives the company an image of proactive strategic image, perfect for a business consultancy firm. Secondly, it could simply denote the Greater Than symbol, portraying the company culture of always striving for something better, something more. For themselves, and their clients.
Overall, the design is one of open and accessible nature, which can work well with clients from many different industries and business models. This way they are able to handle different consultancy projects without clashing with the values and beliefs of their clients.
02- Boston Consulting Group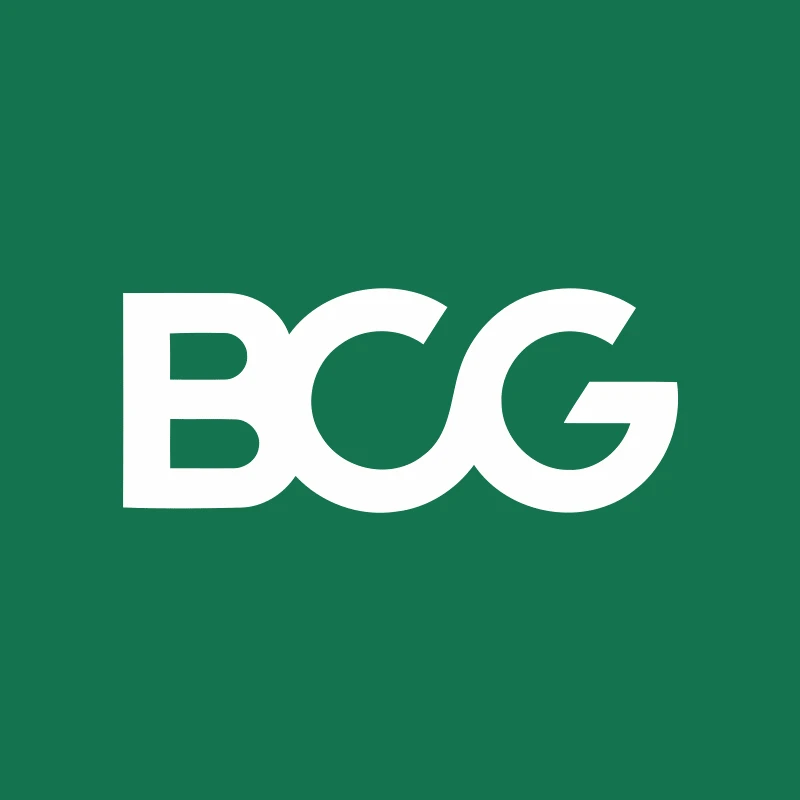 Next, we have one of the Big Three on the list. BCG, or Boston Consultancy Group, is one of the biggest and most prolific business consultancy firms in the world. Known as a specialist and thought leader in the consultancy industry, as well as experts in the field of strategy development.
Again, just like Accenture, the consulting logo for BCG is quite simple too. In fact, due to its shortened, abbreviated form, and the slightly stylized design make it arguably more like a brand symbol than Accenture.
The resultant design is a green and white logo, where the letters are all combined together with no inter-character space. The final look is one where the three letters are made to look like a single element, with a continuous flow and feel to the design.
The color combinations are one that calms and reassures the viewers, a trait essential for building trust in the client-firm relationship. That is because this shade of dark green is often used to denote a sense of grounded surety, growth, and sustainment.
03- McKinsey & Company

The third entry on our list of consulting logo ideas is the McKinsey & Company brand symbol. A defining trend that you may now be noticing is that so far, all of these companies are focusing on their brand name, or a variant thereof, for their logo.
In the case of McKinsey & Company, the consulting logo is one of utter simplicity, more so than any other on our list here. Written in a clear serif font, the design is easy to look at and recognize than a lot of its competitors.
And considering that it is the most valuable of the brands in the consulting industry, that says a lot about the aesthetic appeal of it. Simplicity, austerity, and utter lack of any decorative branding elements portray the company's professionalism and elegance. The design proves that the old adage of "less is more" is perfectly on display here.
This logo can be found in a lesser-known blue color, or the more common black that most people know it by.
04- Deloitte Consulting

Next up, is Deloitte. For anyone who is a part of team of accountants, or are related to the field of accounts every day, has heard the name of Deloitte. A highly trusted name in the market, its logo too is one of simple intrigue, and clarity.
The logo features a bold, sans-serif typeface that features a blocky design, and a no-nonsense color scheme of black on white. The only addition of color beside black is the small green dot at the end of the logo. Similar to how the green color theory is used by other examples, the green dot denotes the company's drive for growth and sustainment, perfect for a strategic consulting company.
Today, despite this simple brand symbol, Deloitte is one of the more prolific hirers of chartered accountants and other related industry professionals across the world.
05- AlixPartners

After that, we have a consultancy firm that has another simple logo representing its brand. AlixPartners are another consultancy firm that has worked with such big names like Enron, GM, and more. Due to its work with them, it has garnered a name in the industry as a reliable and capable consulting entity.
Just like the ones before it, the logo is simple and professional, with a small artistic flair to it to make it stand out. The logo is often seen in black, but for some uses, a subtle green is also used for the desired impact.
The simple brand design and the logo serves one purpose – to eliminate the fluff and get right to the point. This is a great sentiment for a consulting company, as it allows them to embody a persona of no-nonsense professionalism.
06- Mercer

Mercer is widely known American consulting firm that has been operating since the end of the Second World War. It specializes in mainly two types of business consultancy, namely Human Resources and Financial Services.
The logo design for it is a combination mark, which features a wordmark along with a graphic element. In this case, that graphic element is something that may seem abstract to some people. The design is made up of two hexagonal shapes, joined together to form a figure-of-eight shape. However, the way it is drawn makes it look similar to the interesting 3D shape, called the Mobius strip.
The Mobius strip is a 3-dimensional shape that has only one side. However, it is folded on itself in a way that makes it look like it has two sides. The theory behind this design is that just as the Mobius strip's single-sided, never-ending loop, the company too helps its clients and itself towards continuous growth.
07- L.E.K. Consulting

L.E.K Consulting has recently revamped its consulting logo. Previously, it featured a serif wordmark with a thinner profile done in white, over a green background. However, keeping in mind the modern standards of today's industry, they redesigned their brand symbol for a more modern look.
The new logo now features a bold, sans-serif wordmark design, which incorporates a couple of subtle design elements inside it. For one, the color green is now relegated to a small, triangular arrow-shape that is present in the letter "K". When taken in contrast with the otherwise monotone logo, the shape is a welcome addition, and shows the company's forward strategizing approach.
The new design is even simpler than the one before it, despite having greater visual meaning now. That shows that with the power of simplicity, even minor design elements can be leveraged to have massive impacts.
08- KPMG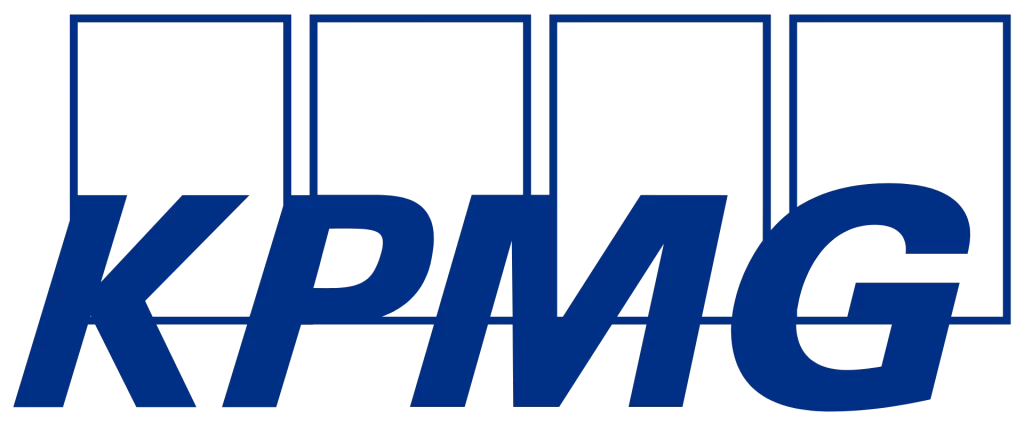 KPMG is one of the oldest name in financial consulting, alongside names like Ernest and Young, Deloitte, and PwC. As such, their logo is one that is both more elaborate and simpler than the ones we have discussed earlier.
Originally founded in the late 19th century, it offers three main lines of services, including financial audit, tax, and financial advisory. Their logo is quite austere and plain, with plain letterings over simple geometric shapes in the background, which are indicative of the company rich heritage. That means that the company is so old and well known, that an expressive logo is not exactly needed.
The four rectangles behind the wordmark are indicative of the company's four founders, each represented by one letter of the firm's name as well. The color scheme is a simple blue and white, and the font is a clean sans-serif font with clean and professional lines.
The color scheme, combined with the typeface, and the rich history of the company results in a brand symbol that is the perfect example of trustworthiness on our list of consulting logo ideas.
09- Capgemini

Despite being one of the youngest entrants on this list of consulting firm logos, the impact and idea behind its design is one that merits consideration. A financial consulting company, it helps its clients manage and strategize its financial assets, and as such has an important role in their growth.
Besides its laidback wordmark typeface, the signature item in its design is the single spade in it. Now, there is no connection between the company or its working with the design element. However, it is a subtle nod to the founder of the company, Serge Kampf.
Serge loves Bridge, a popular card game among the upper class Europeans. In Bridge, the highest card is the Ace of Spades, which features a single spade. As the highest value card in the owner's favorite pastime, the addition of the design to the logo represents that the company treats all its clients as a Bridge player treats the Ace of Spades – very carefully and reverently.
10- Bain & Company

Finally, we come to the last of the consulting logo ideas on this list. Bain and Company is based out of Mass. USA, and is considered one of the Big Three of management consultancy in the world. One of the top executives of Boston Consultancy Group founded it in 1973, who took with them some of the BCG's top consultants.
The firm boasts some famous names as its employees, including presidential candidate and senator Mitt Romney. Their logo is a combination mark, consisting of a simple, sans-serif wordmark with an accompanying symbol.
The wordmark is thin in profile, yet the characters have clean lines and ample inter-character spaces to make the logo quit visible. The accompanying symbol however, is more intriguing. The compass design represents the company philosophy of aiming for the "true north", which refers to the company policy of recommending much needed changes and recommendations that the client's senior management may not be willing to hear.
As a senior consulting agency in a cutthroat niche, that is what has made the company and its consulting logo so popular.
How to Ensure That You Get a Consulting Logo That Makes the Desired Impact
Now that we have looked at ten different consulting logo ideas, there are some key principles of design that we know are essential for a consulting logo to have the right impact. And while color and font are important, it is these design elements that have made these logos so successful.
These elements include:
Composition of the design
The aesthetics of the target market
A subtle artistic flair
Branding and marketing suitability
Color connections with the company values and goals
Knowing how to tweak the typography to have the strongest impact
FAQs
What makes a good consulting logo?
A good consulting logo is one that sticks in the mind of your target consumer, telling them exactly what you can do for them.
What are some good colors for a consultancy logo?
Some of the most common colors found in many different consulting firm logos are green and blue. Moreover, some companies like Bain & Company also use red to great effect.
What are the five key elements of a great and memorable logo?
The five tenets of a great logo include:
Simplicity
Relevance
Versatility
Uniqueness
Memorability
Conclusion
Looking back at the list of the top ten consulting logo ideas popular today, we can agree on one thing. When a company is operating at such a high level of criticality, subtle design elements are worth much more in order to make a strong impact on the target market. That is one of the most common mistakes often made by new designers.
For companies that need to be associated with many di fferent big brands, and work well with them, the logo elements need to be subtle, hidden, and more of a hint than a certainty. That is what brings the right balance in design, helping them work successfully in such an industry.