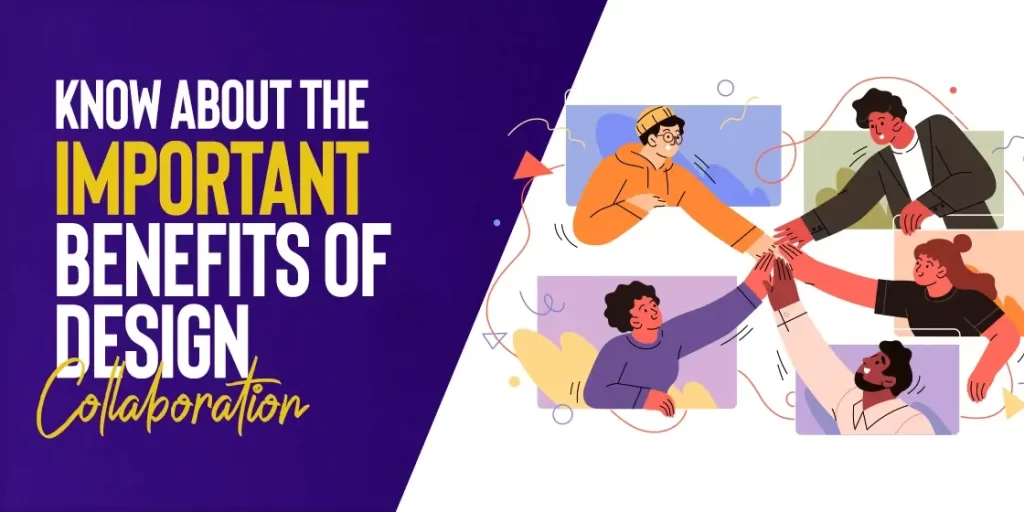 Table Of Content
Learn About the Importance of Design Collaboration in Detail Below

Every graphic design project needs an effective team work strategy. This is a universal fact that fits for all types of projects ranging from logo to web design and more others. A strong collaboration is termed essential to work with a clear set of strategy. It defines particular roles to everyone, so that the task division can be done smartly. Those who do not pay attention to design collaboration, always struggle to find a common ground or agreement while working on a project. It is therefore recommended to keep your teamwork strong, as it provides a better mindset to every individual to work on design projects.
A lot of times, the breakage of communication barrier leads to the failure of design projects. It is a very vital thing that should be understood by all project stakeholders. They need to recognize that teamwork is the only way to move forward in design projects. If an individual tries to take on everything on his own, then he will certainly fail or get stuck during the middle of process. It is a hard fact that should be kept in mind before starting any project or offering graphic design services.
If you are a beginner who does not know how design collaboration works, this article would be a perfect read for you. It will let you know about the benefits of design collaboration, as how it helps to effectively manage projects with a continuous string of communication with other team members. So, let us first start from the basics below understanding what is design collaboration and why it is considered hugely important for design teams.
1. What is Design Collaboration?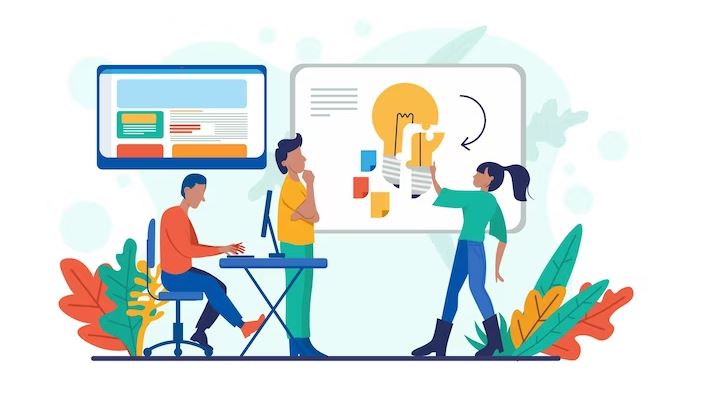 A lot of times, beginners do not understand what is design collaboration. It is therefore quite important to elaborate it precisely, so that they could understand the real meaning of this approach. Basically, it is a term that is commonly used in UX design projects, defining the importance of team work. It describes a comprehensive process in which all the stakeholders of the project give their feedbacks and suggestions related to the work. They do this on continuous basis which allows everyone to stay updated regularly.
A strong design collaboration process usually consist of three elements i.e. ideation, creation and division. All of them runs concurrently in loop, meaning that every task is discussed, performed and evaluated continuously on daily basis. This approach gives everyone a surety that tasks are being done according to a definite plan. It ensures that nothing goes forward without proper communication, which is indeed key to getting success in design projects.
Speaking from the perspective of clients and designers, an effective design collaboration helps to take feedback from both sides. It allows both parties to stay in communication with each other and discuss the status of the project regularly. This effective collaboration helps them to listen to each other demands and build a product design strategy as per the needed requirements.
2. Importance of Design Collaboration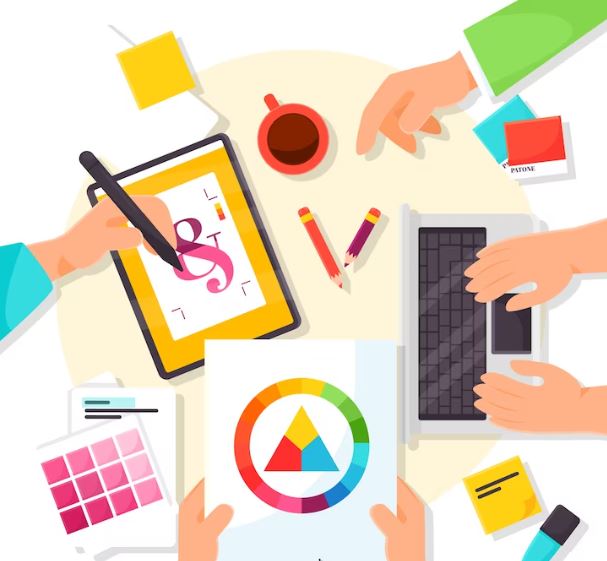 When working on any graphic design project, it is important to build a mindset within the team that prioritizes to work with a cohesive strategy. This is important for all types of projects because a strong bond always helps to manage projects smartly. A lot of people think that graphic designing is a work for individuals, and it does not needs any kind of team work. Well, this is certainly a wrong perception because graphic designing is not a piece of cake and it demands you to work with other people at different stages or phases.
This understanding is quite important for web designers, logo designers and other people related to this industry. The designing of a website specially requires a team to work with close communication because it is often a lengthy project. If a team experiences breakage of communication while designing a website, then outcome could be very drastic. It not only derails the whole effort spent on a project, but also wastes precious time of designers and developers.
To avoid having this scenario, it is always advised to work with a proper team strategy. It is something that doesn't forces anyone to take the whole pressure. Instead, it divides the task smartly and builds a strong communication channel to discuss every challenge effectively. It also helps to keep everyone on the same page that allows to complete projects on a given deadline accordingly.
3. Key Phases of Design Collaboration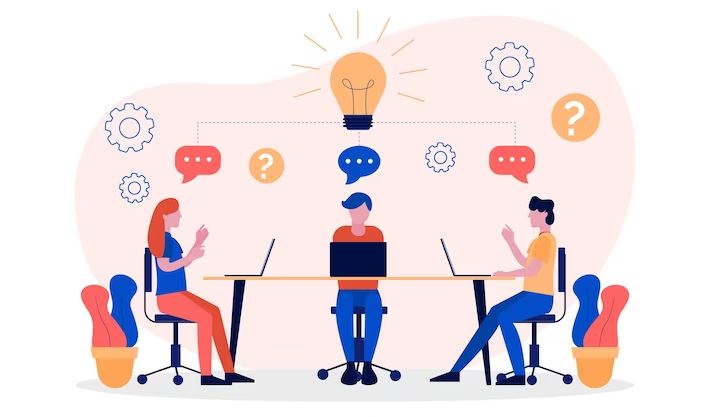 The process of design collaboration is divided into some important phases. These stages should be understood by all the teams, as it helps them to know which action should be taken in particular phases. If you are a beginner having no knowledge about design collaboration, take a look at the key stages defined below. This will let you know about the nature of every phase and how it works in a proper manner.
3.1 Brainstorming
First up, the stage on which the bases of design collaboration lies is said to be the brainstorming session. It is the first phase in which your team sits together to discuss various points of the project. In this stage, things are at initial level or just in the thought process, so discussing them with each other is considered to be a good idea. The brainstorming session allows everyone to give their opinions and listen to the thoughts of others. That is how a plan starts to build up leading the teams to the next vital stage of research and analysis.
3.2 Research  
Next up, we have an important phase of research and analysis in which teams are advised to study the market with an open mindset. This is a crucial phase that lets you know about the latest trends and practices being used by others in the industry. It provides you information how others are working and what you need to do get an edge over them. To get the best results, it is recommended to research the market as a team, so that you guys can have multiple opinions and answers. It enhances your thought process and gives you a clear view how design industry is currently working.
3.3 Iteration
When it comes to UX design or generic logo design, the process is generally iterative. This means that the designing work runs in loop and it stays in that bubble till the finalization of the project. The good thing about this approach is that iteration allows you to resolve mistakes in real time. It does not puts forward a faulty design, instead forces the design team to correct the given mistake as per the needed requirements. Sometimes, this iteration process can take multiple days, and sometimes it can end after few little tweaks.
3.4 Feedback
The last phase that is very important in design collaboration is the feedback from the team. This is one of those phases that runs continuously even after the project completion. The reason is that regular feedback helps you to stay updated with the latest status of the project. It lets you know whether the design is functioning well or it needs further improvement to match the market standards. This particular knowledge is very important, as it decides whether further work is required on the design or not. So getting a regular feedback is very important and every team member should play his/her part in it.
4. Benefits of Design Collaboration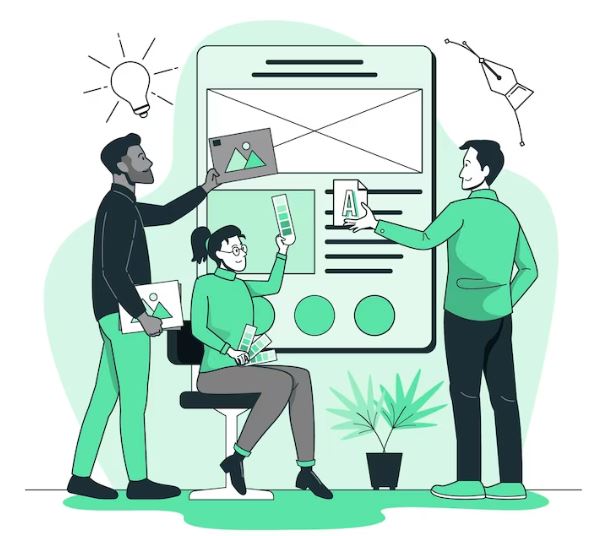 By having a strong team bond, you can get various types of benefits. As a manager or lead, you should know a solid teamwork strategy can work in your favor. This understanding can help you to motivate other members and work with a cohesive mindset to achieve main project goals. If you do not know much about it, take a look at the few advantages defined below.
4.1 Enhances Teamwork
First of all, the major advantage of design collaboration is that it enhances teamwork. It brings out the best from the teams by arranging their thoughts together. It motivates all members to help each other, so that the march towards the common goal can be amplified rapidly. This is one of the key reasons why every team should collaborate with an open mindset, as it helps to build their bond strongly.
4.2 Satisfies Clients
A strong collaboration means regular feedback from the clients. It is a very important thing that helps both client and design team to stay on the same page. It is termed very good in terms of satisfying them that their demands are being met precisely as described in the proposal. This approach not only assists to gain their confidence, but also allows to enhance their trust on your teams.
4.3 Achieves Target Goals
When a design team is working with a clear set of strategy, they are bound to achieve their targeted goals. It is also a major advantage of effective design collaboration that it helps you to produce quality results. No matter how hard or lengthy the project is, a strong teamwork always ensure to complete it as per the defined core objectives.
Final Words
That takes us to the end of this blog in which we have discussed the importance of design collaboration in detail. It is certainly an important topic that lets you know why teamwork is important for any design team. A lot of times, individuals only fail due to not having assistance of multiple minds. This is a scenario noticed commonly with the beginners, hence it is always advised to them to work with proper teams. It will assist them to not only do the work properly, but also learn new concepts by working senior professionals in the team.
If you are looking for an agency that has got professional design teams capable of managing all types of design projects, get in touch with us today. We are vastly experienced in the design industry, and our experts precisely know how to design different types of branding elements as per the needed requirements.
Frequently Asked Questions (FAQs)
1. What is design collaboration?
Design collaboration is a process that helps to teams to communicate with each other regularly during the work. It allows teams to manage projects with a unified mindset that always ensures positive results at the end.
2. Why is design collaboration important?
There are various reasons why design collaboration is highly important. It helps to enhance teamwork and ensures to complete projects as per the given requirements. It also allows to build trust within the team, so that better quality of work can be done.
3. What are the key phases of design collaboration?
There are several key phases involved in design collaboration. From brainstorming to research and designing to feedback, there are different phases that helps to form a proper teamwork strategy that can give positive results.
4. What are the benefits of design collaboration?
By having a strong teamwork, you can get different types of benefits. It allows your team to stay in communication regularly, and gives them a proper strategy to move forward in the design process with confidence.
5. Name some important tools recommended best for design collaboration?
There are several tools that can help your team to work with a proper design collaboration process. It includes Asana, FigJam, Miro, Figma and more others.