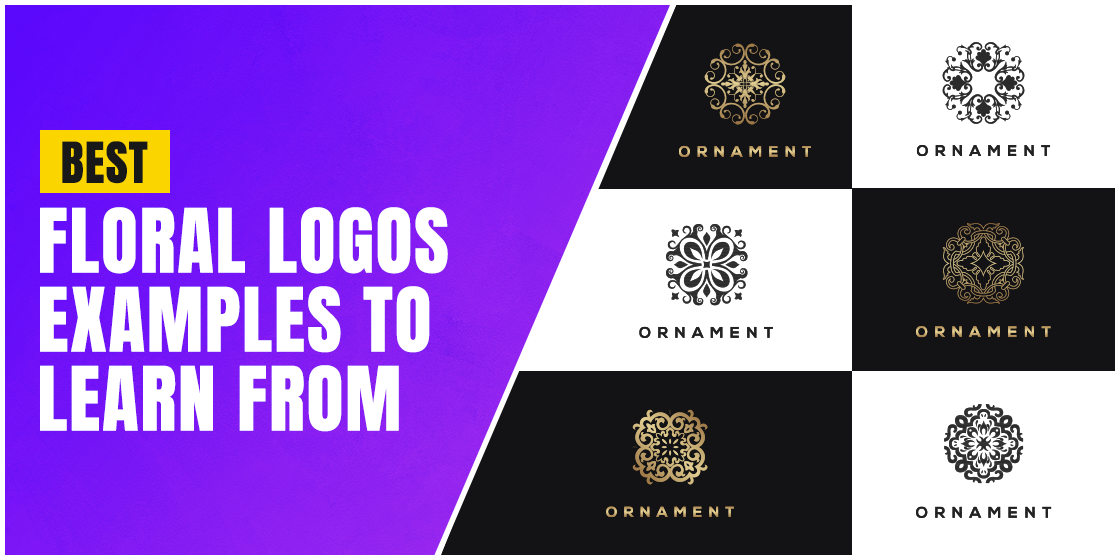 Best Floral Logo Examples and Tips You Need to Look At
Considering the vast usage of flowers in different public occasions, floral business is taking a rapid rise in the world. Many companies are entering into this market after seeing the growth in customers' orders. This has precisely increased the level of competition in the industry. Those businesses that have just entered the market are now facing serious resistance from the existing giants. The reason is that people largely trust the established floral logos of the renowned brands. They prefer to order flowers from these companies, rightly because of their beautiful quality.
Looking at this scenario, it could be easily said that startups in the floral market must need to optimize their branding practices. They first need to create a floral logo design that can catch people's attention. It will help them to establish a unique identity in the market, allowing people to know about their services.
Whether they offer just roses or a complete bunch of flowers, their logo should portray the exact floral image of their business. Because if it doesn't, then they will not survive long in the market, no matter how much they will devise plans for it.
If you are also a startup that is looking to create or modify its floral logo, read this article in detail. It has defined some great tips to design various types of logos rightly as per the latest trends. First, let us understand the main branding advantages of these floral logos, as how they help to strengthen the main marketing identity of the company. Let's take a look at it in detail below.
1. Importance of Creating Catchy Floral Logos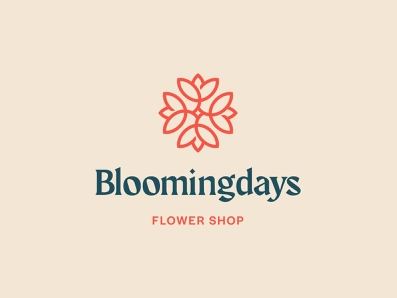 Floral logos are important for those companies that primarily focus on providing event decoration services using beautiful flowers. It is termed as the source of their identity that allows them to get recognized in the competitive market. Without having any logo, their existence will be of no use for the customers. They will never know about their décor services, until it is being marketed using a creative logo.
It is therefore advised to hire a professional logo design agency to get a spectacular floral logo. These agencies offer precise design solutions according to the given requirements. Their quality design work speaks a lot about their vast experience in the market. They can create different types of floral logos using the exact attributes and elements given to describe the brand identity.
Once created, these floral logos will take the center stage of your branding in the market. You can use them at a variety of places. Whether you are promoting freebies at trade shows, or distributing business cards at any event, these logos will describe your brand identity to the customers. It will play a major role in attracting them towards the business, provided the branding materials are also designed creatively.
2. Best Tips to Create Floral Logos
Being a designer, it is important for you to know about the tips to design a floral logo. Sometimes, it becomes difficult to design this logo if you are not working with the standard practices.
Here are some of the common points you need to keep in mind while designing the floral logos. They are pretty basic, but do play a major role in creating an alluring design for a floral logo.
2.1 Collect Ideas
It is always advised to do some research before starting any type of artwork. It is a basic concept for all types of things; hence it remains the same for the designing of floral logos as well. As a designer, you need to first get an idea of the market. It lets you know about the latest design practices as well as how you can perfectly use them in your floral logo design.
It should be noted that this research phase could take some time. The reason is that it will require extraction of information from different sources. You can then analyze them later to finalize something unique for the floral logo design. Once you will do that, your mind will become clear, and it will be a lot easier for you to go into the designing phase appropriately.
2.2 Pick the Colors
Next thing that is hugely important in logo designing is the selection of the colors. It is the primary thing that defines the visuals of your artwork. Especially for floral logos, the color selection becomes even more important. If the colors are chosen smartly, then it offers a great impact in the quality of the logo. It ensures to grab people's eyeballs, allowing the company branding to get more attention.
Meanwhile, it should be noted that these colors should also resonate with the main theme of your brand. A lot of times, people only choose flower-specific colors without giving any attention to the main brand theme. This doesn't create any connection with their other branding elements, making the entire logo look non-relevant.
2.3 Pick the Shape
After selecting the colors, you need to also focus on the shape required for the floral logo. Many times, people choose common shapes that look most relevant to the flowers. Though it is not a wrong practice, but it also doesn't bring any type of new creativity in the design. The logo looks similar to other emblems present already in the market, creating no difference whatsoever.
So, to make your floral logo design a bit unique, try to come up with a shape that looks refreshing to the eye. It should be simple yet bold enough to catch people's attention at the first glance. The design should also complement the colors chosen for it, allowing people to find good relevance between them. If you don't have much idea about it, try to take help from any experienced designer. He will surely help you to come up with the right shape that will fit according to your logo requirements.
2.4 Start Designing the Floral Logo
Once the above attributes are selected, move towards the actual logo designing process. This would take a bit of time, because you will need to pay detailed attention to every aspect of the designing. It is always said to make your logos with precise dedication, so that the process can reduce chances of mistakes. If you do not do that, then your design will always come up with faulty results, wasting your time and effort in the overall process.
So, it is best recommended to give a proper time to the designing phase. It will ensure to produce a quality illustrated logo without having many mistakes, provided you have also worked with the right principles of logo designing.
2.5 Recheck and Finalize
After completing the whole logo design, you need to once again go into the QA process to analyze the logo correctly. This is a necessary step because it lets you know whether the logo has been developed properly or not. It will let you know about the mistakes present in the design, and how they can be corrected according to the given demands.
It is best recommended to consult with a checklist while rechecking the logo design. This will give you some quick points for analysis, making the whole QA process faster and better.
3. Popular Floral Logo Design Examples
If you are not sure how to design a floral logo that can catch the attention of the market, take a look at the logo variation examples given below. It will let you understand how to create this logo by including the right elements needed for the design.
Let's take a look at them in detail below.
3.1 Lotus Design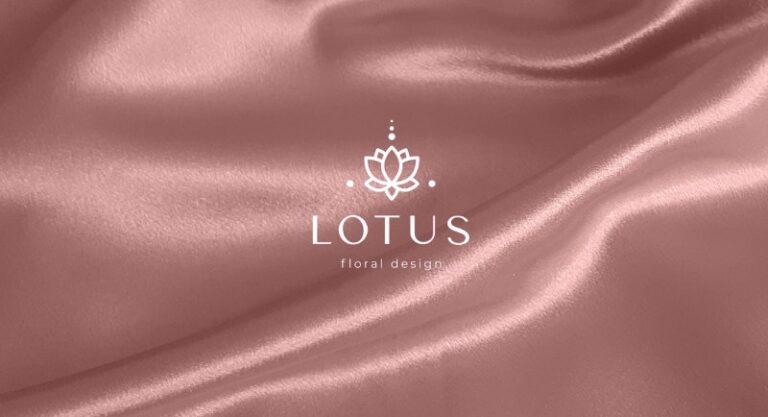 Lotus is one of the most favorite flowers of the people. It is regularly used for home decoration, as well as beautification for other places. Using lotus in the logo design is therefore termed to be a good idea. It offers a genuine image of the floral business, if the illustration has been done accurately.
3.2 Fleurist Vintage Floral Logo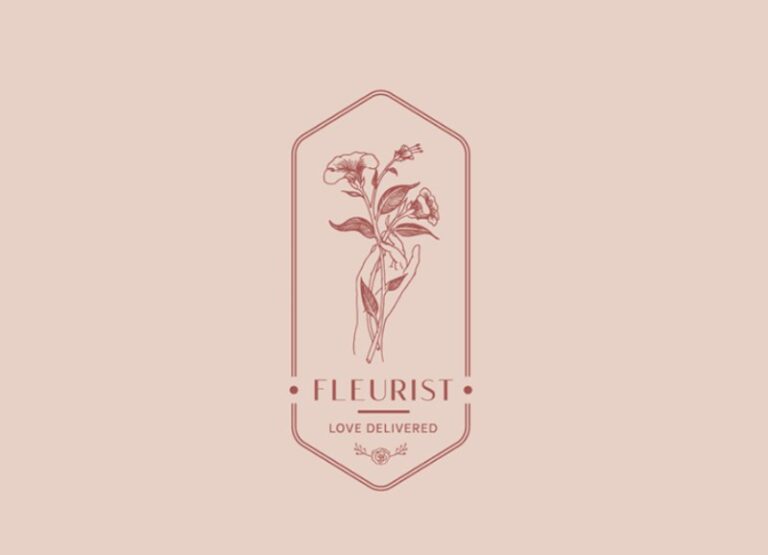 Another way to create a floral logo is by designing a beautiful hand holding some flowers as shown in the example below. This looks very beautiful, allowing you to showcase a unique identity of the floral business. Just make sure to pick the right colors for all the elements, so that everything could become prominent.
3.3 Orla Bloom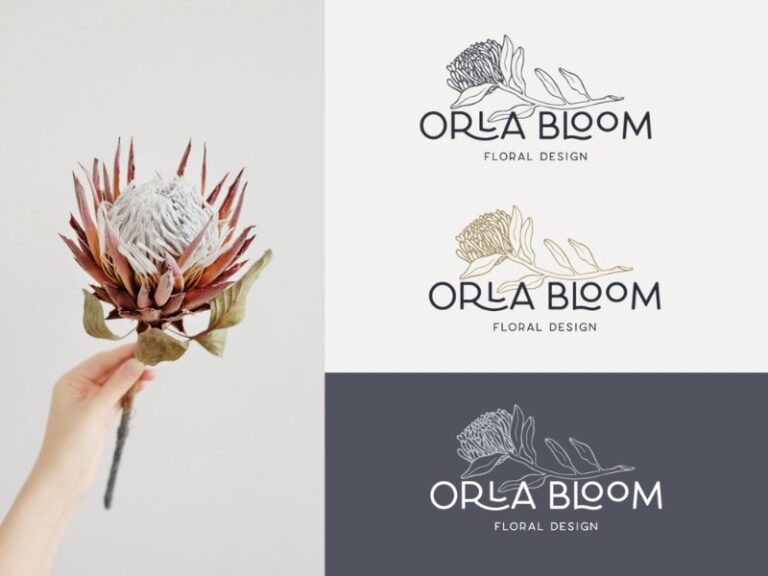 To bring a great flare of classical beauty in the design, you can take a good inspiration from this example as well. It has perfectly designed the blooming flower with a combination of catchy light colors. If you are looking to give your floral logo a sophisticated touch, this is indeed the perfect example you need to learn from.
3.4 Wordmark Floral Logo Design

Besides using conventional figures, many designers also prefer to create logos using wordmark. This practice is also used for designing floral logos. The wordmark consists of brand name, and sometimes just the initials. The whole idea behind using wordmark is to bring simplicity in the logo. It offers a very sophisticated look to the brand name, enabling eyeballs to get engaged quickly.
3.5 Abstract Floral Logo Design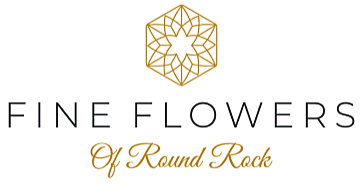 Creating a logo with an abstract design is also a preferred practice of many designers. It is a bit difficult from the conventional designing, because abstract art requires a very creative thought process to go with. This logo designing practice is termed very good for creating a floral logo. It showcases a unique image of the business, outclassing the normal flare of designing. The color selection in the abstract logo is also done very precisely. It doesn't include some random colors, but a smart combination that perfectly demonstrates the identity of the floral business.
Frequently Asked Questions
The logos that are used to illustrate the identity of a flower company are called floral logos. They are designed aesthetically using creative vectors, rightly to grab the attention of the people.
Floral companies always need to demonstrate their products using a strong identity. This is the major reason why they need a creative floral logo that can showcase their solid branding image in the market.
There are different types of floral logos used by the companies. It basically depends on the choice of businesses how they want to portray their business. This gives them freedom to design their logos uniquely without following any particular design.
To design a creative floral logo, you need to first look at the theme of your brand. This will let you know how to design a floral logo that can perfectly demonstrate the main identity of the company.
Floral logos can be designed using different types of colors. From red to sea blue and light green, you can use any type of color that suits most with your company's branding.
Conclusion
That takes us to the end of this blog in which we have discussed about the designing practices of a floral logo. Nowadays, companies use different types of floral logo design to market their brand identity. This gives them a great option to promote their business using a unique emblem among all others.
This article has also defined some useful tips to create a floral logo design. You can take some good learning from them if you don't have much idea about logo designing. However, if you are looking for an agency that is well experienced in creating floral logo designs with perfection, contact us today. We will help you to design a creative logo that will get everyone's attention, giving your brand a very good reach in the market.