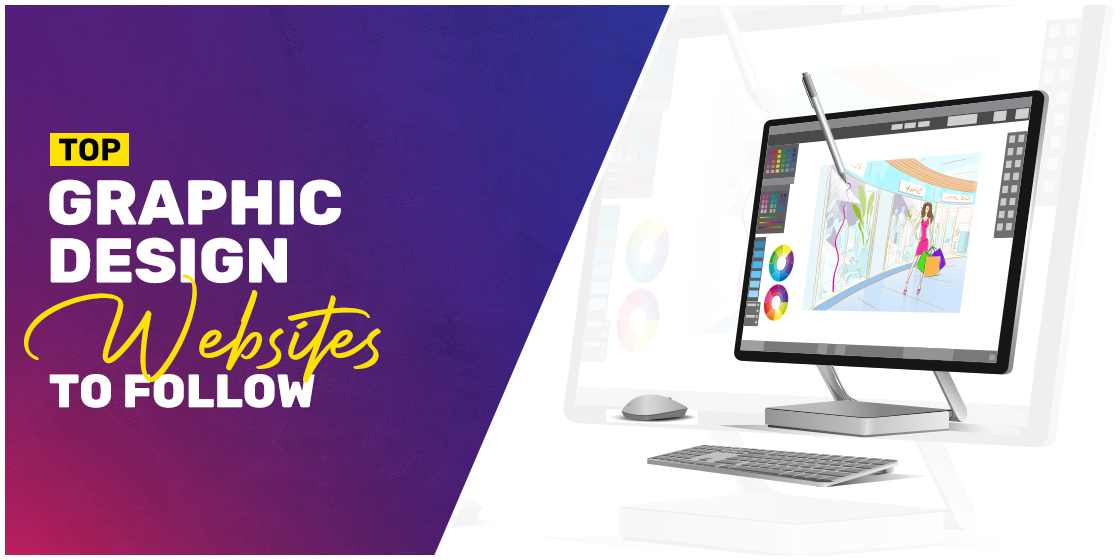 Know About the Best Graphic Design Websites Working in the Market
We all know the fact that graphic designing is an important part of branding. It provides a strong advantage to the businesses in terms of showcasing their brands creatively. That is why they always tend to find those graphic design websites that can offer them the required work. It is basically essential for their branding; hence they can never compromise on its quality.
Finding reliable graphic design services is itself a difficult job. Nowadays, there are many agencies working around claiming to offer top-notch design services. We all know that every agency is not well versed in this field, and many of them are simply bragging about their services.
This makes it difficult for people to find the best graphic design websites that can offer quality work. A lot of people often blindly hire inexperienced agencies to design their branding materials. This results only in disappointment, as well as wastage of time for them.
To find the best agency, you need to keep in mind some important factors. In this article, we will let you know how to find the best graphic design agency on which you can trust. Furthermore, we will enlist some of the best graphic design websites that are known in the industry due to their stunning work.
Let's first understand how to find these graphic design agencies correctly.
1. How to Find the Best Graphic Design Websites?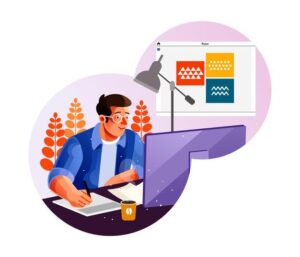 Finding the best graphic design websites could be cumbersome if you don't have the right industry knowledge. It can literally take you to any inexperienced company that will not only waste your time, but also a great amount of money in the process.
A lot of people think that they can trust on word of mouth while hiring any design agency. Well, this is just not the entire factor on which they should focus on. There are many things that should be considered while allocating any project to the agencies.
1.1 Industry Experience
Firstly, you have to evaluate the overall experience of the company in the market. This will let you know how long they have been operative in the industry and whether they know about its changing norms or not. The experience of graphic design agencies does count very much, as it lets you know their total years of work.
This particular factor gives you a little bit of confidence while hiring any company. You can take a step ahead to talk with them once you know about their long operations in the industry.
1.2 Skills and Expertise
Second thing that should be counted while finding the best graphic design websites is the abundance of skills and expertise. It is a very crucial thing that lets you know whether the agency is good enough to handle your design work or not. Their skills define the proficiency of their work, enabling you to pick the best among them.
For instance, if you want to solidify the brand identity, then you must need to find a professional logo designer website. Similarly, if your branding needs a rejig, look for an agency that offers professional stationery design services. Once you will get to know about the required expertise, it becomes easier for you to select the best agencies working in the market.
1.3 Client Reviews
After evaluating the experience and expertise, the next thing you need to look at are the client reviews. It is also very important to know how clients have rated their services. Having this knowledge will give you a second check about the quality of their services. You can know which type of customers they have and how popular they are among them.
To find the reviews about graphic design websites, you can consult Google and plenty of social media sites. These are the best platforms where you will find honest reviews, no matter how big or small the digital agency is.
2. Best Graphic Design Websites to Know About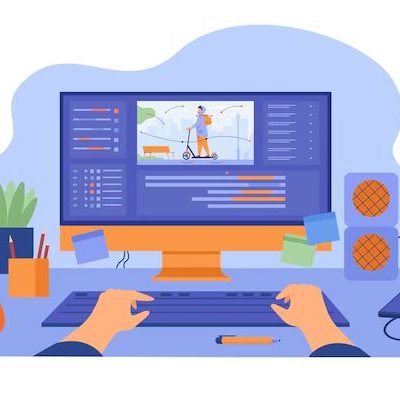 Now that you have understood the basic design principles of how to find the right design company, let's take a look at the names of some established agencies in the market. The companies defined below are known because of their top-notch design services and level of expertise in the field.
Here are some of the best among them listed below.
2.1 Active Theory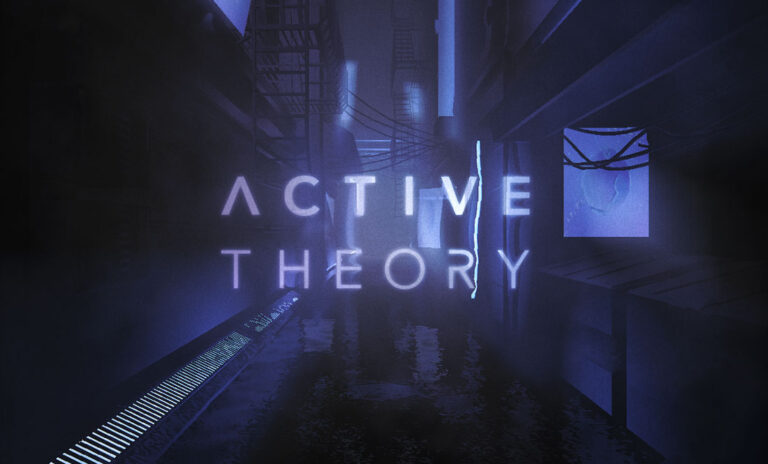 When it comes to designing branding materials with uniqueness, no one does it better than Active Theory. The company has a renowned name in the market due to various reasons. They are an agency that focuses primarily on creating quality stuff, so that it can bring value for the companies.
Working with dedication and passion, the company has recently expanded its footprint in different parts of the world. From California to Amsterdam, Active Theory is going global with the help of its cutting-edge graphic design services. Their journey till to date has been simply remarkable, showcasing the true potential of providing spectacular design services.
All the clients they have served till to date precisely recommend their services to others. They term it as a highly professional graphic design agency that knows about everything. Whether you want a 3D logo or a corporate business card, the team at Active Theory will help you to design quality stuff according to the given requirements.
2.2 Buzzworthy Studio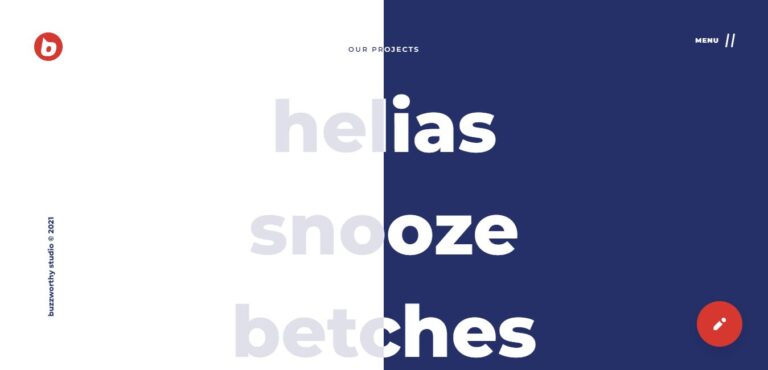 If you want to make your brand standout from the crowd, consider taking graphic design services from Buzzworthy Studio. Hailing from New York, it is a popular agency that provides perfection in every type of graphic design. From banners to corporate logo design, the agency is well versed in creating a range of artwork according to the customer requirements. That is why people rate them over others, giving their name an amazing boost in the market.
As a user, you will instantly get a thrilling branding message once you will land on their homepage. It says that the brand loves to provide extraordinary digital services to instigate curiosity of thinking among the people. This particular punchline itself explains the main goal of the company. It emphasizes on offering state of the art design services that cannot only engage people, but also attracts them towards conversion as well.
That is indeed a creative approach that precisely defines the main branding idea of the company. It provides a glimpse about the company's mindset, how it wants to add value in the branding by the virtue of quality designs.
2.3 Cuberto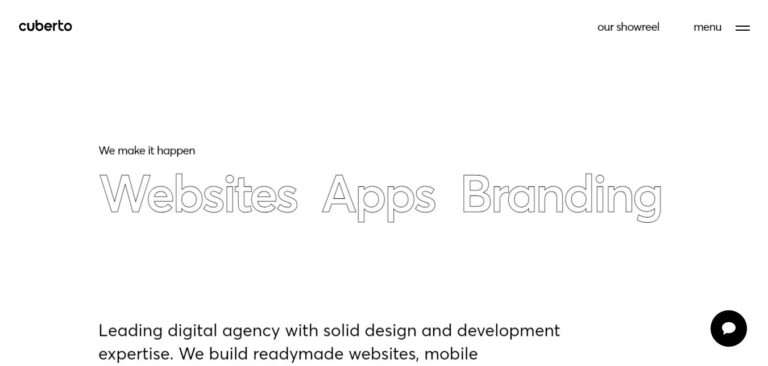 When you are searching for graphic design websites, you will definitely find a very little number of websites that stays true to their claim. Cuberto is certainly one of them because it provides a stunning touch of creativity in its landing page.
As a user, we try to analyze the services of any company by looking at its homepage. Cuberto has precisely worked on this idea and has made their homepage flawlessly good. The concept of illustrating art on the website is very unique. It gives the overall site a creative look, allowing people to take interest in the services.
The company prides itself in offering different types of services to the clients. They are not just a graphic design company, but they also excel in creating quality websites and mobile applications. It helps them to get a standout presence in the market, engaging more customers to get converted towards them.
If you want to see the quality of their design work, visit one of their official pages on Behance, Dribble and other platforms. These pages are filled up with creative designs, showcasing the company's flawless level of design expertise.
2.4 Creative Boom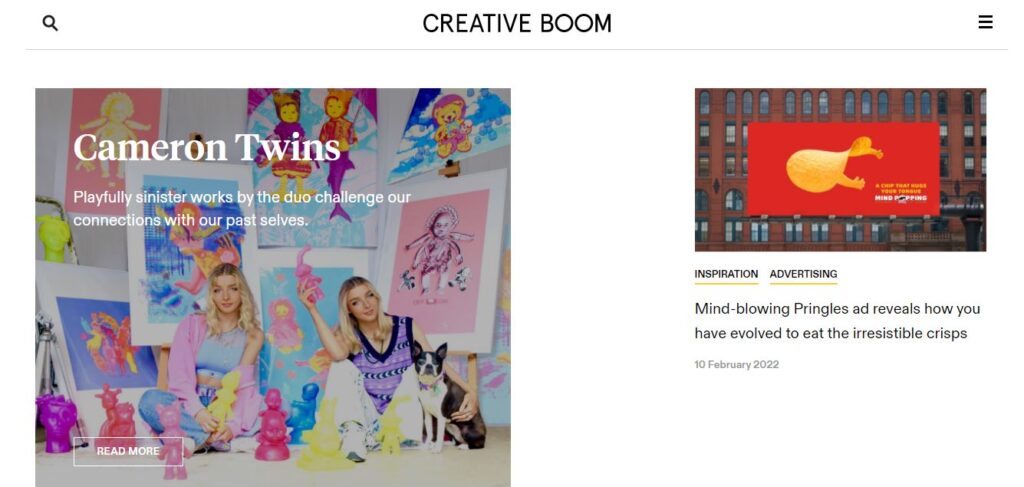 Being a budding designer, you would always need a source to learn about new things in the industry. These sites are sometimes hard to find because trending news and core design details are described very little by the bloggers.
Creative Boom is one of those sites that will help you to know about the latest happenings going on in the design world. It is an informational site that is precisely created to educate people with the current design news. It is a great platform for beginners to learn a variety of things about graphic design. The site regularly updates blogs about different design categories. Whether you are looking to learn about upcoming trends or an inspirational design guide, Creative Boom will help you to stay informed with all the latest stuff.
If you don't have regular time to visit the site, just sign up to the newsletter of Creative Boom. The website will weekly deliver a range of engaging blogs straight to your email address. That is how you can keep up with all the news by staying active on Creative Boom. It is the best site for budding designers where they can know about various informational stuff needed to grow in the graphic design field.
2.5 Femme Fatale Studio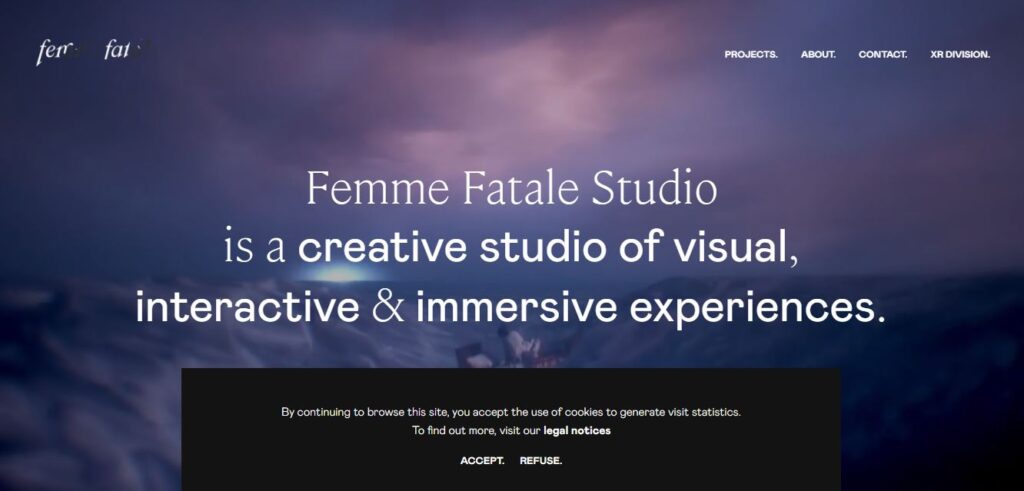 When it comes to bring an element of impact in the design, take a look at the immersive web design experience of Femme Fatale Studio. The webpage of the site is creatively built to demonstrate a stunning level of creativity. It certainly looks spectacular, giving the overall site an elusive presentation among all.
If you analyze the first fold precisely, you will understand the idea of using different animations in the design. Basically, it follows an idea of imaginations, giving visitors a little glimpse of the company's wide thought. People can understand the creative design concept of the company by looking at these little yet immersive animations. They are precisely created to define a company's unique approach towards designing, as how it invokes exclusiveness in the work.
You can also find some handy case studies available on this site. It will give you a brief overview how the company has completed different projects and entertained clients according to their given design requirements.
2.6 DesignCrowd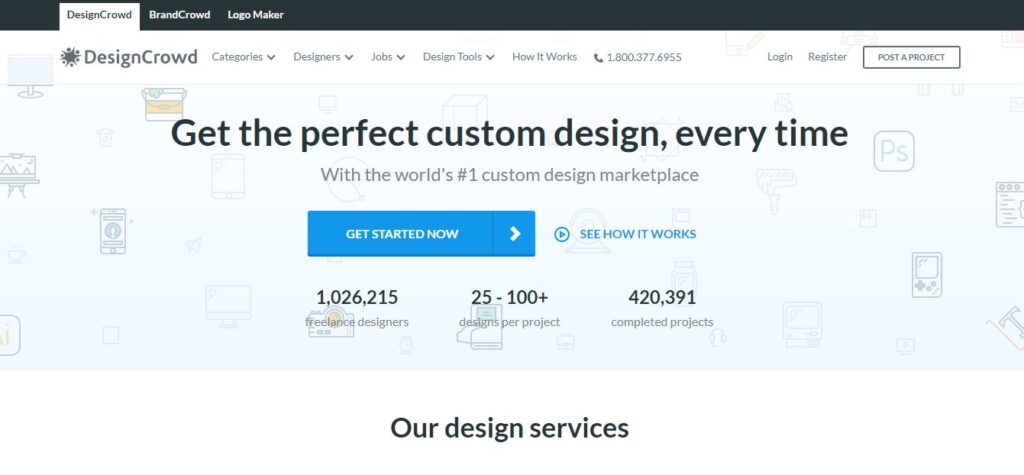 DesignCrowd doesn't need any kind of introduction among the wide community of designers. It is rated one of the best design marketplaces working in the online world. People from different regions regularly visit DesignCrowd to avail different types of graphic design services. This includes logo design, web design, business card design and more others.
Till to date, DesignCrowd has got more than 100K freelance designers registered on the platform. That is indeed quite a big number, showcasing the stunning popularity of the site. These freelance designers connect with different types of clients from around the world. They offer them the required design services and earn a good sum of money on each project.
The good thing about this platform is that it helps the clients connect with different origins of designers. Whether you are looking for an American or Spanish designer, DesignCrowd is the platform where you can connect with them easily. Just keep in mind to consider their per hour rates while hiring them for the job. Their rates do vary according to the expertise, as well as the national background they are coming from.
2.7 Designhill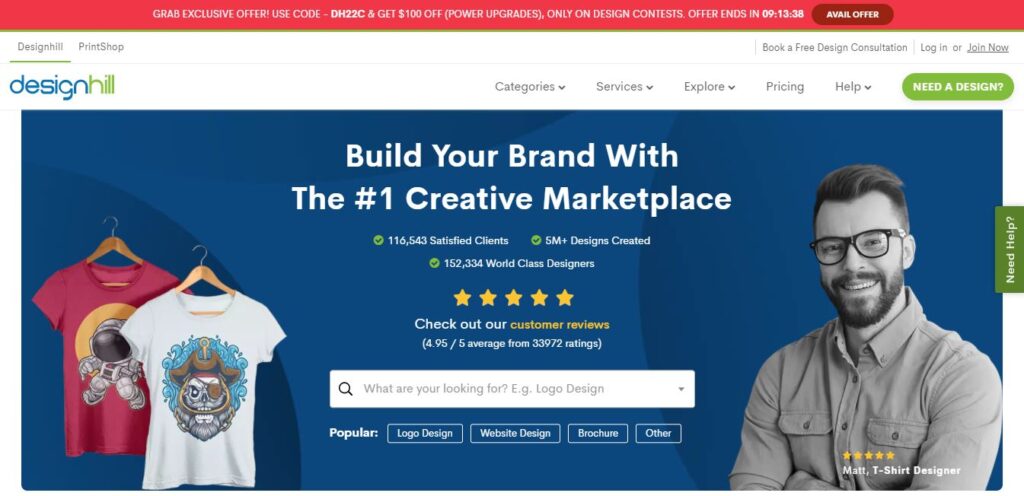 Designhill is yet another popular graphic design marketplace working in the online world. They are also quite renowned among the people, especially freelance designers. The graphic design process of Designhill is similar to other marketplaces. But, it just differs on the basis of getting an abundance of clients. This means that you will get more chances of getting projects on Designhill as compared to other platforms, provided you have shown the right skills.
As a business owner, you can get plenty of hiring options on Designhill. You can choose from a number of designers while searching for the best one on this platform. You can also negotiate the pricing with them according to the timeline and complexity of the project. This is why Designhill is rated as one of the best graphic design websites working in the market.
If you are a bit confused in finding the right designer, take help from the appointment and free consultation feature of the platform. It enables you to fill the required information in a form and then find the best person fit for that job. You can then have free one-off consultation with him/her to discuss the details of the project, all without spending a single penny.
2.8 Canva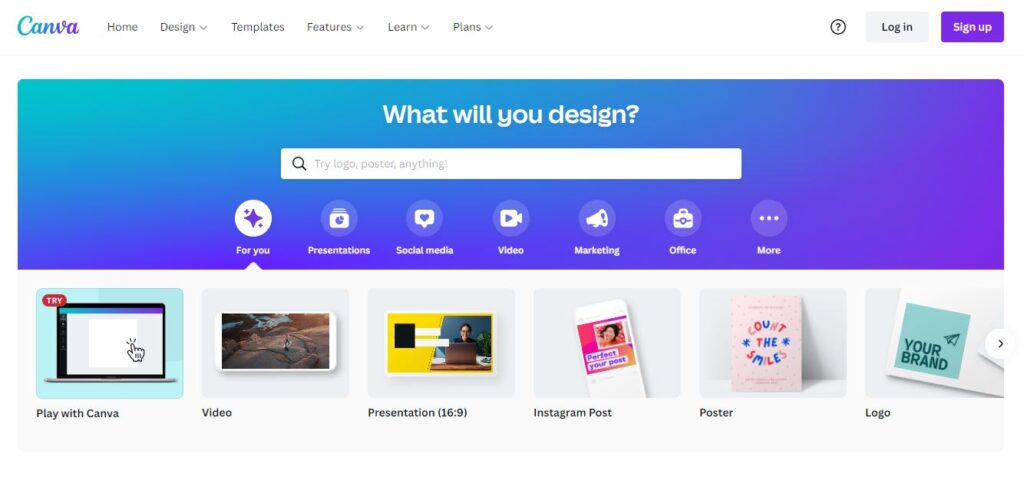 Canva is not a new platform for designers to create their favorite digital art. It has remained a popular choice of designers due to offering a range of fantastic features. The platform is mostly known because of its free online graphic design services. Though it comes with some limited features and options, but still is counted as the best medium for budding designers to test their skills.
To facilitate users, Canva comes up with tons of inbuilt design templates and styling themes. They can be easily customized and used for any type of design project. That is where Canva outclasses many other designing tools available in the market. It allows users to customize those templates according to their requirements, so that they can quickly create an engaging design.
Meanwhile, the premium subscription of Canva also comes up with different additional design elements including icons, vintage fonts, photos and more. You can easily avail them by purchasing the paid subscription of Canva, exquisitely created to offer cutting-edge design elements to the professional graphic designers.
Frequently Asked Questions
In order to represent your company's services or products smartly, you need to find an agency that is well versed in the design job. They can help you to portray a strong company image that can attract customers instantly.
Finding reliable graphic design websites could be daunting if you don't have the right knowledge about the market. Always remember to check the reviews and experience of the agencies before hiring them for any project. It will let you know about their capabilities and skills in the field.
The services offered by graphic design agencies depend on their expertise. Some companies only offer graphic design services, while some go beyond it by offering web and mobile app designing.
You can find many free graphic design websites working on the internet. Some of the top among them include Canva, BeFunky, VistaCreate and more.
Being a student or beginner, you can find some good sources on the web to learn graphic designing. Notably, the best among them includes Canva, Behance, DesignCrowd and more others.
Conclusion
That brings us to the end of this article in which we have listed different types of graphic design websites known in the market. Being a beginner or newcomer in this field, you can learn a lot from these sources. Some of them consist of informational blogs while some are agencies that are working from a long time in the industry.
These agencies have made a name for themselves by offering quality design services. From logos to brand stationery design, they are well versed in creating a variety of stuff as per the latest trends. By looking at their websites, you can get a good view of their creativity. This will also let you know about their branding theme and the type of design services they are offering to the clients.
Meanwhile, if you want to get linked with a top class design agency that can offer quality work, contact us today. We will help to represent your brand or services with stunning creativity, allowing it to grab people's attention.