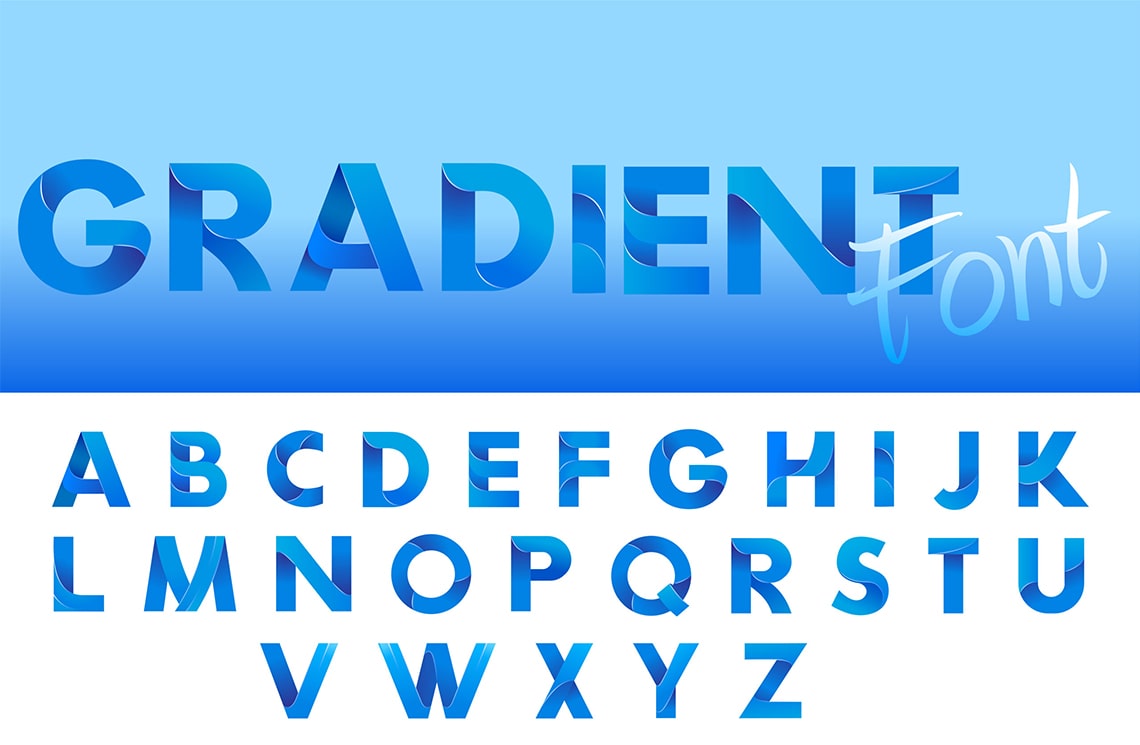 Know the Step by Step Process to Add Fonts in Photoshop
Being a designer, you must need to know how to add fonts in Photoshop in order to create a perfect artwork. It is a basic thing that allows you to design banners, logos etc. with complete perfection, rightly according to your overall concepts.
But, wait, are you facing some kind of difficulties while adding fonts to your Photoshop? Well, we have got you completely covered.
In this detailed blog, we will take a brief look at how to add fonts in Photoshop 2023. Whether you are sitting on Windows or MAC, we will define the complete process with which you can add your favorite fonts to Photoshop in just 60 seconds.
1. Why Do You Need to Add Fonts to Photoshop?
Photoshop is a complete tool that helps you to design any kind of logo or banner easily. However, sometimes you want to customize or add a few things to it to make your artwork more unique. It basically falls in the instincts of designers to use maximum customizations that suit well according to their working plans.
That is why many designers always want to use their own custom fonts while designing their preferred logos or banners. It is something that becomes necessary for them, as the creativity and uniqueness of banners are sometimes heavily dependent on the usage of these fonts.
And that's not just the reason.
Many designers also prefer to use a unique set of fonts for the designing of official company logos. Their usage in these types of practices becomes very necessary. It gives them a strong typography to represent their brands and get more attention from the audience.
2. How to Add fonts in Photoshop on Windows 10?
Microsoft Windows has become an obvious choice for many designers around the world. It is easy to use and offers fast performance for all the versions of Photoshop. Here is how to add fonts in Photoshop CS6 on Windows 10 in just a few minutes. It is quite easy and can be done in less than a minute.
Let's take a look at how to add fonts in photoshop with a step-by-step process.
2.1. Download Fonts from the Internet
Internet is the best source to find different types of fonts for your related artwork. Whether you are looking for a logo or banner font, Google has got a range of answers for you. There are plenty of libraries available online where you can find different types of fonts easily.
Once you have got the required one, just simply hit the download button. It is indeed very simple and can be done within minutes.
2.2. Locate the Downloaded Font File
Once the download is finished, locate the font files on your system. Generally, you can find them in the downloads folder. However, if you have defined any other part, please remember it to avoid any inconvenience.
The downloaded font file can be either in zip or as an individual file. It basically depends on the number of fonts you have downloaded from a particular source. If you have downloaded multiple fonts from a single website, then it will be in a zip folder.
Extract the zip folder and locate your desired font file. The extension of these files can be in OTF and TTF, as both of them are regularly used in Photoshop.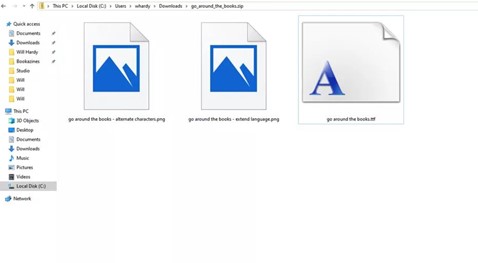 2.3 Install Font
Now, you have got two options available to install the font in Photoshop in Windows.
First, you can simply click on the file and it will show you an option of 'Install' on the upper left corner. It will also show you the preview image of the font, giving you a good look to know about its style. Just hit the Install button and that's it. It will be installed across all the applications on your PC, including Photoshop.
Secondly, you can perform the same installation process by using the Control panel menu. Just go to the Start Menu > Control Panel > Appearance and Personalization > Fonts. You will see an option of 'Install New Font' there. Just click on it and select your desired font. It will be installed quickly across all the apps.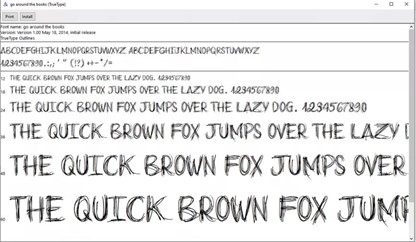 2.4 Select Font in Photoshop
Once the font is successfully installed, it can be easily selected from Photoshop in seconds. You can find it under the Character tab in Photoshop, where it will be listed with the other pre-installed fonts.
You can then add some extra Photoshop effects to this text as well, giving it a unique rasterize effect.
3. How to Add fonts in Photoshop on a MAC?
If you are using MAC, here is how to add fonts in Photoshop in just a few minutes.
3.1 Find & Download Fonts from the Internet
You can find tons of font styles available on the internet, made accurately according to your unique needs. You can also search the fonts by selecting various parameters, such as different styles in Italic, Calibri and more. This gives you a great opportunity to find the exact font as per your artwork requirements.
3.2 Find Font Files on System
Now, find the path of the font files you have just downloaded on your system. By default, it will go into the downloads folder. However, if you have defined any other drive path, please check there carefully.
If you have downloaded multiple files at once, they will probably come in the form of a zip folder. Extract them quickly and you will get all the unique font files inside it in separate folders. Also, do remember to check the file extension carefully, as they often come in two types i.e. OTF and TTF.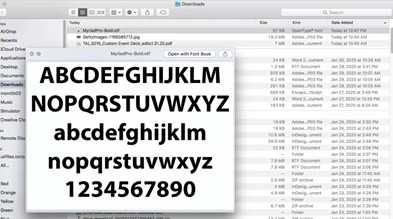 3.3 Install Font
Once you have located the font file, it's now time to install it on your MAC machine. Simply open the file and click on the 'install' button. It will quickly install the given font across all applications on MAC, including Photoshop.
However, you can also take another approach to install the font quickly. Just copy and move the font files from the original folder to the Library/Fonts folder. It will automatically install fonts for all the users on that MAC device, across all applications.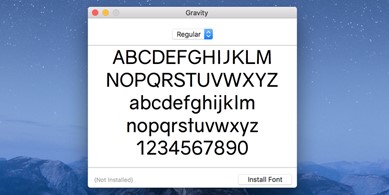 3.4 Select Font in Photoshop
Now, simply open your Photoshop and select the required font from the Character tab. You can then edit that font as per your artwork requirements. It is totally customizable and easy to use.
3.5 Keep the Font Licensing in Mind
If you are working commercially, it is highly important to check the licensing of the downloaded font. It is quite necessary because usage of any unauthorized font can suddenly take you into legal trouble.
And we know, you simply don't want that right?
Sometimes, fake distributors advertise the licensed fonts as 'free' over the internet. They intentionally do it without getting any permission from the original designer.
So, always remember to check their licensing part from the internal documentation. It will give you a brief idea about who owns the font and whether it is available for free or not.
4. Best Places to Download Fonts
Here are the three top sources where you can find multiple types of fonts.
4.1 Envato Elements
Envato doesn't need any kind of introduction. It is one of the biggest marketplaces on the web where you can find different types of fonts, themes, vectors, and more other stuff. It is a great platform that offers more than 8000+ fonts in different colors and styles.
Yes, you heard that right.
The pricing of all these fonts is quite similar, as well as affordable for all. Besides fonts, you can also download unlimited graphic templates, photoshop mockups, and more others from Envato easily.
4.2 DaFont.com
DaFont.com is your premier destination to find a range of font styles quickly. The biggest advantage of this platform is that it provides a free usage license on all of its fonts. This gives everyone a complete freedom to use them without any hassle.
Sounds good? Indeed, it is.
It is the core reason why contributors from all around the world regularly submit their unique fonts to this site. If you are looking to download trendy web fonts available with free licensing, this is undoubtedly the best website you can benefit from.
4.3 Google Fonts
Google Fonts offers yet another massive library of trendy fonts available in different styles for personal & commercial usage. All of its fonts are absolutely free to use and have got no restrictions attached whatsoever.
That is why designers from around the globe prefer downloading fonts from this site. It offers a plethora of options to use them in different types of artwork easily.
The interface of the website is also quite interactive. It shows a live preview of your sentence along with the chosen font quickly. This gives you a complete idea about how the font will look in real-time and whether it will fit perfectly in your banner or not.
Frequently Asked Questions
TrueType Fonts and OpenType Fonts are termed as the two major types of fonts. TTF is basically an older version of fonts, whereas OTF is said to be the latest one. The OTF fonts have got more alternate characters making them a perfect choice for the current usage practices.
Installing a font in Photoshop is quite simple. Just download your desired font from the internet, extract its zip files. Then, open its mail file which will show the option of 'Install' on the upper left corner. Just hit that button and it will install your required font for all the applications.
If you want to use fonts on a website, you need to have a special type of font designed for the web. You can find them on Google Fonts, in a range of styles as per your requirements.
Yes, free fonts can be used in personal and commercial projects. But, do remember to check the licensing of those free fonts properly. That is because many times they are falsely distributed by different fake profiles. You can briefly check the font licensing given inside the documentation files.
You can find numerous sites on the web offering different types of font styles. Some of the sites like FontSpace, DaFont.com, Fontasy, and others are quite popular among the designers. They offer a range of quality font options as per your defined parameters.
Final Words
That takes us to the end of this blog in which we have defined how to add fonts in Photoshop elements. It is indeed a very easy process and can be done quickly within minutes. Whether you are working on Windows or on a MAC, the explanation given above will help you to add fonts in photoshop on both devices.
However, do remember to check the licensing of the fonts before using them straight in your logos or banners. You need to pay attention to this particular aspect in order to avoid any unwanted legal issues in your graphical artwork.
Besides it, if you are looking to get graphic designing services from a reputed brand, just give us a call. We would love to provide you top class services as per the custom business requirements.