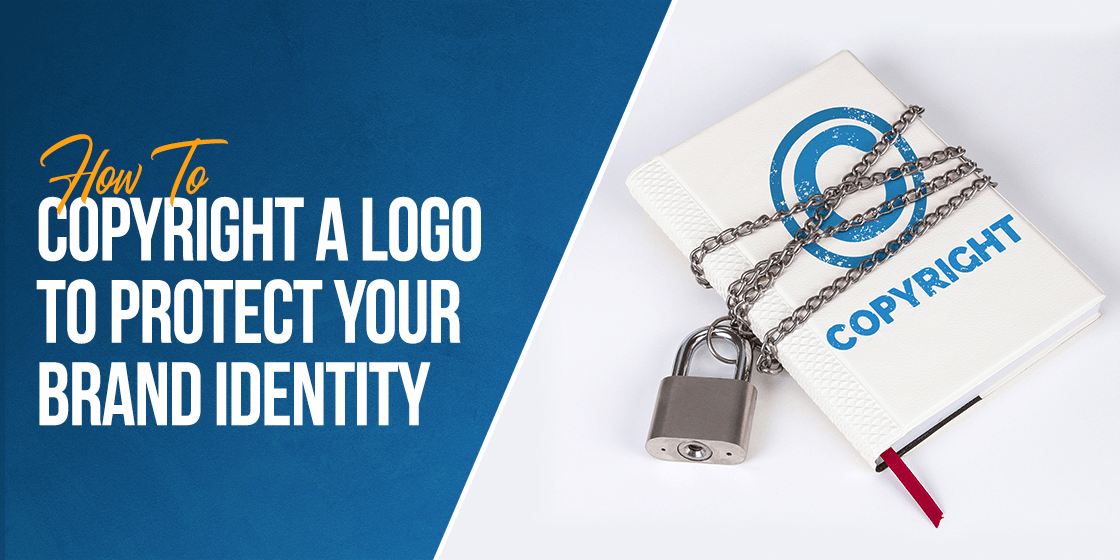 Know How to Secure Your Logo Rights from Getting Pirated
The usage of business logos is always considered very important. It precisely illustrates the core identity of the brand. It is the major reason why many organizations often ask about how to copyright a logo and attain a strong professional image in the market.
Having a unique logo for your business has become quite important these days. It helps you to protect the rights of a company. Furthermore, it differentiates your brand from others in the market. It is therefore recommended to take logo design services from the professional agencies. They have to right knowledge to deliver quality results, perfectly according to your demands.
Today, everyone must know how to copyright a logo and safeguard their business identity. Let's discuss this fact in more detail below.
1- How to Copyright a Logo for Free?
Besides getting a good design from any branding service, you must need to know how to copyright a logo and protect its identity. Over the years, we have seen several cases of infringement and unauthorized usage of business logos. It generally happens when the rights of a particular logo are not legally protected, making their infringement easy for anyone.
Now, here's the thing.
To help companies overcome this problem, copyrighting a logo seems a real viable solution. It gives companies complete authority over their logos. This practice allows them to claim their logo rights for being the sole owner in the market.
Nowadays, logo copyrights are increasingly becoming essential for everyone. In this article, we have taken a brief view about how to copyright a logo design in the perfect manner. Moreover, we will also discuss why it has become crucial for every organization.
2- What is Copyright?
Copyright is basically a legal term that defines your ownership on the created logos. It allows you to claim the rights of your creatives and protect its unlawful usage from anyone in the market. Symbolized by small ©, copyright helps you to protect all types of creatives that are being used regularly for brand representation.
Ranging from logos to books and more, copyright allows the actual owner to claim his/her essentials.
Those brands that have got serious competitors in the market are always advised to use copyright logos. It gives them an upper hand to showcase their artwork with their official identity. This allows everyone in the market to know about the brand and its offerings effectively.
3- Copyright vs Trademark: What's the Difference?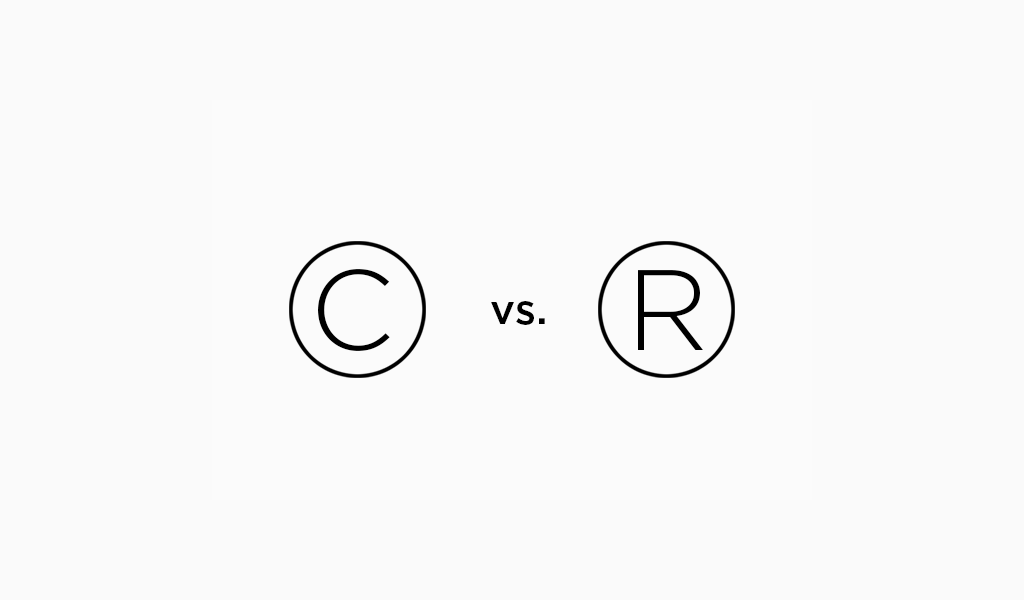 You might be wondering about what's the difference between copyright & trademark, well, here's the thing.
Copyright is particularly used to secure the rights of different types of artistic works. This includes images, websites, and much more. It determines the authorship of a particular person that is associated with the artwork.
On the other hand, the trademark is specifically used to register a business name and its products in the market. This allows a company to firmly attribute its logos, designs, and other stuff with the registered trademark.
Using a trademark, you can secure your business name in its full entirety. This perfectly eradicates all chances of infringements and gives you a complete legal right to the name of the company. It can also be termed as the second phase of securing company rights after successfully registering the copyright protection.
That is why knowing how to trademark a logo is crucial to your brand identity.
4- Why Do You Need to Trademark or Copyright a Logo?
We all know that sustainable branding is one of those core areas that always remain on the priority list of every company. The reputation of any organization relies heavily on it, which is why it has to be done smartly all the time.
But, wait, here's an important aspect about it as well.
Besides creativity, securing the rights of your company branding is equally important. It allows you to let the people know that you own certain products, as well as the brand archetypes your brand represents. Moreover, it gives you the right to market them according to the defined objectives.
Therefore, you must need to copyright your logo to get full advantage of omnichannel marketing. If your business has got expansion plans and doesn't want to collide with any other company, go for the logo trademarking.
It allows your brand logo to get a separate identity and reduces all chances of stealing or infringement. That is one of the core reasons why companies are advised to use copyright logos everywhere. It helps them to maintain their official identity while performing various operations in the market.
5- What Type of Property Can Be Copyrighted?
People often ask what type of company assets or branding elements could be copyrighted officially. This is a very straightforward question, however, sometimes people do get confused in it. Generally, anything that represents your business can be copyrighted from the country's official body. This means that logos, product designs, banners and more others could be copyrighted as per the law.
It should be kept in mind that common symbols or designs can't be copyrighted. They are free to use, as well as available on all public forums. So, do not try to use those common designs in your logos, as they will bar you to claim any infringement. You need to design the logos uniquely, precisely to make them look different from others. It is also a general requirement for effective branding, as it helps you to stand out from the rest in the market.
6- How to Copyright a Logo and Name?
Once you are done with the logo design, it's now time to finalize its copyright process. As defined above, this protection is quite necessary and must be done quickly. You can easily copyright your logo using the three important steps. Let's take a look at how to copyright a logo and business name.
6.1- Use the Copyright Symbol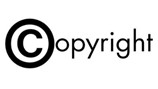 Firstly, you need to add the copyright symbol denoted by © at the start of your logo. It is the core symbol that illustrates whether the logo has got copyright protection or not.
Meanwhile, some people also use "Copyright" or "Copr." at the start of the logo. It is also an alternative way to denote copyrights. You can use any of them as per your requirements. Both have equal values and are used regularly by brands around the world.
6.2- Add Date of Publication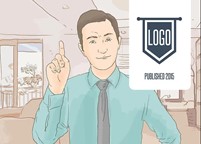 Next, you will have to add the date of publication. It will define the year in which it was first created. This will build a sense of trust among the people. It will let them know about the inception of the brand in a smart manner.
What does this mean? Well, here's how to do it.
If you have launched the brand in 2015, then use it in the copyright logo. It will enhance the reliability factor which will precisely elevate your brand personality.
6.3- Add Publisher Name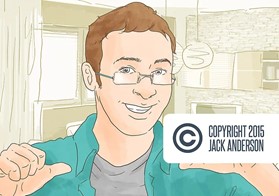 Next up, you need to also show the publisher name on your logo. It is quite necessary because it lets the people know about the owners' rights on that logo.
Always make sure to use the name that has got the ownership of the brand. These little factors add the trust factor to your copyright which perfectly helps in the upraising of brand image.
7- Register Your Copyright
Registering your copyright logo is quite an easy process. However, you just need to keep few logo copyright laws in mind.
There are two ways with which you can register your copyright. The first one is through using the online channel and the other is by using conventional paperwork. Generally, people prefer going with the online process as it is quite fast and takes less time for approval.
Let's take a look at both of these processes below.
7.1- How to Copyright a Logo by Registering Online
The online registration process is widely preferred by many people around the world. You will just need to visit the online registration website and fill out the form there. It will take around 15-20 minutes approx. to complete the overall process.
However, if you are sitting in the US, then you can visit the online portal of the United States Copyright Office. It requires a few little steps to complete the online registration.
Click on the Registration portal given on the primary menu. It will lead you to the online registration form where you will enter all your personal and artwork-related details.
The form will ask about the name of the owner as well as the type of copyright. You will then have to submit the graphical file of your logo along with the registration fee.
You can submit the fee using your credit or debit card, or can also deposit it through the United States copyright office.
Once completing all the above formalities, you will then receive a confirmation message having all the details.
Generally, it takes around 7-8 months to finalize the online registration process. In the meantime, you can also get a call or email related to any other information required by the United States copyright office.
So, always make sure to check your email and the given number for such types of queries. It will help to simplify your registration process.
7.2- How to Copyright a Logo by Registering Manually
You can also take the manual route to register your copyright logo. This can be done by filling out the same Form VA obtained from the official site. You need to submit the hardcopy of that form along with the deposit copy to the Library of Congress, U.S. Copyright Office, 101 Independence Avenue SE, Washington, DC 20559.
This manual process could take a bit longer time, possibly around 8-9 months. Please make sure to keep the receipt copy of the submitted form safe in your closet. It will help you to avoid any inconvenience related to the status update.
8- Benefits of Copyright Registration
Getting a logo copyright helps businesses in various ways. It provides legal authentication to the companies, so that their names can be solely recognized by everyone in the market. If you are starting a new business, you must need to protect your brand identity at all the cost. This could be done by registering the logo copyright. Here are some of the major benefits you will get by registering a logo copyright.
Copyrighted logos are added to the official public records. It lets the market know that a particular logo belongs to your business and no one else can use it whatsoever.
If anyone tries to use your logo wrongfully, copyright gives you the advantage to sue them legally in the federal courts.
A copyrighted logo can be used to prove ownership of the brand. It is a standard practice that is followed by all professional businesses in the market.
Copyright registration gives you the advantage to get help from international trade commission.
Copyright provides ease to document your copies in the country's official Copyright office.
Copyright authentication allows you to immediately halt pirated assets buying/selling in the market.
9- Register Your Trademark
Trademark protection is regarded much stronger as compared to copyrights. It is generally used to protect the rights of the entire business name and the subsidiaries coming under it. For infringement conflicts, trademark protection lasts long and provides you a better case to challenge your rights.
Now, you must be thinking about how to trademark a logo? Well, you need to go through the following steps to register your trademark.
First, you will need to visit the official USPTO website. There, you will have to file an application using the Trademark Electronic Application System (TEAS) online portal.
It will ask about the owner's personal information, logo details, and what it represents in the business domain. Please make sure to enter all the requested information correctly.
Once completed, you will receive a confirmation message about your request and approx. time of approval.
Normally, it takes around 4-5 months to complete the whole registration process. In the meantime, you can always check the status of your application by visiting the portal regularly.
10- Advantages of Registering Your Trademark
Registering the trademark for your company name or logo has got a range of advantages. It gives you complete legal protection to use a certain name or logo for a lifetime. This gives you complete freedom to operate in the market with all the rights.
What does this mean for you?
If you are planning to expand the operations of your business into different cities, you must need to get trademark protection.
It completely eradicates any chances of conflicts or infringement in the market. This practice protects you from the law and provides legal rights to sue any company or person.
Additionally, a trademark also allows you to build a strong professional image of your business. It lets the people know that a company is operating with all the legal standards. This ensures trustworthy services and products for all the associated customers & partners.
11- Top Cases of Copyright & Trademark Infringements
Here is a rundown of famous logo copyright infringement cases that happened around the world.
1. Apple vs Appfelkind :
The mega tech giant Apple sent a logo copyright claim to the small German café named Apfelkind in 2011. The owner of the small café stood firm on her ground and refused to change the logo. The case was later resolved when Appfelkind was given the permission to use the logo.
2. Nestle vs Cadbury :
In 2006, Nestle and Cadbury came up against each other due to the registered shape of the KitKat bar. Cadbury tried to invalidate the trademark, but later lost the battle in court.
3. Louis Vuitton VS Louis Vuitton Dak :
One of the Korean restaurant chain tried to use the name of Louis Vuitton for local business gains. This particular act made the fashion giant unhappy, which is why they decided to sue the Korean restaurant. Ultimately, the restaurant owner was fined $14.5 million by Louis Vuitton claiming branding damages to the company.
People Also Ask
In the US, the copyright process requires a minimal fee of $35-$40. Depending on currency exchange and other market attributes, it can change a bit in other countries.
Trademarks are generally used to identify a company in the market. This precisely relates directly with the logo in most cases. It is therefore advised to trademark a logo rather than just going for the name.
The manual copyright process in the US can take around 8-9 months to complete. If you have processed the registration through an online portal, then it can take around 6-7 months.
A trademark registration can last around 10 years depending upon all the legal requirements completed by the company owner.
You cannot register a copyright or trademark for free. If you are trying to do so, there is a high chance that you will lose your rights to the business name or logo in the future.
To Summarize
That concludes our whole blog in which we have defined how to copyright a logo effectively. These tips will let you know how to copyright a logo using both manual and online channels. It is up to you to choose the required one among them based on your needs.
Meanwhile, if you don't have much knowledge about how to design a logo, feel free to contact us today. Our design experts will ensure to craft custom logos as per your brand requirements, as well as latest trends.