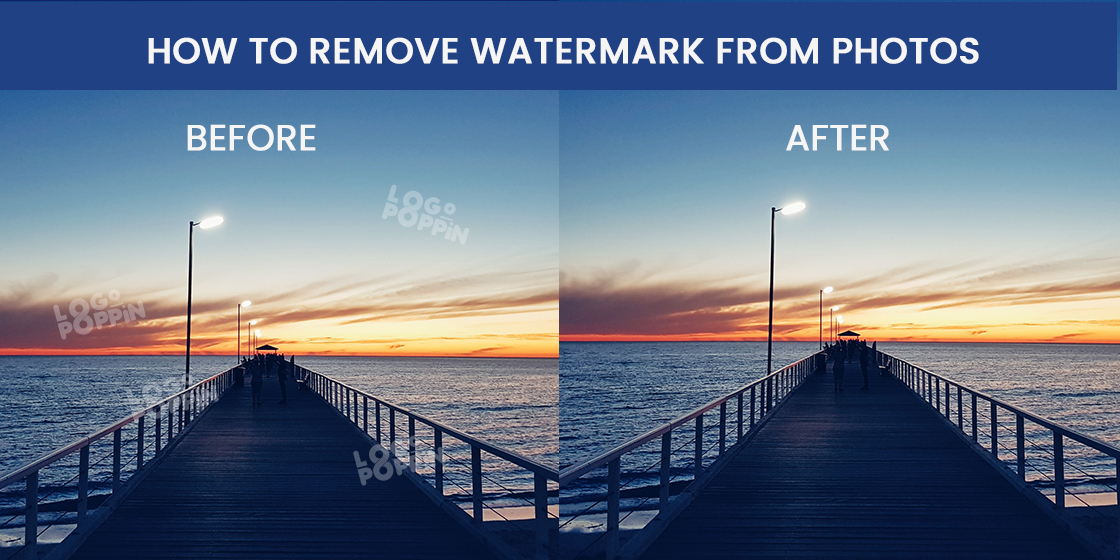 Learn How You Can Use Watermark Removers on Your Images
While surfing the web, we often find photos protected with an emblem of a watermark. That indicates that these photos cannot be used for commercial purposes, but are available for non-profit use. It makes plenty of people curious to know how to remove watermark from those photos.
Well, that is where we'll help you come up with a solution. We know that removing a watermark can be a cumbersome process, especially if you are a beginner and have no knowledge about it. To remove it safely, you need to know about a few tools that are precisely made to perform this particular job.
Let's take a look at a how professional graphic design services remove watermarks from their images. Let's dive straight right in.
1. Why People Add Watermark into Their Images or Videos
The primary purpose of a watermark is to indicate that a particular photo, video, or document belongs to a specific company or artist. It is added to showcase the rights of that piece of artwork, allowing people to know about its actual ownership.
Now, you might be thinking about whether it is vital to do so? Well, here's the thing.
Companies and artists around the world prefer to use logos on their related artwork. It represents that a photo or video is not available for commercial purposes or any unauthorized usage.
It also adds a bit of professional essence to those photos, as they represent the original emblem of the actual company. However, these photos can still be used for non-profit personal purposes, which is why removing a watermark doesn't look that wrong.
So, suppose you are doing research for any personal project and have found photos with tiny watermarks. In that case, this topic is for you.
Let's learn about some trendy watermark removers that are pretty easy to understand and use, even for beginners.
2. How to Remove Watermark from Pictures
Looking to know about how to remove watermarks from photos safely? Here are a few tools that can simplify your job quickly.
2.1 How to Remove a Watermark in Photoshop
Photoshop is always regarded as the best tool to perform any kind of graphic designing work. Not only that, but it also allows you to do various types of image manipulation operations, including the removal of the watermark.
Using various types of predefined features, you can easily remove watermarks from any image in Photoshop. Here's how it can be done within just a few minutes.
Open your image and select the Magic Wand Tool. It will allow you to draw the cursor over each letter.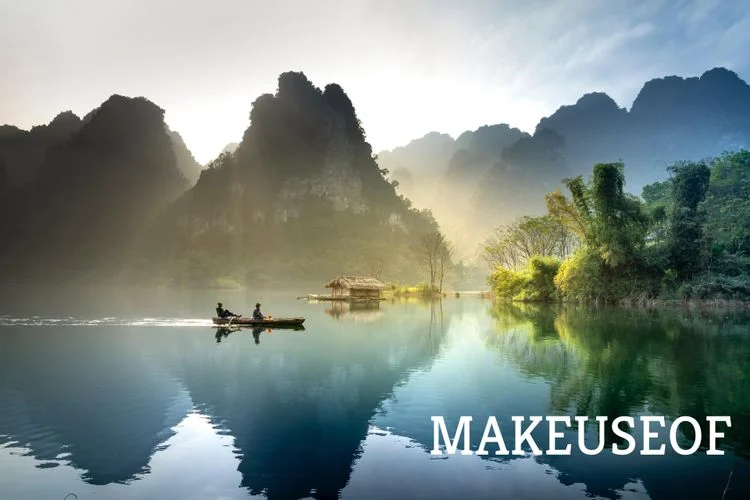 Do remember to firmly hold the Ctrl (Windows) button while selecting each element of the watermark. It will help you mark down the whole area from where you want to remove the logo or name.

Now, click on the Edit > Fill button. It will show you a new popping box. Select the Content-Aware option given under the Contents dropdown menu. Then, change the Mode to "Normal" and Opacity to "100%".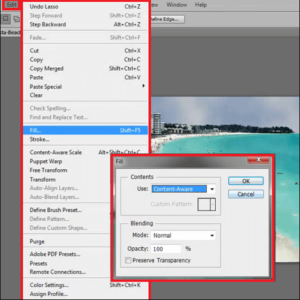 Once done, click the OK button. It will then quickly remove the selected watermark from the image, allowing you to use it without any name or sign.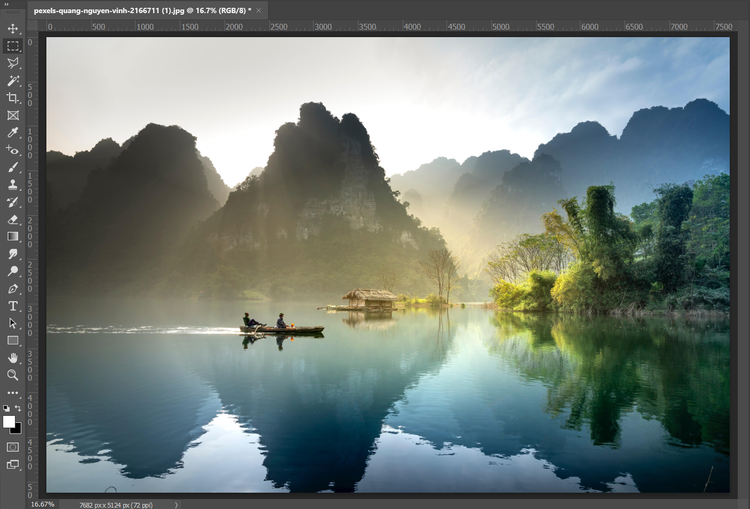 2.2- Removing Watermark with Inpaint
Inpaint is yet another popular online tool that allows you to remove the watermark from photos easily. It is one of the best tools around that completely eradicates the objects from the images as if they were never there.
Sounds cool, right? Indeed, it is.
That is one of the core reasons why designers around the world love to use this tool. It produces a clear flawless image that looks as original as it is never edited. Using Inpaint, you can not only take out watermarks but also eradicate unwanted objects like buildings, automobiles, and others in just a few clicks.
Let's explore how to remove the watermark with Inpaint in detail below.
First, upload your image on the website by clicking on the 'Upload Image' button. Please keep in mind that the portal does not accept files greater than 10MB. So, make sure that it is lower in size and has got correct file format, i.e., JPEG or PNG.
Now, select the watermark remover tool given in the left menu and carefully frame the whole area where your watermark is located.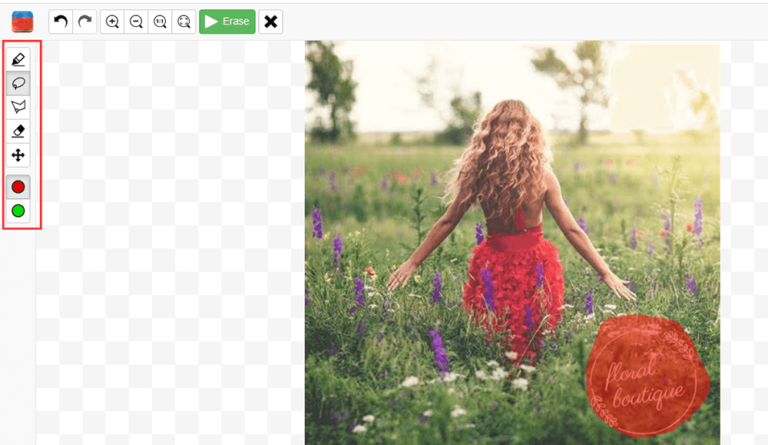 Once completed, click on the "Erase" button given on the top-right menu. It will take a bit of time to complete its overall process. After a few seconds, it will show you a new image having no signs of watermark whatsoever.
That's it, and you are done. Now, simply download the watermark-free image by clicking on the "Download" button. It is entirely free and has no charges.
2.3- Removing Watermarks Using Pixlr
With Pixlr, you can remove any type of watermark from your photos within just a few minutes. It is not just a watermark remover tool but a complete platform that offers tons of advanced designing features and photo editing tools.
It is one of those few types of websites that accept images in various formats, including PSD, PXD, JPEG, PNG, and countless more others. The AI-built functionalities allow you to enhance the quality of the images in just a few clicks.
Really? Yes, that is how good this platform is.
Not only that, but it also runs smoothly on mobile devices, allowing you to upload and customize the images quickly from handheld smartphones.
Let's take a look at how to remove a watermark using Pixlr below.
First, click on the "Open Image" button and upload your desired photo on the platform. Submitting images through an online URL is also supported by Pixlr.
Now, go to the "Retouch" > "CLONE STAMP" to safely remove the watermark from your photo. That can be easily done by selecting the watermark and dragging the mouse precisely to remove it from the image.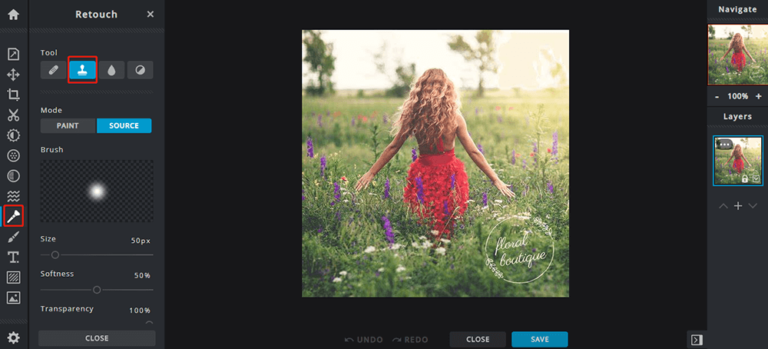 Now, finalize the quality and size of the picture as per your requirements. Then, move to the next step and hit the "Save" button.
Once you are done, click on the "Download" button given at the right bottom corner. It will quickly save the new watermark-free image on your drive without asking for any fee or charge.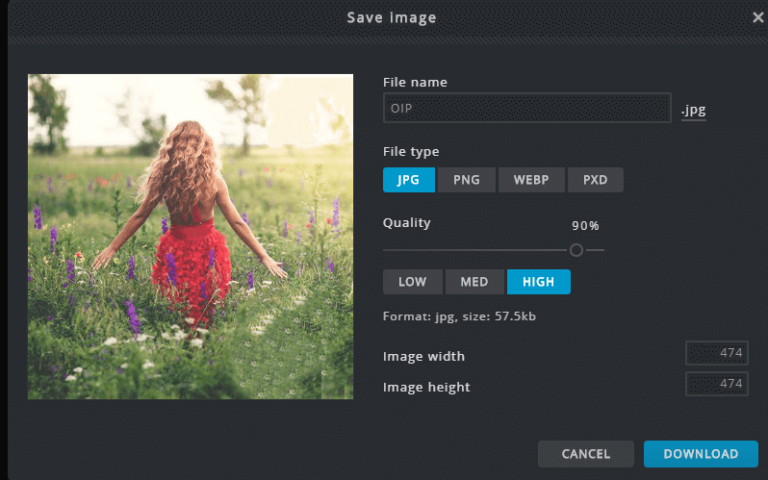 2.4- Removing Watermark Using Apowersoft
Apowersoft is also a popular option for removing watermarks from photos. It provides a desktop-based and an online portal to do the job, which is what makes it a bit of a unique watermark remover tool from the others.
Using the batch file, Apowersoft streamlines the watermark removal process, giving you a clear, rich image in just a few seconds. Here's how you can eradicate any sign or name from your photos through Apowersoft.
First, click on the "Add Images" option to upload the photos on the tool. Make sure to upload the correct file format in order to avoid any inconvenience.
Once uploaded, set the Method to "AI Watermark Removal" to get the best results. Then, click on the rectangle shape given next to the Tools.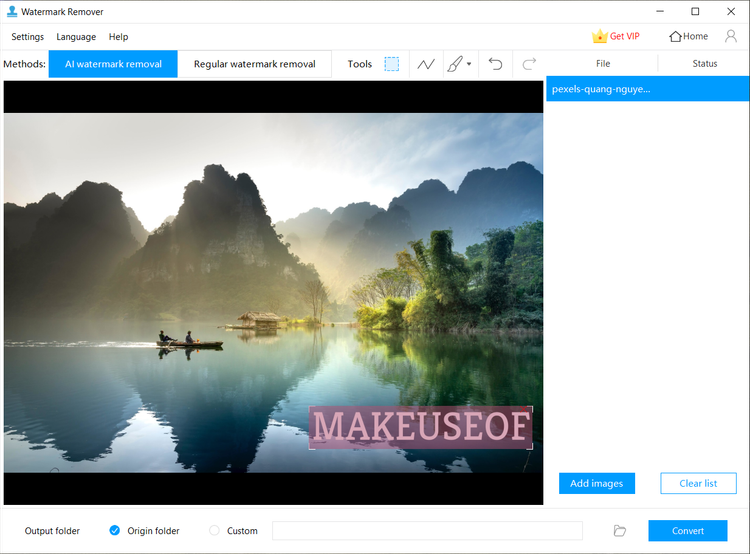 Now, you need to draw a rectangle around the given watermark. Make sure to mark it correctly by covering all the edges of the sign or logo.
Once you have completed the selection, define the folder where you want the output of your photo. By default, it will select the Origin folder, which means the Downloads folder on your PC. If you're going to change the path, you can choose the Custom option and define a new path per your needs.
Now, click on the "Convert" button and wait for a few seconds. Once completed, it will automatically save the final image in your defined folder.
That's it! You've now successfully removed the watermark from your photo. It will look as original as you've wanted it to be.
3. How to Remove Watermark from Videos
Just like photos, people also want to remove annoying watermarks from the videos. It is not an easy task, but it can be done within minutes using various editing tools like Filmora. Let's take a quick view of Filmora below and how it removes the watermark from any video in just a few minutes.
4. Removing Logo or Names Through Filmora
Filmora is one of the best-rated video editing tools in the world. It has a plethora of options available on its platform, providing editors great assistance in the customization of videos. For watermark removal, Filmora is termed as the most trusted platform in terms of delivering quality results.
Here are the three easy ways to let you know how to safely remove watermarks from Videos using Filmora.
4.1- Blurring the Watermark
Though blurring is not a recommended solution, it can still be used on particular occasions. Here's how you can do it in a rapid time.
Upload the video having the watermark on the timeline. Then click on the "Effects" option given on the top menu. It will show a comprehensive menu list on the left side, click on the "Utility" option from there and then select the Mosaic effect.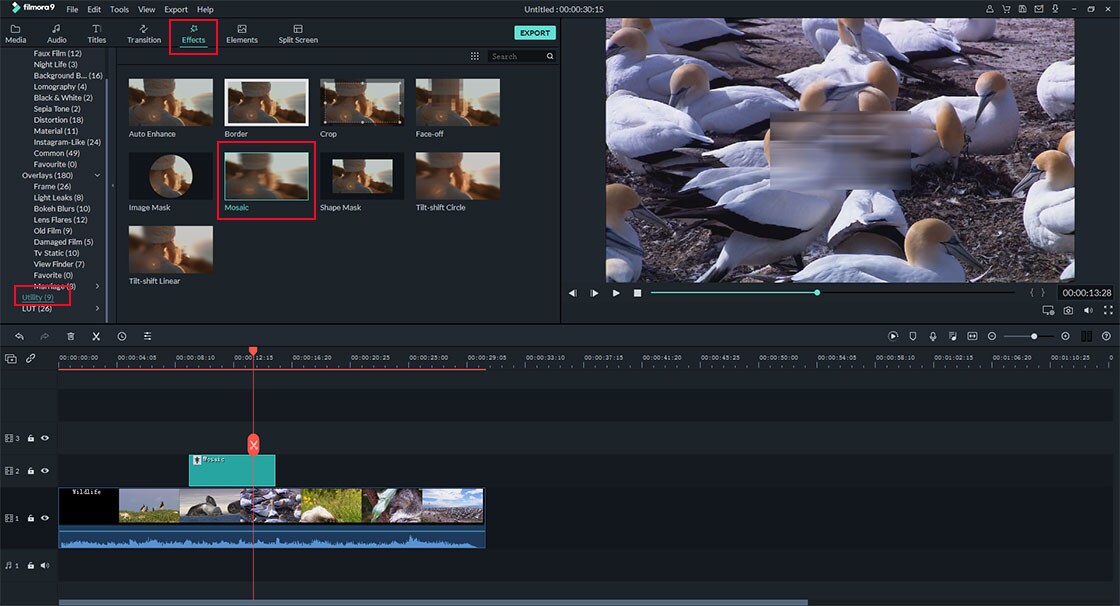 Now, draw the mosaic square on the area where the watermark is located. You can adjust its size, type, and opacity according to your required needs.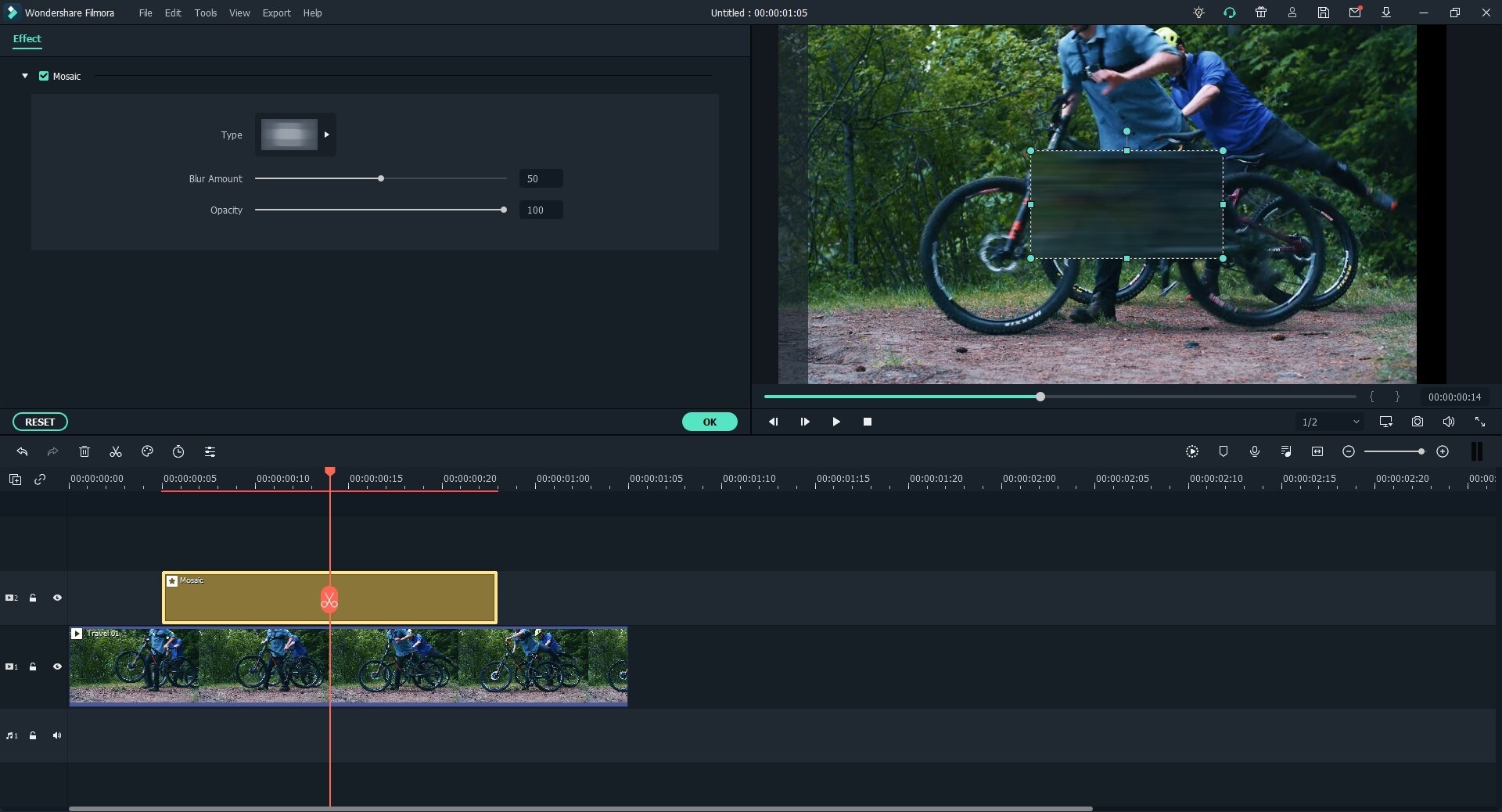 Once you have finalized all the settings, click on the "Export" button to save it in your defined folder.
4.2- Cropping the Video
Cropping the video is yet another unique way to eliminate watermarks from videos. Here's how it can be done.
Once you have finalized all the settings, click on the "Export" button to save it in your defined folder.
Now, right-click on the video and select the option of "Crop and Zoom." It will quickly open up a new window where you will see different cropping options and managing screen ratios.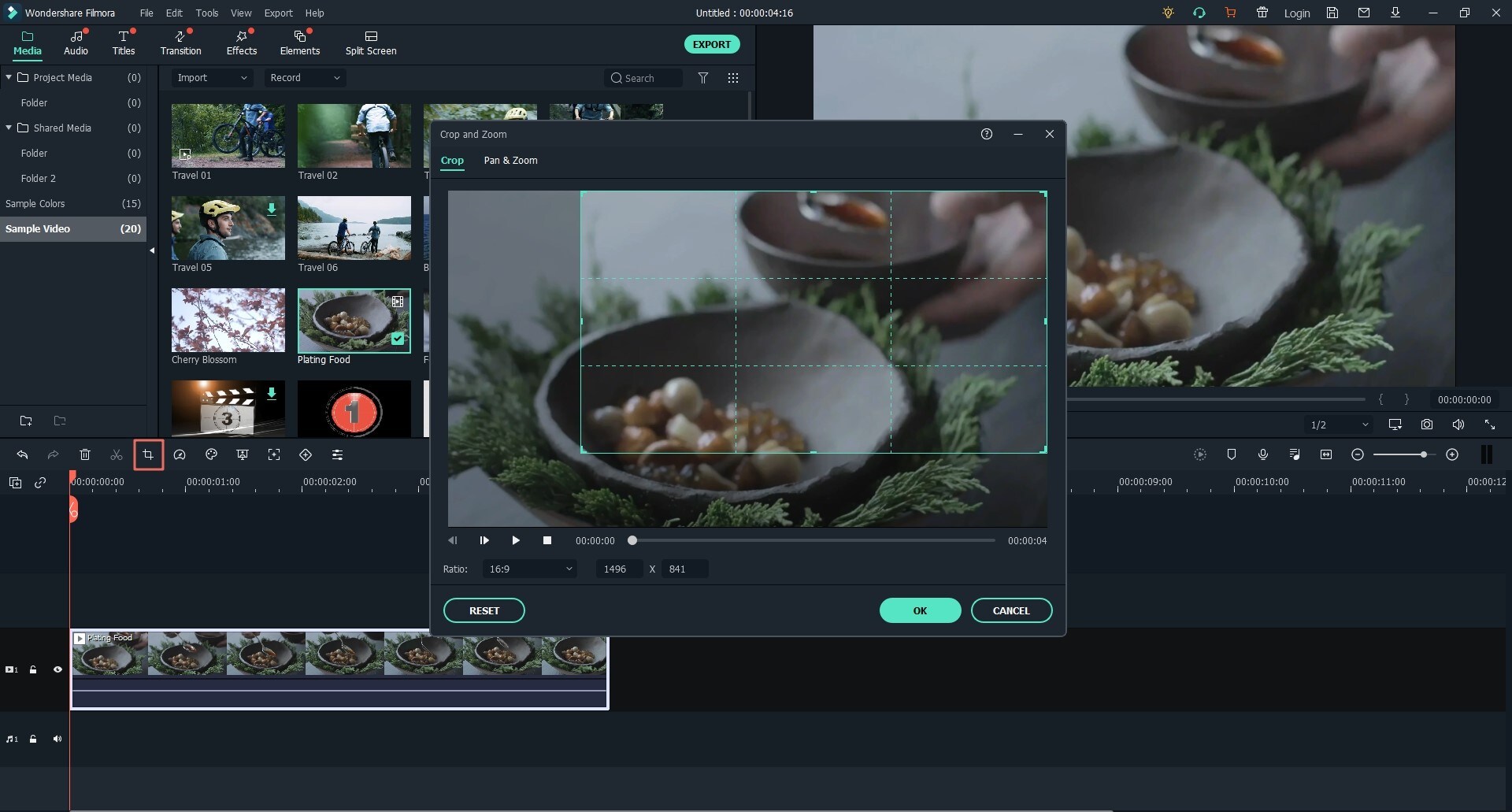 Carefully reposition all the sides of the cropping square, perfectly cutting out the watermark from it.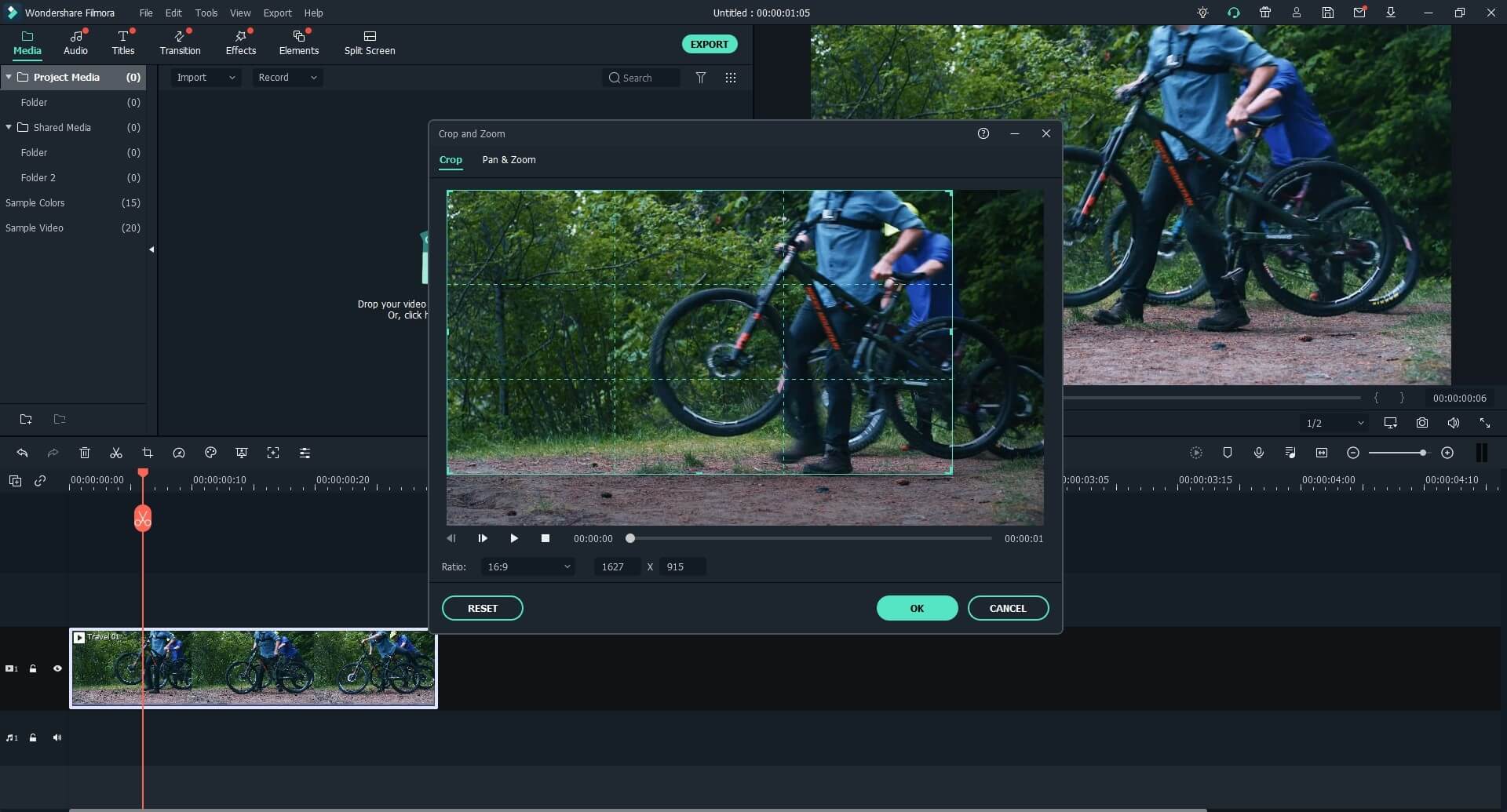 Once you have finalized all, click on the "OK" button to crop the video. It will automatically save the final video inside the defined folder.
4.3- Replace the Watermark
Replacing the watermark with another logo or name is yet another good option in Filmora. Using this option, you can simply replace the existing watermark with your logo. Here's how to do it:
Upload your video to the timeline and add the preferred logo where the watermark is located. Make sure to adjust its length as long as your video is.
Double-click on your newly added logo to open the settings window. That will allow you to adjust the size, position, and effects of the watermark easily.
Once completing all the settings, click on the "Export" button to save the video in your preferred folder.
That's it. You have now successfully removed the watermark from the given video. Besides Filmora, you can also use plenty of other video editors like BeeCut, Video Grabber, and others to remove watermarks from videos. All of these tools are pretty good and work with significant customizations according to your requirements.
5- How to Remove a Watermark in Word
Removing a watermark in Microsoft Word is not a difficult task, provided you know the exact details of removing it. There are two ways with which you can remove a watermark in Word. Let's explore both of them below.
5.1- Using the Watermark Option
It is the straightforward option with which you can remove any watermark attached in the Word file.
Simply go to the Design > Watermark from the upper menu and hit the "Remove Watermark" option. It will quickly eliminate any logo or name attached in the background of the doc. This method is indeed straightforward and comes predefined in all the latest versions of the Word.
5.2- Clicking the Header Area
Sometimes, the above option does not work in particular types of word documents. However, you can use the alternate method of removing the watermark in the software as well. Here's how to do it by clicking on the header area.
First, double-click on the header section to highlight the top and bottom areas of the documents.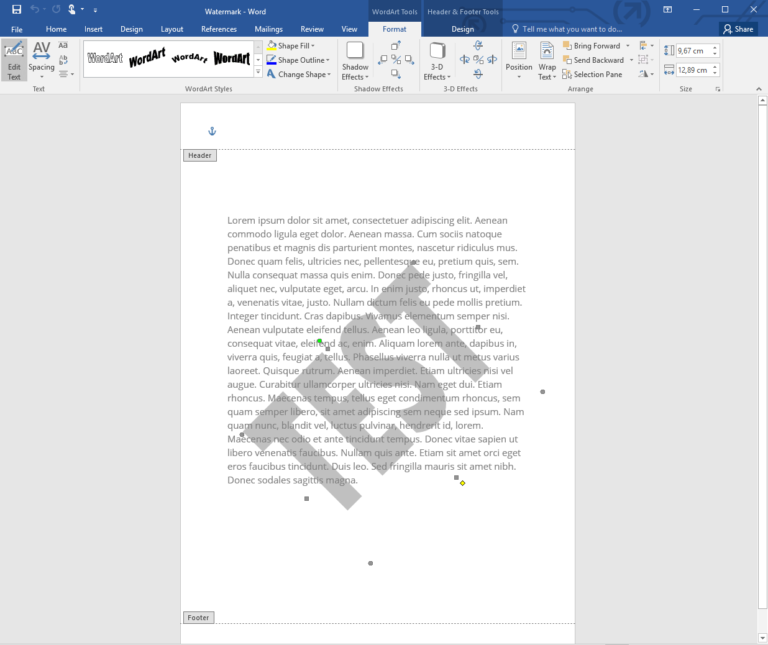 Now, move your cursor over the watermark. It will quickly show you a four-way arrow. It is the software setting with which you can adjust watermarks as per your needs.
Select the watermark and press the "Delete" button. It will instantly remove the watermark from the document.
That's it! Now, simply save your file as the watermark is successfully removed.
Frequently Asked Questions
You can use various tools like Photoshop, SoftOrbits, Pixlr, and more to remove watermarks from photos. These tools are pretty advanced & do not charge any additional fee to remove watermarks.
There are various ways with which you can remove watermarks using Photoshop CC. You can either use the crop tool to eradicate the watermark area or use specific features like Clone Stamp, Magic Wand Tool, and others to do the job.
You can easily remove a watermark from PDF by using various advanced software such as Adobe Acrobat Pro & ApowerPDF. Both of them are equally good and preferred most by people around the world.
There are many tools available on the web that are known for removing watermarks from videos. Some of the best among them are Movavi Video Editor, SoftOrbits, Filmora, and others.
You can find many apps on Android and iOS smartphones for removing picture watermarks. However, some of the most common apps used frequently by people are iWatermark, AirBrush, eZy Watermark, and others.
Conclusion
That sums up our entire topic in which we cover how to remove watermark from photos, videos, and Microsoft Word in detail. Besides the tools listed above, many other software also available in the market offering a similar type of watermark removal functions.
However, people prefer the tools mentioned above as they offer greater simplicity and ease in eliminating watermarks. It is up to you to choose the best one among them according to your requirements. They are pretty perfect and work well for eradicating all types of logos or names safely.