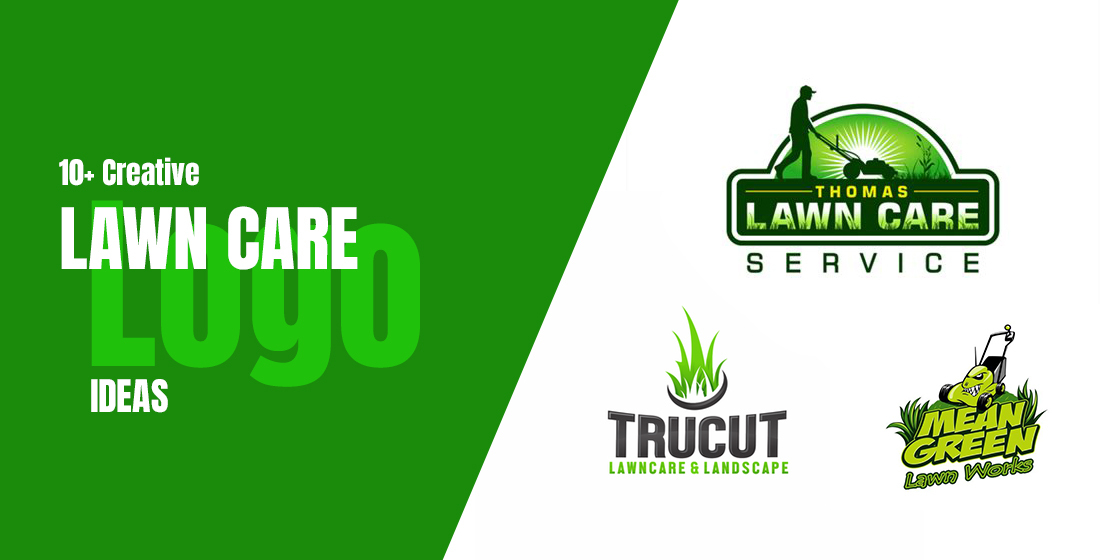 Discover The Best Lawn and Landscape Logos to Inspire Your Own Design
Many small businesses tend to remain small throughout their lives. Looking around, you can see many small mom-and-pop companies that never seem to go beyond the neighborhood or the local community. Take your average landscaping company, with a lawn care logo and a brand image that fails to attract new consumers.
These kinds of companies tend to rely more on word-of-mouth to grow their reputation and establish a presence in the market. And it is a technique that is fast becoming obsolete in the digital world of today. While customer reviews are still important today, the highly competitive market space of today requires that businesses actively seek out customers by creating a brand image that piques their interests.
Before we get on to the list of some of the best lawn and landscape logos, let's discuss what's common among the best landscaping logos.
1- What Makes the Best Landscape Logos Stand Out?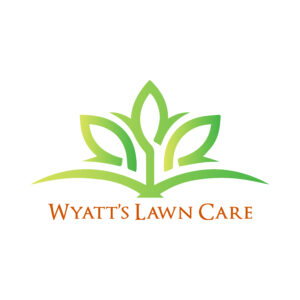 All great logos within in industry have a few things in common. These factors are the ones that help those brand symbols achieve their fame by leveraging their physical traits to attract their viewers. Let's take a look at some of the most influential factors that logo design services use to affect your lawn care logo's visual impact.
The defining characteristics of any great logo is that it should be:
Highly Noticeable
Professional
Highly Memorable
But how can we ensure that our brand symbols fulfill these requirements, like the Wyatt's Lawn Care symbol above?
1.1- The Right Color Palette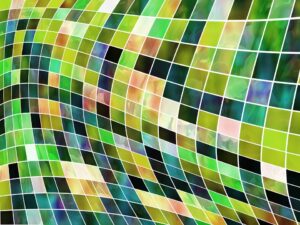 Choosing the perfect color palette is no easy feat when it comes to your logo designs. The right color combinations have the ability to elevate your brand symbol to new heights, and attract the gaze of more customers.
Lawn and landscape logos are all about the different shades of green, considering that the job is related to working with plants and maintaining them to look visually appealing. As such, a color scheme that focuses on the different shades of greens, from light pastels to dark, deep and richer shades, will go perfectly for the purpose of lawn care logos.
Similarly, you can use a variety of light of and dark colors as accents to make the design look more dynamic, with the splashes of contrasting colors drawing the wyes of prospective consumers.
1.2- Suitable Fonts and Typefaces
Just like the right colors can help enhance the logo's visual impact, the perfect logo fonts too can help you build on your brand symbol's visuals. However, while their might be a few different color palettes that suit a logo, fonts are far less adaptable as they are one of the most vocal elements of your logo design.
You can find a variety of typefaces on the internet, in both free and premium flavors. However, that doesn't mean that they are all perfect, especially for your logo purposes. If you end up choosing a font that doesn't match your visual style, then no matter how aesthetically pleasing its design, it will have a negative impact on your logo's portrayal.
1.3- The Right Style of Logo Orientation

There is a variety of styles and types of logos that you can use to base your lawn care logo on. One of the things to emulate from your favorite logos, is the orientation of the imagery and text of your design. some styles of logos would only have a wordmark, while other would use a combination of typography and imagery. Very few brands would opt for a standalone image for their logo, as that is only successful for companies with huge brand recognition.
The best solution to that, is the combination style of symbol. It combines the brand memorability the name of the business provides, as well as the instant recognition the accompanying symbol affords. And to ensure that your logo is perfect for a variety of print mediums, the ideal solution is to have it designed in both a horizontal and a vertical orientation.
Horizontal orientation refers to the type and symbol appearing side-by-side, while vertical means that the two elements of the logo are stacked one over the other.
2- Lawn Care Logos Vs. Landscaping Logos – What is the Difference Between the Two?
Lawn care and landscaping often go hand in hand. However, there is a distinct difference between the two industries, based on a variety of jobs that are unique to each of them.
A lawn care company's primary purpose is to mow and manage your lawns, replace and repair the underlying sod, manage pests including both weeds and fauna-based invaders, as well as plant and nurture new seeds and seedlings.
A landscaping company, on the other hand, does far more. As the name suggests, it consists of transforming the outdoors. It includes planting trees and shrubs in various artistic formations, and constructing complementary structures like ponds and rock gardens.
Therefore, their logos too reflect these differences in their duties. However, most landscaping companies also provide lawn care and maintenance services as well, and have logos that depict that.
3- Best Landscaping Logos
Many landscaping and lawn care logos might be well-suited to their brands, but only a few can be considered the best in their respective categories. Let's look at some examples of the best landscaping logos today.
3.1- All Star Fence and Landscaping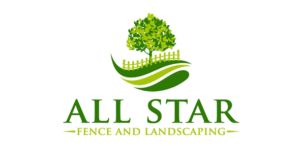 The symbol for All Star is quite simple, yet has a unique charm to it. The contrast between the light and dark green, offset by the white background, is perfect for a logo representing a professional landscaping company, and the uppercase letters in a blocky serif font rounds off the design nicely.
3.2- Clean Scapes Landscaping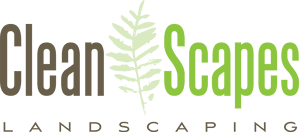 Clean Scapes are a landscaping and lawn care company that offers both services to their customers. Their logo is a simple wordmark with the addition of a young tree bough separating the two words of their name. Sporting a highly simple design, the logo's message is easy to comprehend.
3.3- AAA Landscapes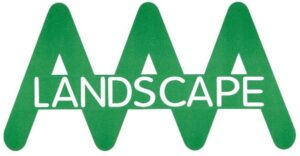 Just like the AAA service you call when you are stuck with a car that won't work, the AAA Landscape company is here to help you when you are stuck with a wild and unruly landscape. Beginning in 1975, the company embodies an old-school aesthetic, perfectly portrayed by its simple three letter logo.
3.4- Ambius Lawn Care and Landscaping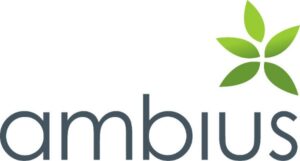 Now this one is a unique gem among our list. Ambius is an interior landscaping company, that guides the creation and maintenance of indoor landscaping That includes formations of shrubs, vines, and indoor plants to create a relaxing and Zen place by enhancing the interior vibes of a room or building.
3.5- Green Forward Landscaping

The logo for Green Forward Landscaping uses one highly relatable color palette that makes it easy to relate it to its industry niche. The mix of dark and light green for the wordmark, highlighted by a rough and wavering brown underline is perfect for a landscaping business that deals with the outdoors.
4- Free Landscaping Logos
Freedom in logos is something that can only be understood by those who are artistically inclined. Eschewing the restraints of conventional design practices, these lawn care logos are the perfect embodiment of freedom in design.
4.1- Moscarino Outdoor Creations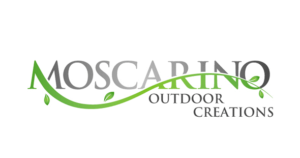 The design of the Moscarino Outdoor Creations logo is one of the most different symbols you will see in the lawn care and landscaping industry. The font is a blocky serif font, with different weights throughout the strokes. The first stroke of the letter M curves like a vine to the end of the wordmark logo.
4.2- Vinings Landscaping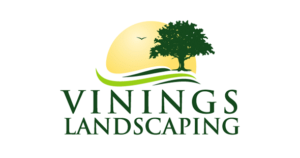 The Vinings logo is another brand symbol that perfectly symbolizes the company's connection with the great outdoors. The logo features a giant, setting sun as the background, with the profile of a giant tree over clean, rolling plains. The soft yellows with the light and dark green combo is the perfect palette.
4.3- Live Oak Landscape Group LLC.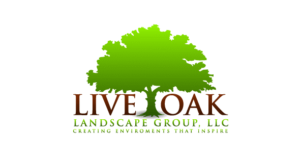 Live Oak landscaping is another company which has a brand symbol that speaks of the company's niche. The combination of nature tones, such as a gradient of greens and dark woody brown makes the design quite beautiful, despite its simplicity. A green tree with lighter shades at the top that slowly darkens gives the logo a sense of subtle depth.
5- Creative Lawn Care Logos
Market niches like lawn care and landscaping often have designers scratching their heads looking for unique ways to make their logos look and stand apart from the competition. To that end, some of the new logos have designs that are stylized versions of their respective lawn care business names, making the symbol look distinctive.
Let's look at a few examples of landscaping logos who broke the mold when designed.
5.1- Bonnyrigg Lawn care and Landscaping Incorporated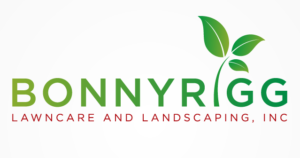 While this lawn care logo might not seem too creative, the simple design is testament to the creative genius at work on this design. The font is simple, the color palette ranging from light green to a dark lush hue. The only subtle nod to their industry, is the image of a growing plant in place of the letter I.
5.2- Ryan Lawn and Tree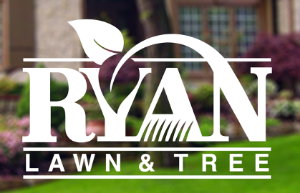 Quite different from the usual lawn care logos we see around us, the symbol for Ryan Lawn and Tree services sports quite a fresh design. The logo is quite understated, the top stroke of N curves into a leafy bough that reached the letter Y, and the bottom of the letter A is serrated to mimic tall grass.
5.3- Better Lawns and Gardens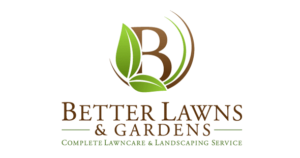 The Better Lawns & Gardens Services has a unique logo as well. Unlike the others on this list, the primary symbol is a lettermark of the company's first initial. The design is flanked by a couple of leaves, with a green and brown vine curling towards the top of the image on both ends of the initial.
5.4- Forester Landscaping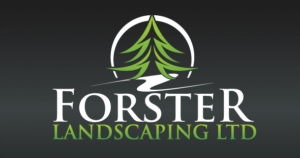 Forester Landscaping is a company that chose to represent the true outdoors in their brand symbol, instead of fields or lawns. The design features the outline of a giant full moon, with a tall pine tree in front of it. The simple white, black and green color palette is a unique yet impressive choice.
6- How to Create the Perfect Lawn Care Logo for Your Landscaping Company?
Want to know how to design a logo for your lawn care business? There are a couple of ways you can ensure that you are able to get an attractive logo. Let's have a look at what they are.
6.1- Buy Custom Lawn Care Logo Images from a Professional Designer
The first, and most obvious option is to hire a professional designer to create a logo for your company. These experts will discuss what you want from your logo, and what do you need it to do for your brand. Then they will come up with suitable designs that will be the perfect representation for your brand.
Depending on your requirements, this option might be too expensive for you. If that is the case, then there is another solution for you.
6.2- Use Free Lawn Care Logo Templates to Create Your Own Design Using a Logo Maker
Use an online tool like Wix logo maker to create your lawn care logo. These tools use a variety of AI-based algorithms to process your requirements, and come up with suitable design options for your logo.
However, as these tools use predesigned icons and imagery to create a final logo, the results might not be as unique as you would hope.
Frequently Asked Questions
You can make a lawn care logo by using an online tool like Wix logo maker, or you can hire a professional logo designer to create one for you.
No, they are both different jobs with only slight overlap between the work they do. Lawn care services are focused on caring for your garden and lawn, taking care of your plants etc. Landscaping services are focused on the aesthetics of your lawn's design.
Your color palette, style of logo, as well as your chosen fonts are some of the factors that affect the impact your logo has on its viewers.
Conclusion
Creating the perfect lawn care logo or landscaping brand symbol might not be so easy. However, if you follow the design strategy set forth by each of the logos described above, and follow the guidelines to make your brand icon stand out, then you will be able to create great logos for your lawn care business.
Need professional help creating your landscaping and lawn care symbol? Our designers are experts at creating memorable and attractive logos that will represent your business perfectly.