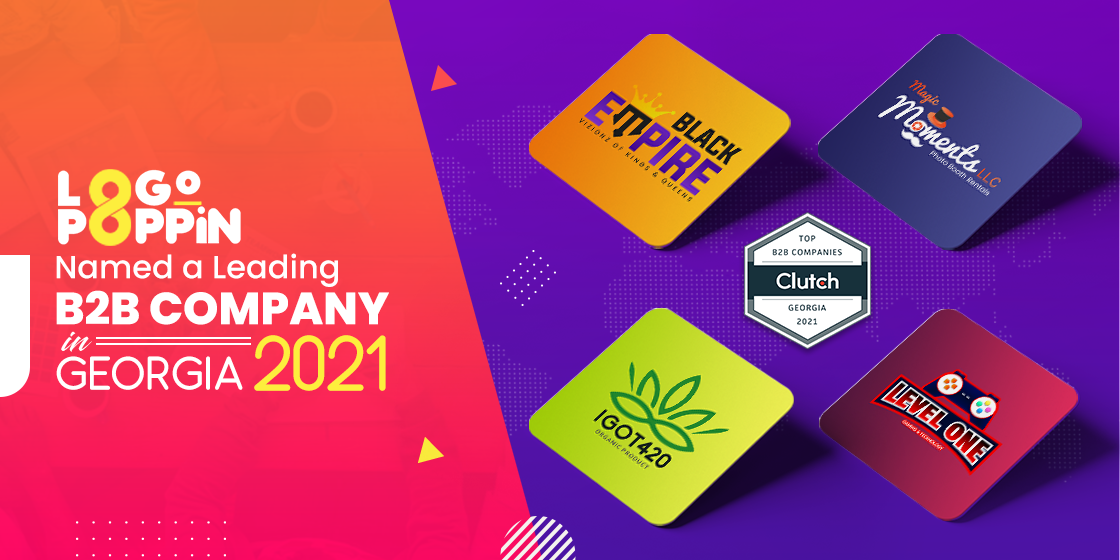 The design industry is vast and volatile, with changing aesthetics and trends constantly challenging the preconceptions of both designers and the consumers.
At Logo Poppin, we strive to create designs that are meant to stand the test of time. By combining an understanding of your company's needs, and our design expertise for various industries, we are able to create visuals that elevate and magnify your brand presence.
Logo Poppin is a full-service digital agency, providing a host of services including logo design, web design and development, branding, digital marketing, and much more. Our goal is to help a brand establish a digital presence and see it grow explosively through attractive, unique, and memorable graphics.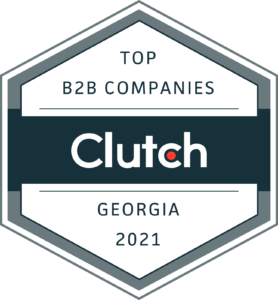 We have helped a number of customers from different industries grow their business digitally, by helping them explore new and untapped markets via visuals tailored to specific demographics. Our expertise lies in creating unified brand designs that include a logo, website, stationary and merchandise design, and a unique brand strategy designed to make it memorable for our client's customers.
As a testament to our success, an independent B2B company ranking service honored us by naming Logo Poppin as a leading B2B company in Georgia, USA for the year 2021.
Every year, Clutch releases a list of top service providers from different industries, including IT, marketing, and various business services. And we are thrilled to have Clutch honor our hard work and dedication by including us in their ranking this year.
Besides Clutch.co, we are also ranked high on Top Design Firms, a creative portfolio site that highlights the best firms in different industries around the world.
Looking at our reviews, you will see the positive experiences our clients had working with us. Each review offers a five-star ranking range for the main five criteria — quality, schedule, cost, their willingness to refer us, and overall satisfaction.
As of writing this article, Logo Poppin has three 5-star reviews on Clutch.
Let's check out some of their generous feedback!
Logo Poppin is Poppin'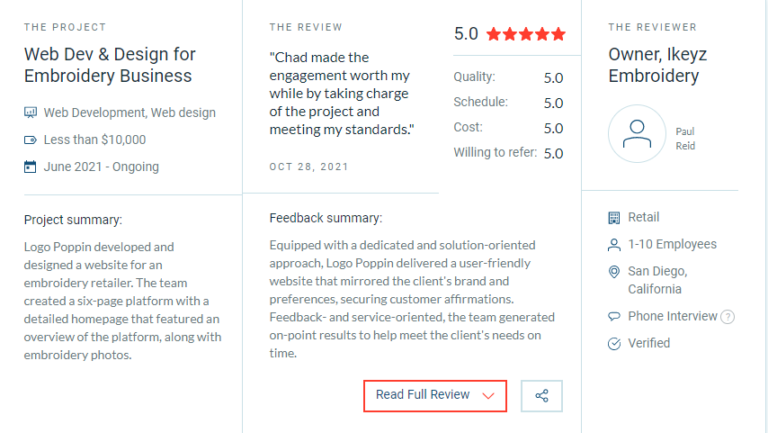 "I was most impressed with how Chad accommodated my needs and concerns — if all of Logo Poppin's resources had that high level of customer service, they'd surely make a lot of money." — Owner, Ikeyz Embroidery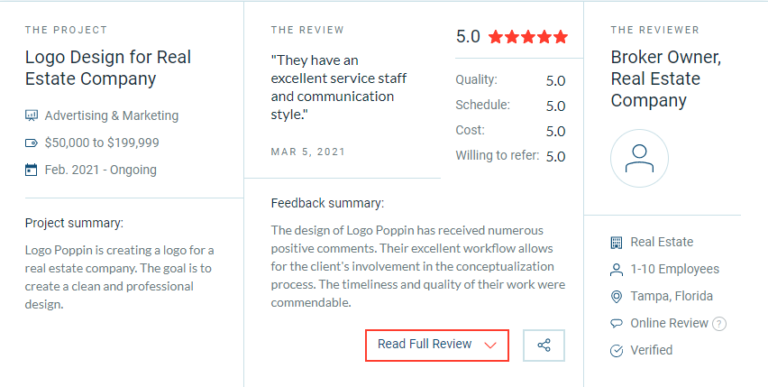 "They allow you to be a part of the design process. I have received numerous great comments regarding the design. They have an excellent service staff and communication style, this company is great." — Broker Owner, Real Estate Company
Moving forward, we want to take everything we learned throughout the year and every experience we have had to push ourselves further. We are pumped to take on new challenges and projects!
Well, what are you waiting for? Get in touch with us today and let's get down to business. We are stoked to meet you!