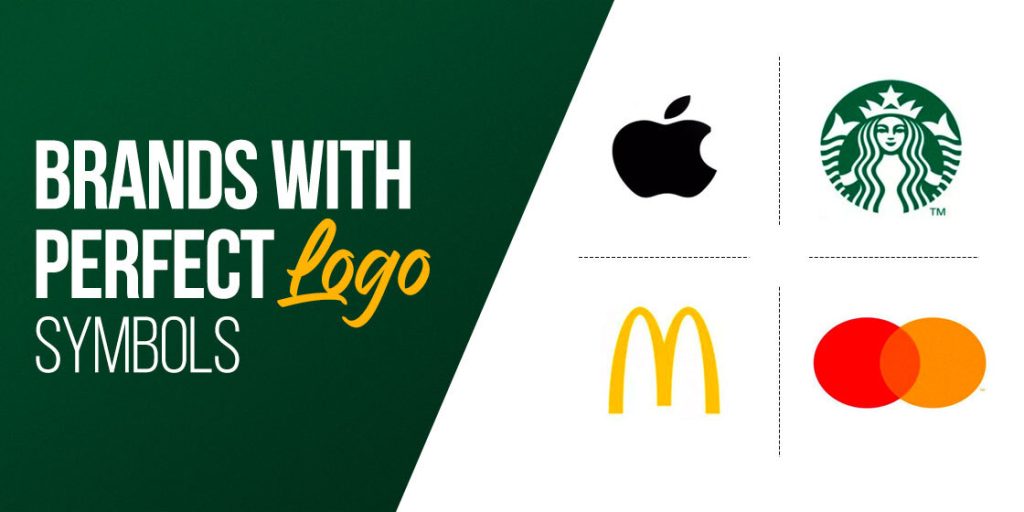 Table Of Content
Find How the Top Brands Find Great Logo Symbols for Their Logos
There is no argument that a logo is essential to the success of any and all brands. And as an important, visually appealing part of its, your logo symbols are just as important. In many ways, they are the primary symbol associated with your brand, and are what consumers associate your brand with.
However, just having a symbol in your logo isn't enough. You need to know the how and when to using symbols in your brand logo, to ensure that you choose the right one with the maximum impact at that time.
So how can you do that? How can you know how to use a logo symbol, and when to use it? Let's take a look at some of the most popular brands and their logos with symbols to see how they've implemented them into their designs.
1- Why Would a Business Need to Use Logo Symbols?
Well, the reason a brand may use logo symbols within their design is the same as to why a brand needs a logo to start with. That is because at the end of the day, every brand wants their logo to be attractive and unique.
Moreover, they want their logos to be aesthetically pleasing to their target consumers, which is why they often use a specialist, like a logo design agency to create their brand symbol. And as we can see around us, it isn't always necessary to have a symbol in your logo for it to be a success.
Take a look at Coca-Cola's logo. It's a wordmark, and an elegant wordmark at that. But there is no symbol or icon within it. Despite that, it is a household name and one of the biggest beverage companies in the world.
However, there are other brands that have a symbol associated with them. And the symbol acts as a signifier of their worth, and helps set them apart from the others. Many prime examples of these can be found in the automotive world, where symbology is quite popular.
For example, Ford Mustang, previously Shelby Mustang, has manufactured a number of awesome pony cars and muscle cars. And the classic galloping horse symbol of Mustang is one we are all quite familiar with, considering it is one of the most iconic American car brands. However, the top-tier performance model for the Ford Mustang, called the GT500, has another symbol, one that harkens back to a classic from the past that established Shelby American as a racing manufacturer.
Originally, the company was known for producing an American version of the famous British roadster, called the AC Cobra. Carroll Shelby imported the finished chassis, and fitted a Ford engine and suspension before releasing it for sale. Initially, it was the simple wordmark logo that had both Shelby's and AC's name.
However, in the 1960's, a designer at Shelby American decided to give the car a proper symbol, one that was uniquely its own. Taking inspiration from the car itself, he came up with a metallic symbol of a cobra rearing its head. And since then, all Shelby Cobras, and later Ford Mustang GT500s have sported that iconic symbol.
Today, that symbol alone is enough to identify the car, even at a glance, and has established its claim as one of the best car logos and symbols of all time.
2- Styles of Logo Symbols Used in Famous Brand Logos
Now that we have seen that symbols are an important element for logos in some industries, a question arises – are there some specific styles of logos that work with a symbol? Or can you add a symbol to any kind of logo?
Well, to start with, you need to first understand the purpose of a symbol in a logo. its purpose is to act as a magnet to draw the eye of the viewer to your logo, and keep it there. Moreover, it is also meant to elicit specific emotions from them in order to help your logo present its brand message.
So, we need to think – what types of logos can use something like this? Generally, if you survey the market, you will find that logo symbols can be found in the following logo styles.
Animal-based logos
Mascot logos
Crests and Emblems
Let's dive in a little deeper to understand how each of these styles uses symbols within their logo designs.
3- Animal Symbols
Animals have long been considered as primal sources of energy and power. Throughout history, we have seen cultures throughout the world use animal symbolism to portray specific features. Horses are for power and speed, bulls and oxen for explosive power and hard work, eagles and other birds for freedom, and much more.
Therefore, it is no surprise that animal-based logos are some of the most popular ones in logo symbols. Let's take a look at a couple of the most popular ones to understand the concept.
3.1- Red Bull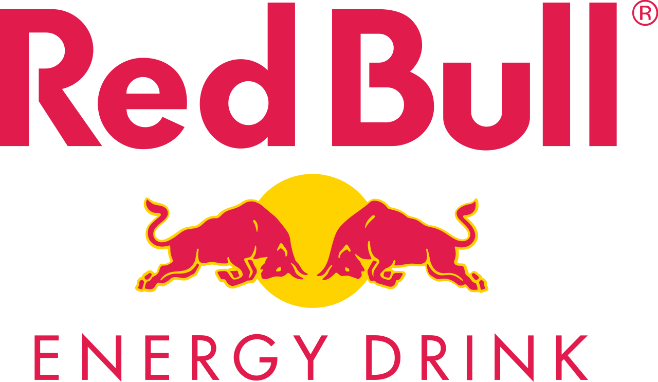 Every one of us here knows what Red Bull is, and what's it known for. Red Bull has always been one to push the envelope, ever since its inception. When the company launched in 1987, it wasn't just another product. It was the start of an entirely new category of products – energy drinks.
And while there are many companies manufacturing energy drinks today, Red Bull has established itself as the energy drink that ensures peak performance. The logo features two humped bulls getting ready to fight each other in front of a gold halo. This symbology is designed to showcase energy, adventure, excitement; all of it with a little daring and danger.
The combination of the deep red with the bright yellow is also perfect, making for an energizing and passionate brand logo, which fulfills its purpose with or without the accompanying wordmark.
And that is exactly the perfect symbol for the company. That is why you will see the famous Red Bull logo sported by many stunt people, extreme sports athletes, auto and moto racing teams, and many more.
3.2- Lamborghini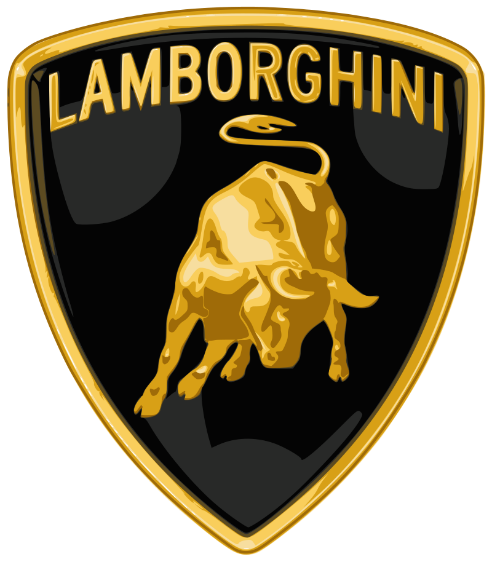 The Lamborghini symbol is one of the most popular automobile symbols today, and has graced the hoods of some of the most iconic supercars of today and the decades past. Featuring a gold symbol of a jet-black background, the Lamborghini symbol is that of a bucking bull.
Now, one might ask; why would a sports car manufacturer use a farm animal like a bull, as the symbol for their logo? Well, there are two great reasons for that. One, the bull is known for its strength, reliability, and its ability to work hard, which made it perfect for the new automobile company due to the message its owner was trying to portray.
The owner of the company, Ferrucio Lamborghini, who was a famed tractor manufacturer, was tired and angry of his Ferrari's unreliability, and its inability to be fixed by anyone besides its officially certified mechanics. On Ferrari's dismissal of his concerns, Ferrucio decided to build his own sports car that didn't have the Ferrari's shortcomings.
The other reason for the car having a bull for a logo, is hilariously simple and funny. Ferrucio loved to watch bullfighting. He loved going to the matches, and cheering for his famous bulls. Most notably, he has named almost all of the cars produced under his leadership after famous fighting bulls, including the Miura, Diablo, and even the modern Aventador.
4- Mascot Symbols
Mascot logos are also another great way to introduce symbols into your logo's design. You can use it to add a little history to your company, portray a specific message, or even just associate with your target audience better. The reason for that is that a mascot helps the consumers connect with the brand due to a human connection that is formed.
A great example for this is the cheeky leprechaun mascot for the Boston Celtics, a team that represents a city with a large Irish-American population.
Let's take a look at a couple of the popular mascot logos.
4.1- Pringles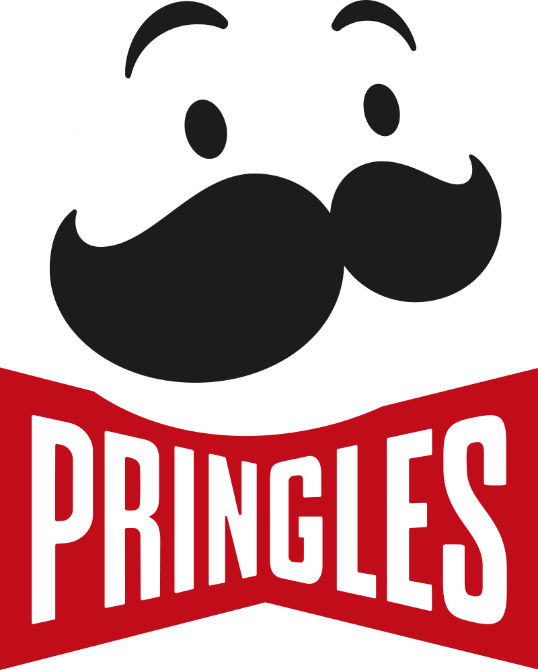 Unlike the animal symbols we saw earlier, there is no specific reason behind the choice of the Pringles mascot. Known as Mr. Pringle, the mustachioed gentleman is just something that came to the company when they were leafing through the Cincinnati telephone book. Landing on the name of a street called Pringle Avenue in Ohio, they liked the name, and came up with a design to represent their brand.
While there may be no direct relation between Pringles and its mascot, the symbol is now considered as iconic as the brand itself. And that is exactly the purpose of a good brand mascot.
4.2- Cheetos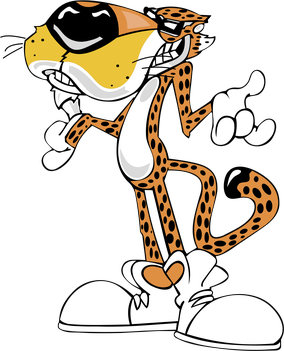 Just like Mr. Pringles earlier, there is no direct connection or meaning behind the formation of Chester Cheetah as a mascot for Cheetos. In fact, the original mascot for the brand was called the Cheetos mouse, who gave way to Chester after eight years of serving the brand.
However, this cool kitty has been the mascot for the company since 1979, and has represented three different styles of the brand to the public in that time. This shows that a good mascot doesn't need a direct connection to the brand it represents. It just needs to be able to connect with the target audience, and help them associate with the brand easily.
5- Abstract Symbols
While mascots and animals may seem like more fun when it comes to logo symbols, the fact is that abstract symbols are more common than any other kind in logo design. From the early morning sun symbol for Good Morning America, to the subtle crescent moon in the Fortnite logo, there are many abstract symbols in logos around us.
Let's take a look at a few of them.
5.1- PlayStation

The logo for the Sony PlayStation is an interesting design, in both its innovation as well as its simplicity. This gaming logo symbol is an abstract design that features the initials of the brand overlaid over each other at a slight angle, making it look like one character is placed vertically while the other is horizontal.
This style of making the designs look like 3D logos was quite popular in the 90s, when the logo was first unveiled. And since then, the design has been tweaked and modified just slightly to update it according to the design aesthetics of today.
5.2- Tinder

The logo for Tinder is unique, and holds a lot of subliminal messaging into its simple design. Representing the top dating app logo today, the stylized symbol of a flame is designed to represent the flame of a relationship, as well as the passion within those looking for a partner.
The symbology of fire with love and passion is one that has a long history. As such, what could be a better symbol for an app that specializes in finding matches quickly and easily for you?
6- Emblems and Crests Symbols
Finally, emblem logos and crests are one of the most traditional forms of logo symbols that can be found in everything from top automobile manufacturers and fashion logos to vintage brewers. They are the perfect medium for symbolizing the history and heritage of these brands, and as such are used by brands that want to represent their legacy in their logos.
Let's take a look at a couple of the more popular ones.
6.1- Porsche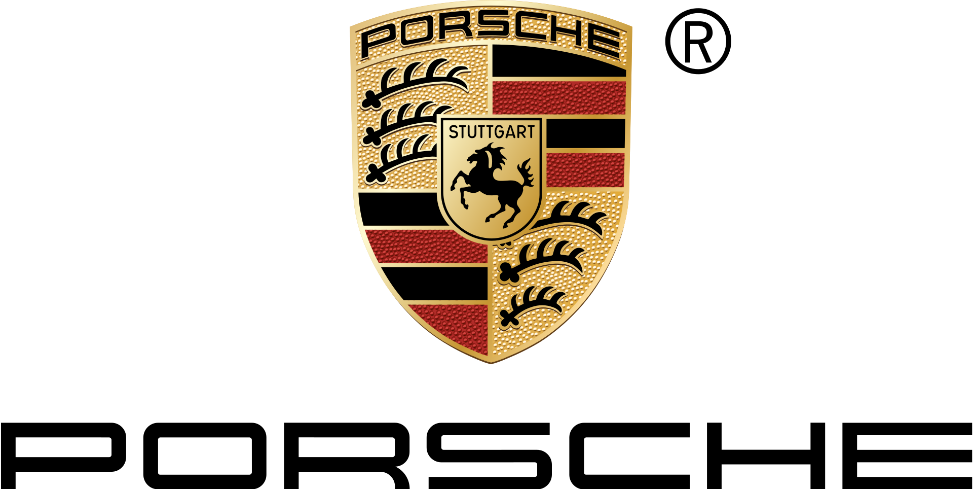 Porsche's emblem is one that exudes regality and luxury. Mimicking a golden shield, the logo represents the company's origins in Stuttgart, once known as a center for quality horse breeders. Moreover, the colors used, red and black over the gold background, represent the colors of that region.
Overall, the entire design is meant to display something like a coat-of-arms, ensuring that the viewers are able to know that the company has a rich and noble history.
6.2- Harley-Davidson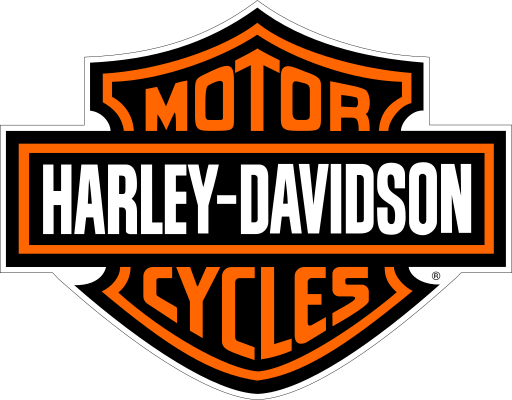 Harley-Davidsons are arguably one of the most iconic symbols of America. These bikes, along with the ones manufactured by Indian Motorcycles, were designed to counter the influx of British Royal Enfield motorcycles, and later the Japanese two-wheelers. The purpose was to offer Americans the choice of a machine that "truly American in its roots". The crest of the company looks something like a sheet metal stamping, something manufacturers would do to signify the originality of their parts and machines.
All in all, this logo became the symbol of patriotic Americanism post WW1, with everyone from ordinary citizens, to social rebels, and even returning GIs opting for it as a sign of freedom and patriotism.
Conclusion
In short, logo symbols can be a great addition to your brand identifier, especially if you research and use it smartly. And while it isn't necessary to add a symbol to make your logo successful, having one will help you establish a brand presence quicker and more easily.
Historically, the use of symbols in logos was quite popular, with rock band logos like those for KISS or AC/DC featuring unique and interesting icons within them. However, after an era of minimalism, the art of symbology is coming back to logo design.
People Also Ask (FAQs)
1- What is a symbol in a logo?
A symbol is a small graphic that is used in your logo to enhance its visual impact. it can be as simple as a little artistic flair, or as elaborate as the addition of a mascot.
2- Are brand logos symbols themselves?
As a brand symbol, a logo consists of many different elements, including graphics and text, that represents a business.
3- Are logos brand symbols or icons?
A logo is symbol of your brand's identity. An icon however, is a graphical element that makes up your brand logo, such as an accompanying graphic that comes with your wordmark.