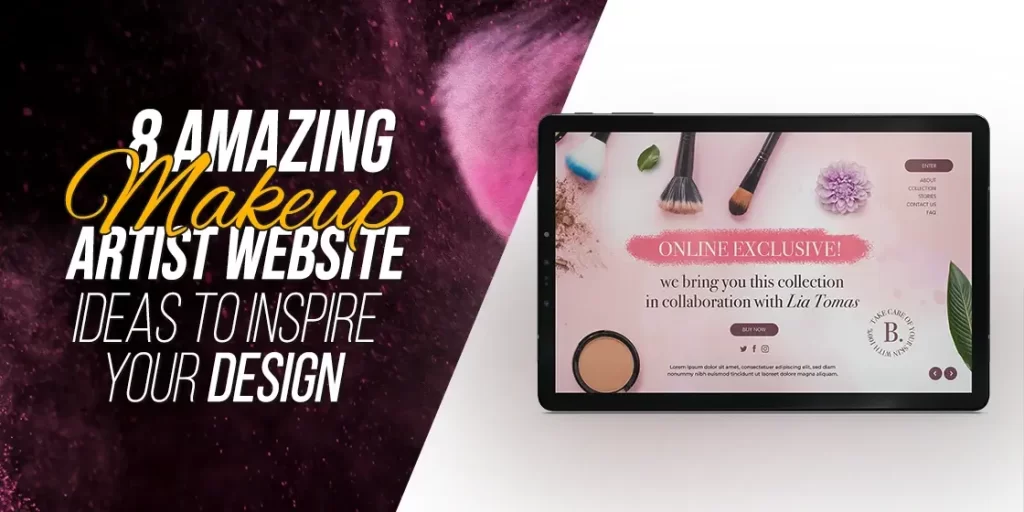 Table of Content
Discover How to Develop a Makeup Artist Website that Elevates Your Portfolio's Impact
No business in today's world can honestly say that it does not benefit from an amazing website to highlight its services or products. And it couldn't be more true for creative businesses, like stylists and makeup artists. For these businesses, there services are often portrayed by their professional portfolio, rather than written content like a traditional website.
So, it can be said that when coming up with makeup artist website ideas, we need to consider ways to showcase that portfolio in the best way possible. The question, however, is how? How can you create a website that keeps your professional makeup portfolio as the centerpiece of its design?
Unlike many other creative fields, such as graphic design or content creation, the portfolios for makeup artists and stylists are often more subtle, which makes the job even harder. Therefore, a designer needs to find a way to highlight that while still keeping the feel and look of a business website.
So, let's take discuss some amazing examples of makeup artist websites, and see how an expert web design services professional can tweak their designs for better impact, based on these insights.
The Need for Makeup Artist Website Ideas – What is their Use?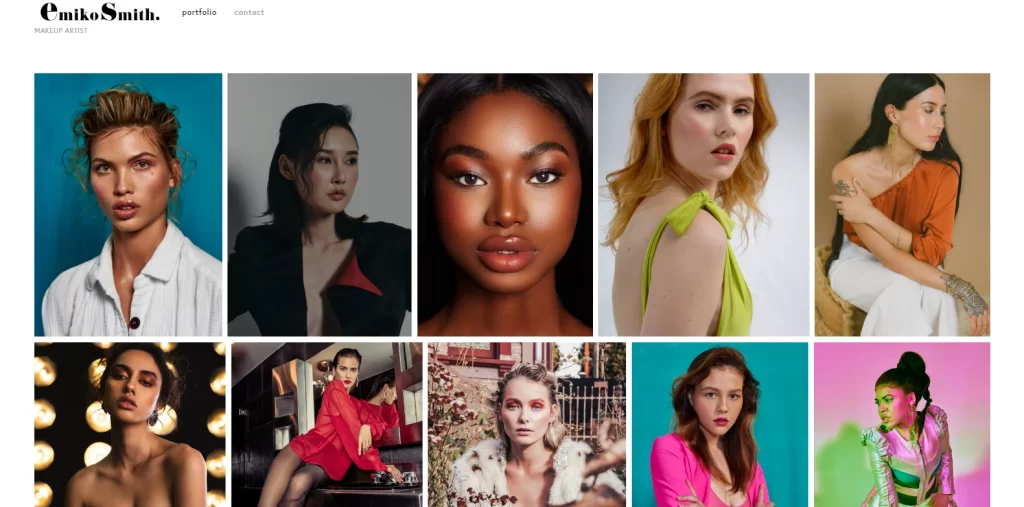 Now, you might ask why a professional makeup artist might need a website. Well, they do it for the same reason many other businesses do, to promote their services and products. However, that was not always the case. Previously, many makeup artists, especially the high-end ones or the enterprising self-employed artists often relied on word-of-mouth.
However, with the advent of the internet, especially social media and other avenues, they started to realize the potential an online portfolio, structured for conversion, and easily accessible. For some time, many of these businesses were marketed solely on social media channels like Instagram.
As time went on, and competition increased, some of these businesses started to look for other avenues in order to tap a wider market, or to set themselves apart from the amateurs flooding the market. And that's where websites came in. It allowed them to reach a far bigger set of potential customers, while at the same time it allowed them to display their creative streak by modifying the site per their vibe.
Now that started a vicious cycle. Makeup and beautician businesses needed websites to compete with the early adopters, while the early adopters needed their websites to stand out. Thus started the competition of using new and exciting web design techniques to outdo one another. Soon, it became necessary for a business that wanted to be considered legitimate to have a business website.
Today, some makeup artists center their websites around descriptions of their services, while others tend to let their work speak for itself in the form of rich imagery on websites. Today, it has become common for us to look for a business on the web before patronizing it, even if it has a rich social media community.
Moreover, people today are more wary of businesses, and tend to research the businesses they patronize for their values and beliefs. And for a makeup artist and their business, there is no better option than a well-designed website to showcase the quality of their services.
Traits of a Good Makeup Artist Website Designed for Success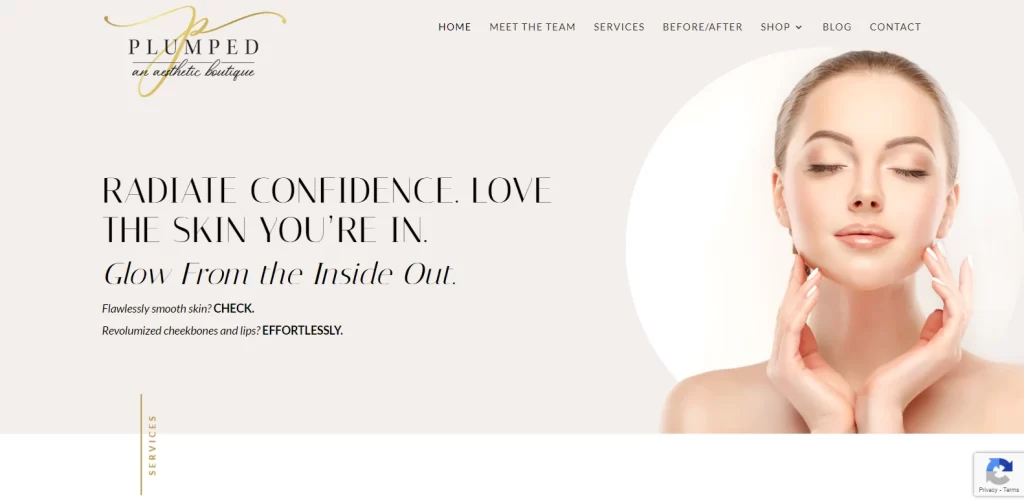 So, we understand that a makeup artist website is necessary for a makeup professional to success. However, no two sites are built the same. This means in order for the website to do its job, it needs to be designed in a way that helps it succeed.
So what are the elements that make your makeup artist website designs such a success? Keep in mind that we are talking about elements that are specifically designed for the makeup industry, and which work in tandem with the general website design elements.
To ensure that your website has the elements it needs for success, let's take a look at some of the most common and popular elements found in good makeup artist websites.
Engenders Trust
Trust is an important element today that can affect whether customers patronize your business or not. A business or website that manages to convince a potential customer that they are worth their trust is one that will have an easier time converting customers. But how can you engender that feeling of trust within your makeup artist website?
There are a few ways to ensure that your site appears trustworthy, including:
Having a high quality visual portfolio of images and videos, which shows your successful projects both in terms of the end process as well as allow a glimpse into your makeup process.
Having testimonials on your websites with happy clients raving about your services, both professional and customer services. Because it is a simple fact that people today would not even buy a needle without reading its reviews online.
An "About Us" page that tells the story of your brand, as well as whats special about your brands, such as certifications, collaborations, product deals, expertise, and more. This allows you to connect to the customer at a human level, establishing a strong bond.
A "Featured In" section. In case your company has worked on a large and famous project, or if your makeup subjects have been featured in a tabloid or magazine, then this helps you establish an authority.
Gives the Desired Information
It's a primary purpose of a website to give out information to prospective customers, something channels like social media are incapable of doing properly. Some common types you can include within your makeup artist website designs consist of:
Detailed or concise descriptions of the services you provide. There are often customers that do not know clearly what they want done. With the right description, you may be able to convert them more easily.
Pricing options, packages, and booking options are a great addition to your website. Whether you are in the service industry or the product industry, pricing is one of the most common asked, and offering it from the start would be a point in your favor.
Location of premises as well as options to visit clients offsite is another set of information that many customers would like to know. Those looking for a trustworthy makeup artist to accompany them to the wedding site, which might be far from business premises, would also love to know whether its possible from the start.
Finally, your contact information is one of the most important information you could add to a website, no matter the niche or industry.
Has an Intuitive Layout and Aesthetic
Finally, the design also affects the success of a website, especially for a creative business professionals like makeup artists. Some of the things you need to consider include:
Optimizing your website for the mobile. Most people today use their mobile devices like phones and tablets as their primary mode of browsing the web. So optimizing your website for the vertical oriented screens of mobile devices is a great way to gain customers.
Color schemes are a great way to convey your business vibe to prospective customers. If you are a bridal makeup specialist, then soft pastels are a great way to go. But if you specialize in party makeup, then bold shades can help you make the splash you desire.
Fonts that suit the aesthetic vibe of your business and website will also help you improve your aesthetics, and help you make your website more suitable for your target customers.
Top 8 Amazing Makeup Artist Website Ideas that Inspire
So far we have taken a look at the importance of coming up with good makeup artist website ideas, as well as the characteristics required to make a successful makeup artist website. But the question arises – how can one know what styles of design to start with?
The traits described above could be incorporated into a variety of different types of websites, but that doesn't meant that they would all work for the makeup and aesthetician niche. Therefore, we have compiled a list of some of the best performing makeup artist websites for you; so that you can look at what works for them, and find the inspiration you need for your own design.
Black Canvas Beauty Collection by Becca LaFleur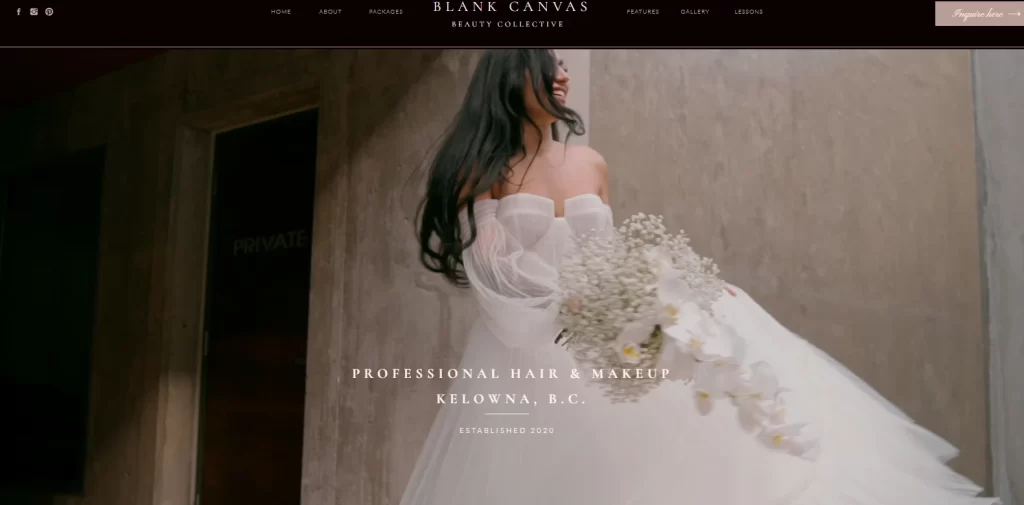 The first one on or list is named Black Canvas Beauty Collection. It consists of a diverse team of makeup artists and stylists managed by Becca LaFleur, and the website is a great example to start with. Now, there are multiple reasons why this website is considered a great example for a makeup artist site.
For one, it uses a great color scheme where dark grays and blacks are paired with light pastels like pink. This contrast does a great job of keeping the visitor hooked, while the stylized aesthetic of the website urges the visitor to keep on reading.
Moreover, the first image of the homepage doesn't open up to a bunch of written content. Instead, you have got a looped video of a twirling bride after getting her makeup and hair done by the stylists. This immediately draws in a new visitor, as it appeals to the desires of a potential patron of the business.
And considering that they are primarily a bridal makeup and hairstyle company, this blend of elements work well for them.
Dana Leviston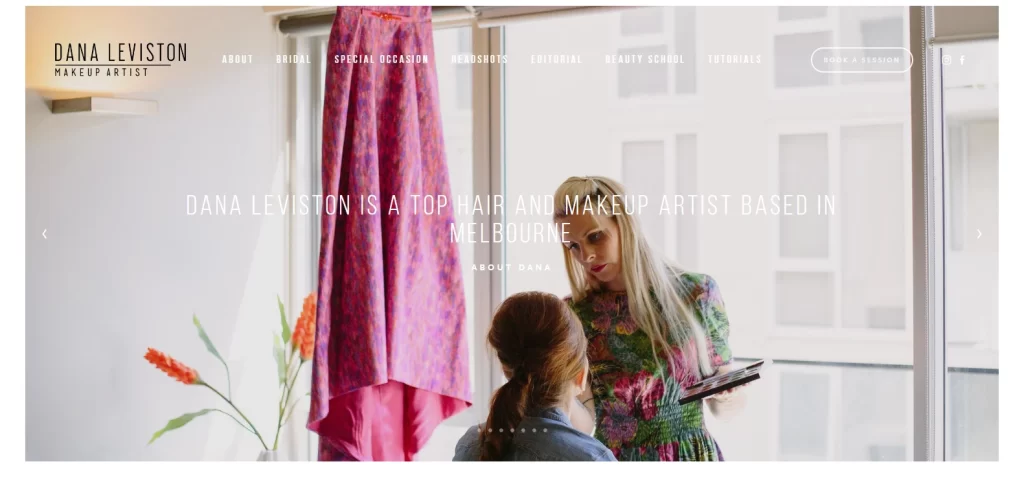 Next up we have Dana Leviston's makeup artist website. Now at a glance, this site is the complete opposite of the previous one, as it has more vibrant color combinations to attract a different kind of clientele.
Based in Melbourne, the more vibrant design appeals to a wider range of potential customers, including party makeovers, making the design work well for the business website. However, it isn't just overtly vibrant and bright. The design has been cleverly balanced with pastels that tame the wilder elements of the brighter shades.
Moreover, this design is one of the more unique makeup artist website ideas, where the design has little to no written content, instead focusing on visuals that highlight the company's services. And what a way to highlight them. The design also uses the concept of negative space, with no image, including the one in the header, is full-sized.
Instead all images are framed in white which makes them stand out well against the backdrop, where otherwise some of the images would have tended to blend into the background obscurity.
Natalie Goodman Artistry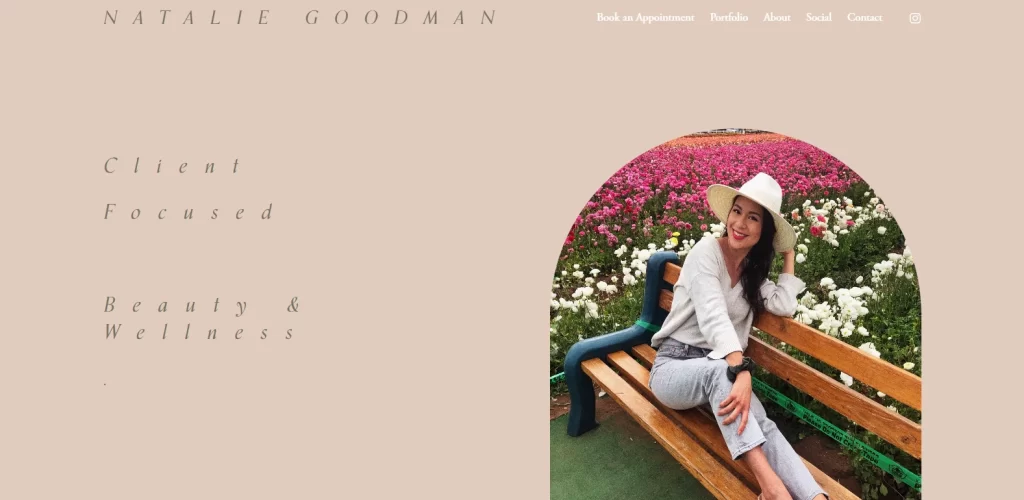 Natalie Goodman Artistry is quite different from the makeup artist websites we have discussed so far. Unlike the previous ones, which tended to highlight and focus on their offered services and their quality, this website's homepage centers entirely onto the artist themselves.
The homepage has a dark pastel pink background, with the headings written using the brand's chosen logo fonts. The page has just a heading and a paragraph of text, which is flanked to the right by a playful photograph of the artist placed within an arched doorway-style frame.
Now, this approach may seem a bit unorthodox and iffy in terms of impact, but it is part of a greater customer journey planned by the designer. At the bottom of the introductory paragraph, a CTA button redirects the user to the stylist's portfolio. This gradual nudging of the user towards conversion is a great strategy, and one many websites tend to ignore.
Makeup by Connie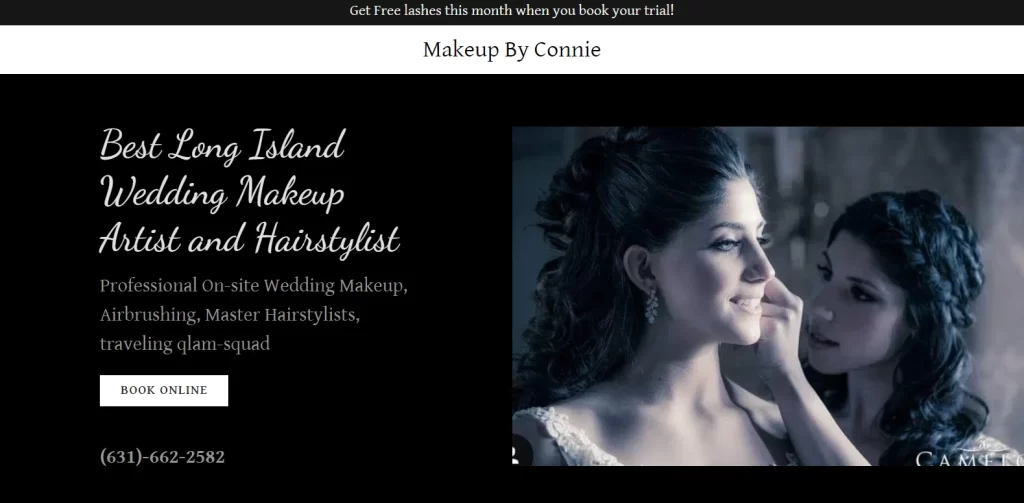 The next makeup artist website on our list is for a business called Makeup by Connie. Based out of Long Island, New York, this website seems to follow a very traditional web design guide for its layout. However, there is nothing wrong about the traditional way, especially if it is done well like in this example.
For starters, the color scheme is a neutral white and gray over a predominantly black backdrop. The homepage starts out with a hook accompanied by an image, which displays a bride prepared by the team, and urges the visitor to book an appointment right away.
Then, there is the font used. The typography of choice hair is a script that manages to incorporate elements of modern economy of strokes with the charm of vintage fonts. Next, the portfolio is placed in an intuitive layout, with a CTA banner just beneath it in order to capitalize on the emotional malleability of a visitor who has just gone through their portfolio. Overall, this single page website is a great addition to this list of makeup artist website ideas.
Patrick Ta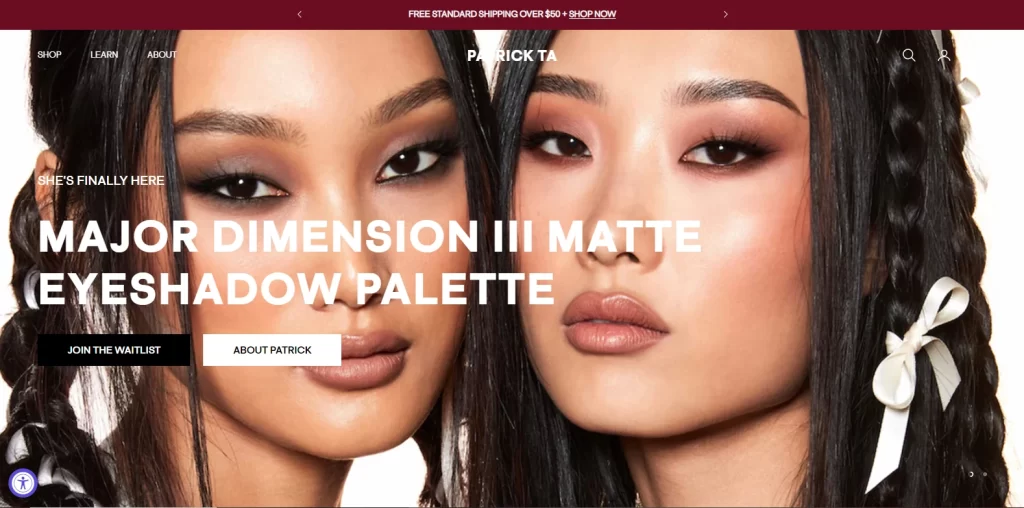 Next on our list is Patrick Ta's stylist business. Led by celebrity makeup artist Patrick Ta, the website offers a mix of makeup and styling services as well as various branded products offered by the company. The design is more akin to websites like Paul Mitchell's website, where the design is focused around glamorous photographs and calls-to-action, with a subtle emphasis on color theory.
The color scheme is done in various shades of pink, alternating between a mulberry pink and lavender pink for the most part, accented by a very light shade of pink for the background. Moreover, the website also offers a host of accessibility options, which shows that the business has thought about its differently-abled clientele.
All in all, a great makeup artist website to take inspiration from, especially if you want to go the glamorous route.
Sheika Daley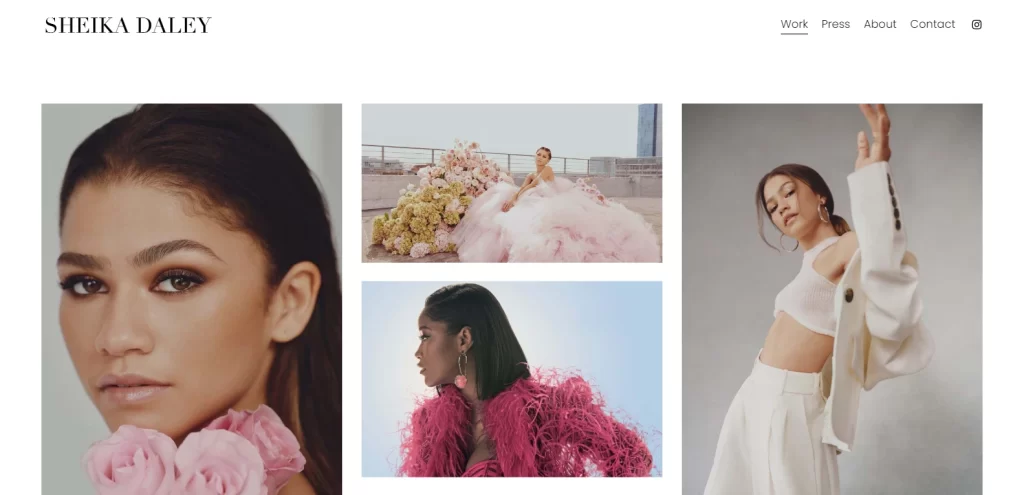 Sheika Daley, artist and stylist to the stars, has a great website. Minimalist to its core, the website design focuses on the portfolio of the makeup artist, which makes it the only entry on this list of makeup artist website ideas to employ it.
A Jamaican-born makeup artist, she has made a name working as the personal stylist to big name celebrities. Working predominantly with other women of color, her client list includes Zendaya, Beyoncé, Nicki Minaj, Serena Williams, Kelly Rowland, Ciara, and more. Her work has also been featured in publications like GQ, Elle, Marie Claire, Vogue, Harper's Bazaar, and more.
Overall, keeping up with the high-end stylistic elements, the website uses a mic of grays, black, and white in order to make the people within the portfolio pop out for maximum impact.
mBm – Makeup by Mel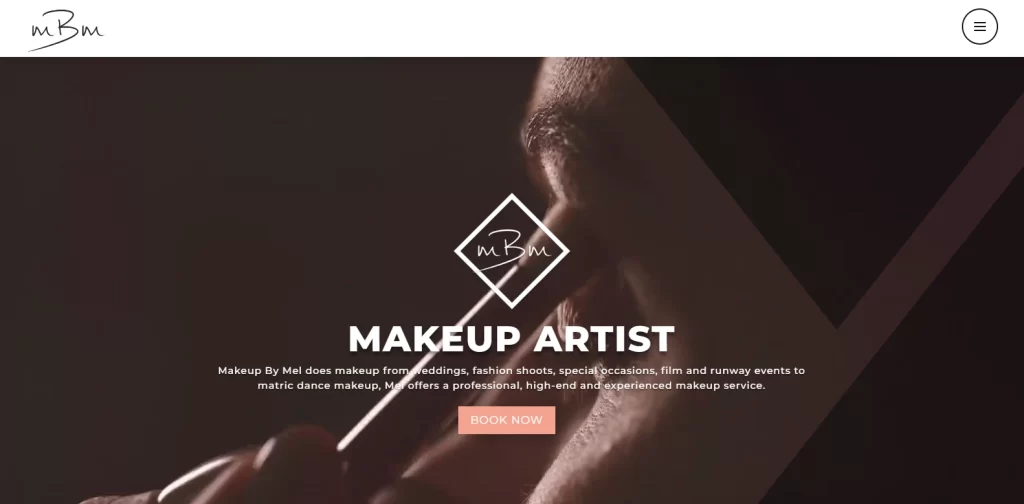 Next on our list is Makeup by Mel, which adheres to the very basics of web design principles for the services industry. The design starts with a hook, which urges the visitor to book an appointment. Next, its tells us a little bit about the lead makeup artist, where visitors can then opt to view the price list for her services.
Then, the web layout guides the user to the portfolio, which is followed by a few tips on good makeup and customer testimonials, designed to establish topic authority and trust within potential clients. Finally, as for the color scheme, it follows the theme established by many of the other entries on this list, opting for a gradient of pink as it chosen palette.
Nalini Maharaj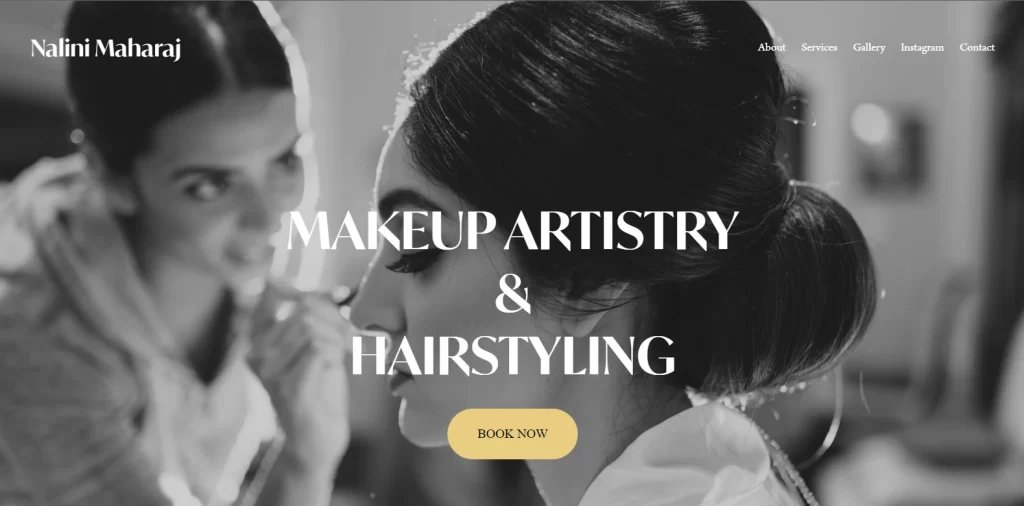 Finally, coming to the last entry on our list, Nalini Maharaj is an up and coming makeup artist and stylist whose website's aesthetics shows her creative flair and attention to detail. The design is simple, yet elegant, with a neutral color scheme that makes the design elements pop.
Throughout the design, you will see subtle elements that exude luxurious elegance, without going overboard with it. From the color scheme, that transitions through various shades of gray up to white, to the fonts used for the headings, everything about it screams high-class.
And for a business that specializes in a highly memorable wedding makeup and styling niche, its not a bad look to have.
FAQs
What should I put on my makeup artist website?
You need to highlight the quality of your primary service, such as party makeup services or wedding makeovers. You can do it by strategically placing a gallery of high-res images showcasing your ability, after which you can list down your other services. Moreover, there should be some information about how to contact you or book an appointment, as well as a little bit about you and your company.
How can I advertise myself as a makeup artist?
In order to market yourself properly, you can use the following techniques:
– Develop a great portfolio
– Create an eye-catching website
– Make accounts on popular social media channels to showcase your work and engage with your customer base. However, focus on one or two channels initially properly, before expanding to other channels as well
– Find a way connect the brand identity of your social media persona to your website, providing people with a sense of identity in your business
– Partner with collaborators like photographers, fashion event planners, models, and more
Conclusion
To sum it up, there can potentially be a number of makeup artist website ideas to choose from if you do not know the direction you want to pursue. However, once you know the vibe of your business, and understand how to enhance it, then you can come up with a couple of useful makeup artist websites that would help your business grow.
And if its inspiration you are looking for, then this article is a great place to start.