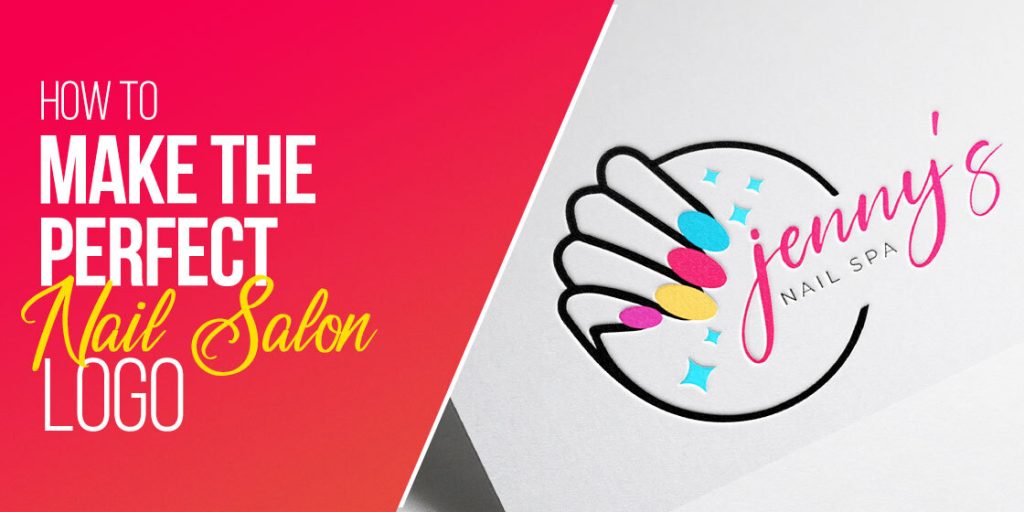 Table Of Content
Discover How to Create Awesome Nail Logos to Take Your Salon to New Heights
No matter what kind of a nail salon you run or manage, whether it is a home nail salon, a traditional salon, or even an artificial nail salon, you need a good nail salon logo to represent the business. That is because a logo is the first thing that a business can use to attract and lure in potential customers.
Moreover, a repeat customer who wants to visit your salon again or recommend it to someone else will find it difficult, as there would be no symbol or logo representing your business if you operate sans logo. These and numerous other reasons are why businesses find it profitable to create and display a suitable a brand logo.
From developing your business into a brand, to advertising it promoting it to the masses, there is a lot that can be helped by having a suitable logo. Let's take a look at how you can get a professional logo design agency to create the perfect nail logo design for you.
1- Why Does Your Salon Need a Nail Salon Logo?
While we know in general that a business, any business, needs a logo, there is still a question is the back of our minds. Why exactly do we need a good logo in the first place?
According to the recent logo stats, there are four major reasons why a business like a nail salon would need a good logo representing it.
For a business that belongs to the beauty industry, it is extremely important to catch the attention of the right customers. Since the attention span of people today is far less than that of people a couple of decades ago, it is important that your logo doesn't just grab the attention. It should also be simple enough to remember and recognize for the consumers.
Making the Ideal First Impression
First impressions are very important when it comes to running a business in a highly competitive niche. The business industry is one where trust and loyalty counts for a lot of repeat business. And if your logo makes the best first impression, you will be able to capture that customer and retain them from a long time.
Build Your Business into a Brand
One of the goals for anyone who wants to see their business grow is to turn it into a brand. And a successful brand at that. For example, many hair stylists have worked with big clients and earned the big bucks. But Paul Mitchell managed to turn his business into a brand; a very high-end brand too.
That is how you build a self-feeding business. And a logo is the first prerequisite when building a brand.
Stand Out from the Competitors
Finally, another great reason for creating a logo for your brand is to set your business apart from the competition using a great and memorable brand logo. If your logo looks similar to a competitor's logo, then chances are that potential consumers might not remember you, or may even confuse you with another brand.
That is why it is important to look distinct, if not unique, with your brand logo.
2- Tips for Creating Amazing Nail Logos for the Best Impact
Now we know the importance of creating a nail salon logo for your beauty and nail salons. However, the next step might be to know if there are any tips or tricks to ensure that the logo you design will be a success with your consumers.
Let's take a look at some of the top tips needed to design impactful brand symbols that can be considered among great nail salon and spa logos.
2.1- Find Your Niche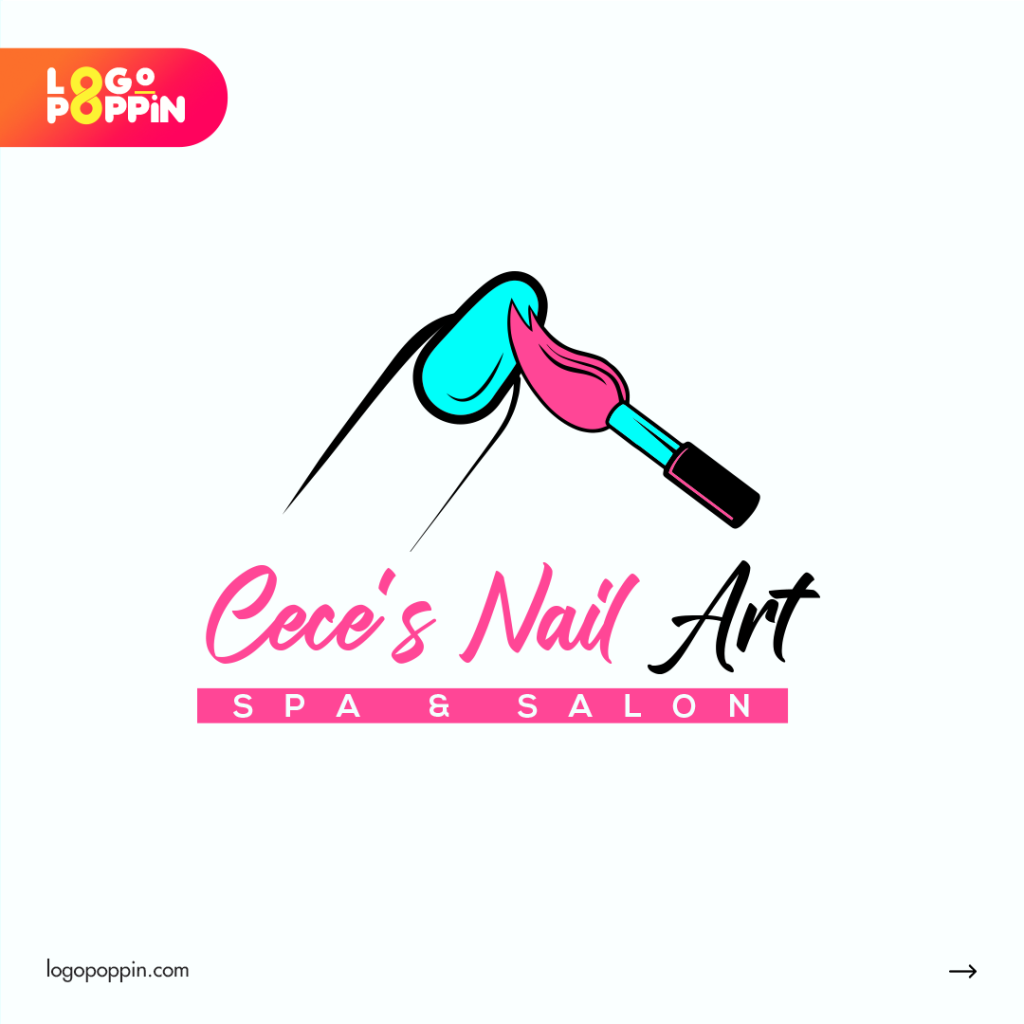 The first step is to find out your business niche before starting with designing your logo. for example, if your nail salon deals with acrylics and other such nail treatments, then your logo should somehow reflect that.
Generic logos might seem like a good idea, but businesses that niche down and have their logo represent it have far better success than those that rely on generic logos that cover their industry services in general.
2.2- Envision a Customer Persona
Considering that your logo is predominantly designed for your consumer, its always a good idea to create and consider a customer persona that represents and matches your researched customer profile. That is because if you know who is likely to visit your nail salon, and create your logo according to their likes and dislikes, the logo design will have a better chance of targeting and retaining them as customers.
Remember, just like the generic logos we discusses above, a logo that doesn't consider the ideal customer when designing the symbol will fail to target them perfectly.
2.3- Select the Right Logo Style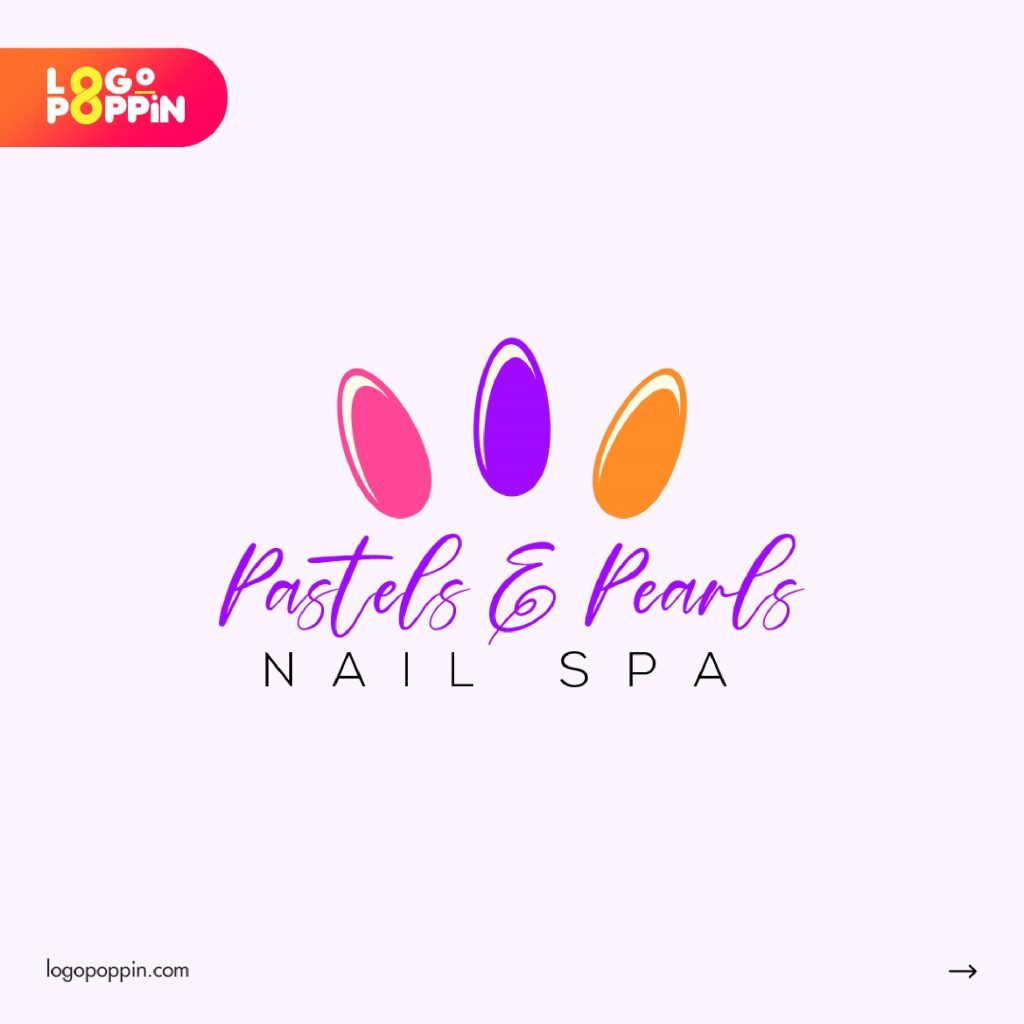 Next, it is important to choose the right style of logo for your brand symbol. While there are many different types of logos available for your convenience, depending on your niche, there are specific styles that might work for you.
For example, you might say that a mascot or a wordmark logo might not be suitable for a neighborhood nail salon, as it might not speak to the target consumers. However, for an upscale boutique store, an elegant wordmark might be exactly what appeals to that clientele.
2.4- Give it a Geometric Flair
Certain shapes are known to add value to a logo's design, depending on the message you are trying to portray. For example, if a certain solidity and resilience is something you want your logo to portray, then triangle logos are a great option.
Similarly, circles and round shapes depict a sense of harmony to the viewers. Like these two, other shapes depict certain characteristics too. Therefore, it is important to add certain geometric elements to your design to enhance the message your logo is trying to portray.
2.5- Choose a Suitable Color Scheme
It's a known fact that colors have a way of influencing us like few other visual elements. So, when we are talking about designing a brand symbol like a nail salon logo, colors are an important aspect. The color combinations you choose should be able to evoke the emotions that would make the delivery of your message easy and simple.
Depending on your niche, there can be different color palettes that would suit your aesthetic. For example, nail salons generally use bright colors like pinks, greens, and blues. That is because for the most part, the target market is predominantly feminine, and these colors are generally associated with them. However, neutral colors like shades of cream, browns, and grays would be more suitable if the salon is for men.
2.6- Find the Right Fonts to go with it
Now that you are done with choosing the right colors and style of your logo, the next step is to choose your logo fonts as well. Sometimes, designers ignore the font as an integral part of the logo design, which means that the font used doesn't match the style of the logo chosen. For example, a funky and edgy logo style with a formal, business-like font would stand out, but not in a good way.
It's a good idea to identify and understand the tone of your business before choosing any element of your nail salon logos. This will help you not only choose the best individual option, but will also help you see which options would work well together to portray your brand image perfectly.
3- Examples of Great Nail Salon Logos in Action
Now that we know how to create the perfect nail salon logos, let's take a look at a few designs to see how they have managed to capture the essence of the industry within a logo. From decidedly feminine designs, to more traditional, and even a neutral logo, the list below will help you understand a wide variety of options you can opt for when creating your own logo.
3.1- Glam Nails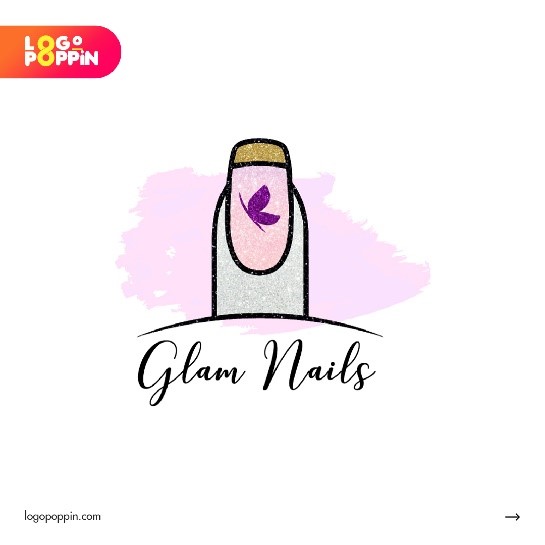 First up is the logo for Glam Nails. The design of the logo depicts that this creative nail salon specializes in nail art, a sub-niche within the nail industry. Although the logo is simple, with a pastel color scheme and a friendly, loopy font for the name, the impact of the logo is immediate. At a single glance, your attention is automatically driven to the center of the logo, which depicts the core message of the design.
All in all, this logo is a great representation of speaking volumes subtly, with a design that speaks for itself, and is memorable too without deviating too much from the industry norm.
3.2- Jamica's Nail Beauty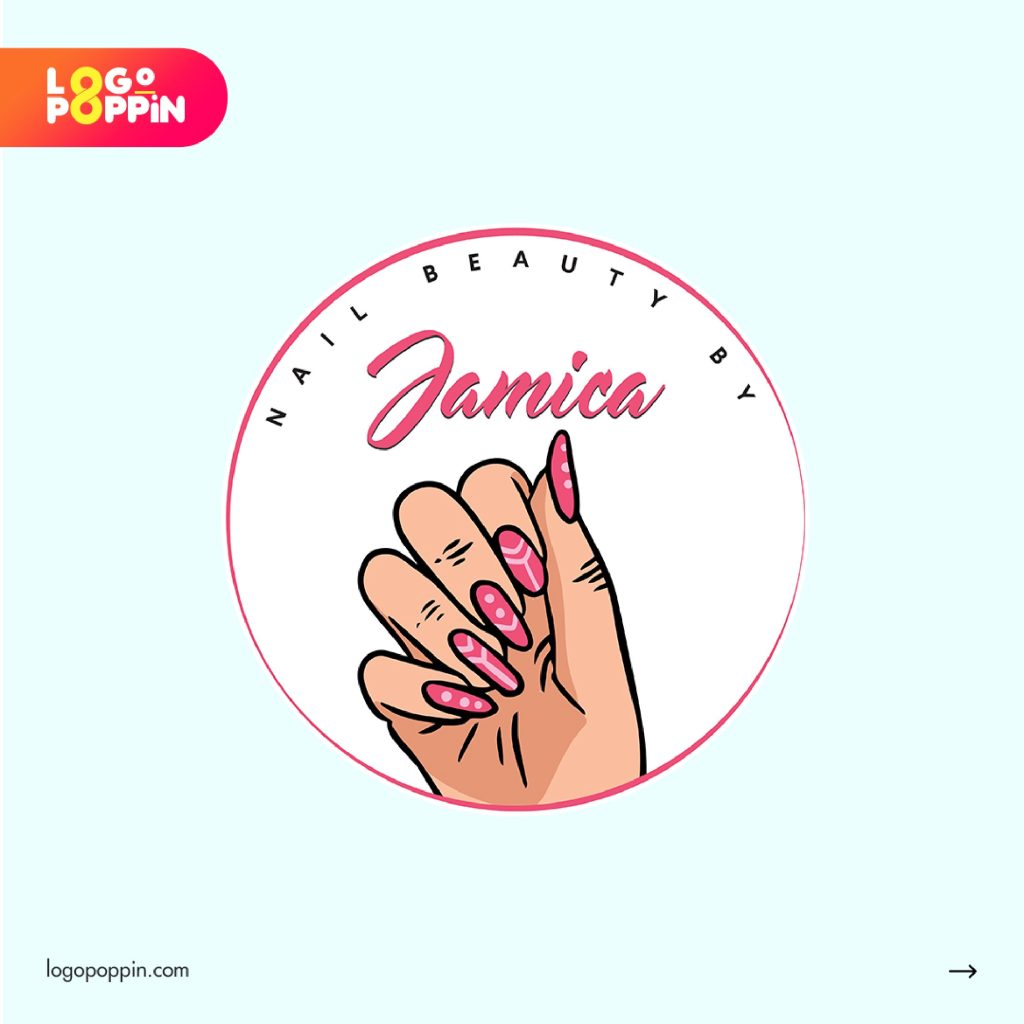 This logo, for Jamica's Nail business, is designed to attract a certain type of clientele, and is suitable for the smaller businesses who are looking to target people within the community or neighborhood. Unlike the previous logo we saw, this one is designed to be more in-your-face, and is trying to highlight both the name of the owner and the business niche simultaneously.
The style of font used, combined with the visuals and the somewhat garish color scheme makes for a loud nail salon logo that would be successful in its own right.
3.3- The Nails Spa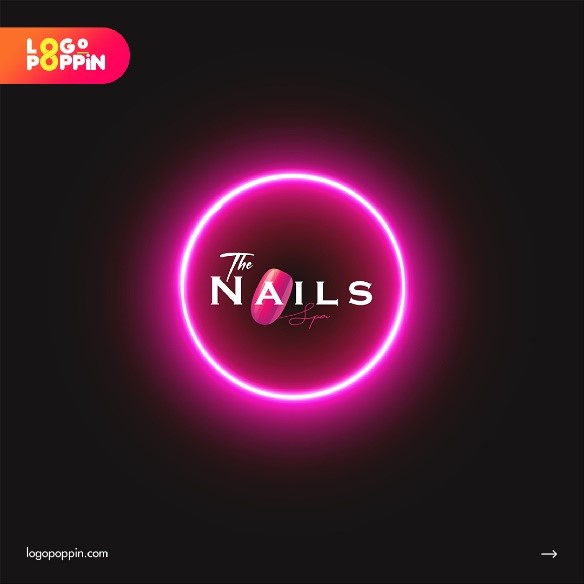 This neon logo is one that highlights the feminine nature and tone of their business. Using the deep pink neon color as the outline, as well as the use of a circle in designing its logo makes for a subconsciously feminine-oriented business symbol.
However, the choice of font, the background and font color, and the overall design aesthetic of the logo makes it great for a variety of business types, from small businesses, to large and famous brands. Plus, the color scheme automatically lends well to the use of a neon-lighted store logo.
3.4- Mystical Nails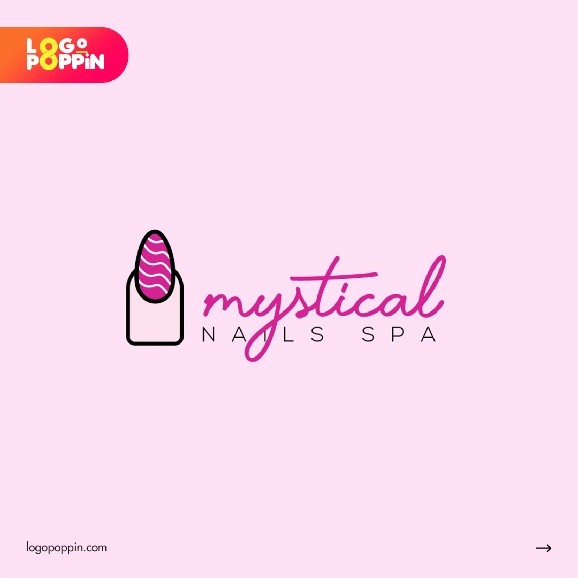 Although there is nothing mystic about going to a nail spa or salon, the name of the brand inspires intrigue. It might seem like the result would be something that would affect the overall memorability of the logo, but that is not the case.
The name and the logo design combined makes people think that there is something different and worth checking out in the brand. The font is simple enough to understand, and so is the imagery. That makes it perfectly suited to the nail salons who are looking to expand or grow their business to start a brand.
3.5- Jenny's Nail Spa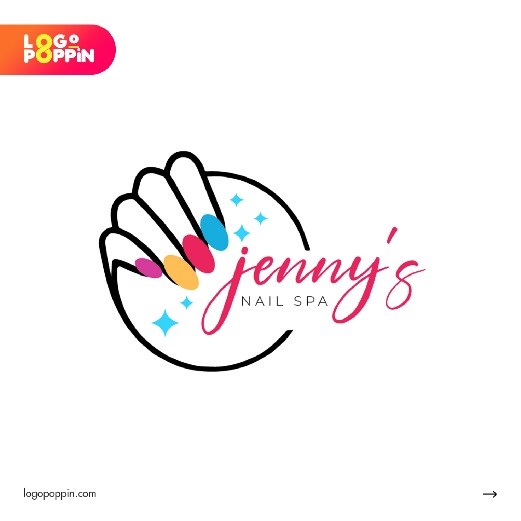 Next up is Jenny Nail Spa. This is one of the fun ones on this list. The multicolored palette over a white background makes for a wonderfully minimalist logo that would go perfect for a variety of nail business styles. The design is simple, yet elegant. The colors, although more than three shades being used, are all there to add a wonderful contrast to the stark background.
This type of playful nail salon logos are rare to see, especially those that are well balanced like this one. A logo like this is perfect for an established brand that is looking to rebrand itself, or a new one that is planning on growing and scaling up into a proper brand in the future.
3.6- LA Nails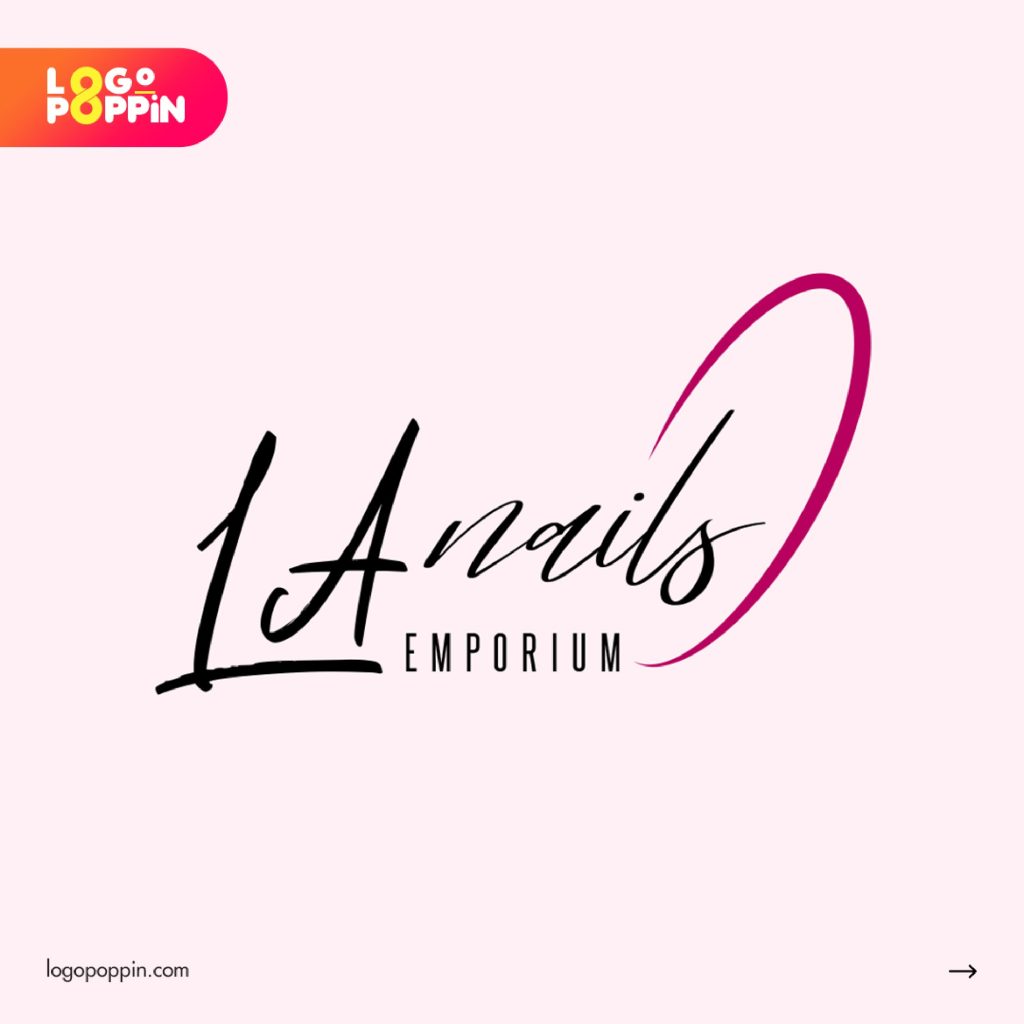 Finally, the last one on this list is LA Nails Emporium. This one too is one of the simpler logos on this list. However, if we dive deeper into its design, we see that this deviates from the others by one single aspect. This logo relies primarily on its wordmark, as there is no imagery attached to it to highlight its niche.
Now many might argue that one of the basics of learning how to design a logo is to know what works well for an industry and trying to incorporate that within your logo. However, there is a case to be made for designs like these. Their abstract imagery of the swooping pink line that mimics a fingernail is a subtle addition to the logo, which signals the meaning to those who are looking for it.
This type of logo works for a higher, or more premium scale of business, one where the clients are more discerning of the brands they use. So no garish or loud designs can work for them.
Conclusion
In short, there is a huge variety of nail salon logo ideas to choose from if you want to give your nail salon an impressive brand symbol. And if you follow the tips for a successful brand logo given above, and take a look and learn from the brand logo inspirations listed above, you will be able to design a great logo for your business.
People Also Ask (FAQs)
1- What can I name my nails spa and salon business?
There are many options to choose from for your nail spa business, such as:
– Nail Veils
– Crystal Tipps Nail Salon
– Chic Nail Spa
– Many Pedis
2- How can I start my own nail brand?
In order to start your own nail brand, you need to:
– Find your motivation
– Research the market
– Create a business plan
– Evaluate how much time and money you need to invest
– Choose your suppliers
– Create packaging design
– Create awesome product
– Market your business on social media platforms
– Build a website
– Launch your product
3- Who is the nail artist for BLACKPINK?
The artist behind the nail sets worn by BLACKPINK members is Park Eunkyung. He is the founder of Unistella, a nail salon and brand based out of Seoul, South Korea.