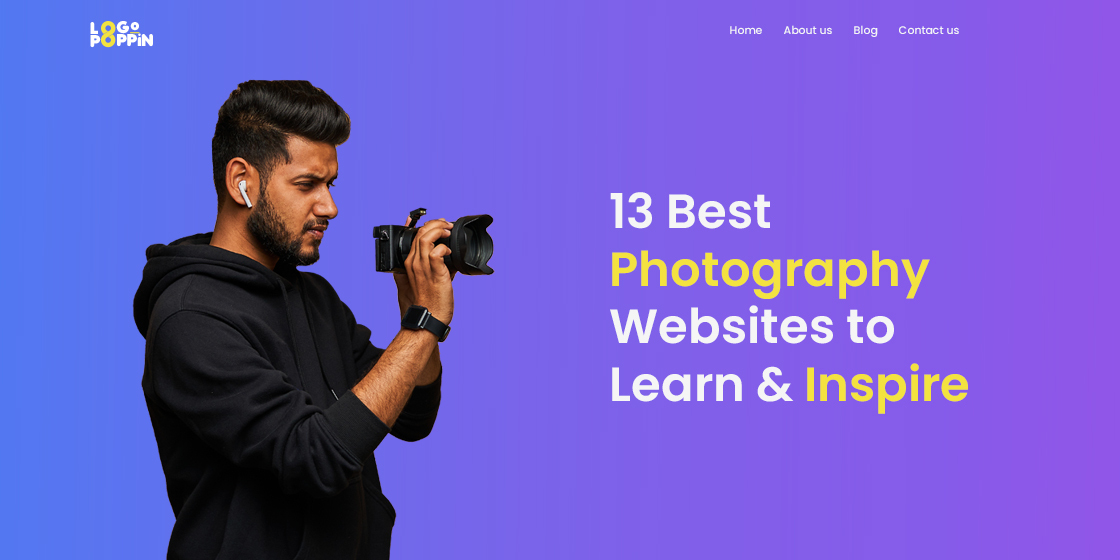 Take a Look at the Best Photography Websites That Are Loved by People
Being a professional photographer, you need to showcase your work creatively to the audience. Nowadays, the internet has given them a huge opportunity to present their work smartly on digital platforms such as photography websites. These sites are specifically created to list all the work of photographers, perfectly in a professional manner.
To create those websites, you need a professional web design agency having experience in the development. These agencies precisely know how to create a website that focuses on demonstration of portfolio. As a photographer, you need to take services from these agencies if you do not have any knowledge about the development of a website.
These websites hold a lot of importance for the photographers. We all know that the trend of online engagement is increasing day by day. People from around the world are continuously preferring the internet to surf and find various types of information. This increases the importance of photography websites and their proper maintenance by the owners.
To give you a better understanding, we have listed the examples of different photography websites in this article. This will let you know how to build a similar website for yourself, showcasing the portfolio effectively.
1.The Importance of Photography Websites
With the emergence of digital channels, every individual wants to market his/her products on the internet. The reason is that everyone knows about the potential of the online world. They know how it can bring millions of traffic to their website and enhance their growth in the world.
Being a photographer, these websites can work as your branding platform. It allows you to list all the albums and photographs you have taken during assigned projects, precisely according to the custom requirements.
These photography websites are often called as the portfolio sites where you can showcase all the work. Many photographers spend thousands on the development of these sites. They know that it will work as a primary source of their branding, allowing people to recognize their photography business names.
That is the reason why these photography websites should always be created elegantly. If you don't know about how to build such sites, take a look at different examples given on the web. Fortunately, we have also curated a readymade list of top photography websites in the blog.
Let's take a look at them below.
2. Popular Photography Websites You Need to Know About
As a photographer, you need to always learn the art of photography from top professionals. Same goes with the development of photography websites. If you haven't created one for yourself, you need to first look at the sites that are quite popular in the market.
Here are some of the top photography websites that will give you a great idea how to develop one for yourself. Some of these photography websites include blogs, giving people great information on how to take engaging photographs during different events. Let's take a look at them below.
2.1 Photography Portfolio Websites
2.1.1 Alessandro Romagnoli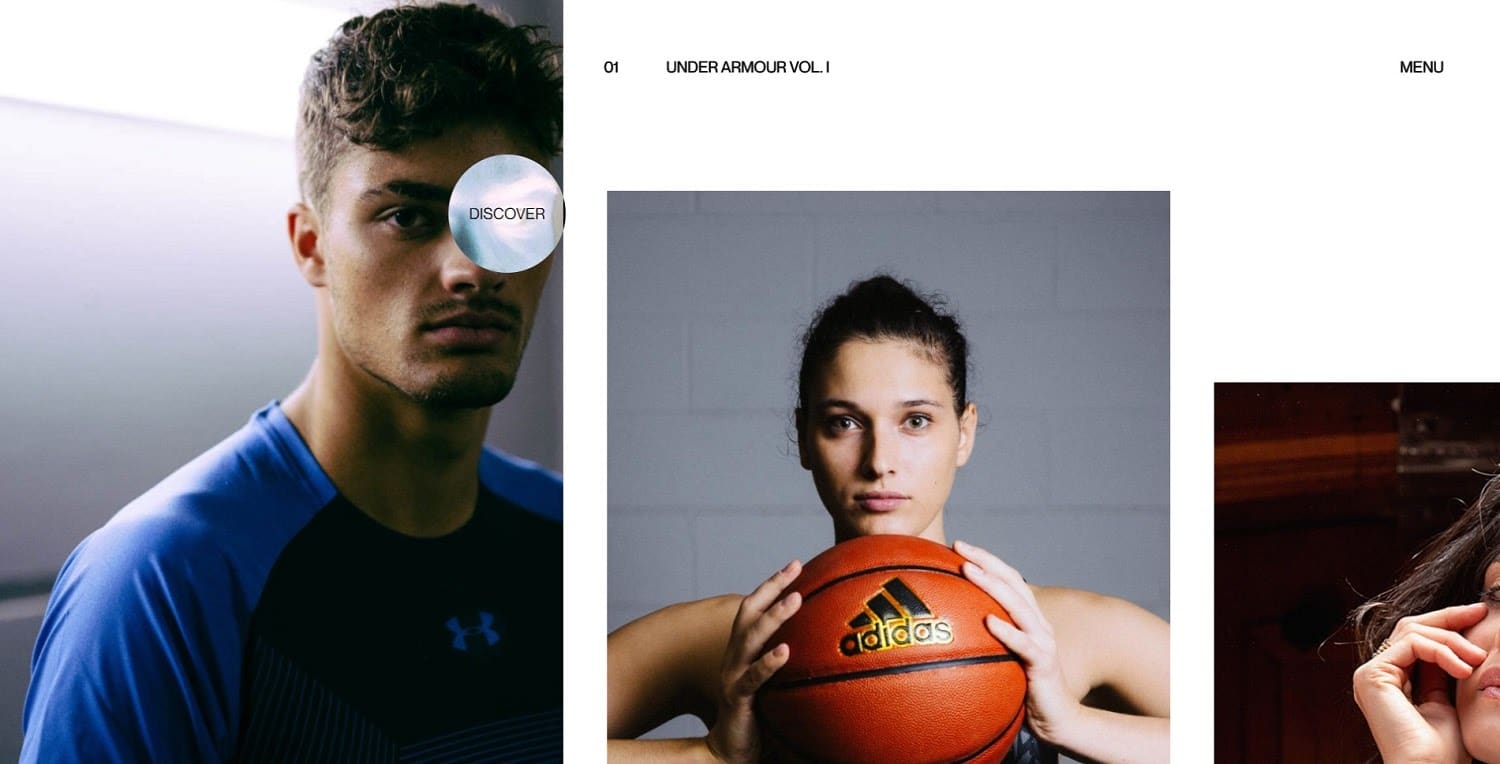 If you are looking for a website that demonstrates the true theme of professional photography, take a look at the website of Alessandro Romagnoli. This guy is an Italian fashion designer and photographer having years of proven experience in the field. He has worked with numerous big brands showcasing his artistic skill in the field of professional photography.
The UI and UX of this website is simply amazing. It is built with a unique perspective of creativity, showing the true background of a photographer. The theme of the website is smartly picked with a combination of black and white color. But, the colorful pictures of the Italian photographer make the website lively and engaging.
If you are looking to create a photography website for yourself, try taking inspiration from this one. It is visually amazing and offers a perfect example of how to build a professional looking site with a creative photography slogan.
2.1.2 Ruud Luijten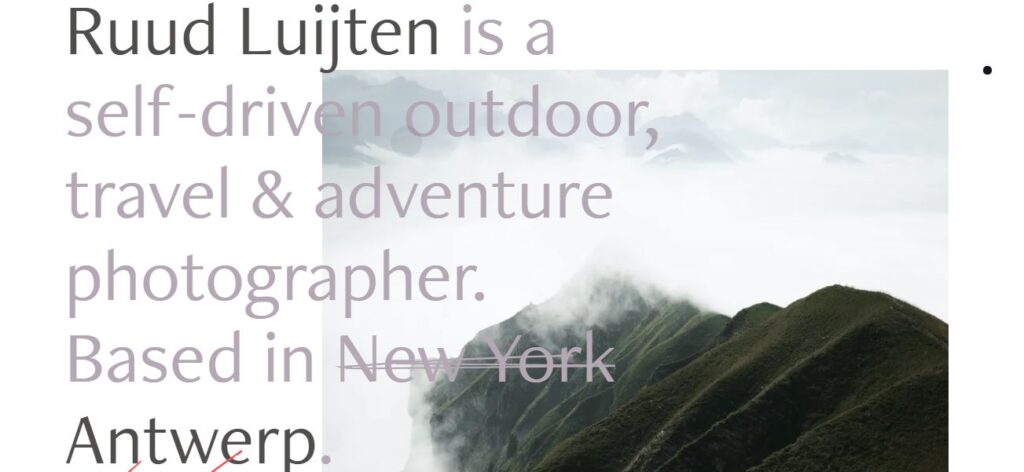 Ruud Luijten is a professional photographer based in New York, United States. His art of photography is quite different from others, and this website perfectly demonstrates that fact. It is made with a clear sense of ingenuity, providing a unique theme of photography.
If you analyze the photos carefully, you will notice that Ruud mostly focuses on natural photography. From high mountains to beautiful lakes, you will see all kinds of natural stuff in the photography of Ruud Luijten. The simple structure is also based on the same thought. It looks neat and decent, providing a clear view of Ruud's natural art.
2.1.3 Adam Bird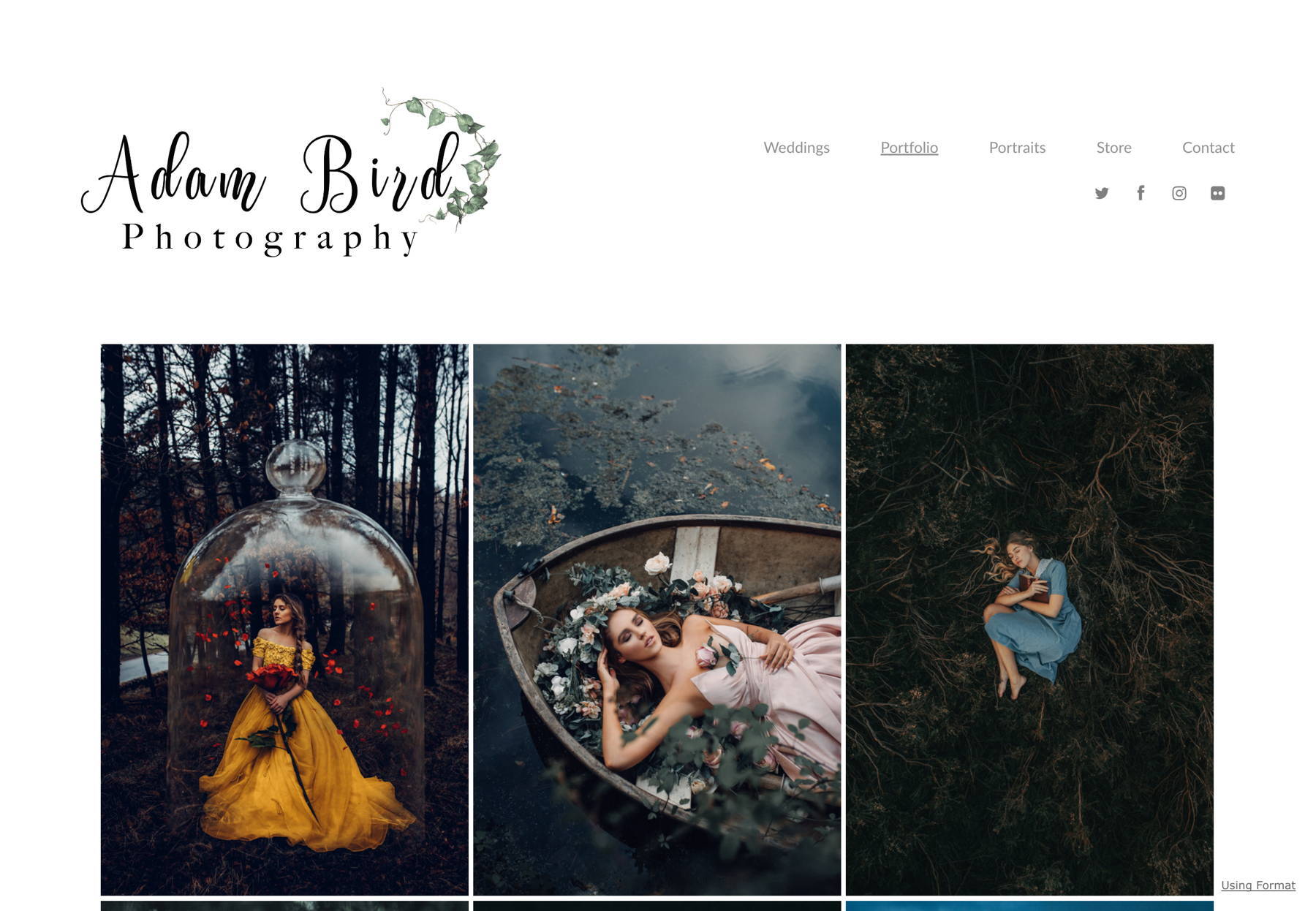 Adam Bird is also a renowned photography artist hailing from Birmingham, England. He is basically a fashion photographer having astounding skills of capturing spectacular pictures. This particular website showcases his skills in a bold manner. It has listed different types of pictures in a bigger frame, giving a good view of the background.
Looking at these photography portfolio websites, you can learn how to build a similar website showcasing great photos. Using the same theme and structure, you can create a website that can engage eyeballs and attention quickly towards your work.
2.2 Artistic Photography Websites
2.2.1 Clement Merouani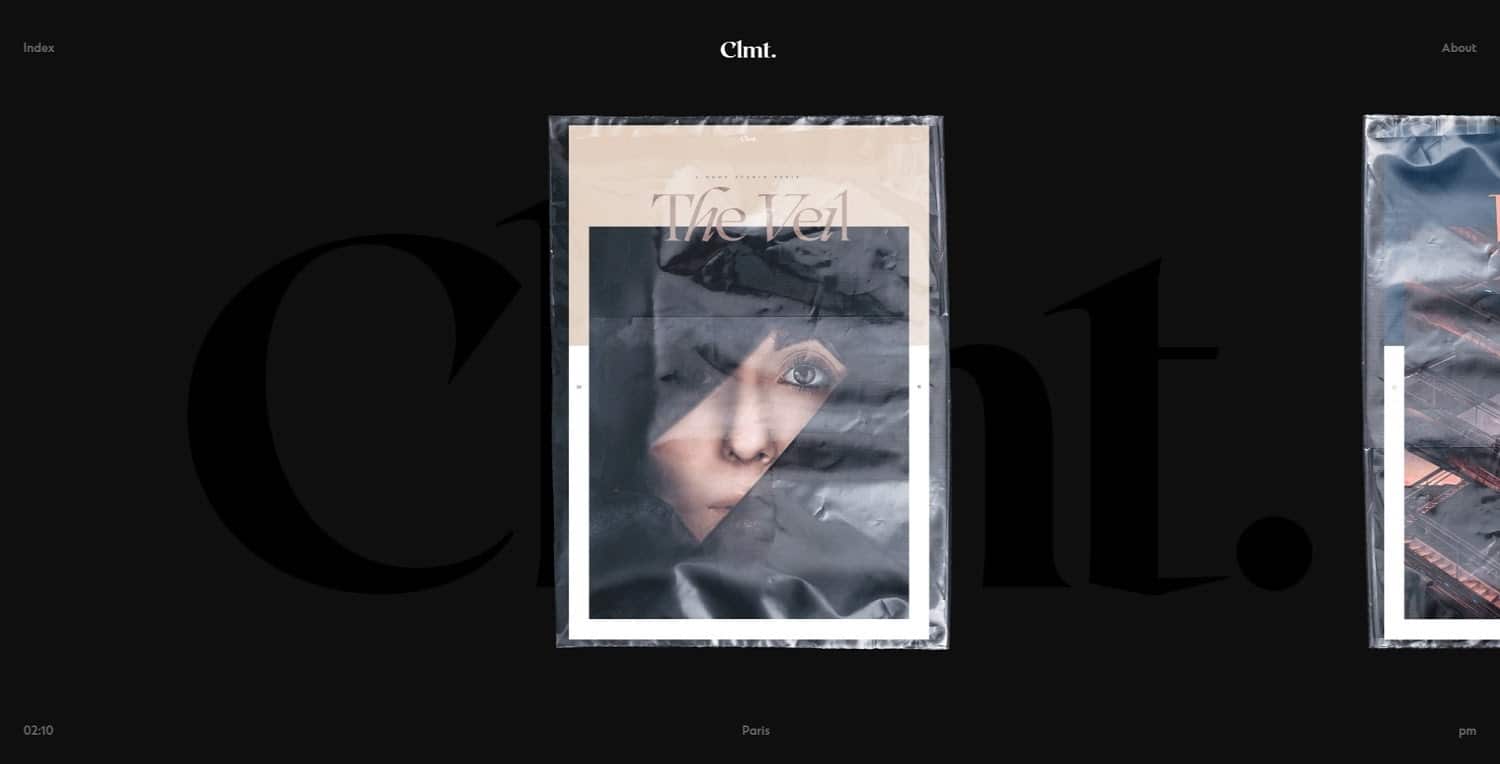 Clement Merouani is a famous photographer based in Paris, France. He is renowned due to his unique artistic take on photography. This website is also creatively made to illustrate his great work to the audience. It uses a great photography logo, UI and beautiful layout to properly demonstrate the work of Clement Merouani.
The theme of the website is black and white, showing a classic view of the portal. It demonstrates how a photography website should be made, keeping the attribute of creativity in mind.
2.2.2 Mack Eveland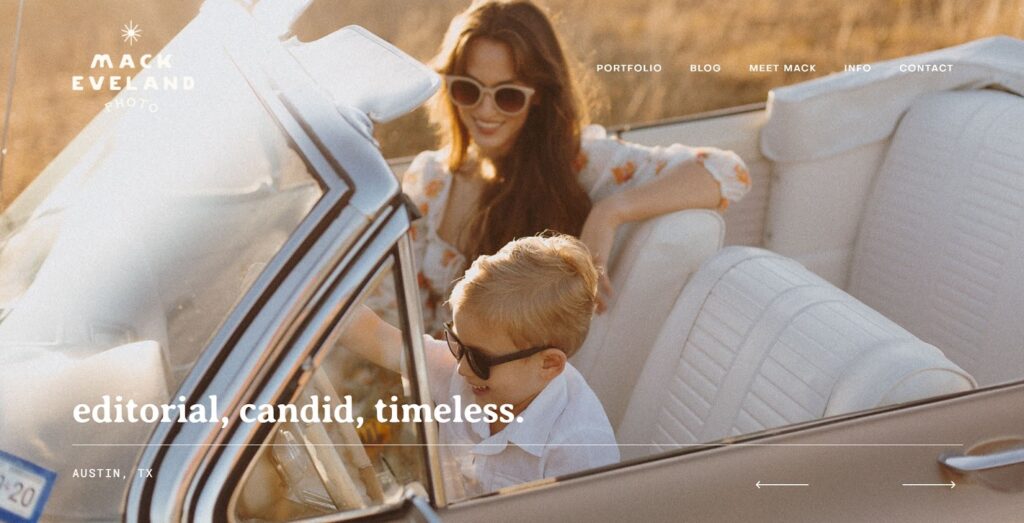 Mack Eveland is a popular photography artist residing in Austin, Texas. She is known because of her beautiful take on photography. This website is also precisely developed keeping in view her unique photography perspective. Its layout is really great and gives a high definition view of different pictures.
If you are looking to showcase the art, you can take inspiration from these types of photography portfolio websites. They are flawlessly built with advanced web technologies, giving a perfect view of professional photography.
2.3 Wedding Photography Websites
2.3.1 Nordica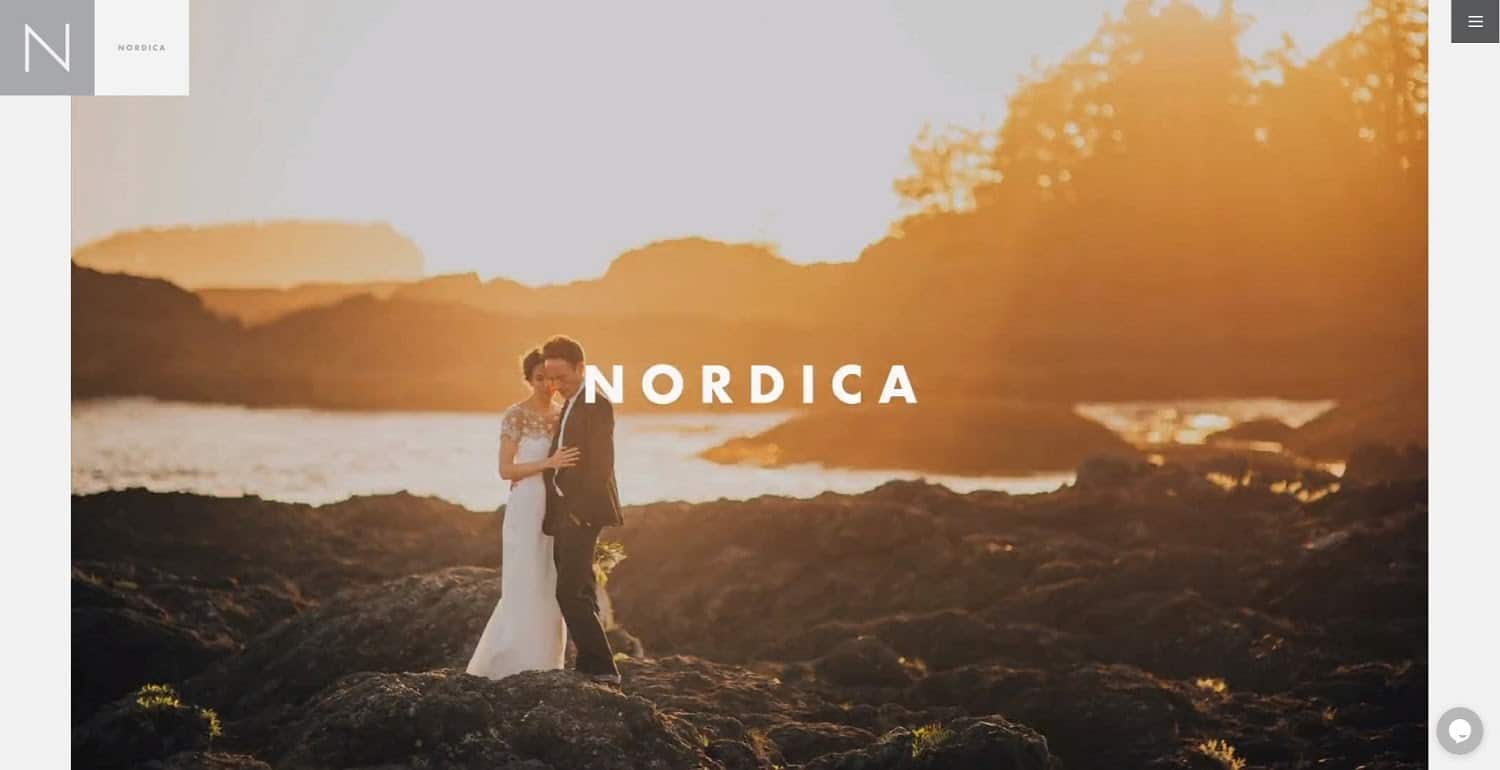 Nordica is one of those photography websites that will give you a theme of a perfect wedding. It represents the flawless work of Cole and Jakob themed around the function of wedding. From beaches to lively gardens, you will find the true essence of wedding photography on this site. All of its pictures look really amazing and unique from every angle.
This particular type of wedding photography is also becoming popular in the world. That is why Cole and Jakob have also focused on it to showcase their spectacular skills. If you are also in the line of wedding photography, do take a look at this website to learn some creative art.
2.3.2 Alexis Julia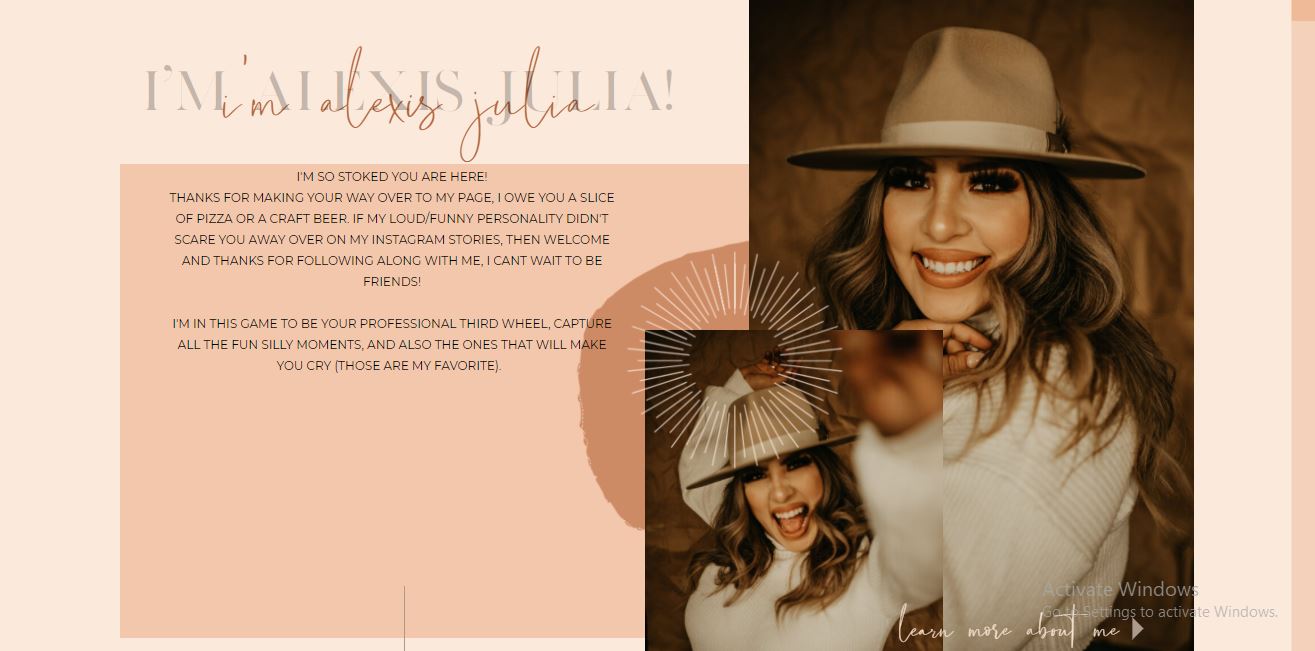 Hailing from Texas, Alexis Julia is a popular wedding photographer. Her work precisely showcases the wide range of photography skills. Considering that, this website is also creatively built according to that. Its UI and simple structure demonstrate her work in a perfect manner.
It has listed numerous photos themed around weddings. This shows the true nature of her work, allowing people to understand her background and skills easily. If you are also looking to build a photography website themed around weddings, this is the perfect example to learn from.
2.4 Professional Photography Websites for Tips & Tricks
2.4.1 Digital Camera World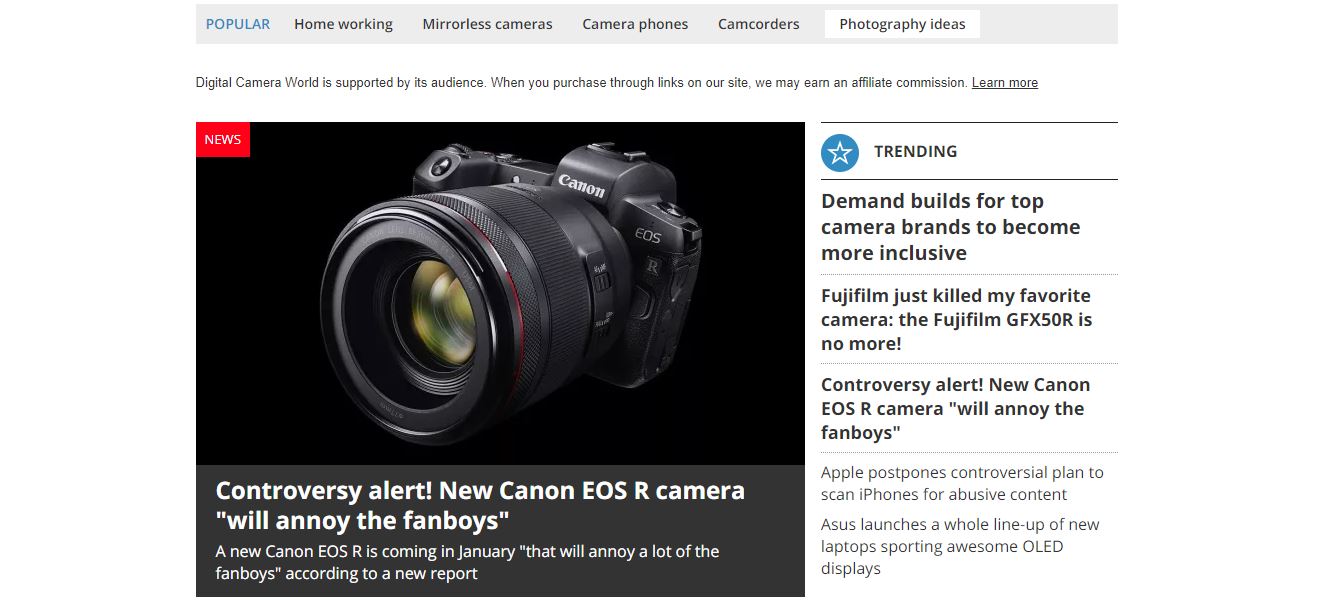 This website can be termed as a hub of the latest photography news in the market. Those individuals who want to stay updated with the latest happenings in the industry, can learn a lot from this website. It offers regular news about trending gadgets and techniques used in modern photography.
As a photography enthusiast, you will find this blog very engaging and interesting to read. It provides reviews about the latest cameras, camcorders and other stuff required for photography. These detailed reviews will help you to choose your favorite gadget smartly, provided you have got the right knowledge.
There are tons of buying guides also available on the website, exclusively made from the top experts. Besides that, you can also find a range of tutorials on photography and video making on this site. These tutorials are carefully made to help all types of individuals, ranging from beginners to intermediate photographers.
2.4.2 Cambridge in Color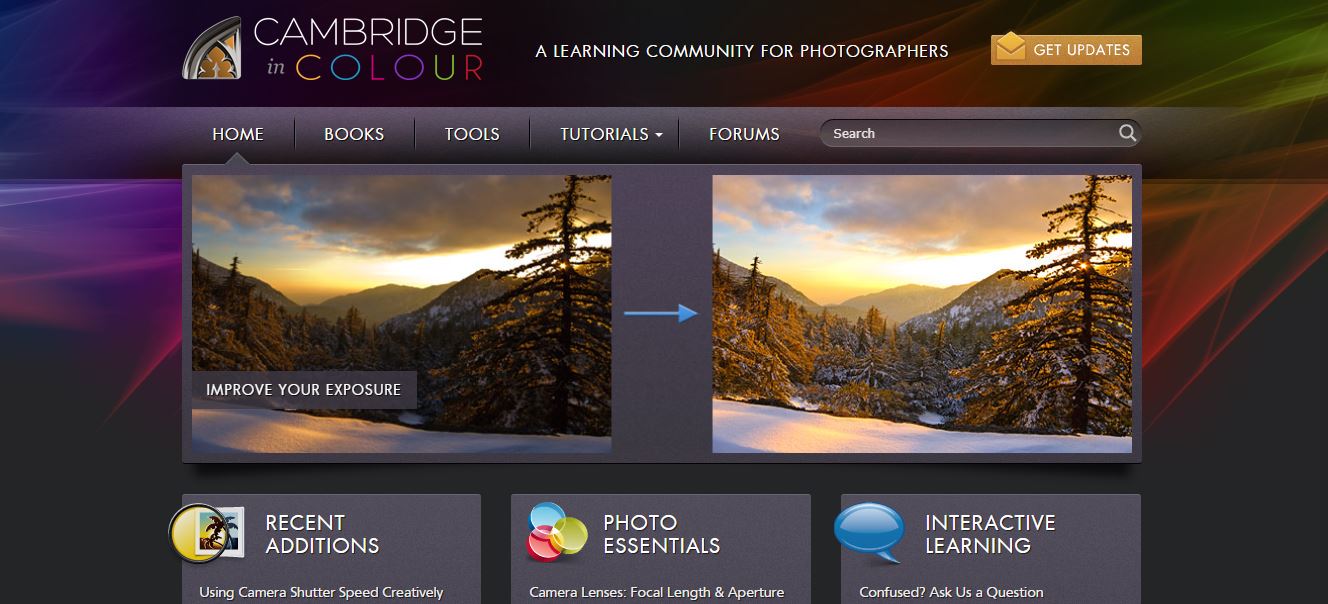 Cambridge in Color is a famous portal where you can find all the information about modern day photography. It is a learning community for all the budding photographers aiming to become professionals in the field. It consists of a variety of books and tutorials to explain the art of creative photography.
The site also contains a separate section of forum where people from around the world regularly discuss various photography techniques. This makes the website a good learning platform for newcomers. It provides great information about photography gadgets and how to use them to capture a perfect photo.
2.4.3 Photography Life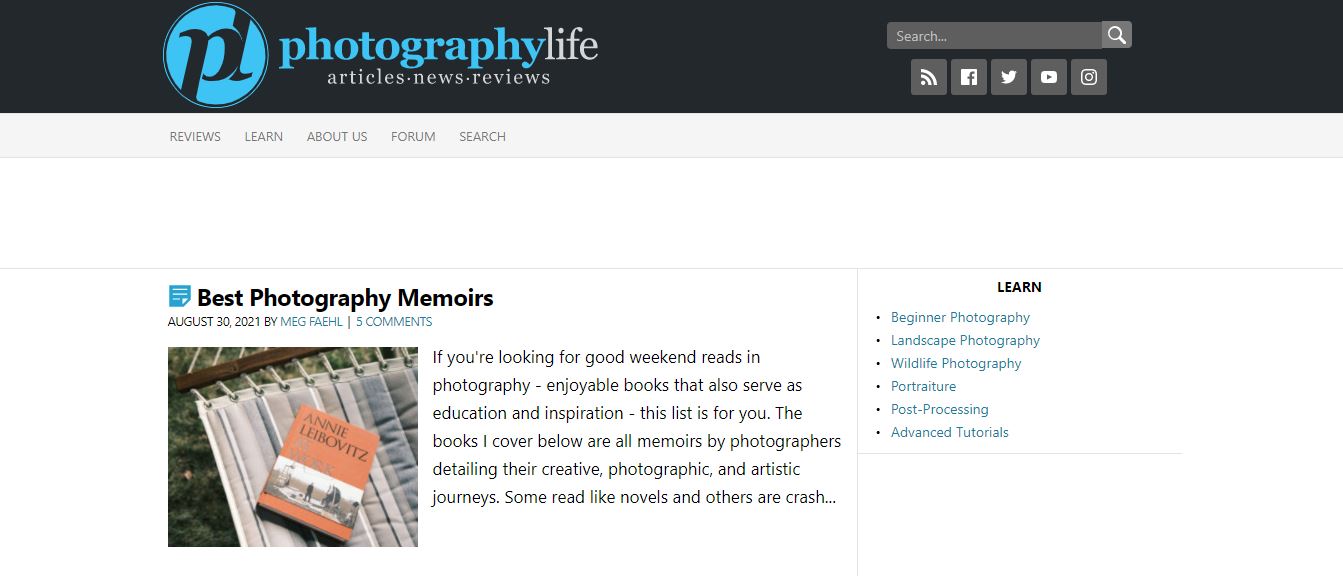 If you are looking to get some good knowledge about modern day photography, this website will be a perfect pick for you. It includes varieties of blogs and tutorials focusing on the art of photography. You can learn a lot from this website, especially the tips explaining how to handle cameras and tripods during photography.
This website also contains a huge forum where people regularly discuss various types of subjects related to photography. As a beginner, you can learn a lot from this website, especially the tricks of taking pictures with different angles.
2.4.4 Fstoppers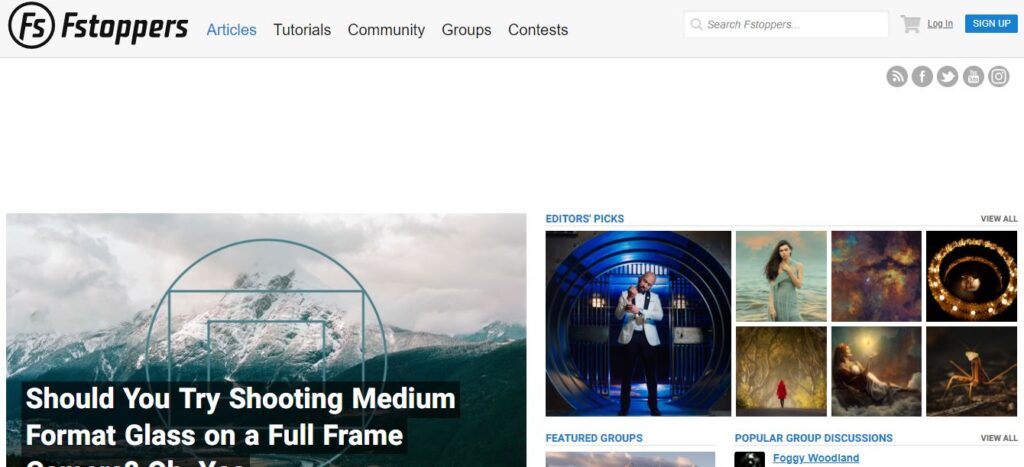 It is yet another great website offering tons of articles and blogs related to photography. It provides plenty of information for the beginners, so that they can master the art quickly. The content style of the blog is written in an informative manner, allowing everyone to understand its points easily.
Those individuals who want to know how to take perfect clicks using the latest gadgets can learn a lot from this platform. It offers great articles defining various tips to master various types of photography. Furthermore, it also offers detailed buying guides and reviews of trending DSLRs, laptops and other gadgets. That is why this is termed as a great blog where you can get all the latest news about photography and its gears.
2.4.5 Camera Jabber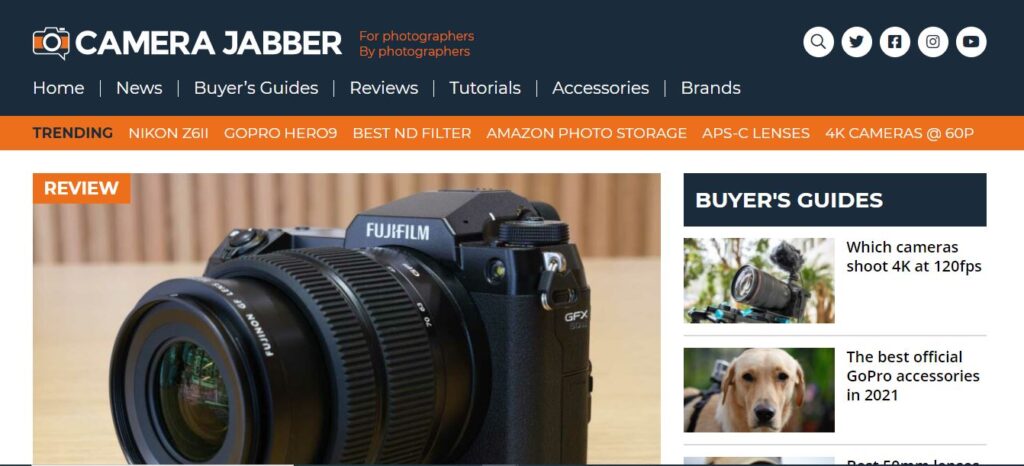 As the name suggests, this website is also a great pick for the curious photographers. It is a spectacular blog where you can find tons of information about the art of photography. You can find numerous types of buying guides, gadgets news and other stuff on this website. This allows you to enhance your information as a photographer, so that you can pick the right gears easily.
From Canon to Fujifilm, you can find the latest news about the world's top brands at this blog. That is why it gets thousands of traffic every day. Its insightful articles and buying guides give a great opportunity to the people to know every trending news at just one place.
2.4.6 British Journal of Photography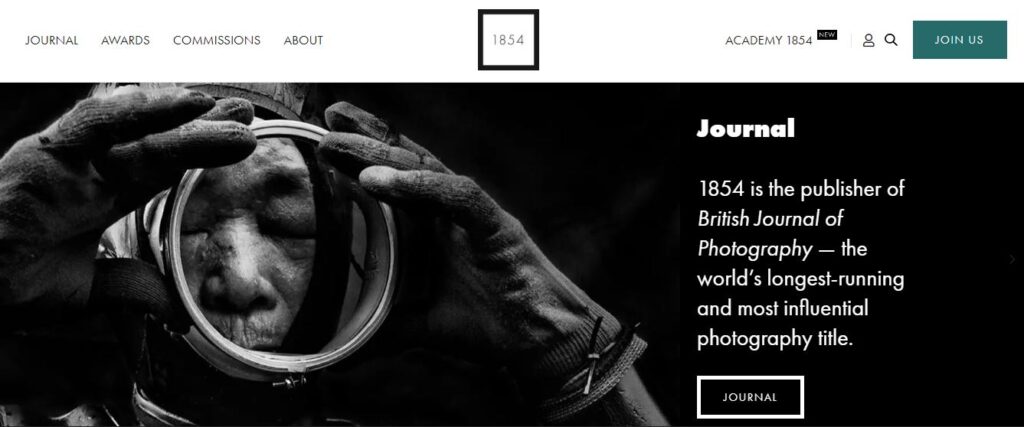 This is one of those websites that doesn't need any kind of introduction. It is the platform where you can find work of top photographers from around the world. This gives every beginner individual a great idea how to shape up his/her career as a photographer. It provides the latest stories and updates from the top editors, giving you a good view of what's happening in the industry.
Over the years, this website has won multiple awards at global platforms. This shows how valuable its content is and why people follow it from around the world.
Frequently Asked Questions
Photographers are always asked to showcase their work portfolio to the audience. Using the custom portfolio websites, they can demonstrate their work to the people and get more photography projects easily.
To build a portfolio website, take a look at different popular sites available on the web. Then, plan your theme and structure to build the site. You can find many pre-made templates and themes to build a site quickly.
Instagram is rated as the best photo sharing website in the world. It has thousands of users around the globe. It offers a very simple registration process that could be done easily within minutes.
A good photography website is made up of creative UI elements. This website should properly show your portfolio, so that people can recognize your work and get attracted quickly.
Final Words
That takes us to the end of this blog in which we have listed various types of photography websites popular over the web. As a photographer, these websites will help you to understand the layout required for portfolio sites. Looking at their style, you can also build your own site keeping in view the latest trends in the market.
Nowadays, building portfolio websites has become important for photographers. They allow you to showcase the work properly to the targeted audience. This helps the photographers to build a reputation in the market and get more customers regularly, especially when they add their web address to their photography business cards along with their social media handles.
If you are also looking to build your own website having a detailed portfolio, contact us today. We will ensure to build your dream website as per the custom requirements and latest market standards.