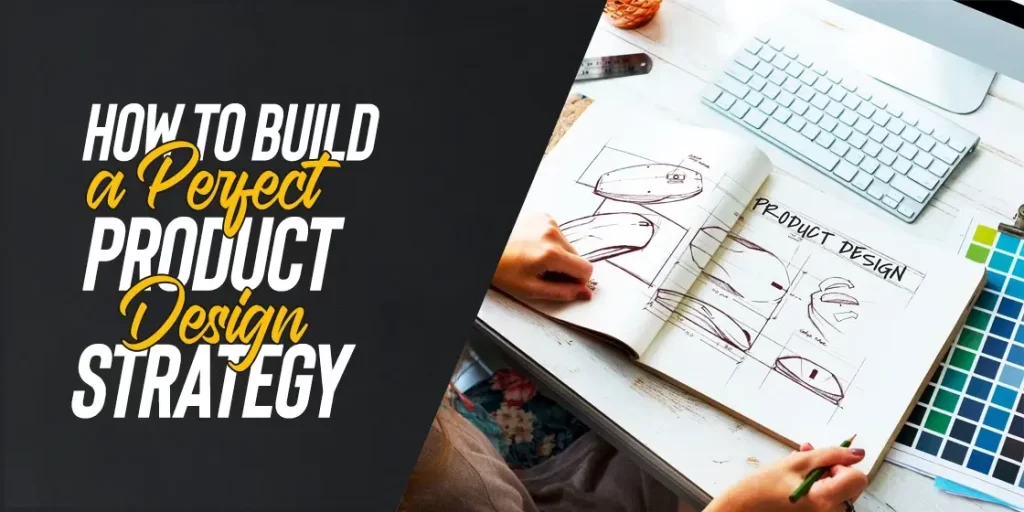 Table Of Content
Know How to Create a Perfect Product Design Strategy in Detail Below

Whenever a product is launched in the market, it is released with a definite set of strategy. This approach is essential because it ensures the success of any product in the market. Similarly like this, when a product is under development, it also needs a proper working strategy. This is important because a product design strategy ensures to build products using a correct methodology. All the top product strategists recommend to work with a strategy, as it makes a lot of things easier for the design and development team.
To create a product design strategy, you need to first know the requirements of your product. It is essential because a strategy cannot work until you know fully about the basics of a product. A lot of times, design teams do this mistake, which eventually brings a lot of negative impact on their overall work. Their lack of experience and market knowledge forces them to do this mistake which indeed becomes problematic for them.
To avoid having this scenario, it is best recommended to create a product design strategy first. It helps development teams to work with a plan and focused objectives. A strategy also defines fixed goals and how they should be targeted using a correct pathway. It specially becomes important for web projects, as digital agencies do need a definite plan to offer quality web design services to their clients.
In this blog, we will discuss about product design strategy in detail, so that you can know how to create it properly keeping the core objectives of your products in mind. Let's first start from the basics understanding what is a product design strategy and why it is important in any development process.
1. What is a Product Design Strategy?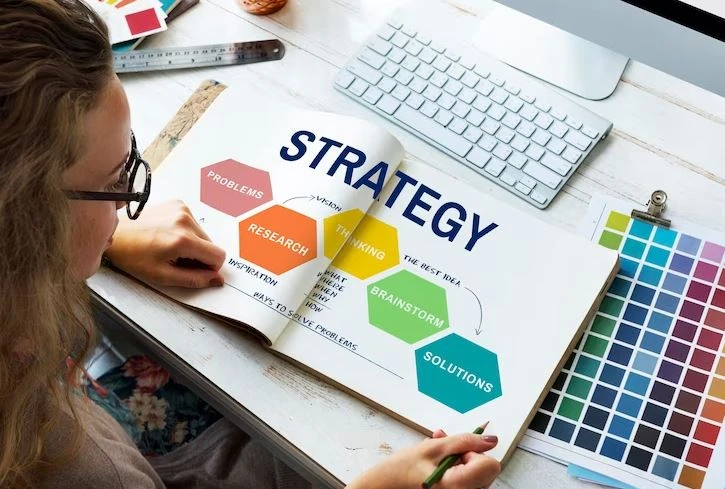 Product design strategy refers to a plan that helps teams to build any product properly. It can be understood as a set of techniques that allows teams to do several tasks correctly. It is always created at the first stage, as execution of the project depends on it. This strategy is usually built in team meetings after having consensus on different core points. That is how everyone comes on the same page and becomes aware of what is being required in the project.
Today, the development of every digital product requires a product design strategy. It has become essential to keep the objectives of the project clear, allowing everyone to understand it properly. It basically helps the teams to make informed decisions, one that can bring positive results at the end. It can also be understood as a framework that defines various rules to carry out any work. This framework is precisely created by keeping the core project goals in mind, so that all the actions can be taken accordingly.
2. Importance of Product Design Strategy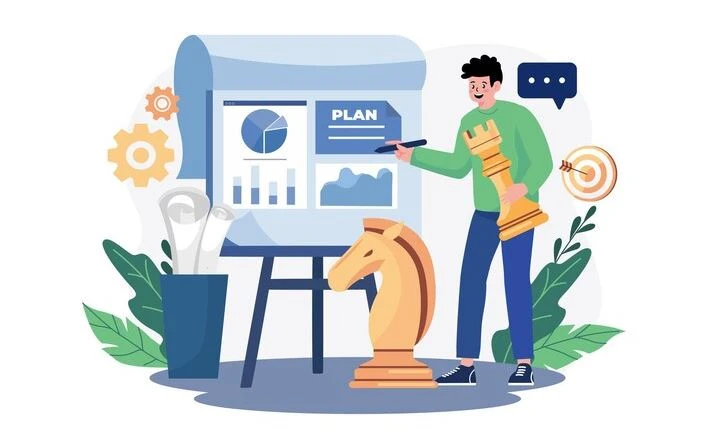 Being a product design lead or manager, you should know about the importance of a strategy. It is a pathway that lets you know how to work on a product correctly. If you will not follow any rules or plan, you could stay confused while developing a product. This fact fits well for every type of product development, ranging from websites to logos and more others. It becomes necessary when the nature of a project is more complicated, or require in-depth planning to offer quality results at the end.
Using a product design strategy, the role of every member in the team becomes clear. It takes everyone into consideration and build a plan that can work with a unified approach. It also makes the communication clear which directly brings positive results in the development. A brand design strategy simplifies the hassle of every member, allowing them to work on different tasks with a focused approach. Usually, a strategy is built by the team lead or manager, as he is considered responsible to execute all the design process appropriately.
Today, teams are using different types of strategies to design their products. The selection of these strategies depend on the nature of project and resources available for the job. Both of these factors are combined to create a strategy, which is why the role of leads and managers is considered important in this process.
3. Key Tips to Create a Strong Product Design Strategy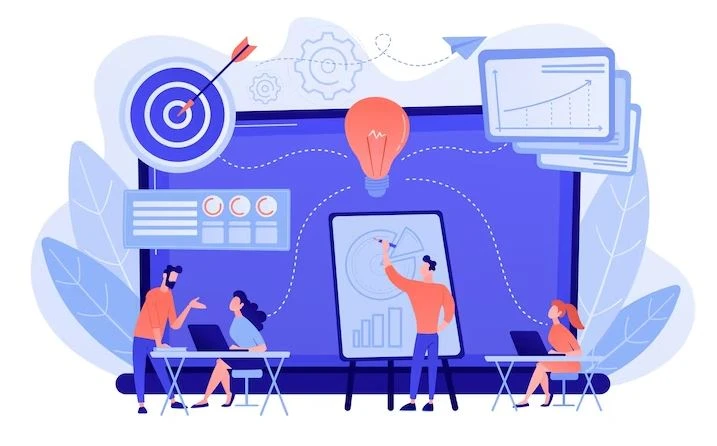 Many beginners often ask how to create a product design strategy that can help them to create quality products. Well, this is certainly not a difficult task if you've good knowledge about the basics of product development.
However, if you are a beginner having no knowledge about planning and tactics required to create a website or emblem logo, take a look at the tips defined below. It will help you to grab some basics and build products smartly by following a definite set of strategy.
3.1 Define a Clear Vision
Before creating a design strategy, you need to first think about several important points. It is a phase in which you need to define a clear vision related to the strategy. You need to analyze about the goals, objectives, roadblocks and everything that is related to the product development. This analysis helps to give you a clear picture of what is being required in the project. It will let you know which type of strategy should be built to develop a product as per the given client requirements.
By having a clear vision, you can sort out various things in the first stage. You can know the process that will lead to project completion on time. This is one of those things that is often heavily emphasized by product development leads. They are given the responsibility to complete particular projects on time, which is why having a clear vision about its deadline is pretty necessary. It works as a precursor to build a perfect strategy, one that could align everything and give good results accordingly.
3.2 Research for the Best Plan
Next up, you need to perform a complete research to find out which type of strategy will suit best for your product development. Right now, there are a lot of strategies being used for product development in which every strategy has different goals and objectives. They also work differently, and each of them requires distinctive resources. It is therefore important for project leads to pick a strategy that aligns perfectly with the goals of his/her project. If a wrong plan is picked, then it could ultimately bring negative impact on the outcome of a project.
So, it is advised to first conduct a brief research related to the best product design strategy available in the market. This research should be done by keeping the core nature of your project in mind. The reason is that you cannot just randomly pick a plan for product development. It should be selected after seeing your product needs, as well as the resources available to do the job timely.
3.3 Define Targeted Customers
Once you have completed the research, move towards the next phase of defining your targeted customers. It is a very interesting stage in which you need to list out a particular set of audience that will buy your product. It is important because you cannot blindly target every other individual surfing on the internet. The product sales are always generated with a targeted value, which is why you need to find out the audience that will be interested in your product.
The best way to find these people is by looking at the core niche of your product. It is certainly the best way to know which type of people will show more interest in your product. If you are selling clothes online, then female shoppers will be your targeted audience. Similarly, if your website has gaming gadgets, then youngsters will be your main go-to customers. This is a simple yet very effective technique to know about your targeted customers. It works for all types of products, allowing you to take better decisions on time.
3.4 Differentiate from Competitors
While creating a product design strategy, it is also very important to understand who you are up against. This means that you need to evaluate your competitors and their products in the market. This is a very critical knowledge that should always be kept in mind while creating a product design strategy. It helps you to decide how to differentiate your product from others in the industry. It could be said as a competitive research that should always be done before starting the development.
The major benefit of conducting this research is that it lets you know how to make the product unique among others. In today's competitive world, it is quite important to have some uniqueness in features, as that helps to attract customers more. So, differentiating from competitors is also a key part of product design strategy that should always be given high attention.
3.5 Validate the Strategy
Last but not the least, try to once again look into your branding strategy after finalizing all the things defined above. This re-analysis will ensure whether your strategy is correct or not and how well it has covered all the possible bases. Sometimes, even after full attention, we can miss a lot of things. Hence, it is important to look back again at the plan to make sure the quality of it as per the required needs.
It is best recommended to have two heads at the evaluation stage of the strategy. It provides more broad opinions that helps to make the strategy better. Meanwhile, also try to take some clues from the branding strategies of top companies, as that will also give you good suggestions about the professional practices of product design and development.
Final Words
That takes us to the end of this blog in which we have discussed about product design strategy in detail. It is quite important to understand the basics of this strategy well. The reason is that the success of your product depends a lot on it, especially when it is newly launching in the industry. The product design strategy should always be created by remember several important points in which some have been defined in this blog. These points will help you to build a solid product design strategy, one that could yield positive results for all types of products.
Meanwhile, if you are looking for a digital agency that can help you to design quality websites, give us a call today. We will assist you to design all types of web applications, rightly as per the given demands.
Frequently Asked Questions (FAQs)
1. What is a product design strategy?
Product design strategy refers to a plan that helps to create digital products like websites smartly. It defines a pathway that helps teams to build products rightly according to the given client requirements.
2. What is the importance of a product design strategy?
It is quite important to work with a product design strategy. It ensures to keep the teams on a correct pathway, and helps them to understand the overall design concept appropriately.
3. How to create a product design strategy?
To create a product design strategy, you need to first understand the basics of your targeted product. Furthermore, you need to also see the targeted audience, as that will also help to formulate a correct design strategy.
4. What are the important elements of a product design strategy?
A successful product design strategy always has three main important elements. It includes authenticity, uniqueness and effectiveness of a product design. These three elements always ensure to build a productive strategy that can offer quality results at the end.
5. Which points should be remembered while creating a product design strategy?
As a product lead, you need to keep in mind several points while creating a design strategy. It includes proper market research, clear vision definition, key audience marking and more others.