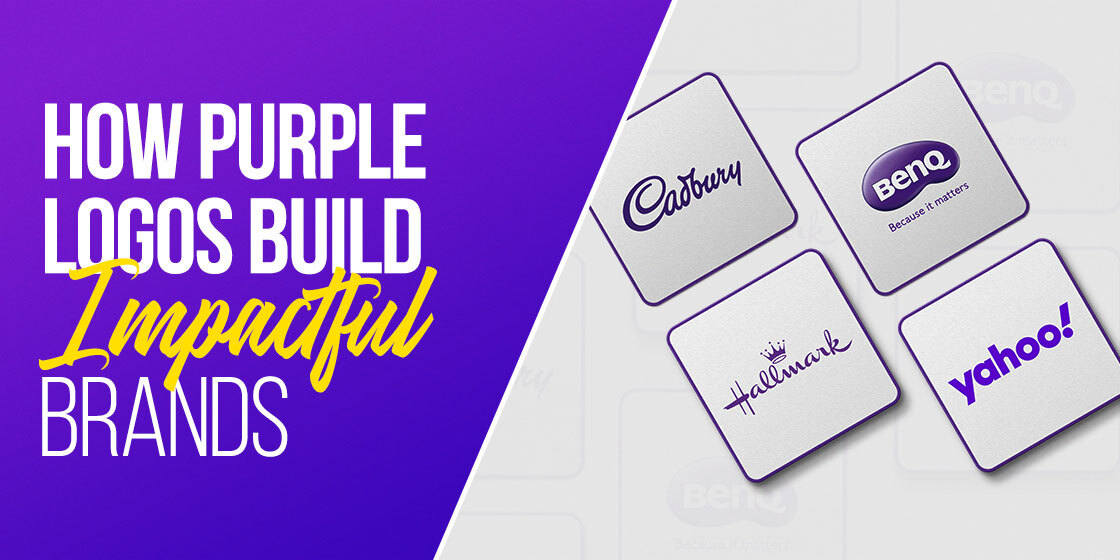 Table Of Content
Discover How Purple Logos Can Be Used to Enhance a Brand's Worth
Many top brands are known for one or more specific colors that are everywhere in their branding, from interior design, to brand logos, and even stationary. Many fast food restaurants use the colors red, yellow, or white in their branding as it is proven successful among consumers.
Such is the case with the purple logos too. While purple may seem a little odd, keep in mind that there are a lot of shades of purple available in the color spectrum, and there are many companies who use these shades to their advantage. From confectionary giant Cadbury, to sports entities like Premier League, there are many companies that use shades of purple, despite the fact that it is rarely found in nature, unlike red, yellow, green, and more.
Let's take a look at how a professional logo design services provider incorporates this seemingly difficult color into a brand's image, and tweaks it's for success like the brands mentioned below.
1- What does Purple Denote in Logo Design?
Purple is a color usually associated with regality, luxury, and opulence. It is the color of royalty and independence. And if your brand represents any of these values, then you can consider purple for its brand visuals.
In color theory, each color has a specific meaning behind it, and its use can subtly influence the viewer into receiving the message you are trying to portray by your design. For example, we usually assume that art made using dark and deep shades is gloomy, while those using bright and light colors are happy.
But how do we, as humans, classify those colors as gloomy or happy in the first place? That is because we studied how the colors made us feel when we looked at them. So if your brand perception corresponds with the meanings portrayed by the shades of purple, then the color can be an ideal choice for your brand.
2- How Can You Use Purple Logos for Your Brand?
As we mentioned earlier, the logo color meanings play a huge part in how successful your brand symbol will be among consumers. If the color doesn't appeal to the viewers, or doesn't portray the right message, or doesn't represent your business tone, then no matter how popular the color, it wouldn't be the right color for you.
For example, a corporate law firm with a hot pink logo would fail to attract the right customers, as their logo wouldn't appeal to their ideal target customer. On the other hand, the same logo in a more neutral or sophisticated color palette might be a massive success, despite changing nothing about it except the color.
Therefore, you need to evaluate whether the shade of purple you are planning on using is the right fit for you. Ask the people you trust to give an honest opinion, or even poll you potential customers to get feedback on how your perceived logo would fare.
3- Popular Purple Logos We See Brands Sporting Around Us
Now that we have established that purple is a viable choice for a brand logo, you might be asking whether there are actually any famous brands who have made the color work for them.
Well, to answer your question; yes there are popular brands who use purple logos quite successfully. Let's take a look at a few of them to understand why the color works for them.
3.1- Hallmark

Let's start with Hallmark. Hallmark is a private entity that is known for making greeting and wishing cards and other such material. Considered the top in creating and harnessing sentimentality within their cards, its no wonder that the color purple works for them so well.
As the top producer of these cards and materials, they are able to portray that they are the royalty of greetings companies. And with a huge variety of materials to choose from, they also portray a decadent indulgence that they pass on to their consumers.
3.2- FedEx

FedEx is arguably one of the most famous purple logos in the world, especially as it is one of the most popular courier and logistics company in the world. A seemingly simple wordmark at a glance, there are many hidden messages within its design.
Besides the use of purple, the logo also uses negative space to enhance the logo's message. Moreover, the brand also incorporates the purple color into all aspects of its branding, from stationary to uniforms and more.
Their use of the color purple is used to denote reliability and confidence. Plus, the color provides a great contrast to the orange that makes up the other part of the logo. This makes their logo unique, thus helping it stand out from the crowd.
3.3- Taco Bell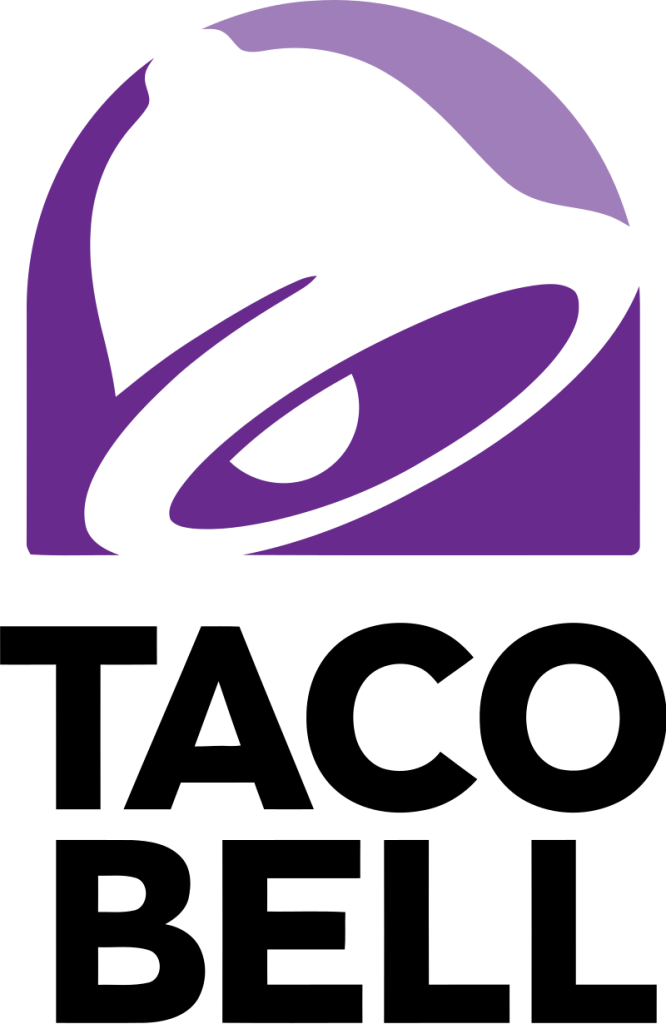 Purple logos are rare in the restaurant business. However, that is exactly what sets Taco Bell's logo apart from the competition. Taco Bell is a US-based tex-mex restaurant specializing in a variety of tex-mex cuisine like burritos, tacos, and more.
While the use of their color purple may have seen odd at the beginning, the fact is that their odd choice only helped the brand stand out in a highly saturated market. And that is all because they properly researched and aligned their business tone and message with the color.
The most recent version of the logo comes in two different shades; one lighter and the other darker. The darker shade helps it stand out as the leader in cheap and quality tex-mex food, while the lighter shade is designed to appeal more to their target communities as it gives off a more friendly vibe.
3.4- Twitch

Twitch is a popular streaming platform that has becoming popular among users, especially gamers, who want to monetize their video streams to earn money. Previously, YouTube was the go-to for people like that.
However, this Amazon-backed venture quickly changed that scene, and today, many top content creators use Twitch as their streaming platform of choice.
As a tech-driven brand, it was necessary for Twitch to appeal to the younger generation. Their choice of color in a lighter purple is perfectly eye-catching for the target demographic, especially with style of the typography in their wordmark making for an overall great brand logo.
The mix of retro and modern is what makes the logo work so well among those that value creativity and uniqueness.
3.5- Yahoo

Yahoo Is one of the oldest tech brands today who used or is using a purple logo. Initially, the overall look of the logo was designed to be more appealing to the youngsters, with the lowercase wordmark and the exclamation point at the end of the name.
Unlike the other companies at that point, like MSN and Google, Yahoo wanted to be more visually stimulating and appealing, and decided to use purple instead of the various shades used by the other two at that time.
And it worked. People flocked to it. The bright purple was a welcome relief from the drab logos of other search engines and email services providers. Plus, the lowercase letters made the design more appealing and friendly to the target audience.
3.6- Los Angeles Lakers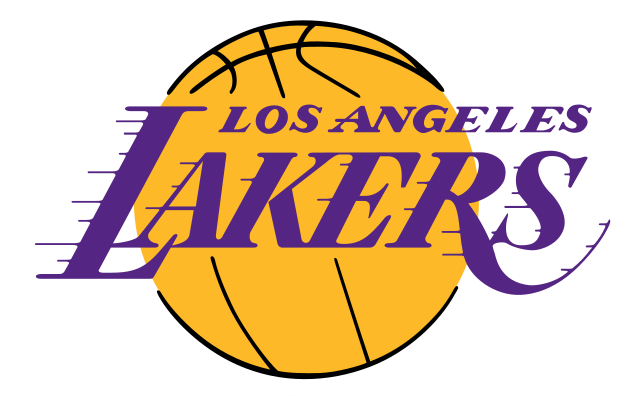 The Los Angeles Lakers are one of the oldest and most well-known teams in the NBA, fielding some of the greatest legends of the sport over the years. their use of the color purple in their branding was a masterstroke, helping the team stand out among the rest of the league.
Their logo maybe one of the simplest NBA logos in circulation, but the choice of purple with a loopy font over an orange basketball makes it a great one nevertheless. The contrast is remarkable, making for an easily recognizable logo whether you are watching it live and in person, or watching on the television.
3.7- Baltimore Ravens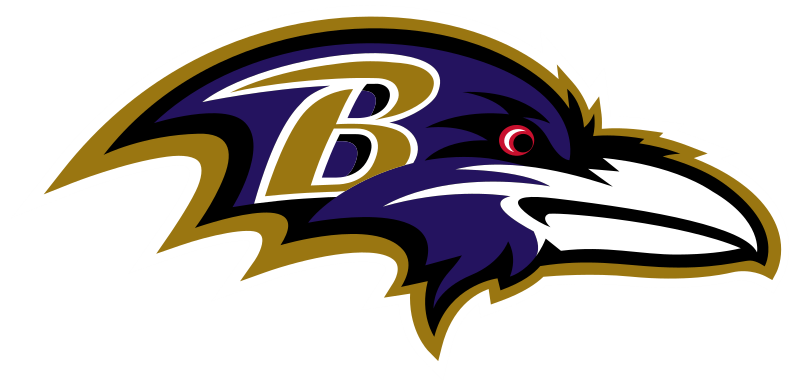 The Baltimore Ravens are another sporting team who have taken great advantage of the dark and mysterious purple for their brand. One of the most successful teams in the League, they also sport one of the most iconic NFL logos of all time – a purple and black raven head.
The sharp angles of the design colored purple, outlined in dark gold and highlighted in black make for a mysterious, dangerous, and overall interesting look for the logo. This shows that like the raven, they are smart, resourceful, and ruthless when needed.
Plus, the color combinations gives the design a regal and sophisticated vibe, while the highlights make the design look modern and gives it a much needed color depth.
4- Conclusion
In short, when designers learn how to design a logo that suits the brand aesthetics, one of the most important things they learn is choosing the right color scheme. Despite that, many designers play it too conservatively and fail to experiment with new and exciting color palettes for fear of delivering a failure of a logo.
What that does is that it stunts creativity, and refuses you the opportunity to be a trendsetter that stands out from the crowd successfully. The brands mentioned above did so, and proved themselves worthy of using purple logos successfully.
5- People Also Ask (FAQs)
1- What are some more popular purple logos?
Some other brand logos that use purple in their design include:
– Cadbury logo
– BenQ logo
– SyFy logo
– Monster.com logo
– Discord logo
2- What does a purple logo mean?
Generally, a purple logo is meant to depict royalty or luxury. Moreover, it can also be used to depict freedom and regality.
3- What does purple mean in branding?
In branding, purple is often used to depict wisdom, dignity, creativity, independence, mystery, mysticism and spirituality, and much more. However, lighter purple shades like lilac are more suited towards feminine nature than darker shades, and the shade you use can often dictate the meaning you are trying to portray.
4- Why is purple so popular a color?
Purple is a color we often associate with luxury. Therefore, it appeals to people on an innate level. Purple colored stuff, especially the darker shades of the color, are considered more luxurious than the lighter shades, which tend more towards creativity and freedom than luxury.