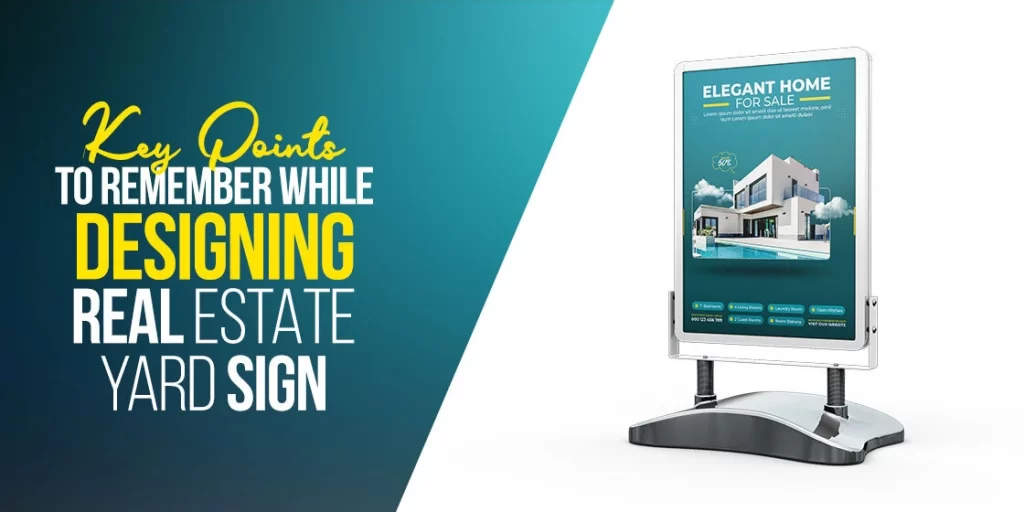 Understanding the Importance of Uses of Real Estate Yard Signs

We all know how competitive read estate industry has become during the last few years. The rising competition in this industry has forced many companies to ramp up their branding activities. They know that regular promotion of their business will help them to get more clients from the market. To make sure it happens, they pay attention to create catchy real estate yard signs to grab customers' attention. It is a major part of their onsite branding that is especially used to display different types of deals offered to the customers.
The yard signs used for real estate branding are different from the conventional banners and posters. They are not like something that could be posted on walls or front doors. The utility of these yard signs are far better than this, because they are placed strategically at different places to attract customers. This is the core reason why they should be designed smartly by taking services from a professional graphic design company.
If you will not pay attention to these yard signs, the branding of your real estate business can suffer. It is therefore recommended to use best practices while designing them, so that your company can get a solid display in the market. In this blog, we will discuss about them in detail, so that you can create them according to the latest market trends.
But, before discussing the tips straightaway, let us first understand the importance of real estate yard signs for realtor branding. Let's explore this fact below.
Table Of Content
1. Importance of Real Estate Yard Signs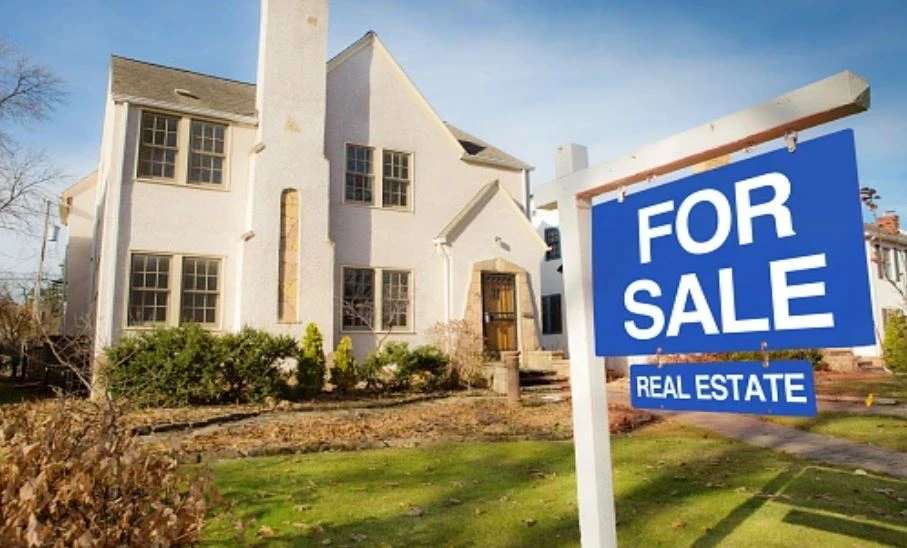 Every real estate company wants to promote its services in the market. It is basically their primary source to get recognition and build a name for their business in the industry. But to do that, they need to be creative, and smart as well. Nowadays, the usage of conventional methods is not recommended to anyone. These practices have become outdated and are not used by modern realtors to promote their services in the market.
Instead of using banners and posters, real estate companies now use specialized yard signs to promote their deals and offers. It is a very useful branding material that helps companies to market their services at different places. Besides being placed at the office, they are also positioned at other sites where real estate marketing activities are planned in advance.
These yard signs are considered more important for real estate companies as compared to other businesses. They allow realtors to showcase deals placed on different properties, so that potential customers can show interest in them. It is the reason why these real estate yard signs should be designed creatively, as they play a major role to market properties that are put on sale.
2. Best Practices to Create Real Estate Yard Signs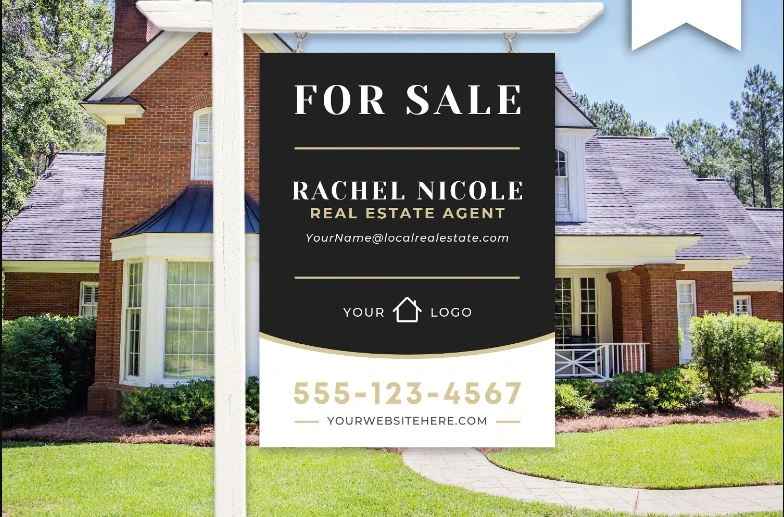 To create real estate yard signs, you need to know about some important tips. It is not a random marketing banner or poster that can be created without doing any research. It is a specialized product that requires good understanding, as well as proper knowledge about the placement of different things.
Many beginners often commit mistakes due to not having enough knowledge about yard signage designing. They use conventional designing ideas for this material, which is indeed a wrong approach. To help them out, we have defined some important tips below to design real estate yard signs. It will help them to select the best theme, color combination, styles and other elements needed to design a real estate yard signage perfectly.
Let's take a look at them in detail below.
2.1 Conduct a Proper Research
A proper market research is always required before launching any venture in the industry. Same theory goes for any branding activity, as it helps you to pick those practices that are popular in the market. As far as designing real estate yard sign is concerned, you need to conduct this research properly. It will let you know which type of designs are currently being used and how they can be created keeping your company branding in mind.
A lot of times, graphic designers do not conduct this research and design sign yards randomly. It is a common mistake done by many designers, mostly by those that are beginners in the field. It only creates difficulties for them when the finalized design doesn't offer them the required market value. Therefore, this practice should be avoided and yard signs should be always designed after doing a proper market research.
There are various sources available from where you can get plenty of real estate yard sign design ideas. The biggest search engine, Google can certainly be your best choice for this process. It is the global hub where you can find design ideas for anything, ranging from yard signs to banners and more.
2.2 Pick a Creative Design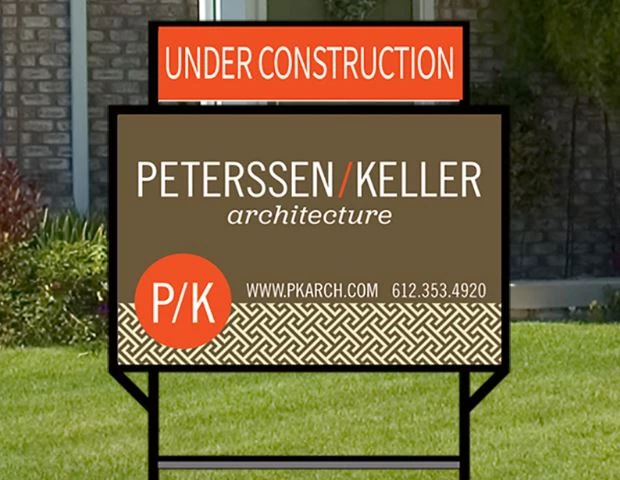 Once you have completed the market research, try to pick a design theme that suits best for your company branding. This is an important phase in which you will pick a creative design for your real estate yard sign. The research conducted in the first stage will help you to pick the best design for this branding material. That is why it is important to complete the first step properly, as it allows you to move forward with a proper mindset for design selection.
To keep uniqueness in the design, it is best recommended to pick a custom design for your real estate yard sign. This design should be created by keeping your company background in mind. Its theme should relate with your company branding, as that precisely helps to showcase a strong relation to the customers.
If you are struggling to create a custom design for yard sign, take a look at the boards of your competitors. It will let you know how others have designed for their signage and how you can bring uniqueness in your design. It will also give you a prior notice about the things that should be avoided in the design. This way, you can work with a proper plan to design any yard sign as per the best practices.
2.3 Use a Special Vanity Number
It is often noticed that real estate businesses fail to convert leads into potential customers. There are many reasons behind it, including lack of focus, targeted approach and more others. Many times, realtors also lose track of their potential leads due to being busy in attending other business related calls. This is a common problem reported by many realtors, hence it needs to be taken seriously and must be resolved by finding a precised solution.
Generally, this problem arises due to operating with only one phone number. It is not just used to attend existing client calls, but also for those that are looking to ask some queries. Unfortunately, it often creates confusion among the minds of agents. They lose track of those people that are looking to ask about properties as they have just found out the number online.
The best way to manage this scenario is by using a separate vanity number for new potential leads. It will not divide your focus, but will let you know the difference between current and new customers. Ideally, this number should be placed on your yard sign, as it is used to promote services in the market. You can place it boldly on the front, so that everyone can read it properly. Besides that, you can also use it on real estate business cards to further let the customers know about the new number for business consultation.
2.4 Use QR Codes in the Yard Sign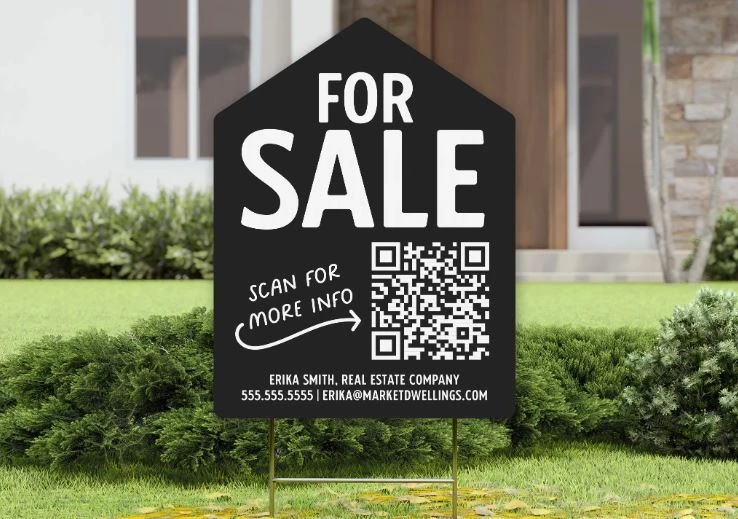 We all know how vast technology has progressed during the last couple of years. Today, everything is available on the internet and you can easily access them by just entering few important details. The usage of QR codes in this regard has become very important. It is a great technology that lets you connect with any website or app by scanning a piece of code from mobile. Many businesses have started to use it to facilitate their customers in building a safe connection with their website.
If you want to make your yard signs unique among others, try using QR codes with them. It will give your branding a new look, allowing customers to take more interest in the offerings. They can quickly move to your website by scanning these QR codes on the go. This will also help to increase website branding, giving your online presence a solid look.
However, to develop a QR code for the yard sign, you need to take assistance from professional web developers. It is basically a technical task that requires skilled hands at the work. So, it is better advised to consult with an experienced agency, as they can help you to develop a fully functional QR code for any branding material.
2.5 Use Creative Shapes
To make your yard sign unique among others, you need to bring an element of creativity in its designing. This can be done in numerous ways, such as using an unorthodox feather-shaped for yard sign designing. It is a type of shape that is not much used, hence you can set a new trend in the market by introducing it for your business.
The feather-shaped signage looks quite sleek, allowing you to place multiple pieces of them easily at one place. The designing of their visuals will however be a tricky job, because you have got a limited space on them to describe various things such as real estate slogans, property deals and more. This is something in which you will need to use exact specifics, rather than mentioning different things in detail.
If you do not have much idea how these yard signs should be designed, take a look at the examples available on the web. Though, you will not find them in an excessive quantity, but still there are plenty of examples available that could help you to get some inspiration.
Final Words
That takes us to the end of this blog in which we have discussed about real estate yard signs in detail. These branding materials are termed very important for real estate businesses. It helps them to showcase their services and let the customers know about the finest property deals available around. By designing them correctly, realtors can get good benefits in terms of elevating their marketing persona effectively.
Meanwhile, if you are looking for a design agency that could help you to create these yard signs perfectly, get in touch with us today. We have got years of experience in designing various kinds of branding materials righty as per the given demands.
Frequently Asked Questions (FAQs)
1. Why real estate yard signs are used by the companies?
The purpose of using real estate yard signs is quite clear and simple. They are used to promote real estate services of any company. These signs can be placed outside the office, or other places where strategic marketing activities are required.
2. What is the importance of using a yard sign?
Every realtor knows about the importance of using yard signs. It is a major part of their marketing activity that helps them to promote their real estate services at a specific place.
3. How many types of real estate yard signs are there?
There are different types of real estate yard signs used in the market. They are selected on the basis of branding requirements, as well as the places where they are positioned. Some of the popular types include swing post, a-frame, h-frame, flag yard signs and more others.
4. Which type of color combination should be used in the real estate yard sign?
You can use different types of colors in the yard signs depending on the branding requirements. There are no restrictions for it. However, just make sure to use them in a proper balance, so that the overall visuals could look decent to the eye.
5. What is the ideal size of real estate sign yard?
The ideal size of a real estate sign yard is 24″x18″. It is generally recommended for most signs, however, you can alter it as well according to your custom positioning requirements.