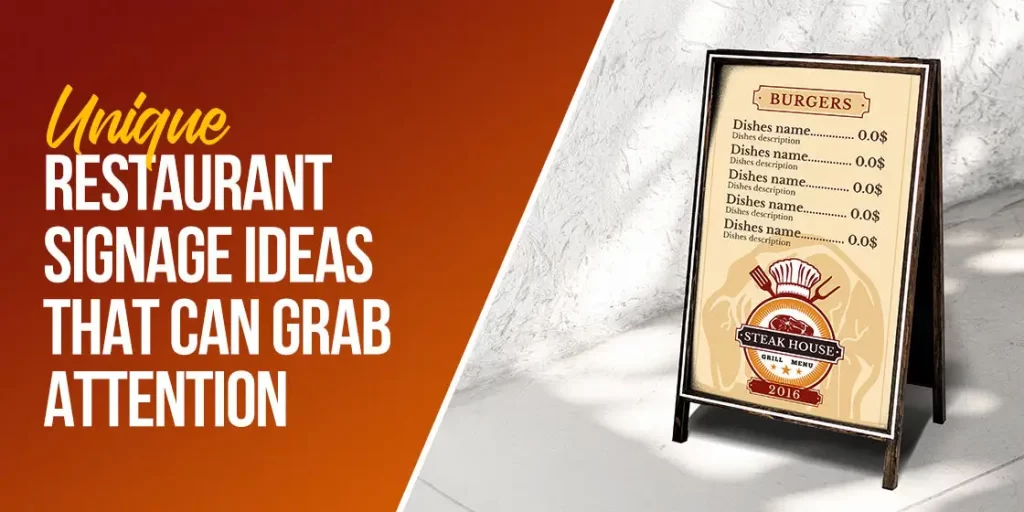 Table Of Content
Learn About the Best Practices to Create a Restaurant Sign

Branding plays a vital role in the promotion of any restaurant. It works specially well for those food chains that have opened newly. Among different types of materials, restaurant signs are considered more important. The reason is that they get more attention of the visitors if their designing has been done smartly. That is why it is advised to always use unique restaurant signage ideas while creating these banners. They are quite crucial for branding, so try to always design them by keeping latest trends and practices in mind.
Nowadays, restaurants use different types of signs outside their place. Most of them have promotional content related to any new deals and discounts offered by the restaurant. These type of deals precisely help to grab attention of the customers at the first glance. It attracts their eyeballs as soon as they see particular discounts on different food items. That is indeed a great way to not only promote restaurant, but also increase traffic towards it.
For startups, the restaurant signs works precisely well. It is their go-to material for promotion, and people do take notice of them. However, designing them perfection is something many designers need to learn. They are not a simple standee that can be designed with just a restaurant name and tagline. Instead, some unique elements are required in these signs, which is why you need to use creative restaurant signage ideas while designing them.
If you do not know much how to design these signs, this article will definitely be a good read for you. It will enlist different types of restaurant signage ideas that will assist you to design these promotional materials flawlessly. Let us first start from the basics understanding why they are needed by a restaurant, especially by fast food chains.
1. Importance of Restaurant Signs in Branding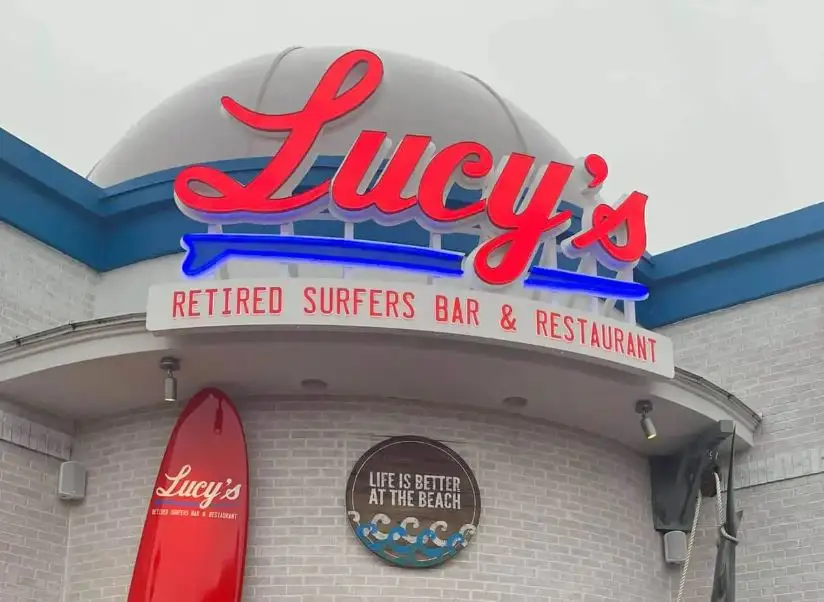 Every restaurant wants to attract customers right from its first day of operations. It is their primary goal to get success and build a name in the food industry. To do that, they not only pay attention to the quality of their foods, but their effective branding as well. This is certainly important because just offering quality food won't allow you to reach masses quickly. You just can't rely on the word of mouth marketing, as that can take a lot of time to spread awareness among the foodies.
To build a decent name in the market, you need to solidify restaurant branding. Nowadays, restaurants especially fast food chains pay use various types of materials to give a boost to their branding. The usage of catchy restaurant signs is one of them because it comes first into the notice of people whenever they visit the food place. To design them, they often take professional graphic design services, as that ensures to build quality stuff according to the best market standards.
Using these signs, new food places let the people know about their opening. They also promote different occasional deals through these banners, so that food aficionados can come rushing to them. It is good branding approach used by many restaurants, hence you should try that as well. But, to get its full benefits, you need to design restaurant signs creatively. They should be created keeping the latest trends in mind, so that the food place can showcase a modern identity to the people.
2. Best Restaurant Signage Ideas That Can Turn Heads
While designing any restaurant sign, you need to incorporate a great set of creative elements in the design. This is important because without that your restaurant sign will look ordinary just like others. This will not help your food branding to get attention no matter how big or colorful the signage is.
To make sure your restaurant signage doesn't gets lost in the branding competition, try to use creative ideas while designing them. This will require a good amount of market knowledge, as that precisely helps to know which trends and techniques are currently running hot in the market.
Luckily, to save your time, we have compiled some of the best restaurant signage ideas briefly in this blog. These practices will help you to design a catchy restaurant sign that will not only showcase your branding, but will also make it unique among others in the industry.
Let's take a look at them below.
2.1 Wooden Restaurant Sign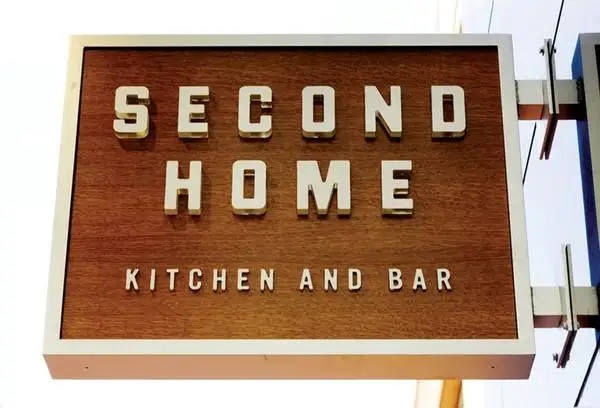 It often looks good to bring a vintage touch in your restaurant branding. By using a wooden signage, you can make a perfect signboard that can portray a strong vibe of classical restaurant branding. Nowadays, many coffee shops especially use these signs to bring that exact touch in their outdoor signboard. The designing of these signs is not that hard, but it requires good creative thinking as well. The reason is that you cannot just design them plainly, as that will look very ordinary and average to everyone.
To make a wooden restaurant signage, you have to first pick a solid masculine font. These typefaces actually look very good on wooden boards, hence they fit perfect for these signs. Secondly, you have to choose the color to design all that stuff on brown wooden sign. Generally, white color is preferred for these type of signs, but you can also go with jet black as well. Meanwhile, just make sure that all the design elements used in this sign have proper spacing, so that everything can be seen clearly to the customers.
2.2 Iron Sign Design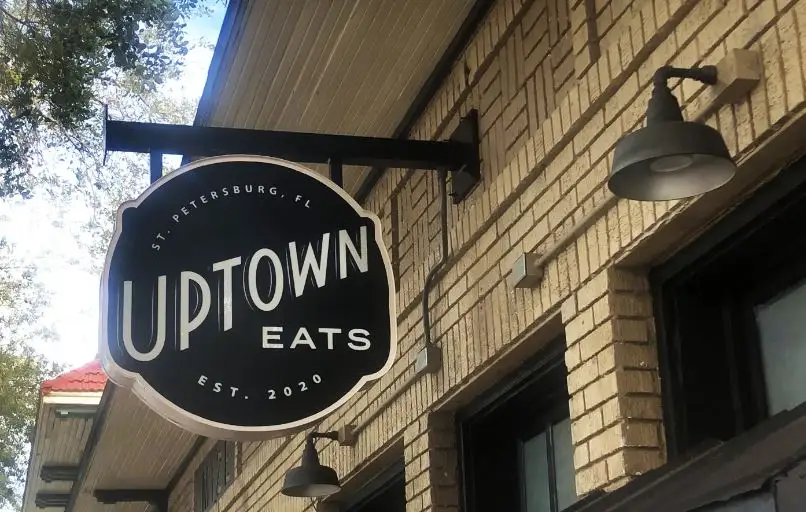 When it comes to showcase creativity, you need to do out of the box things to make a perfect case for branding. The iron sign design is certainly one of those things that offer a unique touch of ingenuity to your restaurant signage. It is kind of a new sign type that does not need any printing or signboard. Instead, it totally depends on the iron stand that is molded precisely to illustrate the name of the restaurant. This is something very unique because conventional signboards are not created in this manner.
This iron stand is usually hung by the wall or attached closed to it. If you will light it up with tiny LED lights, then the overall signage appearance will even look better. Many restaurants use this idea to make their signs noticeable for everyone. Generally, red or blue lights look good with these iron signs, but you can choose others as well depending on the preference. Similarly, these iron signs can be decorated with other materials as well, such as flowers, balloons and more others. You can choose them separately according to the occasions, so that a unique touch can be seen in restaurant branding.
2.3 Flashy Sign Design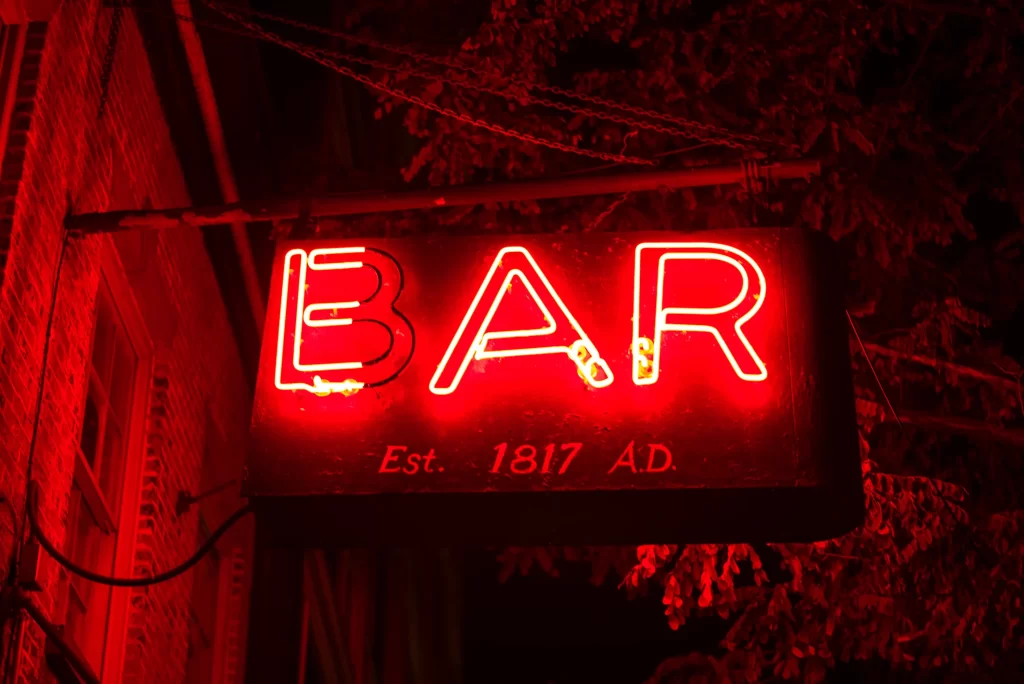 If you are fond of using flashy stuff in the restaurant signs, this technique suits perfect for you. It refers to a type of sign in which everything is showcased boldly. Generally, these signs use big LED lights to display restaurant name and its tagline. It helps to give a resounding presentation to the restaurant name, so that people can notice it even if they are standing far from the sign. These signs are therefore precisely positioned at the rooftop, as it offers a great towering view to the sign.
Talking about the colors, these signs can be created using different types of colors. Though many restaurants love to use red and blue colors in their signs, but you can choose other color combinations as well. The best way to choose them is by looking at their restaurant's core branding theme. It will help you to choose the best colors that can represent a stunning look of your food place.
2.4 Exterior Menu Signage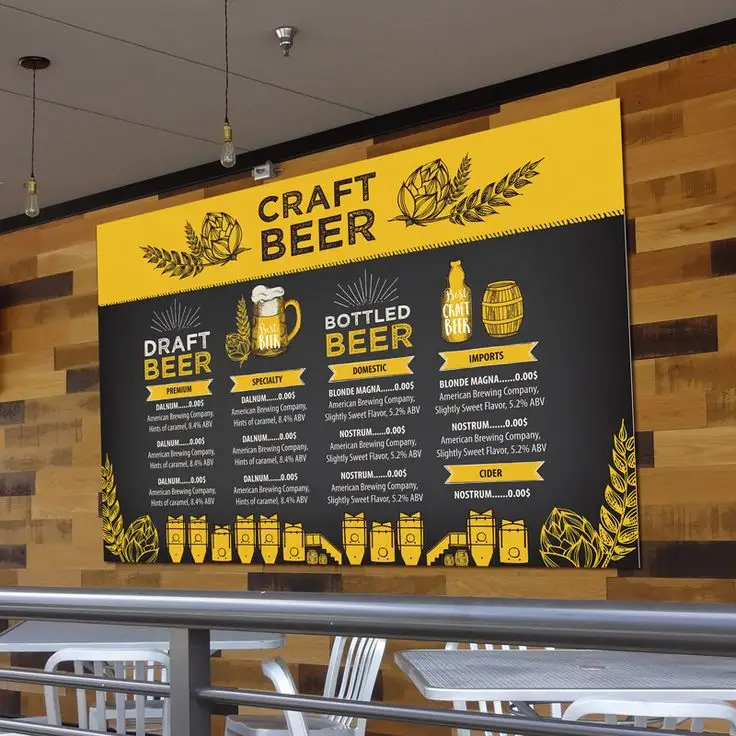 It is also a nice idea to attract customers by showcasing your restaurant menu right at the doorstep. Though this approach is not used by many restaurants, but it is certainly a very good way to showcase your food offerings to the incoming customers. Keep in mind that this signage will be bit detailed because displaying menu items on a sign requires a lot of space. So, try to design this signage very smartly, so that everything looks clean on your restaurant signage.
Because this signage includes a lot of content, you would also need a catchy font style to write them down on the big banner. Here, you have lot of options to go with, such as futuristic fonts, recursive typography and more others. All of these font styles are pretty good if used in a correct manner. You basically have to pick a proper font size as well to make them look good on the signage. Therefore, try to keep all these things in mind so that your restaurant menu and name can have a proper presentation on the signage.
2.5 Mascot Signage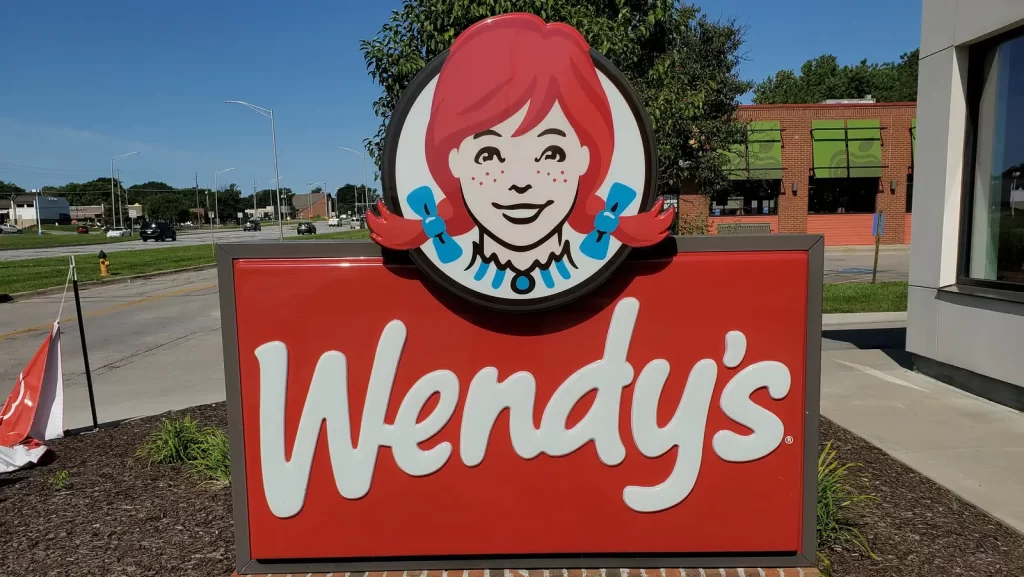 If you want to add a bit of element of funk in the signage, try using some sort of mascot in its design. This is a very nice way to not only attract adults, but also children as well. They simply love these mascots, especially if they are related to any animal character. These mascots can be displayed alongside your restaurant logo on the signage, representing a very creative branding identity of your place.
To design a fun loving mascot, you need to hire a professional designer who knows how to craft a cool character of any animal. Nowadays, many restaurants use mascots for branding, as it helps to grab the attention of customers whenever they visit their food place to enjoy quality cuisines.
Final Words
That takes us to the end of this blog in which we have discussed about different restaurant signage ideas in detail. As a stakeholder, you need to know about these signs as they are directly related to your branding. These signs specifically come into the notice of customers, hence they should be always designed properly. It is best recommended to know about the latest trends while designing them, so that these restaurant signs can exhibit a modern identity of your food place.
If you are looking to design a creative signboard for your restaurant, get in touch with us today. We will help you to get quality restaurant signs, rightly as per the given custom requirements.
Frequently Asked Questions
A restaurant signage refers to a particular sign that helps to illustrate the identity of a restaurant. It is mostly used outside of the food place, so that every visitor can see it while coming to the restaurant.
Restaurant signs are considered important for branding. They always come into the notice of people whenever they visit any food place, hence they should be precisely designed using right elements.
Considering the options available, you will find different types of restaurant signs being used in the market. From LED powered signage to iron stand design, there are various sign types with which you can showcase your restaurant branding.
Restaurant signs can be created using different types of colors. Many food places like to use simple and decent shades, however you could also use some flashy colors in its design depending on your branding preferences.
Typography plays an important role in the designing of branding signs. Ideally, it is advised to use bold font styles in the restaurant signs as they make their content prominent. But, if you want to display a subtle style, you could also use catchy recursive fonts as well.