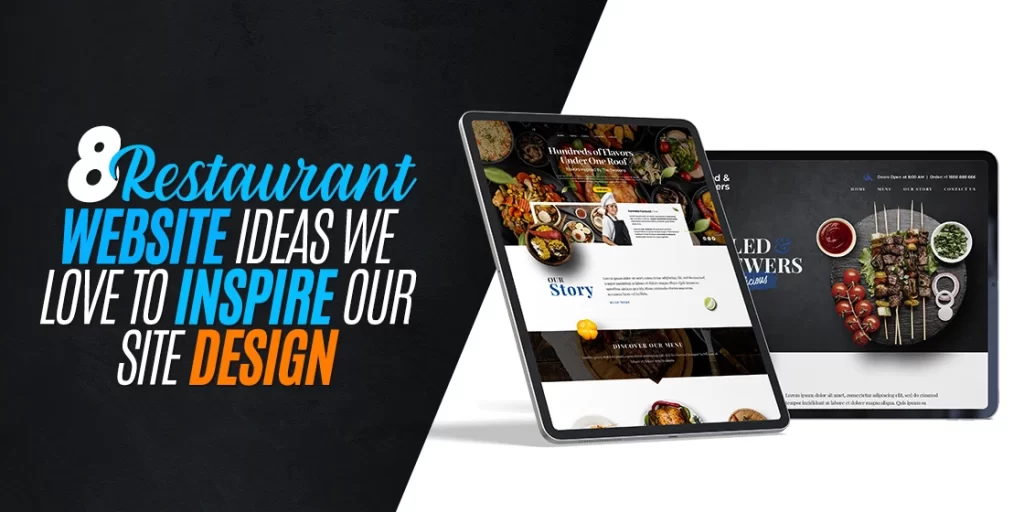 Table of Content
Discover How to Leverage Your Restaurant Website Design Ideas for a Better Experience
Before your taste buds are able to savor a bite of food, your eyes have already analyzed the dish carefully. In your mind, there is already a picture showing how the dish might taste, and only a stark difference in what you were expecting is going to dissuade you from your preconceptions.
That is exactly why restaurants aim to entice their customers with catchy visuals showcasing great presentation skills. However, it doesn't matter how catchy you make the visuals if the overall site experience is middling at best. That is why using tried-and-true restaurant website ideas can help you develop the perfect website for your target consumers.
However, if you look at the various restaurants websites available on the internet, you will find that they opt for drastically varying styles in website design. So how would one know what website styles would be perfect for their restaurant?
Well, we understand that this can be a confusing and time-consuming process. We have compiled a list of eight of the best restaurant website design ideas we believe are perfect to cover a lot of the basis for someone looking for inspiration for their restaurant website.
So, let's dive in and take a look at them, and learn the importance of design ideas in creating restaurant websites, as well as how to use these ideas to help your hired web design agency build the perfect site.
Why Should You Focus on Your Restaurant Website Design?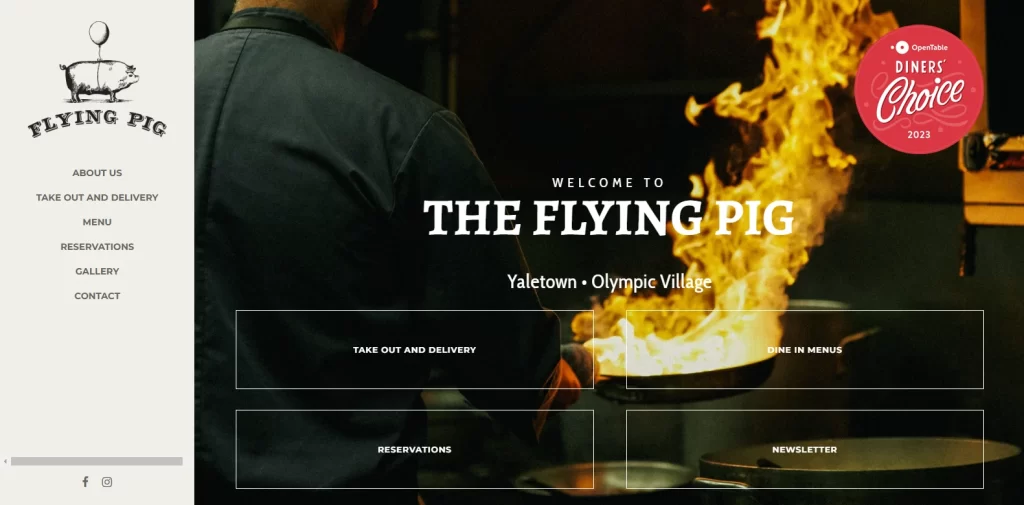 Today, one of the most common ways people look for new places to eat is by browsing the web. Now, when you look up restaurants near you, you will often come across their websites too. And when choosing the perfect place to have dinner, people love to check out and compare the ambiance of the options available. Now, for high-end restaurants, it is more about the elite ambience. While for everyday fare, elements like the combination of vibe, logo, and restaurant slogans dictate the choice, a popular example that being Olive Garden.
Now, one of the most common problems plaguing many restaurants today, is the fact that many of their websites tend to look or feel the same. This blandness in design often leads to people failing to be attracted to their restaurants, which hurts business. In fact, recent stats say that 68% of consumers avoid visiting a restaurant that has a bad website.
That is why, you need to focus on your website design, and come up with something that appeal to your customers' sensibilities, similar to the website for the Flying Pig above.
So, before we start with discussing various restaurant website ideas and their merits, let's take a look at some reasons as to why the design of your restaurant website matters in the first place.
The website of a restaurant is very important nowadays, as over 77% of consumers today visit the restaurant's website before dining there.
Takeaway and delivery are common forms of patronizing a restaurant. And a far higher percentage of people prefer ordering from the restaurant's website rather than through a delivery partner like Grubhub or Postmates.
A website offers a more immersive and organic digital experience of the restaurant compared to social media, meaning you will have an easier time converting a consumer with a great website.
8 Restaurant Website Ideas to Get You Started On Your Own Design
Now that we have seen why website design ideas are so important, we understand that focusing our resources to create an awesome design for our restaurant's website is imperative to our success. But the question is, where should you start?
As we mentioned earlier, a number of styles are followed by different restaurant websites. Based on these, you may decide that a specific style suits your restaurant's vibe the best. However, in order to do that, you need to carefully evaluate your business, and understand the mentality of your target consumers. Then, and only then, should you shortlist or finalize the design style that you want to incorporate within your restaurant website design ideas.
So, before you begin that journey of self-discovery for your business, let's take an exploratory look at some of the top restaurant website design ideas to see what some interesting styles for inspiration.
El Pez Kitchen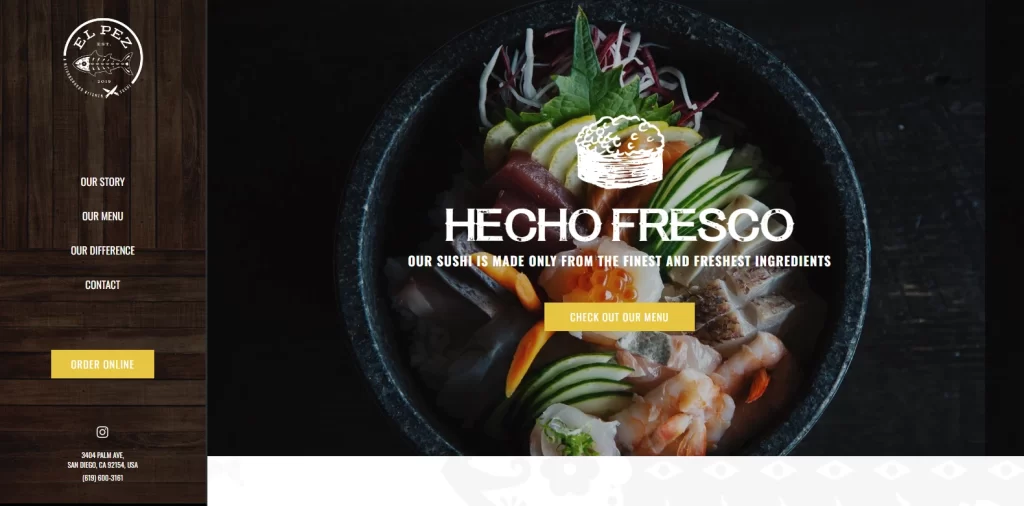 The first website on our list is the El Pez Kitchen. This restaurant is based out of San Diego, California, and offers a fusion of Japanese and Mexican cuisine in a tantalizing and interesting manner. Taking inspirations and ingredients from both cuisines, the restaurant redefines popular dishes for a gourmet experience to remember.
Coming to the website, the design seems like something you would see at a casual sushi restaurant, with wood paneling design on one side of the page. However, the look at the logo, which features distinct Mexican styling elements, as well as the look of the dishes displayed on the webpage, adds a clear Mexican vibe to it.
Overall, in unorthodox pairings with a delectable vibe is what you are after, then this website should be on your list of top restaurant website ideas to try.
The Fat Duck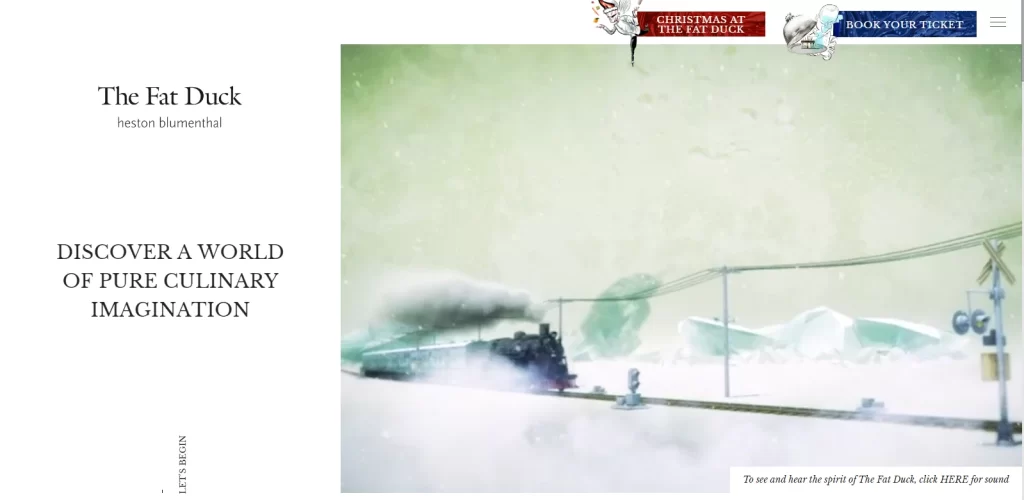 Next up, is the well-known flagship restaurant for Heston Blumenthal called the Fat Duck. One of the world's foremost chefs to popularize the concept of molecular gastronomy in mainstream cuisine, Blumenthal's three Michelin-starred restaurant is a popular gourmet spot. Diners say that the multisensory experience at the restaurant is something out of this world, an experience that can be witnessed in the design of the website as well.
At first glance, the Fat Duck's website does not look like it belongs to a restaurant at all. In fact, there is a distinct lack of foodstuff within the hero section of the website's homepage. However, keeping with the theme of the head chef and the restaurant, the avant-garde website has a unique layout and content style that is all about reinventing the art of cooking and dining. Thus making it a sensory masterclass. Overall, this is one of the most unique restaurant website ideas, but one that would be very difficult to implement successfully.
KOI Dessert Bar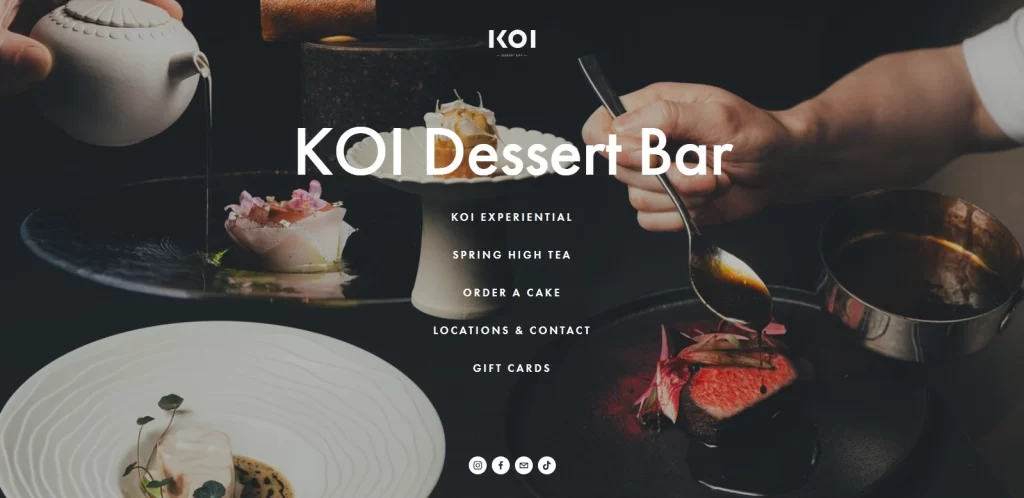 The next restaurant website on our list is KOI, managed by owner-chef Reynold Poernomo, a dessert specialist who is known for turning dishes into true works of art. A two-time alumnus of MasterChef Australia and one who has astounded titans of the industry with his culinary masterpieces, Chef Poernomo brings his eclectic style to his restaurant/dessert bar, called KOI.
Now, the website for the restaurant is elegant and sophisticated, something you would expect from a restaurant run by a high-end chef. At first glance, it may seem like one of the high-end bakery sites, especially when you consider the name. But a while later you will understand that it is a restaurant that focuses on all aspects of dining, with a sharp focus on the end of it, which is dessert.
With a rolling slideshow of images that show various aspects of the restaurant, the overall vibe is decidedly upscale. So, if that is the vibe you want to go for, this is one of the top restaurant website ideas for you.
Le Bernardin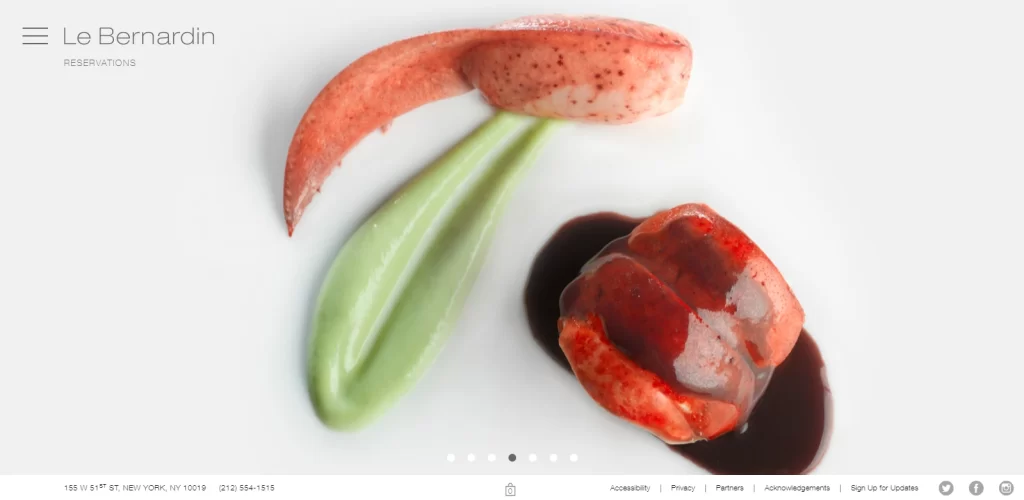 Le Benardin is a French restaurant managed by Michelin-starred chef Eric Ripert. As we mentioned in KOI, a certain level of visual tantalizing is expected of such high restaurants. And in this case, Le Bernardin delivers that and more.
Based on a neutral background, the high-resolution images of their dishes transitioning through a slideshow makes for a great page hero. With sharp pops of color contrasting against an interesting juxtaposition of dark and light shades, the color combinations are a great way to entice customers into visiting the restaurant.
El Catrin Destileria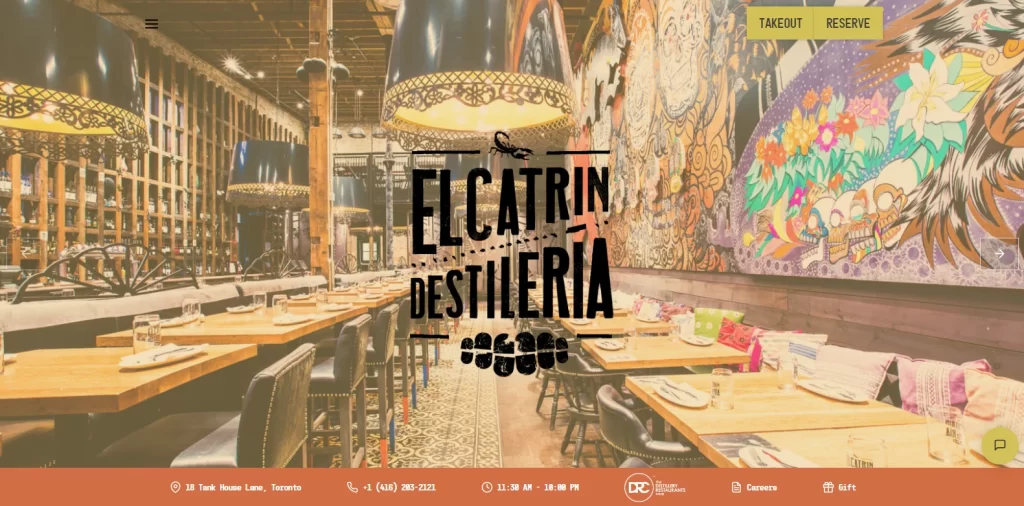 El Catrin Destileria is a restaurant and distillery that specializes in Mexican cuisine with a modern twist. To complement their authentic food, the restaurant also has a distillery that produces high quality mezcal and tequila, with one of the largest range of both in the country.
Looking at the website, you definitely get a Mexican-Latin vibe from the design and the color scheme. Moreover, the images of the restaurant and the food, interspersed with little snippets of text, make this one of the best restaurant website ideas to implement. Especially when you consider that no matter where you are on the page, the buttons to order Takeaway or reserve a table are prominently displayed.
Cantilever Chippy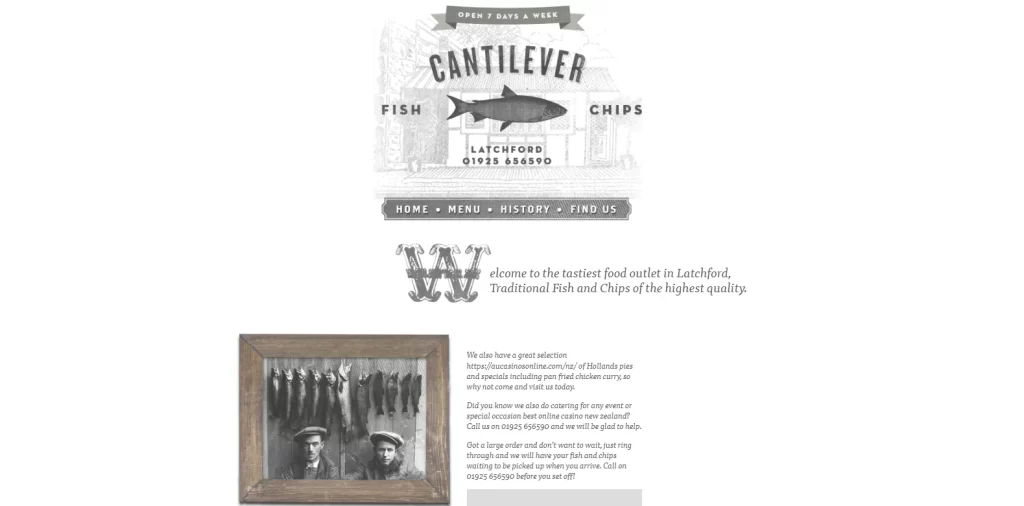 Up next, we have Cantilever Chippy, a fish-and-chips shop in New Zealand. Unlike the other websites we have seen on this list so far, Cantilever goes for a vintage look for its design, with a few modern twists thrown in.
The website has one of the best-looking restaurant logos of all time, perfectly displaying what the brand is all about. Moreover, the design of the page is very intuitive, and your eye is drawn to the next section automatically. Overall, with a monochromatic color scheme and a newspaper style design, this is a one of the best restaurant website ideas to emulate.
Quay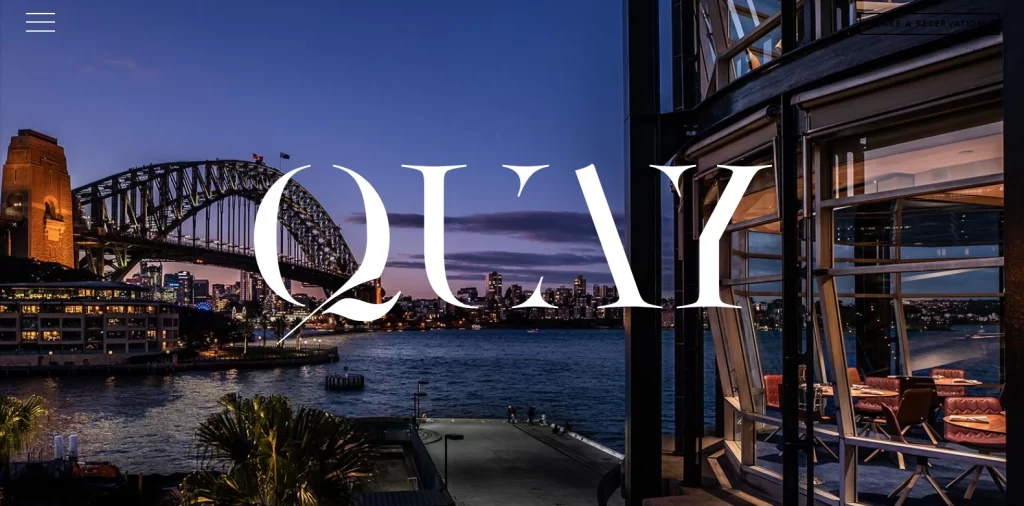 Quay is a restaurant known for its great views and amazing food, courtesy of Peter Gilmore. Located on the Sydney Harbor, the restaurant boasts an ambience like no another, made all the greater by amazing food and service. The restaurant is also known across the country for some of the best desserts created by head Chef Peter Gilmore, specifically the Snow Egg and the Eight Texture Chocolate Cake.
Coming to the website, the design is all about showing an upscale dining experience, but one focused on more than just the food. In fact, the website uses images of its dishes quite sparsely. Instead, the design is all about enhancing the experience, with the website having a load screen that slowly draws the logo of the restaurant, before it solidifies and the site background loads. Overall, this is one of the few restaurant website ideas on our list with an inherent balance in design.
Jungsik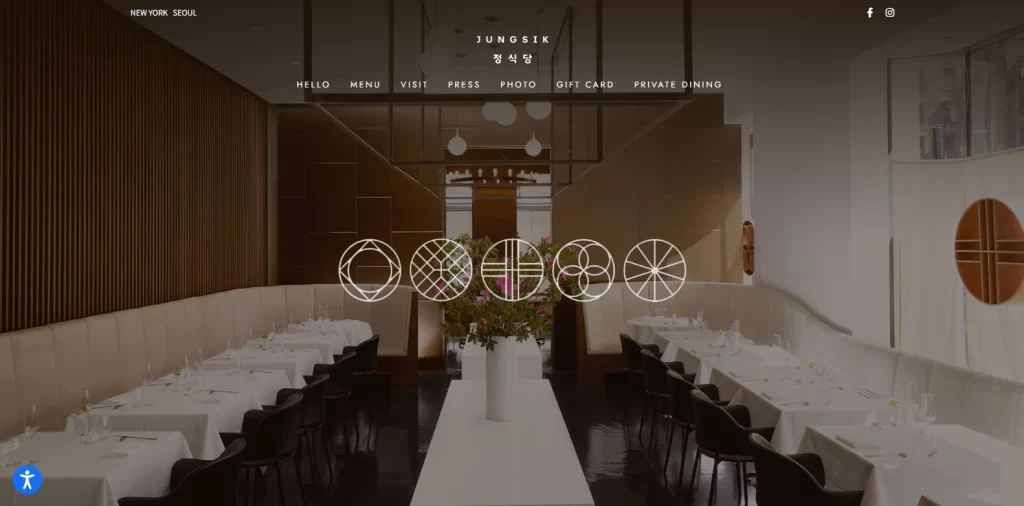 Jungsik is a Korean restaurant that is said to be the pioneer of modern Korean fine dining, and has branches in Seoul and New York. Known for its high-end interpretation of classic Korean cuisine in a contemporary setting, the restaurant has a clean, sophisticated design that also translates over to their restaurant website.
The website has a clean, minimalistic design that subtly portrays its Korean roots, while making it easy for people to navigate the site via a navigation menu at the top. The background for both variants of the site feature a full sized image of the restaurant as the hero of the homepage, with Korean symbols across it, a technique which translates well to restaurant signage ideas as well.  
Scrolling down, you are greeted to a small section of text that invites people to visit their restaurant, with buttons for booking a reservation and another that takes you to Google Maps with the location. The site also has accessibility options for its visitors, to make the experience even greater. Overall, this one website is perfect for everyone's top restaurant website ideas to try.
How to Use Restaurant Website Design Ideas to Create Your Perfect Website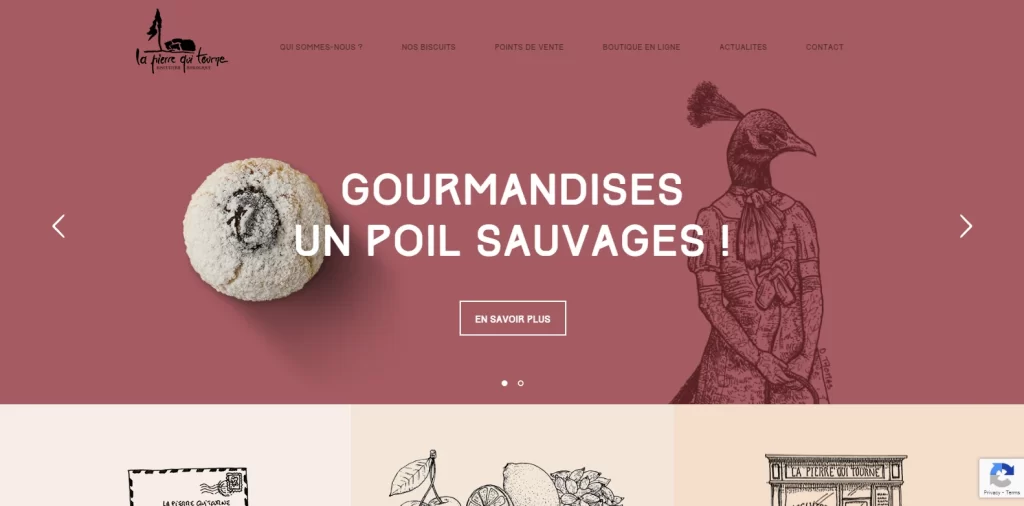 Now that you have looked at the importance of choosing your restaurant website design ideas carefully, and taken a look at some great restaurant websites like the one above, you are ready to begin your design journey. But what is the process to create the perfect restaurant website?
Well, even if you are working with a professional web designer and developer, there is nothing wrong with knowing the process. In fact, understanding it will help you convey your requirements with more clarity, meaning that the final result would be something quite close to what you initially wanted.
Let's take a look at the basic web design guide below and see how we can create a great restaurant website easily.
Take inspiration from popular restaurant website ideas you want for your website
Choose a suitable content management system for your website
Choose and buy a great theme or website for your website (if needed)
Customize your page designs to tailor it to your aesthetics
Add a menu plugin, so you can change your menu if and when needed easily
Choose and integrate an online order management system if you want to offer delivery or takeaway
Make sure to optimize your website for mobile screens, for better adoptability
Conclusion
To sum it up, there are a lot of restaurant website ideas that can be used to inspire those looking to build their own restaurant sites. However, sorting through and finding the types of websites that are perfect for your restaurant style and vibe can be a little difficult.
However, if you are looking to build a great restaurant website, then the list of restaurant websites above, and the tips for building a great website given, makes this a great article to start with.