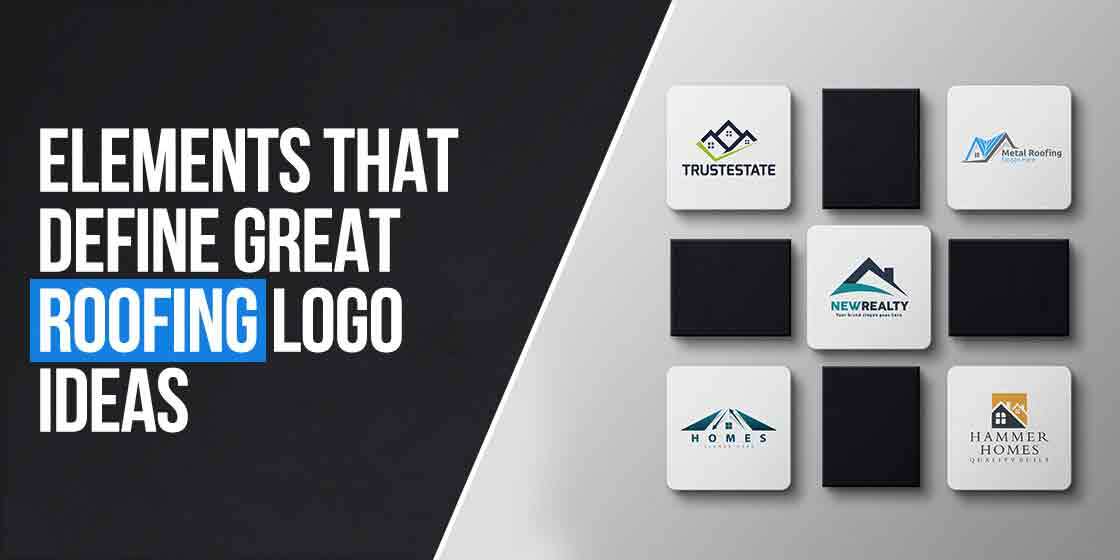 Discover the Visual Themes and Elements That Make a Roofing Logo Awesome
A roofing business, like any other business, needs a strong, effective logo for their brand. That logo would be the central pillar for their branding and marketing strategies, allowing them to stand above their completion. But how are you supposed to come up with good roofing logo ideas, when you've never made one before?
Now, for a service both specialized and niche at the same time, creating a logo can be bit difficult. In theory, just adding suitable imagery to the company name and turning it into a logo won't just be ineffective, it may end up hurting your brand's perceived professionalism.
So, whether you are a new and looking to make your mark with a great emblem logo, or an existing roofer who wants to create a brand of their company, let's look at how to create a logo for roofing company.
1- Four Critical Elements That Define Good Roofing Logo Ideas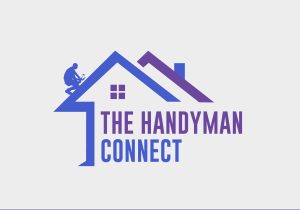 Professional logo design services are often quite familiar with the logo needs for a variety of different industries. Thus its usually easier to hire one that has made logos for companies from the same industry. However, it may be that you decide to hire a freelance designer to do it for you, or even make it yourself, how would you do it?
How would you go and evaluate a logo you made yourself, or received from a freelance graphics designer? In order to ensure that you get good roofing logos, you need to know what goes into making one. And once you know that, you will be able to judge different types of logos around you, representing roofing companies, and see how well their logo reflects the aesthetic required of a great roofing logos.
Let's look at the four most critical factors needed when creating a logo for a roofing company.
1.1- Logo Fonts That Are Easy to Read and Identify
Fonts are one of the most critical factors we need to consider when discussing creating a logo, no matter the industry. Therefore, the logo fonts you use should always be ones whose characters are easy to recognize and identify. A logo often needs to disseminate its message in a single glance. And any element whose success is predicated on the fact that a viewer looks at it closely, will result in your logo's failure.
1.2- Simple Color Combinations That Suit Your Brand
Simple color combinations can often have the biggest impacts on the audience. That is why it is often suggested that designers use 1-3 basic colors for a brand logo. That is because too many colors, or weird shades of colors, can end up distracting or diluting the logo's impact. Even popular logos for commercial brands today use brand icons with simple colors.
1.3- A Short and Catchy Business Name or Acronym
Your business name or moniker is the text that usually accompanies your logo design. Simple names, or acronyms for your business name, can be a great addition to your brand logo, if they are short and easy. Moreover, there may be keywords in your name that could give you an idea of what imagery to add to your logo.
For example, roofing and construction business names are often too long to go on a logo completely. Therefore, if you think it's important for your name to be in the logo, you can have your initials incorporated within the design of the logo imagery, or use an acronym for your wordmark logo.
1.4- Imagery That Evokes the Right Feelings and Ideas
Finally, one of the most underrated elements of a good logo design, is the use of imagery that evokes the right kind of feelings or image from your design. For example, let's say your roofing logo is mostly featured in and around Houston, Texas. Adding a single, five-point star to the logo, or the imagery of cattle or cowboys into your design, you will help the audience connect and relate with your Houston logo design better.
2- What Factors Do You Need to Avoid When Creating a Logo for Roofing Company?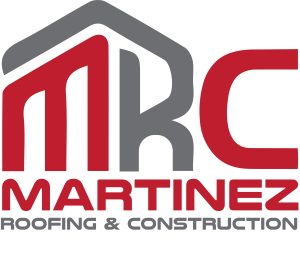 Just like there are elements that can make your roofing logo ideas a success, there are factors that can mar the impact of your design if not avoided. So what do we need to avoid in order to ensure that our logo for a roofing business is a success? Let's take a look.
2.1- Too Much Text in Your Logo
A good brand logo is all about finding that balance between the text and the imagery. Too much text, or going heavy on the imagery, will end up ruining your logo's impact. Your logo symbol doesn't need to have your entire business name and niche in its design. For example, if your business creates custom wooden rocking chairs, and your logo needs to have all that written in for it to be clear for the audience, then your logo needs a redesign.
That is why designers often try to avoid fitting business names into logos, as it can get cluttered very fast. Keep it simple, keep it clean.
2.2- Ready-Made Templates for Your Design
Logo templates are quite popular nowadays, with many people using them to create their own logos. Sometimes, amateur designers too, rely on them to get a base design for their logo project. But that often results in an abstract logo design that looks and feels quite generic.
And that is something you do not want in your logo for roofing company. Generic designs do not stand out in the audience's minds, a factor that is critical for a logo to be successful.
2.3- Color Scheme That Clash with Each Other or Your Brand
A brand logo should portray a sense of professionalism. Now, that doesn't mean that businesses like toy store or candy shops need to have a monochrome black or white logo. That means that a logo should portray the vibe and sense of the business it represents. According to Forbes, "color increases brand recognition by up to 80%".
A chocolate store that has deals in all things chocolate, would have a hard time being memorable if their logo is colored a bright neon green or pink. Essentially, try to avoid colors that are too gaudy, or clash with the brand's vibe, and follow the minimalist logos trend.
3- How to Get Your Logo for Roofing Company Designed by a Professional?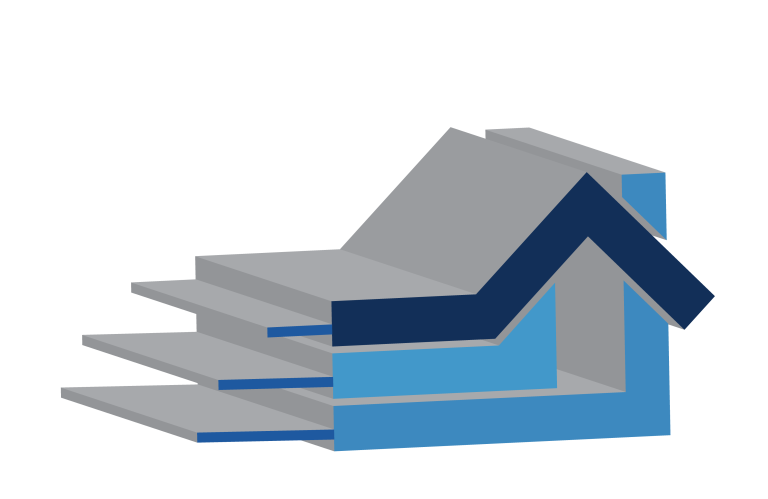 Now that you know what it takes to generate and design effective roofing logo ideas, the next question is how to design a logo that represents your roofing business effectively. But how can you ensure that you receive a logo that does your business justice?
Let's find out.
3.1- Step 1 – Look for a Professional Logo Designer
The first, and most effective way to ensure that your roofing logo is unique and made specifically for your brand. Besides getting completely new designs, a professional logo designer will also be able to incorporate your logo design idea within the final brand logo.
3.2- Step 2 – Shortlist and Hire the Right Candidate
After evaluating different freelance designers, you can choose the logo designer that suits your creative and budgetary needs, and get started on creating a logo for your roofing business. Often, you might end up with two or more candidates who are perfect on paper.
So, in order to choose the best one, you can take a look at their portfolio to see if anyone of them has experience in creating brand logos for your industry or something similar. For example, if your brand is located in LA, then you need a logo designer who knows the elements for an effective Los Angeles logo design representing a local business.
3.3- Step 3 – Analyze Your Competition and Create a Suitable Design Brief
Next, after you have hired your logo designer, you need to create a design brief to give the logo designer a direction in which to begin. One of the simplest ways to come up with a design brief is take a look at your competition, and see what works. Once you know that, you will be able to give a designer an idea of the kind of logo you desire.
3.4- Step 4 – Have Them Create and Edit a Few Mockups According to Your Design Brief
After the designer gets the design brief, they will come up with a few mockups and samples for you to look at, according to the design brief you send. Then, you can look through those mockups to find a design that is close to what you want for your roofing logo. Choose the ones that fit your requirements, and have the designer make the necessary edits.
3.5- Step 5 – Get Feedback from Those You Trust About the Mockups
Next, before you finalize your generic logo, have the people you trust to speak candidly evaluate your chosen designs, and gauge their feedback. Outsider reviews is a necessary step if you want to know how your logo will be perceived by your audience, thus helping you create a more effective logo.
3.6- Step 6 – Repeat Step 4 & 5 Until You Get a Logo You Like for Your Brand
Using the feedback received in the previous step, have the logo edit and modified, until finally, it fits your design brief, as well as your test audience's expectations. Now that you have your logo ready, you can get started on incorporating it within your brand's identity.
4- How Does Your Logo for Roofing Business Help Your Brand?
A good roofing logo can be the difference between a roofing company that thrives, or one that barely survives. Niche services and products often find the competition to be tough, and standing out in a positive light is a great way to ensure your brand's success.
Listed below are some of the ways that a roofing logo can help your brand grow.
It promotes a professional brand image
It sets you apart from the competition
It helps your brand growth
It improves your brand recognition
It allows for consistency among all your online media channels
It makes your brand memorable
It helps attract leads
It promotes brand loyalty
People Also Ask (FAQs)
You can use icons that depict a sloping roof of a house, a chimney stack, a gabled house roof, and other such iconography to show that your logo is for a company that provides roofing-related services. Using colors and highlights, a savvy designer will ensure that the right design element is highlighted.
You can use the colors that best suit your brand's aesthetic, as well as the message you want portrayed. Different shades can have different meanings and perceptions. And by evaluating and leveraging the logo color meanings, you can ensure that the right emotions are evokes at the sight of your brand logo.
A professional logo designer is always the better the choice for a custom brand logo. However, if that is not an option for you, you can use an online logo generator to create your roofing brand logo.
Related Resouce
Conclusion
The perfect roofing logo ideas can be hard to come by, especially as it is a specialized industry with limited imagery to represent it. Therefore, in order to create the perfect brand logo, you need to analyze your competition to see what works for your potential market, and hire a professional logo designer in order to give your logo as much of an edge as possible.
And only by doing that will you be able to design a logo that sets your roofing business apart from the competition.