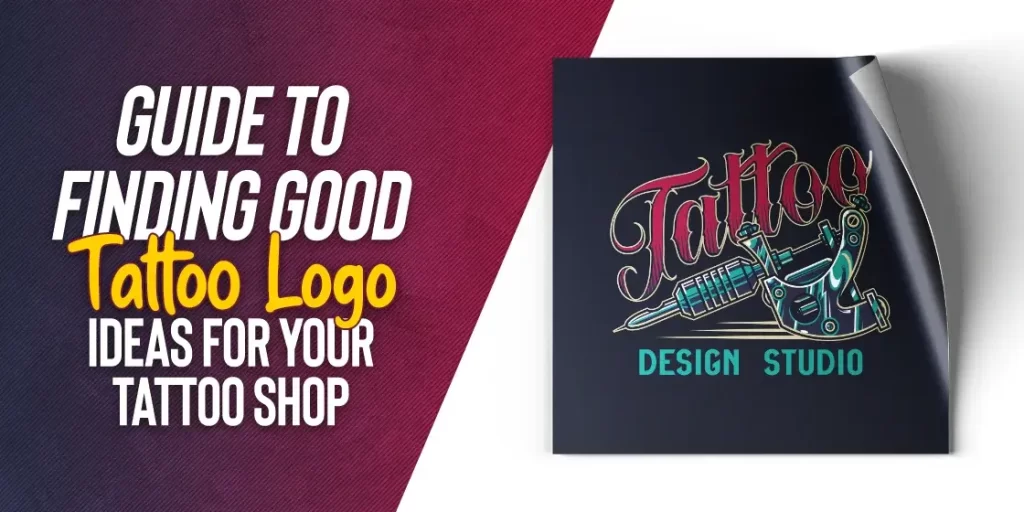 Table of Content
Discover How to Come Up With Amazing Tattoo Logos that Spark Interest
Tattoo shops, whether they are a small business or a large studio, require a logo to represent their business. That is because a business without a logo is like an entity without a face, something that cannot be recognized. And no business owner wants their shop to be unrecognizable.
So what can they do to avoid that? They get down, hash out some tattoo logo ideas, and finally design the chosen one as the logo for their shop. Now generally, seeing as most of the tattoo artists we see today are artists in the true sense, they generally do not hire a professional logo design company to create a brand logo for them. Rather, they use a style designed by one of the artists, or create a special one themselves.
However, for the bigger tattoo galleries and boutiques, some do hire professionals to help them consolidate their brand presence with the logo as the spearhead. In any case, a logo is a must, even if it is just simply a wordmark logo of the shop's name.
But the question is; where should you start? What are the elements that need to go into building a good logo for your tattoo business?
These questions and more will be answered throughout this article. Read on and discover the traits of good tattoo shop logos, as well unearth the secrets of logos from successful tattoo businesses.
Defining Tattoo Logos and Why Do Tattoo Shops Need Them
To put it simply, tattoo logos are brand symbols used to represent tattoo parlors and shops. In fact, for individual tattoo artists who like to travel and work as guest artists across different shops in the country, a personal logo is also necessary.
Think of it like personal branding examples like those from urban artist Banksy, or athletes Michael Jordan and Shaquille-O-Neal. These brand symbols are important for the consumers to associate a face with the brand of the tattooist or tattoo shop, making it easy for them to remember and recall later.
Now the general rule of thumb for brand logos is to make the design something that would be quick and easy to see, so that people may be able to recognize it even at a distance. Think McDonalds or Wendy's logo. But when it comes to the tattoo shops, the purpose of the logo is something different.
You see, there are various subcultures to the industry of tattooing. There are traditional shops that deal in culturally significant tattoos like those for the Maori in New Zealand, or the traditional Buddhist-style markings. Some deal in specifically hardcore body art, for people like bikers, gangsters, and others. Then there are some that tend to the Goth and emo subculture. And we have tattoo businesses who deal with your everyday tattoo fans who want something meaningful or subtle, just for the sake of it.
All these factors influence the style and expression of the tattoo shop's logo. Similarly, location also plays an important factor in the visual style of the art. For example, let's say you are in the middle of a populous college town, where your ideal customers are young students looking to rebel or those who want something small, subtle, and memorable.
In that case, your logo would be something more neutral than say a hardcore tattoo bar, like a wordmark or something similar. But if you are situated in an area that is popular with a tougher crowd, then then you can implement hardcore design elements into your brand symbol.
The base concept is the same as that for general brand logos – know your target market, and design accordingly.
Common Traits Found in Good Tattoo Logo Ideas
When you look at the tattoo logos found around us, you discover that a vast majority of them sport a stylized wordmark as their central design element. Now, those wordmarks will often be accompanied by various graphical design elements, however, those will be secondary to the logo's core purpose.
Similarly, the wordmarks wouldn't be simple either. The design of the typeface would be heavily tweaked, with whorls and swirls if it is a script-like font, and with elaborate serifs if in a conventional form. The purpose would be to focus on the little details, as a way of showing off their skills, as well as to show their design aesthetic.
When it comes to deliberately designing their brand logo, the trend is less common than one would expect. Often the artists working for that business would create their own designs. And if the owner likes a specific design, they can ask for it to be implemented as the logo.
Similarly, you will also find that many tattoo places use variations of the black and white palette rather than using a wider variety of color combinations. And those who do use more colors, they tend to use emotionally evocative shades like red, pink, and more.
Ten Inspiring Tattoo Logos, from Classic to Avant Garde
Now that we know the importance of having a suitable logo for your tattoo business, you might be leaning towards getting a custom logo designed. But wait.
What would your new logo look like? When you think about a logo gracing the front window of your tattoo salon, what does it look like? Does it have a modern trendy feel, or more of a classic appeal? Is it all tough and hardcore, or more generic to cater to a wider array of customers?
We understand that it can all be very confusing. That is why listed below are ten of the most innovative and distinct tattoo logo ideas which are currently proving their worth in the market. Let's dive in and discover what mysteries they hold, including the benefits of serif vs sans serif fonts in tattoo design.
01- Allegory Art Tattoos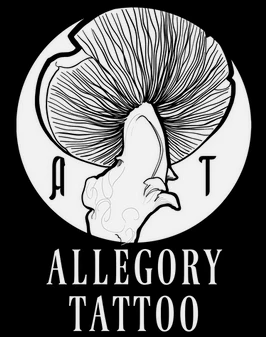 The first logo on our list is for a tattoo place called Allegory Art Tattoos. Based out of Florence, Alabama, the shop was owned and managed by a husband and wife duo. Both Ulyss Blair and his wife Eva Jean are tattoo artists, and had risen to fame after their participation in a popular reality TV show called Ink Master.
Sadly, the shop and the original team were disbanded after the couple divorced, with the remaining team now working under s different name.
Their specialty was nature-based tattoo art, with mushrooms being the most popular ones among them. The reason for that was their core philosophy was one that followed the "circle of life" mantra – we are born from the earth, and to the earth we shall go. The style of their art was punchy and colorful, a style that many lesser skilled tattooists generally avoid.
02- Ultraviolence Tattoos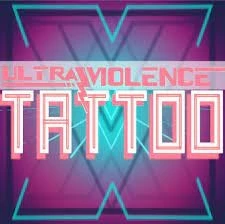 Next up, we have Ultraviolence Tattoos from Anchorage, Alaska. Now, for a region as cold, dreary, and remote as Alaska would seem like the last place a top tattoo parlor would be situated, right? However, the presence of Ultraviolence's painfully bright logo says it is otherwise.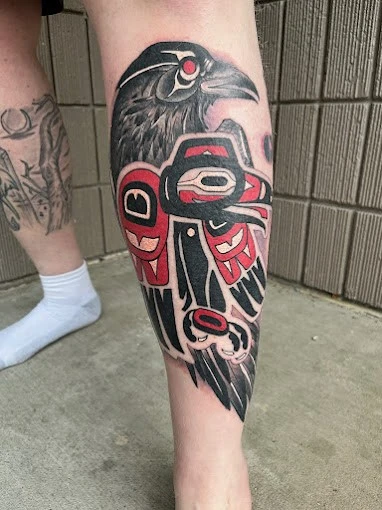 What sets them apart is that the tattoo artists at Ultraviolence are extremely talented at making ultra-vivid and highly detailed tattoos, and even monochrome and dot designs. Their artists do not shy away from using bright colors, and their line-work is one of the best that you will ever witness.
Moreover, it is the unique blend of old-school designs with a modern twist that makes Ultraviolence so popular with its patrons. From implementing Inuit design aesthetic in modern, vividly colorful designs, to creating minimalist dot-work, the tattoo parlor offers a unique experience, and an interesting logo in the style of 80s graphic design.
03- Urban Art Tattoos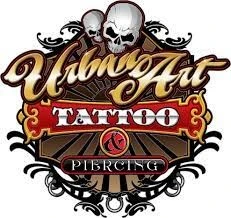 Urban Art Tattoos offer an amazing mix of old-school and new-school styles. And with fourteen different tattoo artists on board, finding a suitable spot with them is not an issue. Based on the style of logo you desire, you can choose from tattooists who conform to the bold-traditional, to the avant garde modern graffiti style of logo.
The wider variety of artists to choose from also means that you can schedule your body art with the one you feel most comfortable with. Moreover, the logo sported by the tattoo parlor is also a mix of old-school and modern aesthetic, perfectly matching their brand personality. The shield-like design is older, while the wordmark uses a modern-style font that adapts well to the aesthetic of the brand.
04- Black & Blue Tattoo Parlor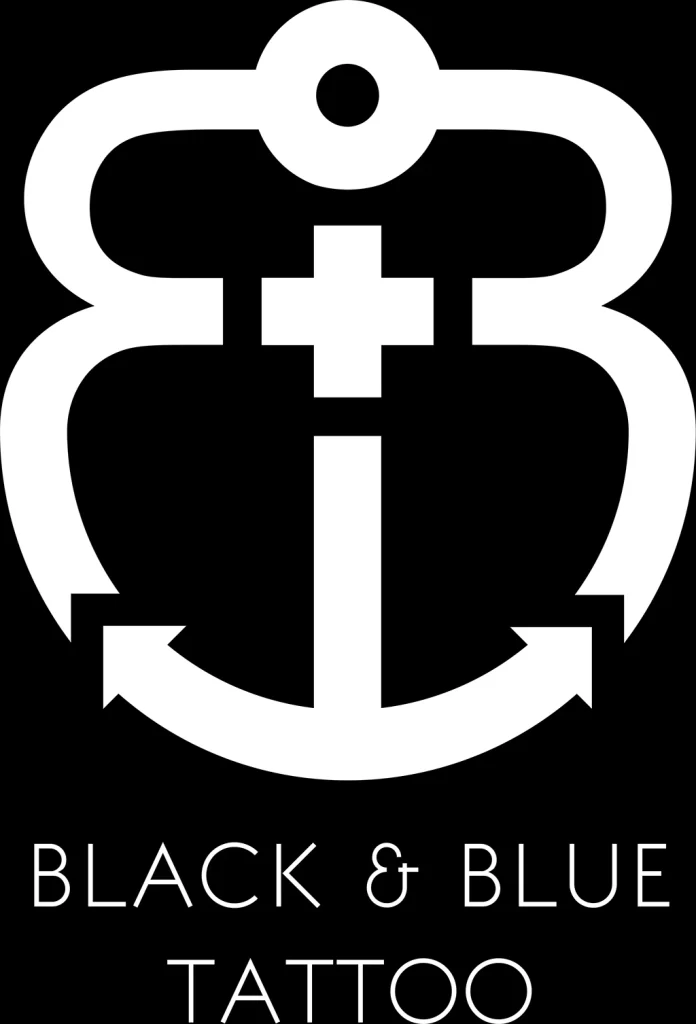 Black and Blue Tattoo Parlor is located in San Francisco, California, and has been serving its customers for nigh on three decades. It is a female-owned and operated business, and purports to a gender-inclusive policy.
With ten artists available at the store, all highly skilled in bringing the tattoo ideas of their customers to life. And unlike many other large tattoo establishments, they do accept walk-ins. That makes it a highly popular place for tattoo-lovers, who can just pop in when the mood strikes for new ink.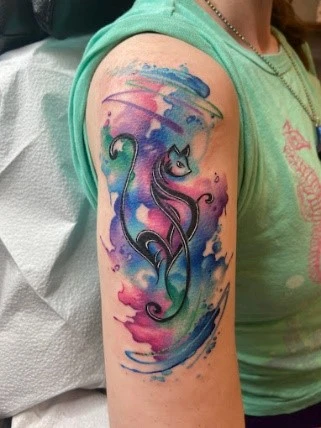 Their logo is an abstract design that represents their philosophy of gender inclusivity. By combining the symbols of male, female, and the gender-fluid, the resultant design is one that clearly states the tattoo parlor's core tenet.
05- Pens and Needles Tattoo Parlor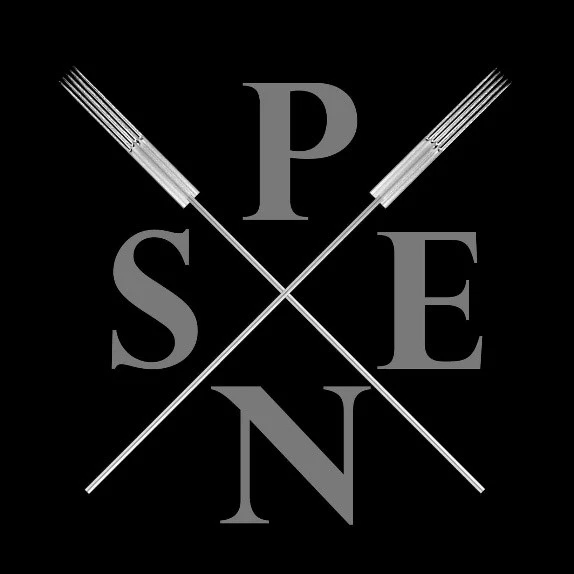 Next up is Pens and Needles, a tattoo place located in Colorado Springs, Colorado. According to Colorado locals, if it is a great tattoo experience you are looking for, there is no better place than Pens and Needles in the entire state of Colorado.
The owner, Kristina Wright, works with a philosophy of collaboration, among tattoo artists and their tattoo aspirants. Often, tattoo places do not spend the time to talk to the customers to understand what they actually want. The result is a tattoo that, while looks amazing, is not something that the customer wanted.
However, Kris strives to make the tattoo parlor a welcoming, collaborative, and professional place. Their logo is also an interesting design, using a combination of letters and design elements to give a depth of interesting uniqueness to the design. The logo shows a pair of crossed tattoo needles, with each quadrant of that cross featuring a single letter of the word "PENS". The design is quite interesting, and a great example of traditional balance in design in brand logos.
At the end, the logo combined represents – Pens and Needles.
06- Three Roses Studio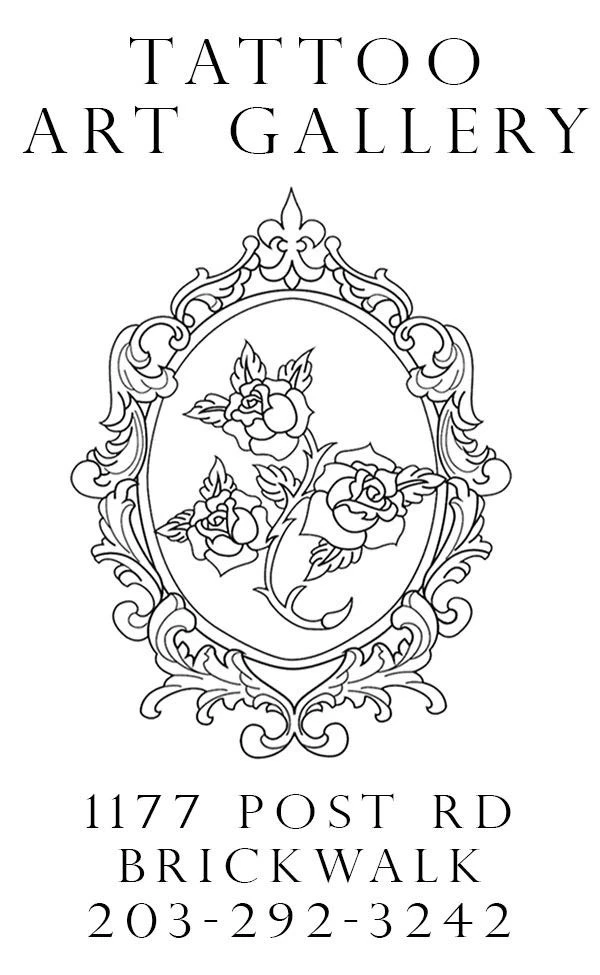 The next tattoo studio on our list is Three Roses Studio, based out of Fairfield, Connecticut. One look at their logo, and you will think that this tattoo parlor is something quite different than the ones we have discussed so far. And you will be right in that assumption.
Earlier, we mentioned that some tattoo businesses specialize in specific traditional and cultural tattoo arts. And Three Roses Studio is one of them. The tattoo parlor specializes in traditional Japanese Irezumi tattoos.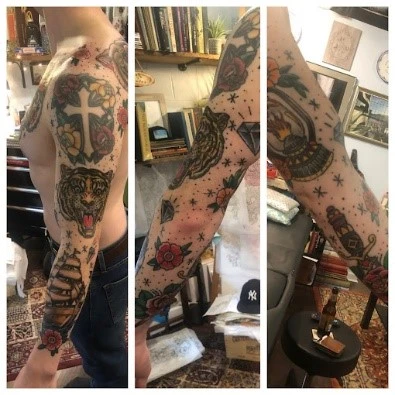 Their logo, like the body ink they produce, is nothing short of artistic masterpiece. The fine line-work, the intricate design, and the ability to capture the depth of beauty in nature's creations is something that Three Roses Studio's artists have mastered. And considering that the Studio's space is also an art gallery, it shows that the masterpieces produced here are true art, in every sense.
07- Poppycock Tattoo Parlor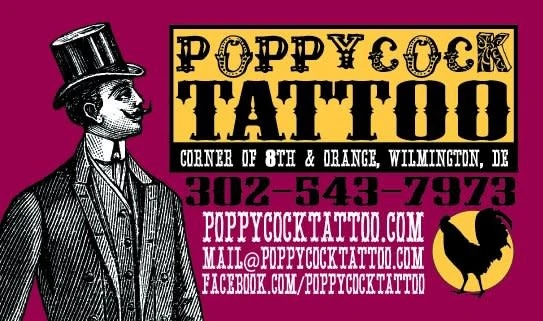 Poppycock Tattoo Parlor is one of the more interesting tattoo places you will come across. The design of the logo and the business itself is quite old school, and the perfect accompaniment to the business's name.
Based in Wilmington, Delaware, the tattoo parlor has artists that have a combined experience of nearly five decades. And that also means that people coming here for their tattoos have a wide variety of styles and designs to choose from, including tattoo legend Eric Hendrickson's unique tattoo designs.
The logo is also quite unique, a tongue-in-cheek reference to the name of the business. With the name of the tattoo parlor being Poppycock, the logo shows a proudly standing cock strutting around. The design is both hilarious, and vintage enough to represent the experience of the tattoo artists.
08- City of Ink Tattoo Parlor

City of Ink is another tattoo business that stands out from the crowd. Based out of Atlanta, Georgia, the tattoo studio was co-founded by Miya Bailey, a star of the tattooing documentary "Color Outside the Lines". And true to the name of that documentary, the business has been making a name for itself due to its unorthodox, yet highly popular designs.
Known for their common use of bold shades that defy the traditional rules of color theory, realistic shading patterns, and clean line-work, City of Ink offers its customers a high level of satisfaction. Their logo too is a combination mark, made up of a stylized wordmark, over a five-point star.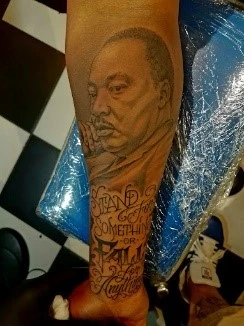 The typeface is lowercase, bold, and highly stylized serif font. Drawn in the style of 90s and early 2000s graffiti art, the edges of the letters show the paint dripping down, making for a striking visual impact. The outline is colored a dark pink, while the letters are colored a lighter shade of the color. The star in the background in colored purple, with the same dripping paint effect at its lower edges.
09- Tattoo Factory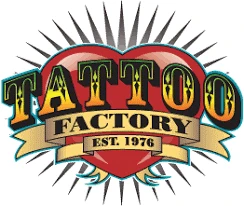 The Tattoo Factory has a rich history with the art, being in the businesses since 1976. Based out of Chicago, Illinois, the tattoo parlor has been designing tattoos in Chicagoland since before the outfits lost their control over much of the city.
Surviving through all that, the tattoo studio is known as one of the top studios in the entire US. Their experienced artists offer a variety of styles for their customers, from portraits to wildlife, and even vibrant watercolor art.
Moreover, the logo for the studio is one of old-school aesthetic, adhering to vintage principles of design. The bright red and puffy heart, with a three-dimensional wordmark over it is highly reminiscent of tattoos sported by hard cases in the decades past.
10- Asylum Tattoos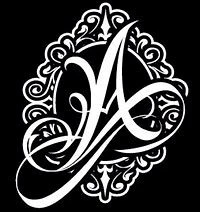 The last entry on our list is Asylum Tattoos. Based out of Latonia, Kentucky, the tattoo parlor is known for its bright and realistic tattoos designs. The artists here try to ensure that no two tattoos look the same, and ensure that each piece of art they ink is unique and worth it.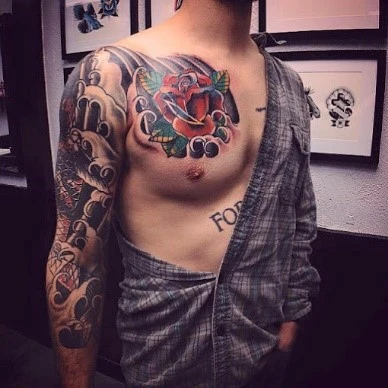 A look at the logo of the tattoo studio shows that it is unlike any of the tattoo logos we have discussed above. Rather than relying on elaborate design elements, the design is made to look like an elaborately designed script of the letter A. the design is partially encased in an upright oval frame, with wrought-iron style whorls all around it.
FAQs
How to make a tattoo logo?
If you want to make a tattoo logo, you can:
1. Choose a design from your own catalogue to implement with a wordmark
2. Hire a professional logo designer to help you with the ideation and design process
What are the top tattoo ideas that can be implemented in logos as well?
Some common designs that can be implemented in tattoo studio logos include:
1. Hearts
2. Angel wings
3. Elaborate crosses
4. Colorful butterflies
5. Celtic/Sanskrit/Kanji symbols
Conclusion
To sum up the topic, the art of creating tattoo logos is much more fluid than traditional logo design process. The designers have much more freedom to express themselves and their business, which makes for an interesting array of designs and approaches for our study.
Even here in this list, you will see that almost all of them use a unique approach to their design. This tells us that besides a few basic tenets of logo design, creating mockups of your tattoo logo ideas is going to be a good exercise in understanding market aesthetics.