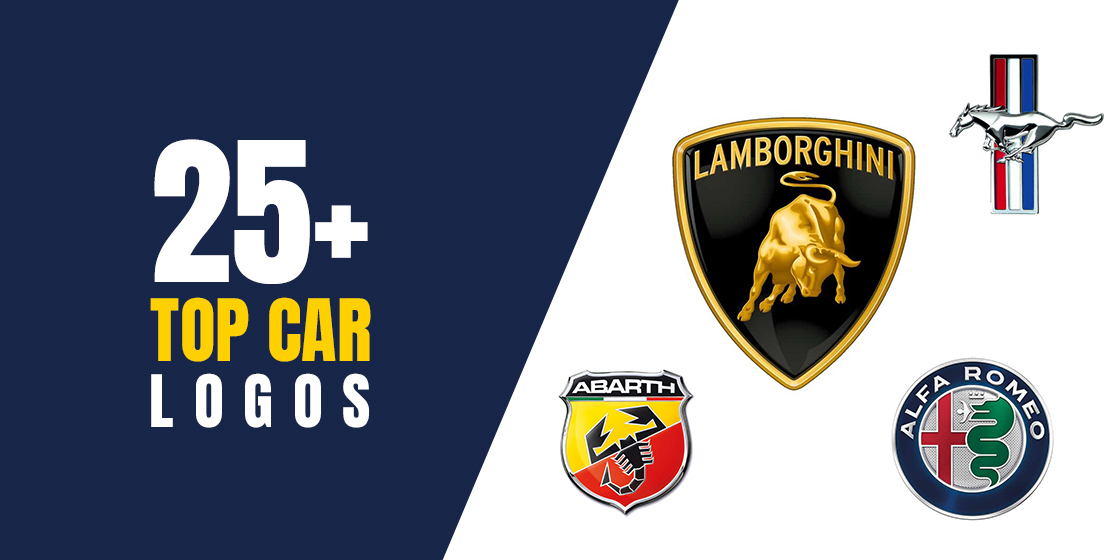 Discover the Best Car Brands and The Meaning Behind their Logo Designs
Cars are one of the most common mode of travel for people around the globe today. Dozens of companies around the world manufacture a variety of automobiles in several styles and sizes. With so many cars on the road, one of the most defining feature for any automobile are their car logos.
These symbols are great at helping people identify their brand at a glance, whereas it might take a few moments to recognize the brand from the shape and design of the car. A majority of these symbols represent plain, everyday vehicles. However, a few of these brands sport iconic logos that are known far and wide.
Let's discover how these car brands logos rose to fame over the years, and the meanings behind their designs.
1- Car Logos: How Does Having Car Symbols Help You Grow in the Automotive Industry?
A suitable brand logo is necessary for any brand out there, and in any industry. And that is especially true in the automotive industry. There is only so much a manufacturer can change in the shape of each vehicle that rolls off the manufacturing line each year. And with so many automobile makers in the industry, it can get confusing quite easily for a layperson.
That is where car logos come in. That is where iconic emblems like Ford logo come in. These iconic symbols represent each brand in a way that distinguishes them efficiently. Their purpose is not just to help people distinguish between various models in the market, but at the same time embody years of history and legacy into a small, badge-sized design.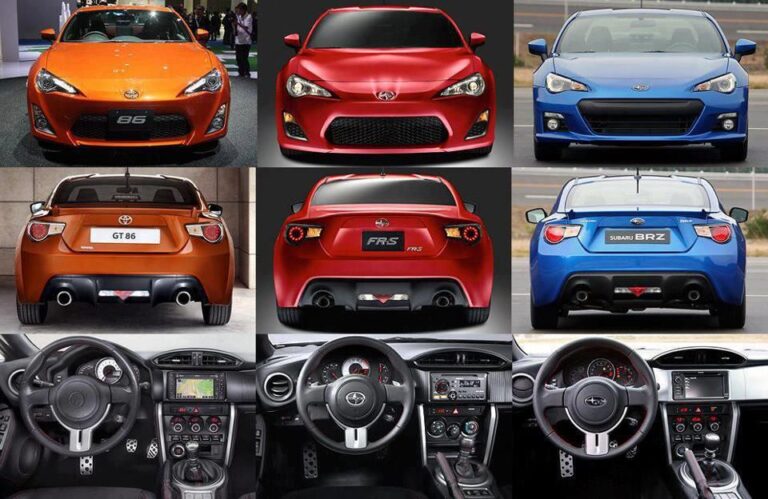 Let's suppose we have a Subaru BRZ, a Toyota GT86, and a Scion F-RS together, but with no badges. Would you be able to tell them apart quickly?
While this is too much of an on-the-nose example, there are many others that would portray the same. Logos help people identify your brand easily. That is why brands look for the best logo design services that fits their budget.
2- Characteristics of Great Car Logos
All well-known and great car logos have a few factors in common. Those include attractive iconography, aesthetically pleasing color combinations, and suitable fonts. But what truly makes a great logo is much more than the sum of these great parts.
The design needs to embody the heart and soul of your brand in order to be considered an iconic brand symbol. Take, for example, the Pontiac Firebird's famous iconography. The design of a phoenix taking flight was a masterstroke, considering the name of the automobile itself. And today, decades after it went out of production, the car is still recognized and remembered fondly by a large number of fans in the US.
In the automotive industry, you will see a number of different styles of minimalist logos, from wordmarks to elegant designs. But what makes them great actually depends on how the company and its designers combined their aesthetics with the desires of the consumer.
3- Iconic Car Logos with Wings
There are several different types of logos found around the globe, and one of the more common imagery added to these designs are wings. Wings symbolize freedom and speed, something that many automakers would want to portray to their consumers.
Let's look at some of the most iconic car logos with wings.
3.1- Aston Martin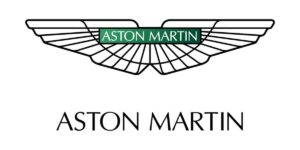 AM is one of the most popular British automakers, and was formed by a joint venture between Lionel Martin and Robert Bamford in 1913. It soon rose to become one of Britain's most famous car manufacturers, with a logo to match. The outline of spread wings behind the wordmark written on a British Racing Green background makes this a logo with unmatched beauty.
3.2- Bentley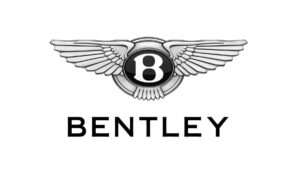 Bentley has long been known as one of the best luxury cars manufacturers in the world. Originally started by Walter Owen Bentley as a manufacturer of rotary engines for Allied planes in World War One, they soon transitioned over to cars. The current logo represents the original owner with its large and prominent lettermark, set over spread wings depicting the company aviation history.
3.3- Mini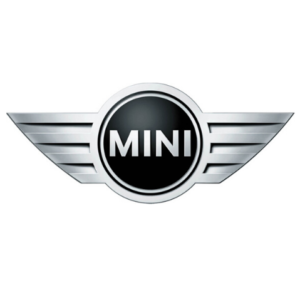 Mini is another famous British car manufacturer, which was started in 1958 by the British Motor Corporation. However, today the brand is part of the BMW Group, and produces some of the most famous hatchbacks and coupes around the world. Their logo is simple wordmark with a pair of wings in the form of a badge. The color scheme is a simple black-and-silver.
3.4- Mazda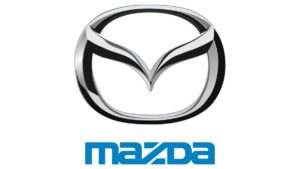 One of Japan's most famous automobile manufacturers for a long time, especially during the early 90s-2Ks as the manufacturer of some of the most iconic tuner cars. Known for their popular rotary engine, their cars were some of the most in-demand vehicles at one time. the current logo features a stylized M, made to mimic the spread wings of a bird, and signifies freedom and drive to reach higher.
3.5- Chrysler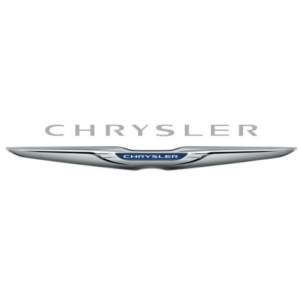 Chrysler is an American automobile brand that was started in 1925. It is a luxury car brand that has been known to produce some of the best premium automobiles for the US market. The elegant Chrysler logo depicts it's transport company name on a dark blue background, with long and thin wings extended on both sides of the logo for an elegant look, colored in simple metallic light gray.
4- Best Car Logos with Animals Imagery
Animals have long been used in the automotive industry, as specific creatures are linked to various aspects common to this market. Speed, strength, and freedom are just a few feelings automakers want their customers to envision when using their products.
Let's discover some of the best car logos with animals in their design.
4.1- Ferrari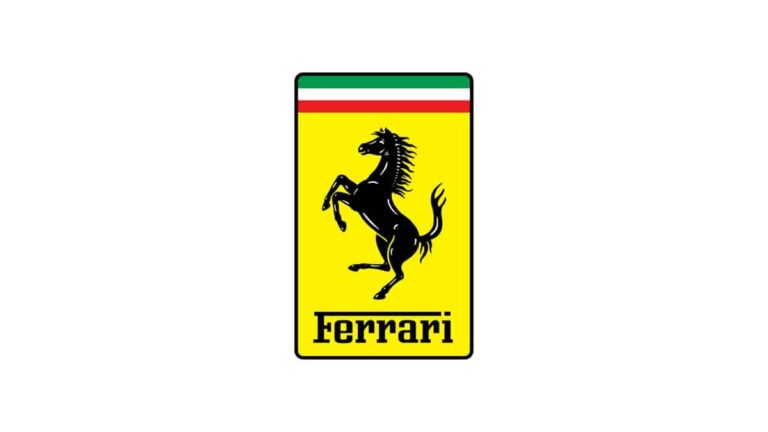 Ferrari brand symbol is one of the best known car logos around the world today. Sported by some of the best cars and drivers in the world, the iconic brand symbol is one that is most commonly associated with peak Italian auto engineering, and speed. The color scheme represents the company's home country, as well as their town of Modena. The logo was first introduced at the 1932 Spa 24 Hours.
4.2- Mustang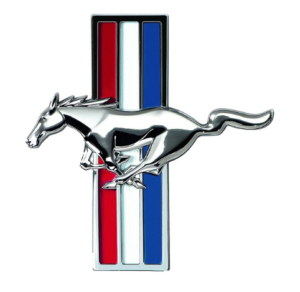 Ford Mustang is the company's line of pony cars, which opened its doors in 1964. The cars they produced have some of the best shapes and styles, which have made their place in some of the most iconic cars of all time. The color scheme is silver over a tri-color stripe representing USA's red, white and blue color palette.
4.3- Jaguar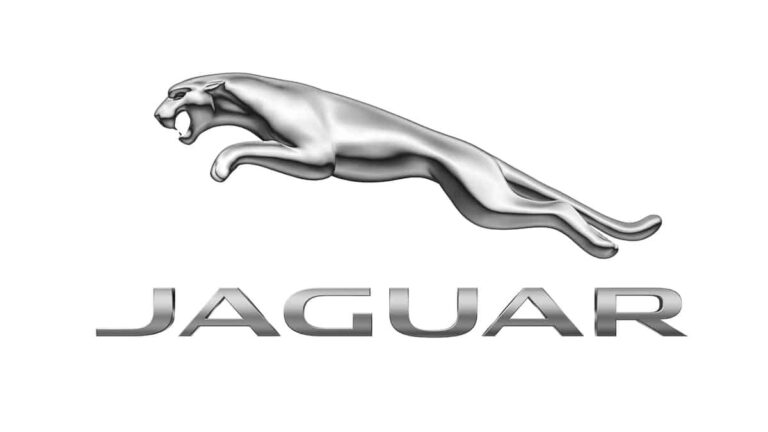 Jaguar is a famous sports and luxury car brand that conveys power, agility, and sleek lines in both their cars and logo itself. The clean and smooth lines of the pouncing cat are a perfect show of coiled power that looks beautiful, yet is quite deadly. The color scheme is a simple silver with dark accents and a detailed illustration.
4.4- Holden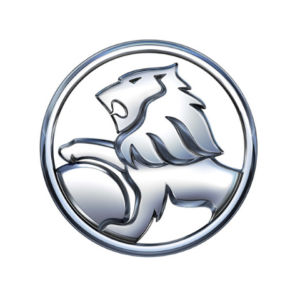 Holden was an Australian automaker that began its operations in 1956. It had a partnership with USA's Pontiac, and produced rebadged versions of its cars for the Australian market. Their logo shows a Roaring lion with a raised front paw, perfectly representing the Australian spirit, and cementing its place as one of the lesser known yet beautiful car logos.
4.5- Peugeot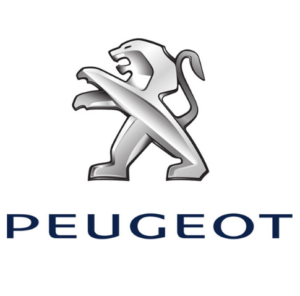 Originally a French family businesses making bikes and coffee grinders, the company soon got into producing small family cars. Building their first car in 1889, the company adopted a rearing lion imagery to present an air of sophistication. The color theme used is chrome and blue, and the company is partially owned by China's Dongfeng Motors and the French Government.
4.6- Lamborghini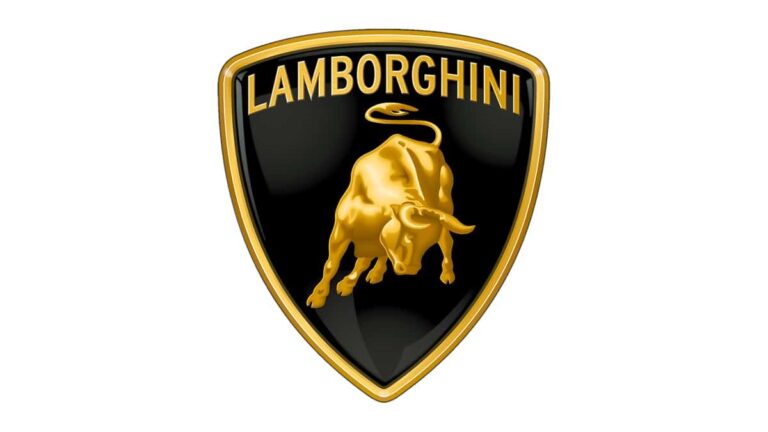 The history of the logo for this car brand start in 1962, when company owner Ferrucio Lamborghini visited a bull ranch of Don Eduardo Miura. The strong and powerful animals left a great impact on the businessman, and he decided to name his cars after famous fighting bulls, and adopt a logo representing that as well.
4.7- Abarth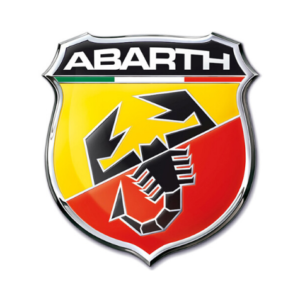 Abarth is an Italian manufacturer of performance and racing cars, founded in 1949. Their logo is a unique shield-like design, with the colors red and yellow. Superimposed over it is a black scorpion, which was the astrological sign of the founder Karl Abarth. However, the team was sold to Fiat in 1971, which soon ended the company's famed performance division.
4.8- Shelby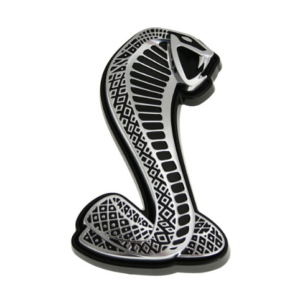 Shelby Cobra is a set of special-built cars by agreement between the Ford Motor Company and Shelby Engineering, a private performance tuning and building company. The collaboration between the two started when Ford decided to end Ferrari's dominance at Daytona and other endurance circuits. Shelby's car setup was the best among the contenders, and his car defeated Ferrari. The company's logo is a coiled King Cobra hissing at his prey, a sign of deadly precision and strength.
5- Luxury Car Brands Logos with Hidden Meanings in Their Design
Luxury car brands often tend to use simple, minimalist designs. That is because simplicity and elegance are some of the most important factors in the luxury product market. So whether they are luxury fashion brand logos or luxury car logos, simple designs are the order of the day.
Let's take a look at some of these elegant car brands symbols.
5.1- Acura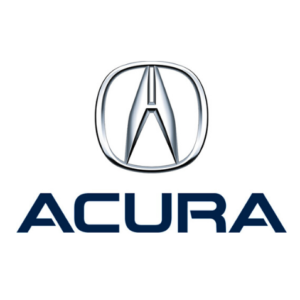 Just like its parent company Honda, the Acura logo is understated and sophisticated, making it look and feel elegant. It was created to bring high-performance and luxury automobiles rebadged from Honda, for the American people. Another great tuner car manufacturer, its logo is quite simple, and is accompanied by a simple wordmark.
5.2- Audi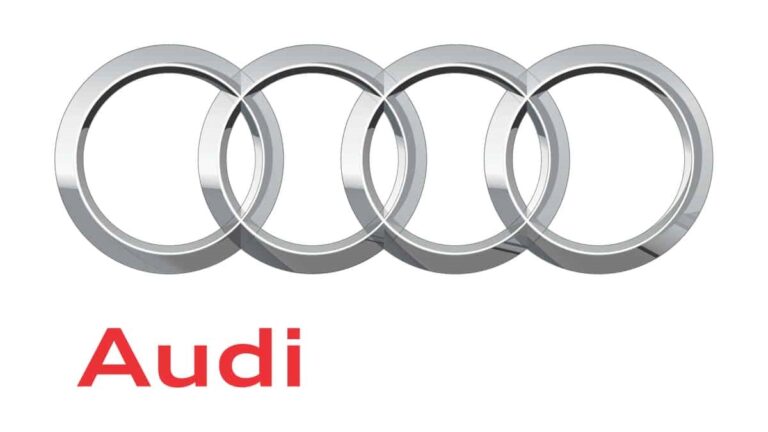 Audi's symbol has long been one of the most contentious car logos of all time. Many people have put forward different theories about the idea behind the design, yet no one has proven themselves right so far. The four interlinked rings of the logo represent the four companies who merged together in 1932, forming the auto union.
5.3- Buick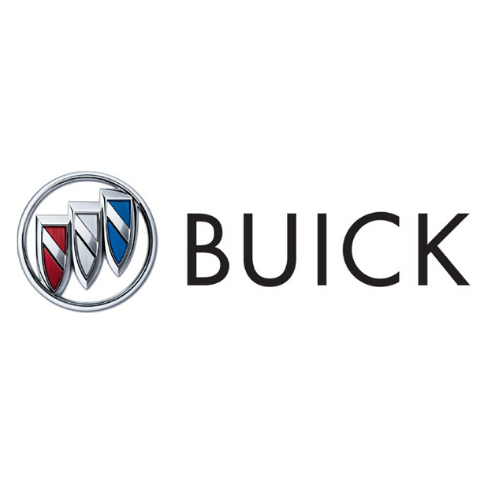 Buick is one of the oldest car manufacturers in the world, dating back to 1904. It is also a member of the GMC group, which is the foremost group of companies manufacturing cars in the United States. The design of the logo features three shields, a red one, a silver one, and a blue one. They represent the three initial Buick models, Electra, Invicta, and LeSabre.
5.4- Cadillac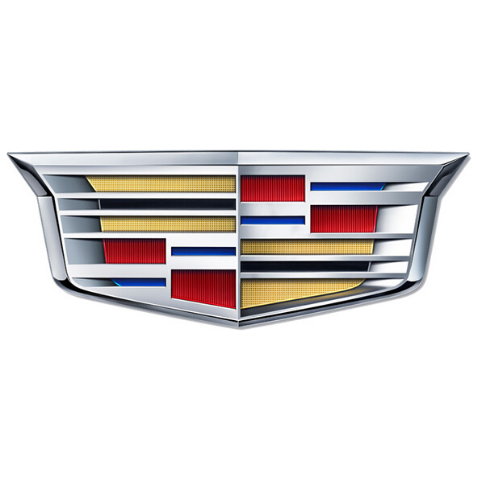 Cadillac is one of the USA's popular brand of luxury cars. Established in 1902, it is run today by the GMC group, which sells a record number of products each year around the world. The logo is a shield crest which uses red, yellow, and blue to make the design look sophisticated and high-end, making it instantly recognizable.
5.5- Hyundai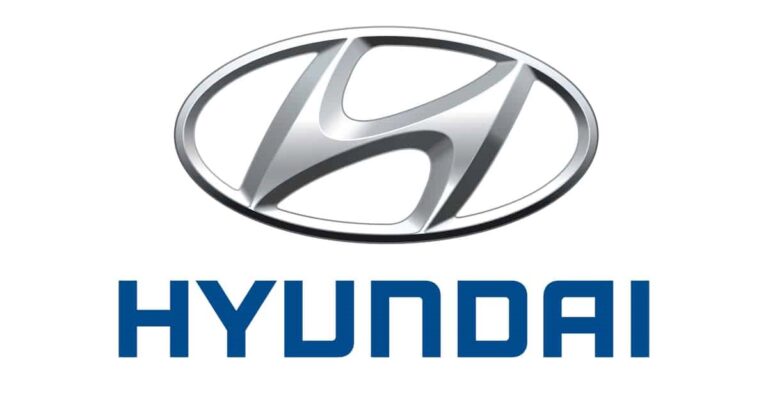 Many people believe that this South Korean automobile company just uses a modified version of Honda's logo. However, the true meaning of the symbol makes it one of the subtler car logos. The slightly tilted design represent two people shaking hands, designed to look like the company's initials.
5.6- Mercedes-Benz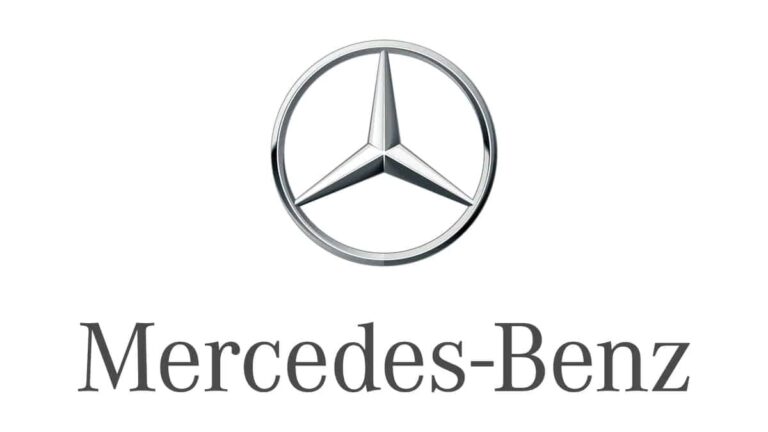 Mercedes-Benz is part of the DMG (Daimler Motoren Gesellschaft), which is a large automotive group in Germany. After the original owner Gottleib Daimler passed in 1900, his sons adopted a star shaped symbol for the company in his honor. However, the design soon featured a three-point star as the logo, which represented Daimler's drive to rule the air, seas, and land. A ring was added to it in 1916.
5.7- Mitsubishi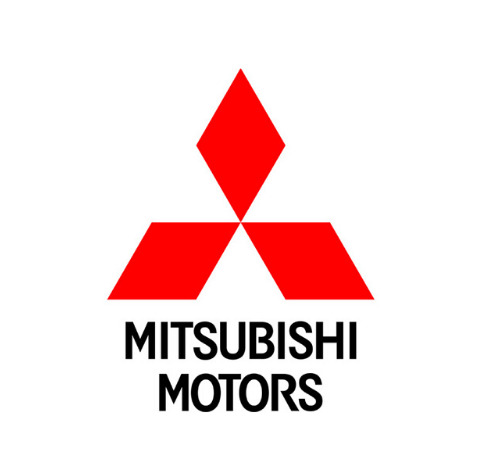 Mitsubishi is one of the biggest manufacturers in Japan, which produces a variety of items including automobiles. Created in 1870 by Yataro Iwasaki, today it is a member of the Renault-Nissan-Mitsubishi alliance, producing a record number of cars each year. The design is made to look like a tri-blade propeller, referencing the company's history of manufacturing airplane engines.
5.8- Saturn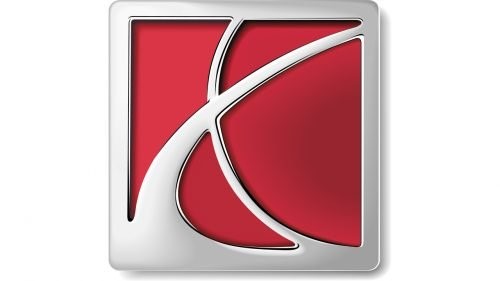 Saturn was an American car manufacturer, which is part of the General Motors Company since 1985. The brand was formed in order to provide a local manufacturer to counter the influx of budget Japanese vehicles, but was discontinued in 2010. The logo depicts the lower quarter of the planet Saturn, and uses a simple red and silver color palette.
5.9- Subaru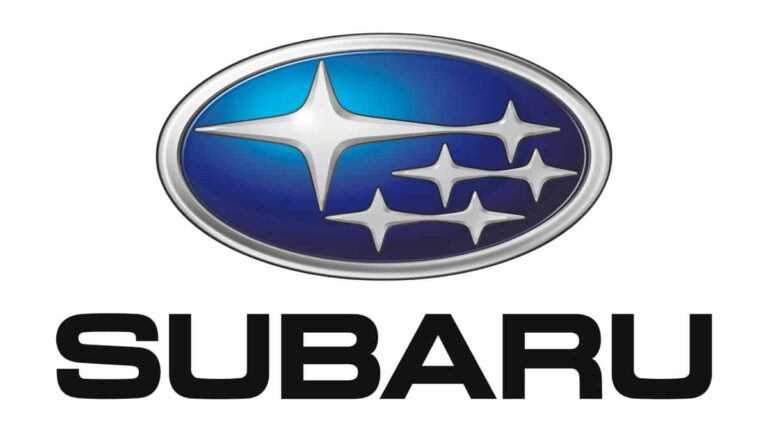 Subaru's logo is quite different in terms of design, which some consider to be boring. However, the six stars on the logo depict an important time in the history of the company, which made Subaru what it is today. The five little stars represent the five automakers who merged into a single entity, which is represented by the larger star. This iconography is depicted over the brand's iconic blue scheme.
5.10- Tesla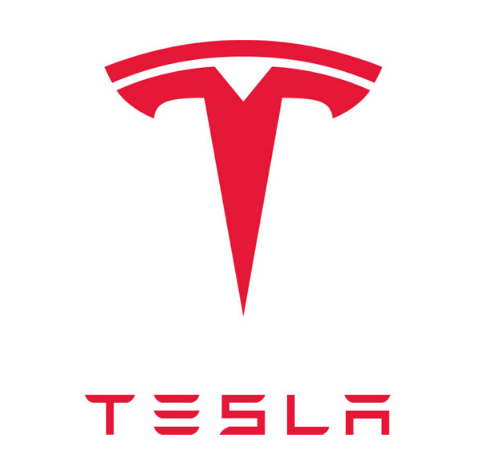 Tesla electric cars is named after famed visionary and experimental physicist Nikola Tesla, who is known for his work on alternating current and the potential possibilities of manipulating voltages and amperages. The design of this symbol makes this one of the unique car logos. The logo depicts the initial of the company, which is designed to look like a Tesla coil, thus honoring the legacy of Tesla's genius.
5.11- Toyota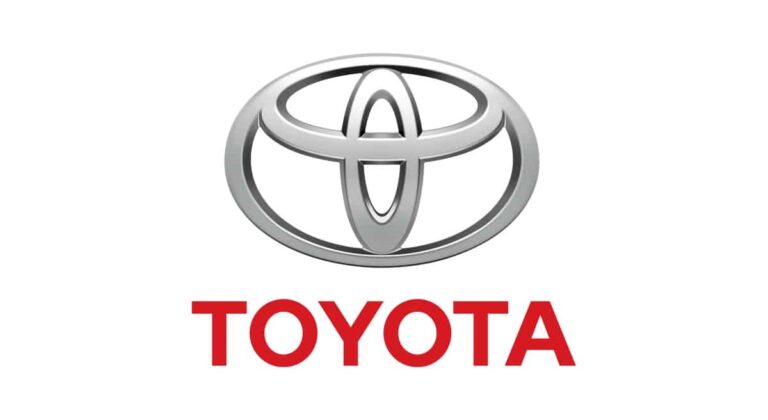 Toyota's legacy is one that puts the Land of the Rising Sun as one of the finest automobile makers in the world. The meaning of their logo is quite contested, with some claiming that it is a stylized version of the company's initials, while others think it a simple abstract design. However, the true meaning behind the three ellipses conforms to the hearts of the customers, the tech opportunities, and the cars themselves.
6- Timeless Luxury Car Logos
The majority of automotive brand symbols have seen several redesigns over the years. However, a few of these car brands have retained the same general icon throughout most of their lives.
Let's take a look at a few of these timeless car logos.
6.1- Porsche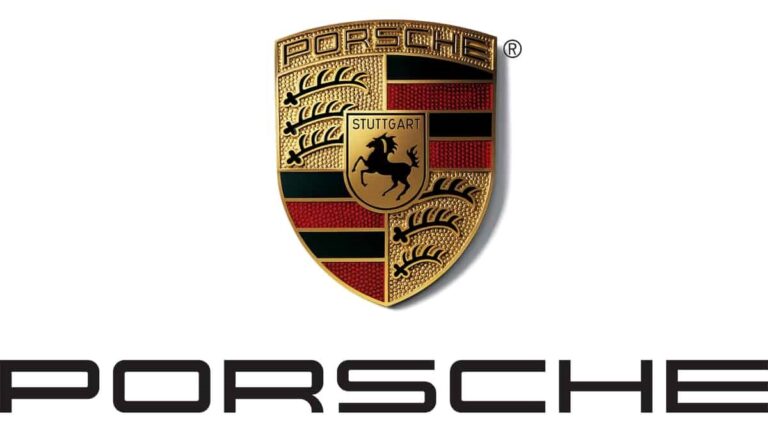 Porsche's logo is a study in timeless design. The iconic shield of the company has been gracing the brand's automobiles for decades now, with no change whatsoever to its design which features its origin city's colors and iconography – the horse signifying Stuttgart's famed stud stables, and the red and black stripes combined with antlers signifying the historical Wurttemberg Kingdom.
6.2- Alfa-Romeo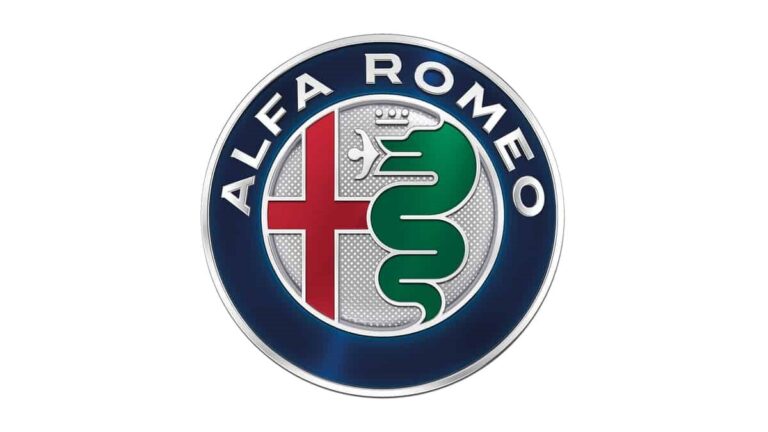 Alfa Romeo is a popular brand of Italian sports car, and is a worthy carrier of the country's performance automobile industry. Their logo features the Milanese Biscione which represents the House of Visconti who rules Milan in the 14th century. The other side of the logo features a Milanese cross, and the entire designs uses a blue, red, green, and silver color scheme.
6.3- Maserati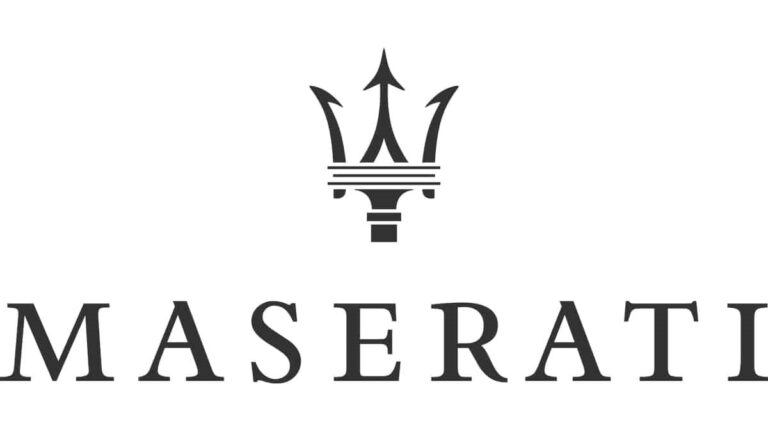 Formed in 1926, the Maserati symbol has remained largely unchanged, featuring a stylized trident. The idea for the logo was taken from the statue of Neptune in Bologna's Piazza Maggiore in Italy. The design is often accompanied by their iconic red-and-blue color scheme, which signifies their Bolognese roots.
7- How Can You Create an Iconic Brand Symbol for Your Brand?
There are a number of ways you can design an iconic logo for our automobile brand. If you are a newcomer or have no design experience, then creating your brand logo yourself is out of the question. However, there is a way around that to.
7.1- Using a Free Online Logo Maker
If you are inexperienced in the various types of graphic design, yet are short on logo design budget, one of the simplest options is to use an online logo maker tool like Canva. These tools use AI to create great designs.
However, as these tools use a mix of premade designs to create a final logo, the end result might not be as unique as you would like.
7.2- Hiring a Professional Logo Designer
If you desire something truly great and one-of-a-kind, the best option is to hire a professional logo design agency. These professionals are experts at creating truly great brand logos that ensure that your brand message and aesthetics are portrayed to your customers.
Frequently Asked Questions
Yes. Car logos are generally copyrighted or trademarked, to prevent others from copying them.
Car logos are also known as badges, and models made and marketed in partnerships are usually called rebadged versions of each other.
Famous car logos include:
Honda's logo
BMW's logo
Mitsubishi logo
And many others as well.
Conclusion
Now that you know what made these famous car logos so iconic, the next step is to learn how to design a logo as timeless and aesthetically pleasing as the ones above.
If you want to hire a professional logo design agency to create your brand symbol, Logo Poppin can help you with that. Our expert designers create one-of-a-kind brand logos that perfectly represent your company.