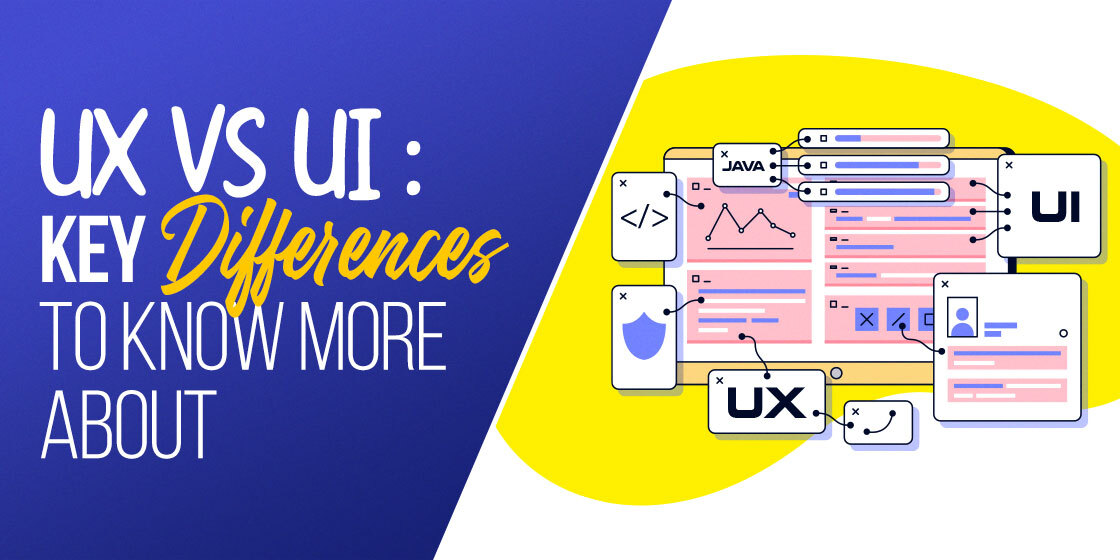 Learn About the Basic Differences between UX and UI Design
Web designing has emerged as a highly lucrative field with tons of opportunities for aspiring tech professionals. It has become an integral part of web development, hence the demand for a skilled web designer is seemingly rising continuously in the industry. To take advantage of this trend, you need to solidify your expertise in various areas of web designing. It is certainly very important for you to understand the difference between UX vs UI. Both of these look similar, but have got some key differences in terms of designing various elements.
Earlier, when the web design services were at nascent stages, there was no concept of monitoring user experience. People didn't knew what this term is and why evaluating the user experience could be significant to increase the site value. However, as the time progressed and various technologies came into the market, the difference between UI and UX started to become clearer. People realized that a user's journey on the website can be bolstered by creating an interactive UX. This started a new trend, allowing web designers to quickly understand the difference between UX vs UI.
Today, UX and UI are seen as separate designing blocks that help to solidify the front-end of any website. Understanding them is key for web designers, as they both require different types of practices. In this article, we will take the UX vs UI discussion into more detail. This will help you to understand key differences between them, as why they should be taken care of separately.
Let's first start from the basics understanding the core definition of UX and UI design below.
1. What is UI Design?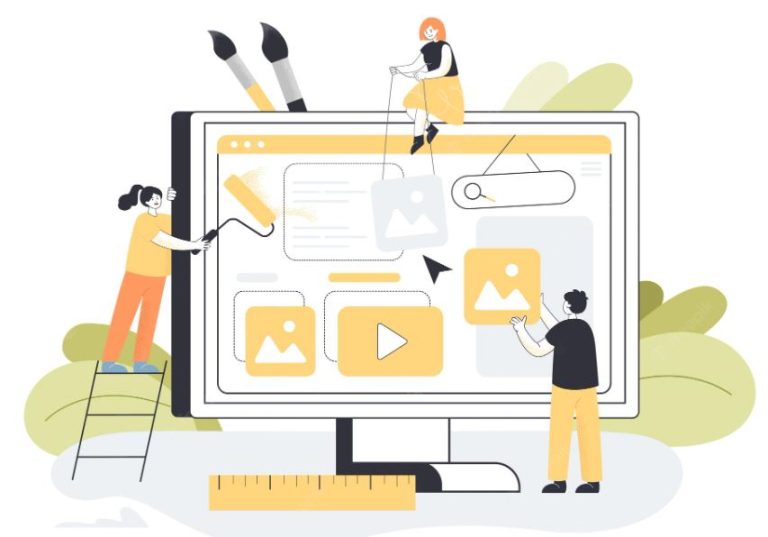 UI stands for user interface and it refers to those elements that help users to navigate through the website. This includes different things such as menu, call to action banner, sliders, and more others. All of these things are combined together with a plan to form a unified user interface. This is something that requires great planning, as well as expertise in the relevant area. The UI design is responsible to assist users in the navigation of website. It helps them to understand the interface and check out various options as per the given priority.
Many people think that website front-end only refers to the user interface designing. This is not entirely true because user experience is also an important part of front-end designing. It builds a combination with the UI design to offer perfection in the overall website front-end. The UI design undoubtedly demands more expertise, because seventy percent of the web design work refers to the user interface design. It cannot be completed with a team of one or two members, instead it requires several specialized people to handle different critical designing jobs separately.
2. What is UX Design?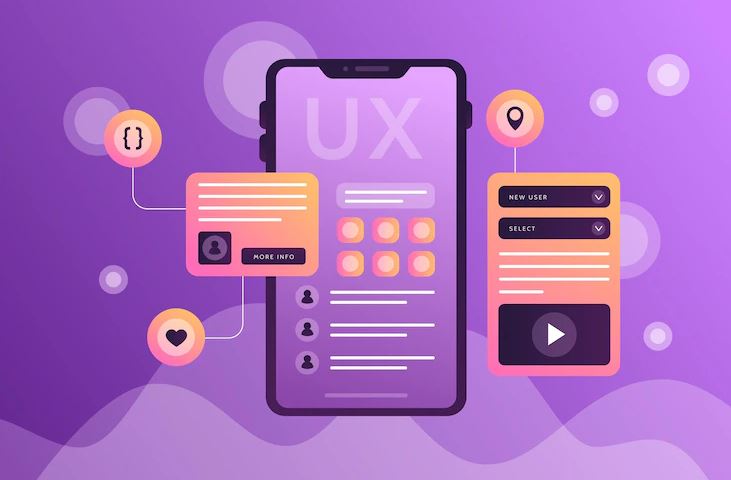 UX refers to user experience and it relates to those features that makes the experience of online visitors better on the website. This is indeed a very critical thing that needs tons of research and analysis. It could be said that designers have to conduct brief research about user experience before designing any website. They need to know which features or options will amuse the visitors more. Generally, this knowledge directly comes from the targeted audience, as the things that most of them like should be in the front-end of a website.
If you are a beginner, you might struggle initially while working on the UX design. It happens with many beginners that they could not anticipate the preferences of users while designing a front-end. They certainly need an expert advice or lead from the skilled professionals who are into this field from a long time. These guys precisely know how users react and respond after visiting any website. Their experiences can come in very handy to understand the basics of UX design, as how it should be completed according to the user preferences. Incidentally, UI/UX design is one of the most popular web design services for a small business or large enterprise alike, which shows that it will have a huge demand in the upcoming years.
3. Importance of UX and UI in Web Designing
The front-end of any website cannot get the required attention as long as it doesn't have interactive elements. This has now become a basic requirement of front-end designing, as the engagement of web visitors depends heavily on it. Websites having static front-end are now becoming outdated because people nowadays do not bother much about these types of websites. Basically, they want to get interaction while visiting any website, and wants quick answers for their queries as well. A static website cannot offer such features to them, hence they usually look out for those websites that has got some dynamic elements.
Due to this very fact, creating an interactive user interface has become very important. It ensures that the website front-end is not stationary, and it can offer the required interaction to every web visitor. Many new web technologies have also emerged keeping the same fact in mind. It has prompted web designers to think how user experience can be strengthened by showcasing creative elements in the front-end. This is the major reason why a website designer must need to understand both of these concepts. They are termed very crucial for an interactive website, especially for online ecommerce stores.
4. What is the Difference between UX vs UI Design?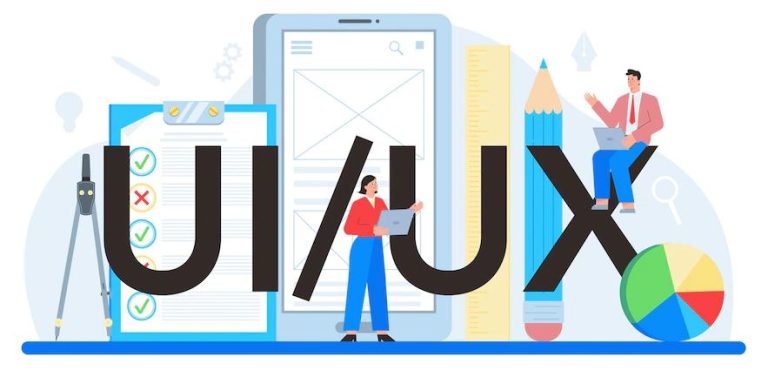 Being a web designer, you must need to know how UI and UX differ from each other. If you will not have the clarity in mind, then you could always end up mixing them while designing a website. Many beginners often fall for this trap, as they think both are equal and same. They usually realize the differences between the two when users quickly bounce out from their websites. This happens not because of a bad UI, but because of having a non-interactive UX design.
It is therefore important to understand how these terms differ and why users pay attention to both of them. Especially to cater ecommerce web design trends, having the knowledge of UX vs UI is highly important. It lets you design those key elements that can contribute to build interest of the online shoppers. This includes different things such as placement of discounted products, clear visibility, catchy call to action ads and more others. All of these stuff collectively help to build a perfect front-end that can grab users' attention at the first glance.
For beginners, we understand that the classification of UX and UI still needs to be done in a simple manner. So, we have tried to explain some of the core differences between them below to give you a more refined look at their state. Here are the points you need to know about.
UX basically refers to the experience of your overall website. It counts all the things that are designed or integrated in the front-end of the website. On the other hand, UI design refers to the designing of sections or pages that has got different interactive elements. The purpose of these elements is to help users navigate on the website. This is the reason why they should be designed very smartly.
The research and analysis required for UX design is comparatively more than UI design. It is a proper study of user behavior, as how it will respond and act after visiting the site. To get maximum engagement, designers need to put in features that can grab their attention. On the other hand, UI design specifically looks into the elements that should be designed on the pages. It does not goes into the nitty gritty of behavior, instead it focuses to make the interactive elements better on the website.
If seen broadly, UX is a very vast term that does not limits itself to website designing. It covers all the aspects of human behavior, ranging from using an application to booking flights from the internet and more. UI design does not have that vast thinking spectrum. It is limited to the digital software products, covering the points of user interaction with different types of features that are put into any application.
UX design must be finalized before starting the web design process. It is something that cannot be easily revisited every now and then based on personal branding The research part is therefore completed before, so that everything can be done with a clear mind. In comparison to that, UI design is highly scalable. It can be easily scaled up as per the emerging requirements, especially when the web design trends are quickly changing.
5. UX vs UI Design: Which One to Learn?
Many budding designers often ask which designing technique should be learned. They often get confused between the selection, as most of them think that UX and UI design are a same thing. First of all, this misconception needs a proper clearing because nothing can be learned if it persists in mind.
It is quite important for web designers to classify UX and UI design as separate jobs. It helps them to understand the requirements and goals of both these processes efficiently. There are various things that are not similar between the two, and a designer must need to know about them.
If you want to become a full-stack web designer, it is recommended to strengthen your skills on both design techniques. It will give you an advantage to tackle any web designing project on your own. Moreover, you will get better opportunities to work with different types of clients that are looking to get separate design services as per their needs.
People Also Ask (FAQs)
UI stands for user interface and it refers to the designing of website interface. It includes correct designing of menus, banners, call to action (CTAs), and more others. Usually, UI design is seen as the major work of front-end design.
UX refers to user experience and it relates to the look and feel of the website. It is responsible to create a front-end that can offer great interaction to the users. This is something that requires complete brainstorming and research before starting the actual design work.
It is quite important to understand the role of UI and UX design in making any website interactive for users. If the front-end has been designed properly, then users will find the website interface engaging. This will attract more traffic and thus reduce the bounce rate of the website.
Many people think that both UX and UI design are the name of a similar thing. Well, there are many differences between them, and a designer must need to understand them. UI design relates to designing the core elements of the front-end, while UX design primarily relates to the overall interface experience.
There are many sources available on the web where you can find tons of tutorials related to UI and UX designing. You can learn plenty of things from these sources, and can become a good UI/UX designer.
Final Words
That sums up our entire article in which we have discussed the UX vs UI debate in detail. It is important for every web designer to understand the differences between the two. Both of them are considered to be the pillar of front-end designing, hence they should be given equal attention to get the best quality results. In this article, we have listed some key points that will let you know the difference between UX and UI properly. You can then prioritize your web design work according to that, so that every project can be handled easily.
Meanwhile, if you are looking for a company that can help you to create websites with interactive front-end design, give us a call today. We will help you to develop an amazing web application that can enhance your branding portfolio strongly on the internet.