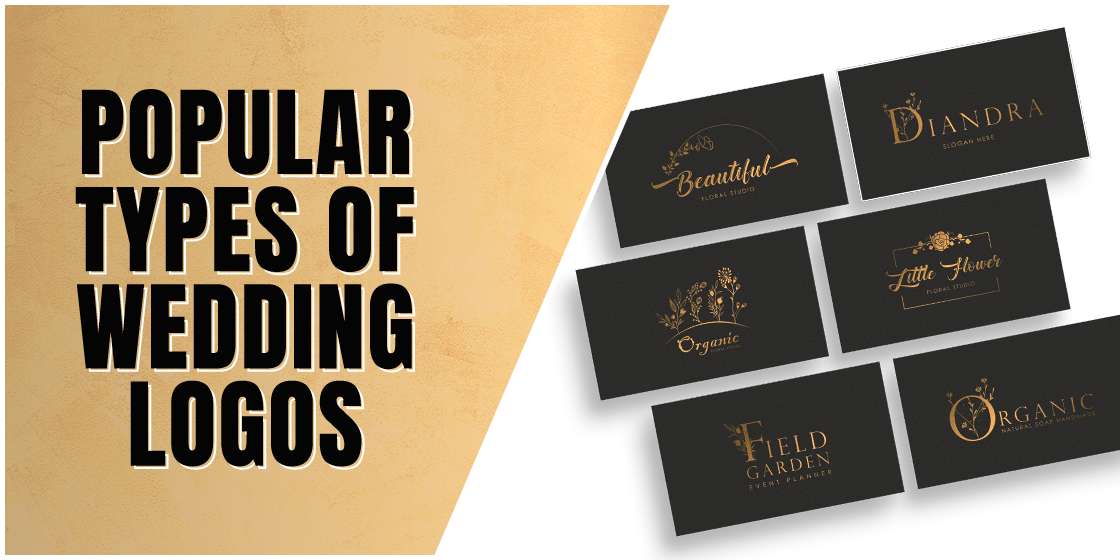 Know About the Types of Wedding Logos Popular in the Market
Wedding planning is a very lucrative business around the world. Many companies are coming into this sector to get leverage from the growing market. Nowadays, couples usually want to make their marriage memorable by hiring professional wedding planners. It is therefore essential for wedding planners to optimize their branding, so that more and more people can know about their business. The wedding logo design of these companies is termed very important in this regard as it showcases the true identity of the organization.
Nowadays, people also try to think about the services of the company by looking at its logo. Same is the case with wedding planners, as the quality of their services are also often guessed by looking at the logos. If their logo looks ordinary, then it will directly affect their market reputation. People will not consider them to hire for wedding planning, no matter how creative or smart they are.
To avoid getting this ignorance, it is recommended to solidify your wedding logo design, so that people can show more interest. All the top wedding planners in the world specifically pay attention to their logos. They know that it is the source of their identity which is why it should never be compromised by any means. From color selection to sizes, everything should be picked and designed carefully in the logos in order to present a right image of the company.
In this article, we will enlist some useful wedding logo design ideas you should know about. This will help you to design creative wedding logos, rightly as per the latest trends. Let's first understand why wedding planners need to design engaging business logos.
1. The Importance of Logos for Wedding Planners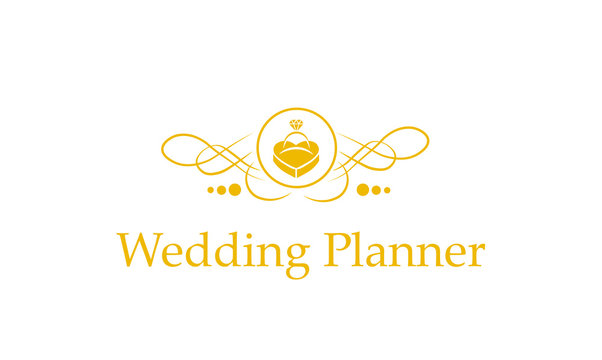 Nowadays, branding has become highly essential for every company. Whether it is a construction or wedding company, branding gives every organization an edge to get more attention in the market. It not only increases their brand awareness, but also attracts customers from different channels regularly towards the business.
Considering the case of wedding planners, branding is termed to be the most important part of their marketing. To do that, they need to first create a wedding logo design that can perfectly demonstrate the identity of the company. It should be noted that everything in branding comes afterwards the creation of logos. This emblem represents the core image of the company; hence it should be created properly in the first place.
Nowadays, there are many digital agencies working in the market offering quality logo design services. You can choose any of them by looking at their reviews and expertise in logo designing. It is recommended to always go for the top companies that have got good repute in the industry. These agencies will help you to create stunning wedding logos, rightly as per the given branding needs.
2. Types of Wedding Logo Design to Know About
Gone are the days when you just have to create a simple logo for your brand to show its identity. Today, the level of branding has changed, so are the types of logos as well. As a business owner, you need to know all about them in order to pick the correct type for your brand.
Below, we have discussed some of the most popular types of wedding logo design used by the companies. These types will give you an idea about the latest trends and what type of emblem will suit most for your brand. Let's take a look at them in detail below.
2.1 Calligraphic Wedding Logo Design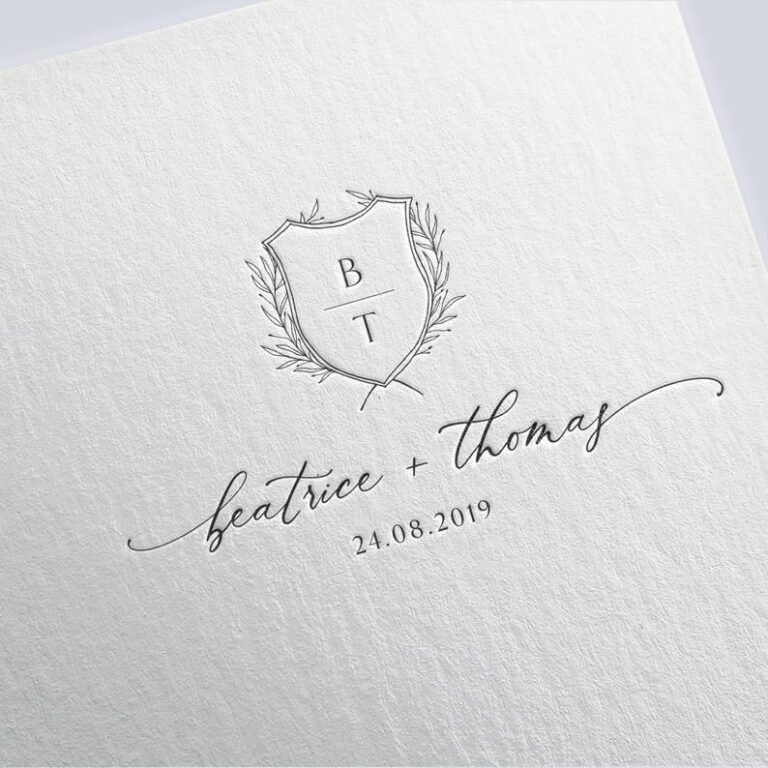 Using calligraphy in any type of design requires spectacular expertise. A normal designer with a minimum knowledge about masculine fonts or any other typeface cannot implement any type of calligraphy in an artwork. It requires dedicated skills and perfect know how about the use of right lettermark and coloring.
The calligraphy wedding logo design is therefore termed an elite level work due to its great difficulty. It offers a stylish look to the whole emblem, provided the design has been made accurately. The basic idea behind using calligraphy in the logo is to bring elusiveness in the design. It helps to bring uniqueness, as well as great creativity in the overall design of the wedding logo.
The color selection in calligraphy logos should also be very precise. It plays an important role in making the logo appealing in looks, provided the typography has also been done properly.
2.2 Monogram Wedding Logo Design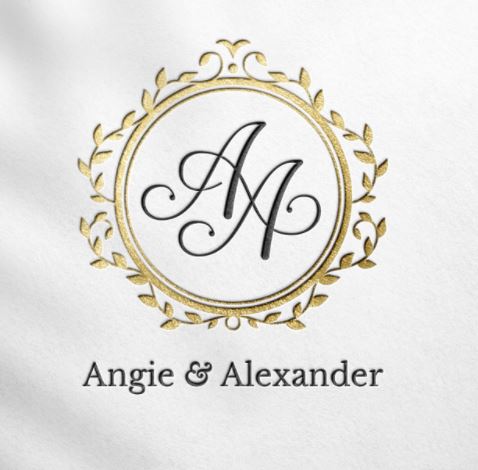 Monogram logos have always remained in fashion due to their alluring looks. They have now become a specific preference for wedding planning companies in the last few years. Many companies are now designing their logos in a monogram style, rightly because of its fabulous presentation.
A monogram logo is simply designed using the two initials of the company. For instance, if the name of the wedding planning company is Harrington Wedding, then its monogram initials be "HW". The design type could be chosen according to your preference, as there are multiple choices available for it. Generally, it is recommended to go for the blossoming style if you are designing a logo for a wedding company. It looks highly alluring, encouraging people to show interest in the business.
While designing, the size and spacing between each element of the monogram logo should also be looked into carefully. It helps to make the logo subtle, offering a very sophisticated image of the wedding business.
2.3 Modern Wedding Logo Design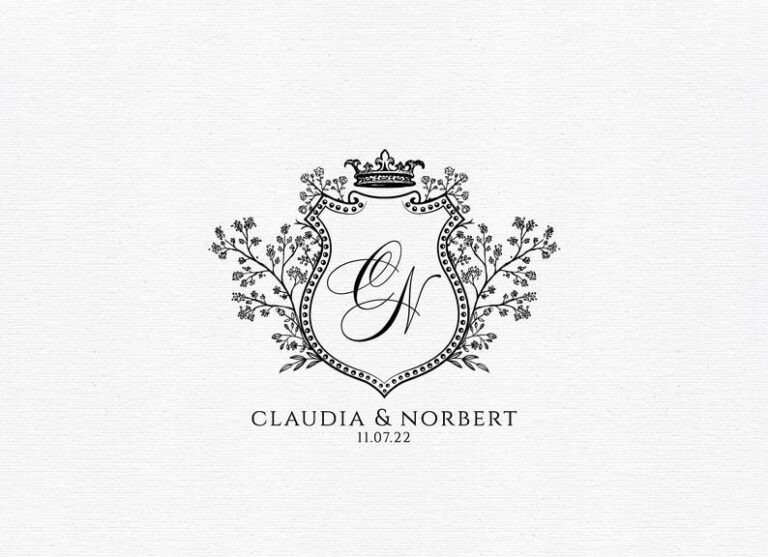 Modern wedding logos are a bit different from the above defined two types. They do not solely focus on calligraphy or monogram, but the whole design instead. Most of the time, these logos are also designed having none of the two. They are more inclined towards visual creativity rather than just focusing on typography or stylish shapes.
The modern wedding logos follow the rules of bringing innovation and ingenuity in the design. This could be done by integrating various modern concepts that align most with your wedding business. For instance, if your brand theme is related with the wedding roses, then this concept could be used in the logos as well. It will show a perfect sense of singularity in the design, allowing people to understand the real theme of the wedding business.
Similarly, any other concept that relates perfectly with your brand could be used in modern wedding logos. It is basically more flexible to design these logos, provided you have the right knowledge about the main theme of the company.
2.4 Vintage Wedding Logo Design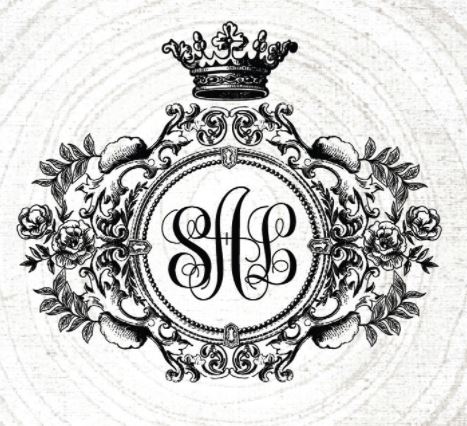 We all love vintage design for any type of artwork. It could be said that these designs are an evergreen thing that always remains in fashion. Especially for wedding logos, choosing a vintage design does look like a good idea. It brings a classic flare of vogue in the design, giving the whole wedding logo a stunning appearance.
Apart from wedding planners, many couples also choose the vintage style to design their wedding logos and invitation cards. It comes up with a great combination of classic typography blended with the creativity of a visual design. The colors required for creating such logos are also selected very precisely. Normally, people choose the combination of black and white to design wedding logos. This is certainly a very common practice, but it could also be changed as per the theme of your wedding company.
2.5 Rustic Wedding Logo Design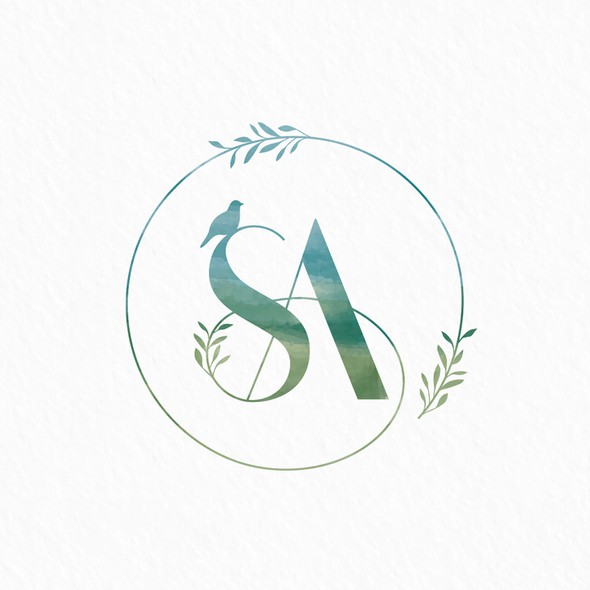 Unlike the conventional wedding logos, the rustic design takes a very different approach. It uses the nature inspired icons and figures to design the whole wedding logo. This means that you will see a lot more beautiful flowers, vines and leaves in this type of wedding logo. All of these attributes are combined together to form a single logo that can showcase a stunning theme of natural elements.
These types of logos are well decorated and more alluring in looks. The vintage font styles picked for these logos are generally recursive and italic. They come up with a more vibrant color, as it gives the entire logo an astounding beautiful look.
Apart from logos, the rustic design also suits perfect for wedding cards. It provides a very soothing and refreshing feel to the cards that instantly grabs the eyeballs of the people. The choices available to design these cards are countless, as you can easily select different types of natural styles that suit right according to your demands.
2.6 Illustrated Wedding Logo Design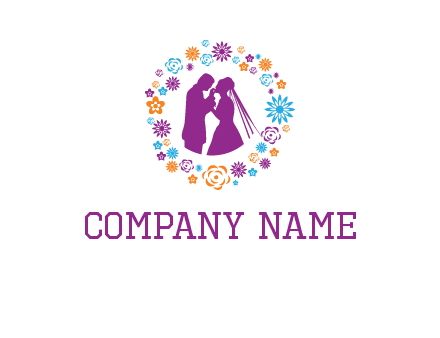 Everyone loves a design that tells some type of story or theme. The illustrated design is therefore very popular in the market as it describes a picture or central idea to the people. Their usage in the wedding logos is termed exactly perfect, rightly due to the illustration of a lovely engagement.
There are many ways with which you can design an illustrated logo. Most of the designers prefer to showcase the engagement of couples via animated characters in the logo. It is a general practice that is followed by most of the designers. However, you can also use some other design techniques as per your choice in these logos as well. This could include a fine illustration of love birds, wedding roses and more others according to your requirements.
Frequently Asked Questions
Wedding planners need to market themselves with a definitive identity. This could be done by using a logo that can showcase that image in the market. It helps them to get recognition as well as attention from the potential customers.
A wedding logo helps the company to promote its services in the market. This precisely allows them to build a strong brand identity and enhance its reach in the industry.
Wedding logos are designed using different techniques. Some are created only using typography, while some precisely focus on creative visuals. It cannot be categorized into types because it is designed in various ways as per the requirements.
To create a fantastic wedding logo, you must select an alluring theme first. It will help you to pick remaining elements needed for the design, such as colors, font, shape, etc.
There are no specific color combinations required for the wedding logos. Basically, it depends on your brand's theme and how you want to project its wedding planning identity in the market.
Conclusion
Summarizing up, wedding logos should always be designed very carefully seeing all the latest trends in the market. They offer a great impact on the identity of the company, allowing people to understand its true concept. In this article, we have discussed some of the most popular types of wedding logo design used by the companies in the market. Looking at them, you can get a good idea how to design one for yourself that can grab the attention of the people instantly.
Meanwhile, if you are a business that is not much acquainted with the knowledge of wedding logo designing, contact us today. We will help you to design creative logos that could give your business identity a great representation in the market.