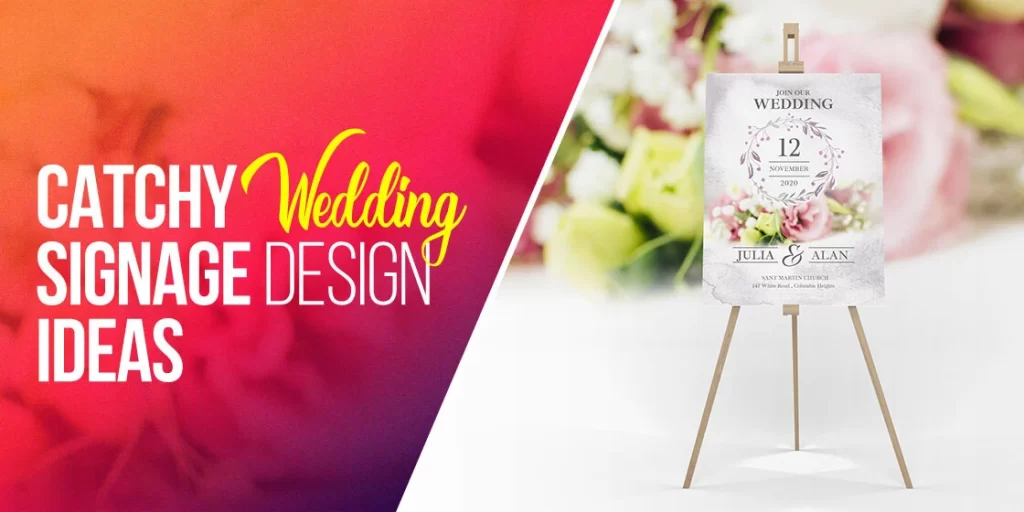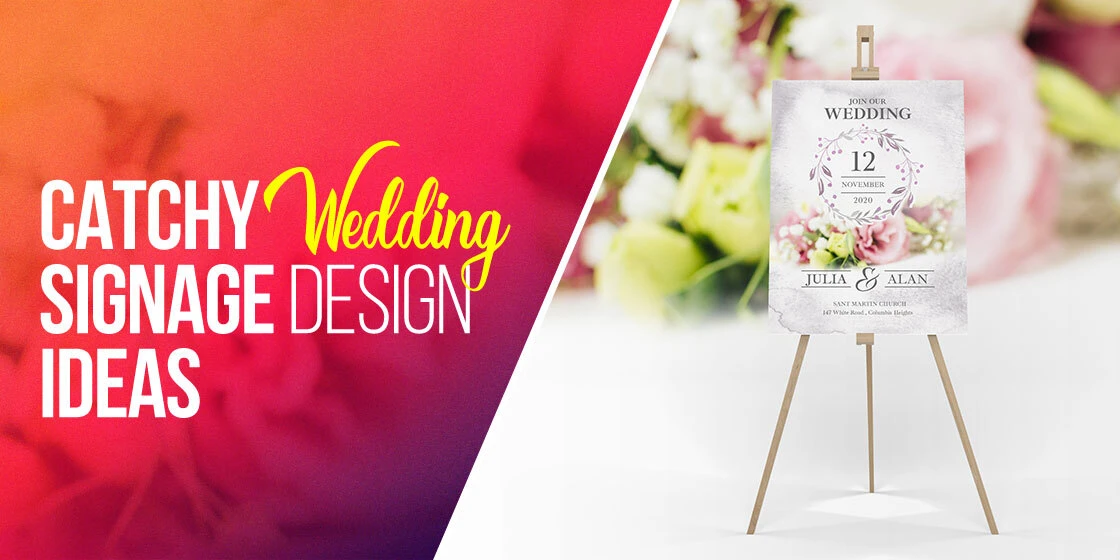 Table Of Content
Know About the Best Practices to Create Wedding Signs

Every designer must need to understand the requirements of different design projects. Whether it is a wedding signage, or a real estate business card, you need to know how to design different materials. Considering the current season, the demand of wedding signage design is getting quite popular in the market. Couples that are getting married are looking for a designer who can create catchy signage designs for their wedding. That is why you need to know about different wedding sign ideas to effectively work on those projects. It can help you to design creative signs that can get the attention of wedding attendees at the first glance.
The method of creating a wedding signage is quite different from the conventional designs. It is not something that requires too much glitzy stuff. Instead, it requires a decent design that can look clean to the eye. This is quite a straightforward concept, but it is often not understood properly by the designers. They try to design wedding signs with extra flashy things needlessly. As a result, it looks like a promotional banner rather than being a sign banner for wedding.
This concept needs to be cleared, as designers need to understand how to create these signs effectively. They need to know about different wedding sign ideas to create unique signage designs for their clients. To help them out, this article has been written to list down various important points. It will be a good read for the beginners, as it will describe plenty of wedding sign ideas to create stunning designs.
But, before moving straight to the tips, let us first understand the importance of signage design for any wedding party. Let's take a look at it in detail below.
1. Importance of Wedding Signage Design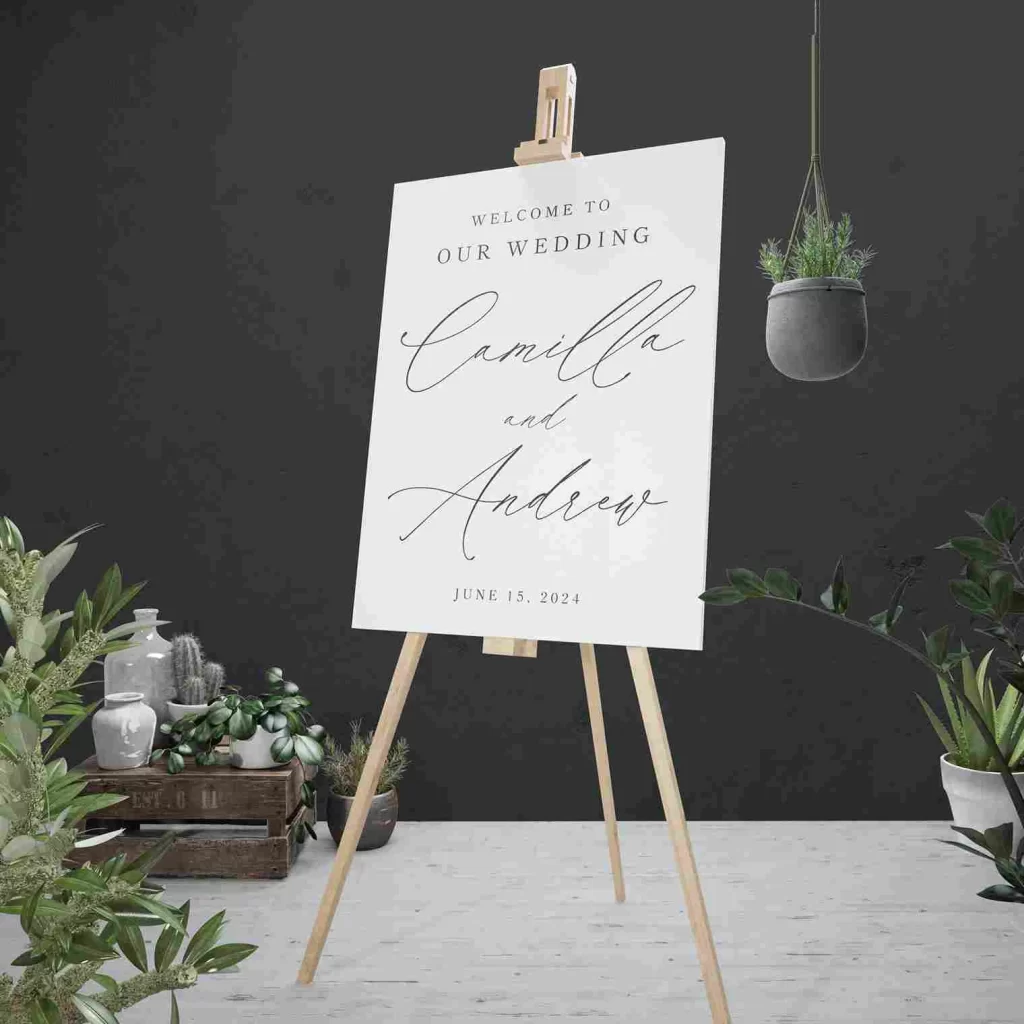 Every couple wants to make their wedding day memorable forever. To do that, they extensively pay attention to the decoration of their wedding place. The most important thing they look into these days is the designing of their wedding logos and signage design. Both of these things are important because they come into the notice of people. The wedding signage design lets the people know about the couple name, hence it should always be designed creatively.
When people come to the wedding park, they always pay attention to the signboard written with couple names. If it looks plain and boring, then they will not bother to look at it again. It automatically brings creates a bad reputation for the party, and people look disinterested to know about the couple name. It is therefore advised to design the wedding signage properly, so that people can pay attention to it.
Being a graphic design company that is being allotted the project, you would always want to create this signboard flawlessly. It is an important part of wedding place decoration that specifically comes into the notice of people. It is not just placed at the entrance but also at the stage where the couple is sitting. This makes the wedding signage prominent, hence it should be designed as per the best market practices.
2. Best Wedding Sign Ideas for Beginners
It has been noticed that many beginners often remain confused while designing wedding signs. They do not work with the basics, which is why they don't have much idea about its designing. Most of the time, they try to create it in a conventional banner style. This is certainly a wrong approach because there are many differences between a promotional banner and a wedding signage design.
If you also have questions regarding the design of this signage, take a look at the points defined below. These wedding signage ideas will help you to design these boards creatively, so that they can get everyone's attention at the first glance.
Let's take a look at them in detail below.
2.1 Minimalist Sign Design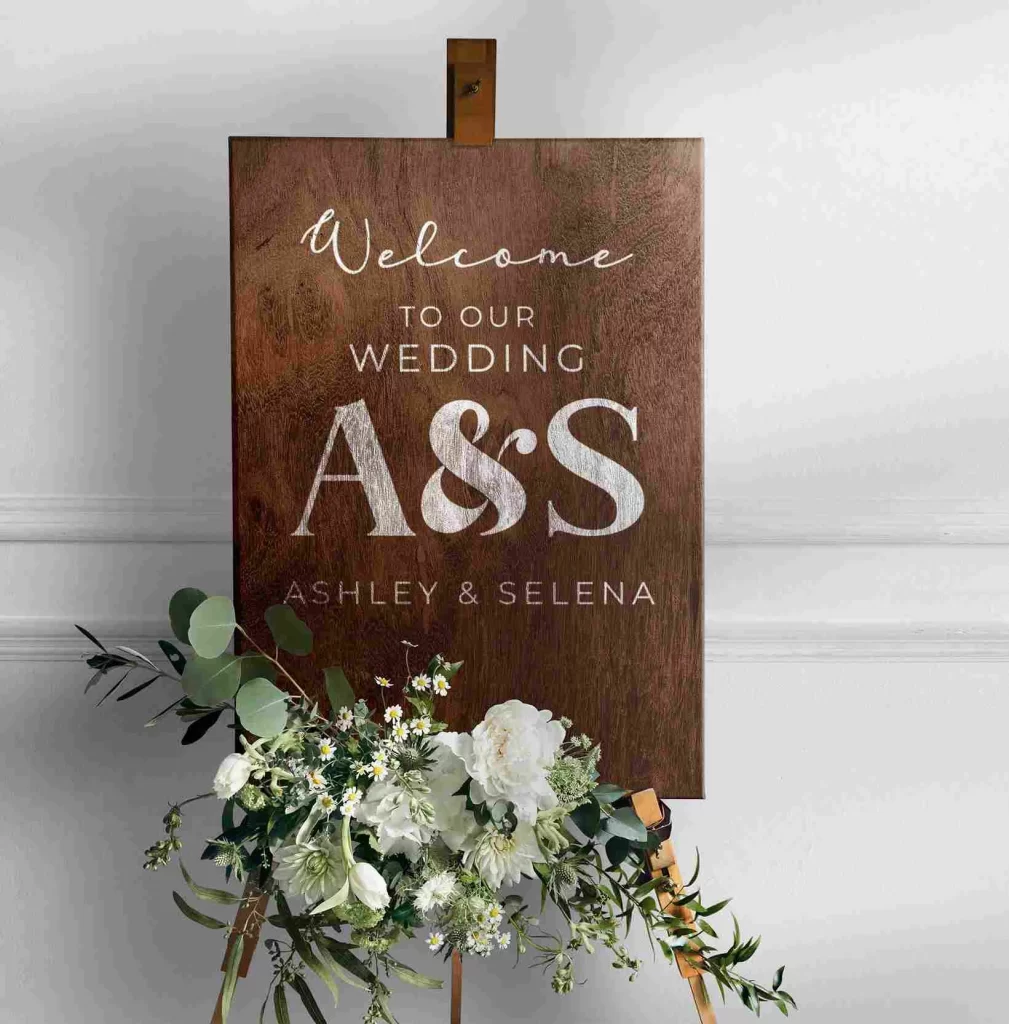 When it is said that less is more, then it means that a minimalist design is the go-to option for representation. This style is recommended best for wedding signage design, as these boards need to look decent and clean to eye. If your wedding signage will have gaudy design materials, then it will automatically look very bad to everyone. Well, nobody wants this type of signage design, hence you should avoid to design stuff like these.
The best way to make your wedding sign design look good is by using a minimalist theme on the board. This is not difficult, as you just need to use the names of couple, some taglines and other catchy stuff on the sign. It is said to be the best way to create a minimalist design for your wedding board. If you want to use a little additional stuff, then you can put up some flower vectors on the signage as well. This would bring a perfect wedding vibes on the board, forcing everyone to pay attention on it.
2.2 Classic Red Design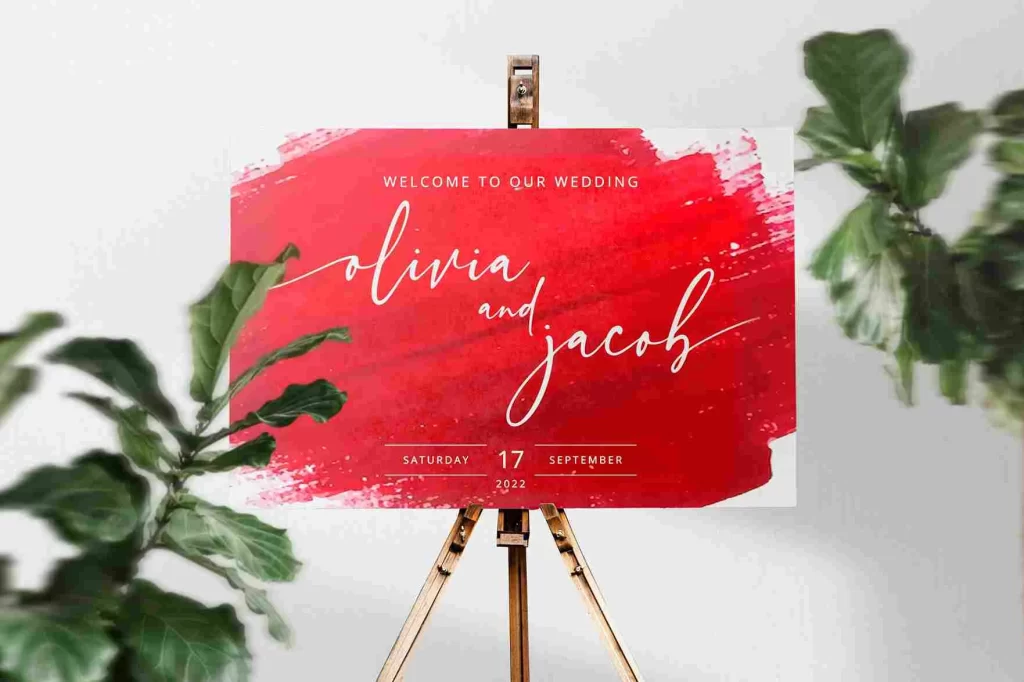 Some colors never go out of fashion, and red is certainly one of them. It is the recommended to be the pick for wedding signage design. The reason is that red color is largely associated with the expression of love, hence a special event like marriage is bound to be represented by it. Nowadays, couples really like to create their wedding signage using this color. Some of them, prefer to have light red colors, whereas some like to go with bold red.
Now, the strategy to use red in a signage board needs to be understood properly. It is kind of a sensitive color, hence you must need to understand how to use it adequately on the board. If you will try to paint the whole signage with red color, it will definitely look bad. Therefore, you need to strike a balance in between the choice of shades so that the overall signage presentation can look decent to the eye. If you are not sure which gradient will look best, take a look at different red signage examples available on the web. It will give you plenty of hints for designing, rightly as per the best market standards.
2.3 Blackboard Calligraphy Design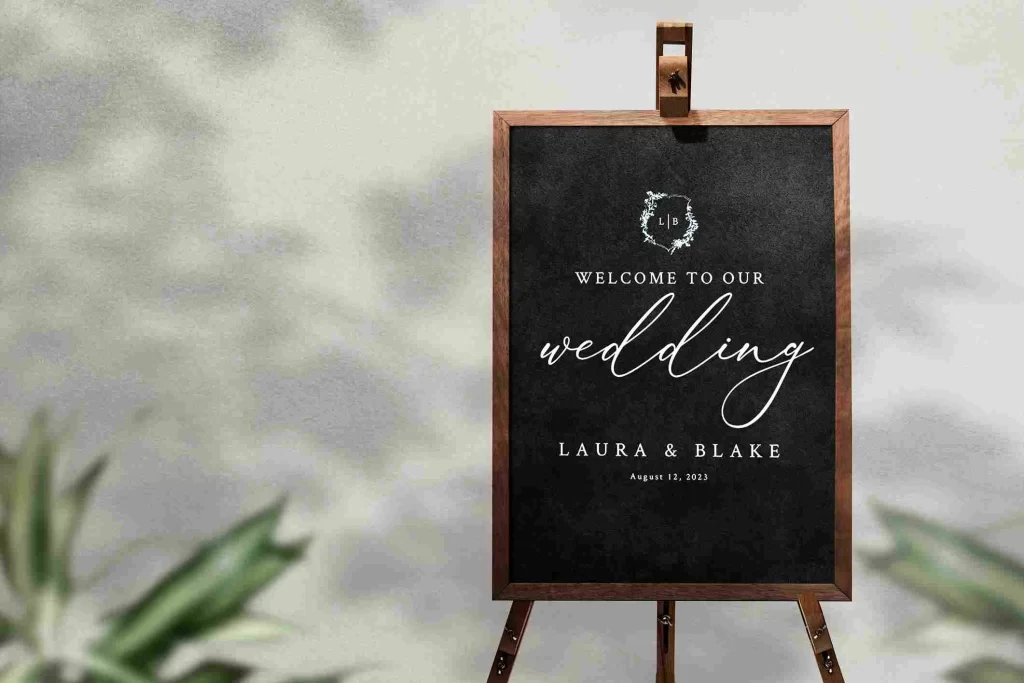 This particular signage is very unique because it does not uses conventional design materials in the wedding board. Instead of them, it uses a very beautiful calligraphy to write the names of couple on wedding signage. Some people also use it to just write lovely taglines, but those signage boards are mostly placed inside the wedding hall. Their size is generally quite big from the conventional signs, hence they are not placed at the entrance of a wedding place.
Considering the choice of colors, people normally like to go with the color combination of black and golden. It is the more preferred choice of everyone, because this combination strikes the eyeballs at the first glance. However, if you are not comfortable with this mash, you can also go with other color options as well. This includes variety of other choices such as black/white, black/red and more others. Keep in mind that these combinations must require a catchy calligraphy style, as plain typography will not help you much while using them.
2.4 Multilingual Wedding Sign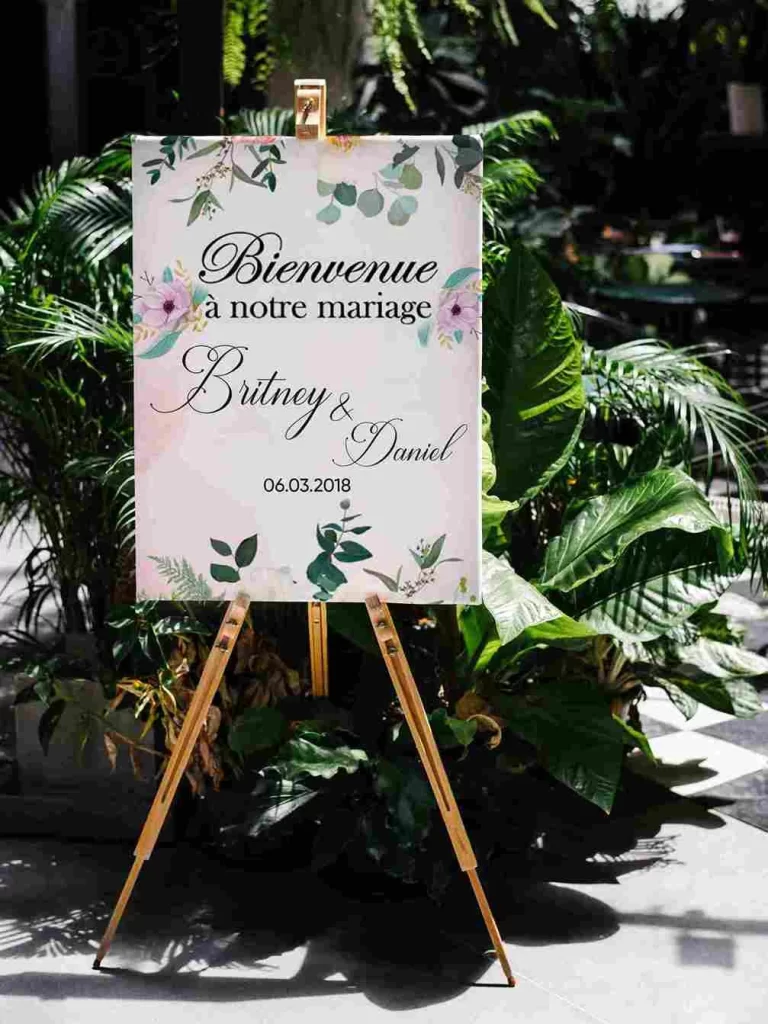 If you want to bring an additional level of creativity in your wedding sign, try to use multilingual design. It is a new concept that will portray a very distinguished image of your wedding invitation. All the attendees that are coming to park will get to see welcome message written in different languages. It will exhibit a fine sense of creativity sparkling up the wedding message in various popular lingos. It could either be short or a long one, depending on your choice of special wedding phrases.
Now, to write the wedding messages in different languages, you have to pick an elegant font style. You just cannot go with conventional typography to write these special messages. These type of multilingual wedding phrases need a specific masculine font that can showcase boldness in the design. If you will search on the internet smartly, you will find plenty of options available on different sources. As a designer, you can take some good inspiration from them and can design a creative wedding signage showcasing different languages.
2.5 Circular Wedding Signage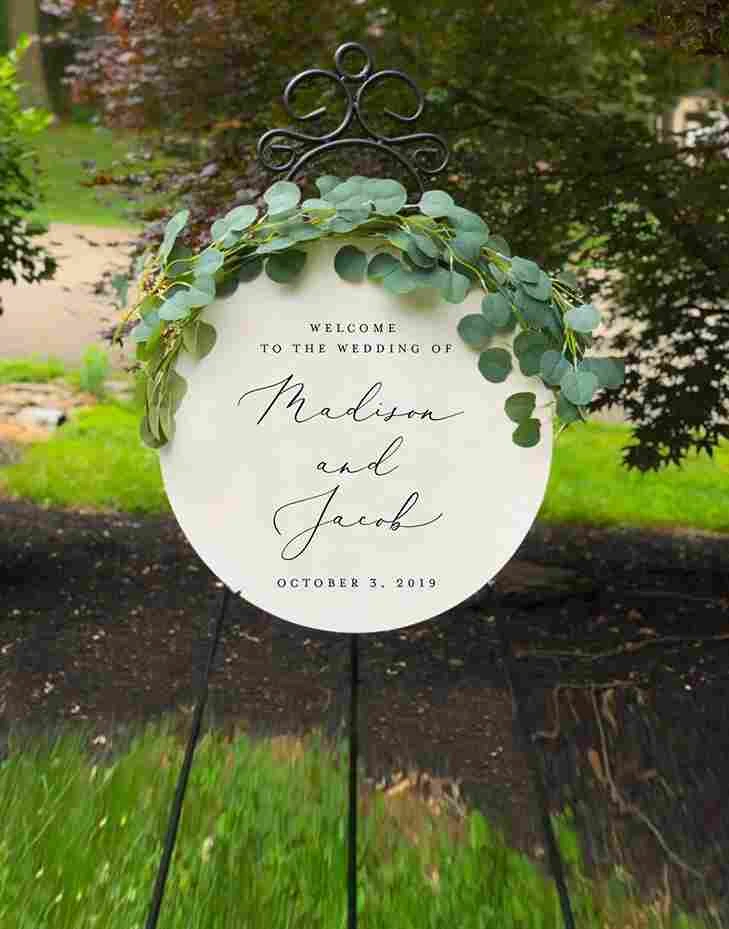 Besides using conventional rectangular signage, many people also like to go with circular boards. This is yet another a creative approach to make your wedding signboards attractive. Though rectangular design is preferred more by everyone, but using something different is also not a bad idea. The only thing you need to pay attention while using a circular board is the clear placement of everything. It is definitely a challenge to put up names and other things on a circular signage, which is why you need to do it smartly.
The color and size selection for the circular signage also needs to be done very carefully. You do not want this signboard to look too much flashy, hence you need to pick every design material for it very carefully. If you do not have much knowledge about circular signage designing, try to take help from the senior designers. These guys are pretty experienced in designing, so you can get plenty of answers from them related to circular signboard designing.
Final Words
That takes us to the end of this article in which we have discussed about wedding sign ideas in detail. As a graphic designer, you must know about these practices because there are plenty of opportunities related to wedding signboard designing available in the market. If you want to grab them, then you should have good knowledge about designing. In this blog, we have discussed different wedding signboard design techniques to help you out. You can get some good ideas from the above defined points, as that will allow you to design wedding signs with subtle creativity.
Meanwhile, if you are looking for a design company that can help you to create these wedding signs flawlessly, contact us today. We have years of experience in signboard designing, hence we can help you to design a perfect one for your special day.
Frequently Asked Questions (FAQs)
1. What is a wedding signage design?
A wedding sign is a specially designed signboard that contains couple names and some taglines for their special wedding day. It is usually placed at the entrance of the hall or park where the wedding ceremony of two hearts is planned.
2. What type of design elements should be used on a wedding sign?
It is best advised to create wedding signs with minimal design elements. It is not a signboard that requires too much design elements. It basically needs to look clean, hence try to always design it with a minimum set of elements.
3. What type of colors should be used in the wedding sign design?
You can choose different types of colors in the designing of wedding signs. Ideally, people prefer white color for their weddings signs, but based on your preferences, you can go with a variety of color options for these signs.
4. Why you need versatile wedding sign ideas while designing?
It is quite important to design wedding signs with creativity. It is a very special banner sign that gets the attention of people as soon as they enter the wedding hall. It is therefore advised to design it with uniqueness, so that it can get everyone's attention.
5. Where can you get inspiration for wedding sign design?
If you are a beginner, you need to first learn and get some inspiration for wedding sign design. To do that, you can get plenty of ideas from different marketplaces where free wedding sign templates are available. It includes websites like Freepik, Shutterstock, Pixabay and more others.