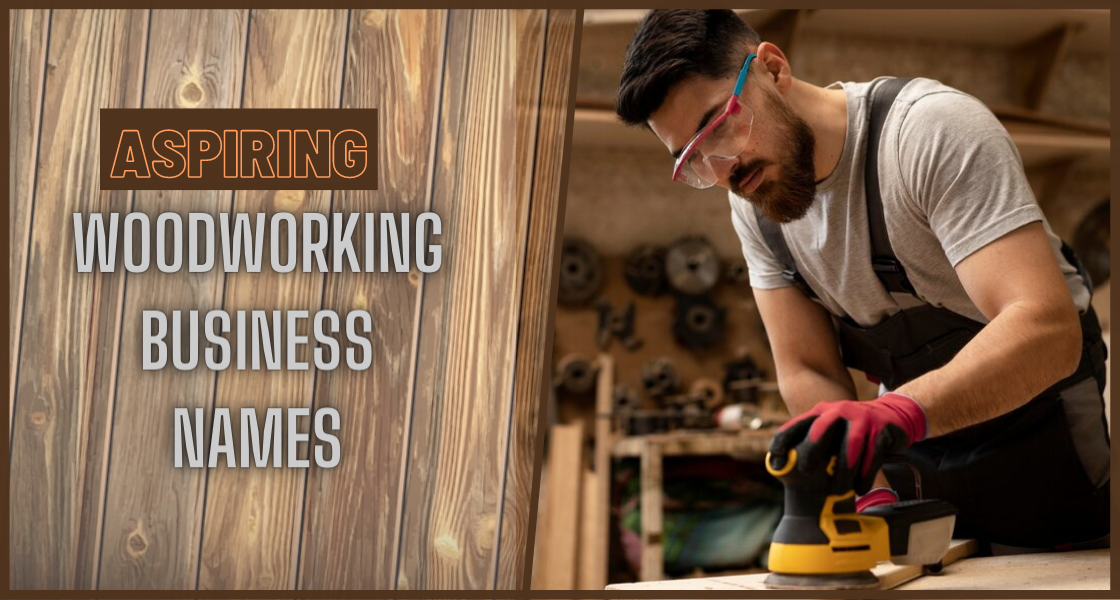 Get inspired and Discover Your Ideal Woodworking Business Names
Many skilled woodworkers generally work as independent contractors, running their own businesses. Others are usually found attached to a carpentry business. It can be challenging for those who run their own companies to come up with a name that represents your brand's aesthetic.
Many carpenters and woodworkers, in general, have a specific style that portrays their brand. Some want their brand to be all about vintage-style craftsmanship. Others might pride themselves on using high-quality seasoned wood from a particular region of the world. That makes naming your business challenging.
Finding woodworking business names that embody that style might seem complicated, given the above example. That is why we have compiled a list of 70+ business names to inspire your own.
Let's have a look, shall we?
1- Woodworking Business Names to Inspire You
Listed below are a few names for carpentry and woodworking businesses to inspire your own. A few of these have already been claimed by companies for their own but can help you develop a business title that is sure to be a success. Check out the ideas that we've come up with.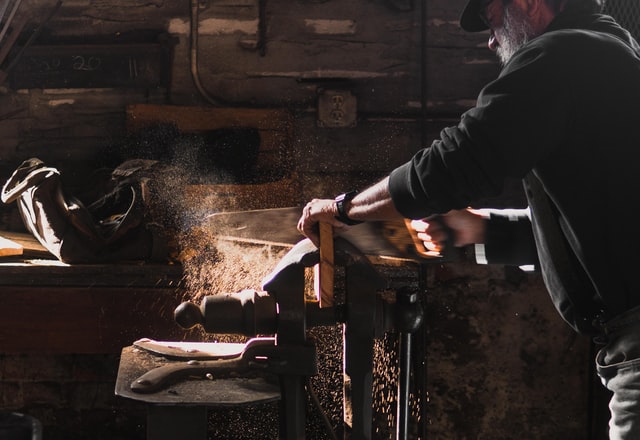 1.1 Artistic Woodworking Names
Distinction by Design
Elite Woodworking
Finecraft
Cabinets to Go
Cutting Edge Components
Grimes Wood Floors
Housefish
Good Woodworks
Living Tree Restorations
Woody Deep Root Designs
1.2 Traditional Woodworking Names
Absolute Closets and Cabinetry
Elegant Designs
Architecture Woodworking
Autumn Woodworking Inc.
A Piece of Wood
City Trees Furniture
Build Pro Woodworks
Coastal Woodworks & Display
All Finish Wood Repair
Golden State Lumber
1.3 Carpentry-Themed Woodworking Names
Arizona Custom Furniture
Allied Cabinet Corp
Champagne Carpentry
Economy Lumber Company
Globe Custom Woodworks
Magic Touch Interior
JM Specialty Wood
Metro Hardwoods
Cow Hollow Woodworks
Wolfe Woodworking
1.4 Unique Woodworking Names
Backpocket Woodworks
BBQ Wood
Cabinet Clinic
Cabinet King
Finishes on Call
Labois Woodworking
Derbyshire Woodworks
Craftsmen in Wood
Oak Brothers
Want My Wood Carpentry
1.5 Stylish and Chic Woodworking Names
Ironwood Custom Finishing
Merritt Woodwork
Bluegrass Furniture
Ameriwood
Artcraft Wood Products
Earth Elements Woodworks
Cove's End Woodworking
Harbor Millworks
Nest Building
New England Woodworks
1.6 Vintage-Style Woodworking Names
Driftwood Carpentry Services
Old World Cabinetry
RestoFab
Carver's Den
Woodstock International
Renaissance Woodworks
Village Woodworker
Acorn Woodworks
Art of Wood Designs
Matchless Builds Woodworking Services
1.7 Catchy Woodworking Names
Accents Woodwork
Best Cabinets Carpentry Services
Brown Lumber
Big Sky Woodworking
Good View Lumber
Homestretch Carpentry
The Lumber Shed
Superior Hardwoods
World Timbers Corporate
Distressed Customs Woodworking
2- Coming Up with Perfect Woodworking Business Names
Now that you have a list of popular woodworking business names, the next step is to develop your own perfect name for your carpentry and woodworking company.
Now, there are multiple ways to do that. Many websites online offer an automatic, AI-based naming tool that uses your business needs to develop ideal names. More often than not, these names are pretty generic or fail to have the desired impact.
To help you find that perfect name, we have devised a process to help you choose the ideal title to call your business. Let's look at what it entails.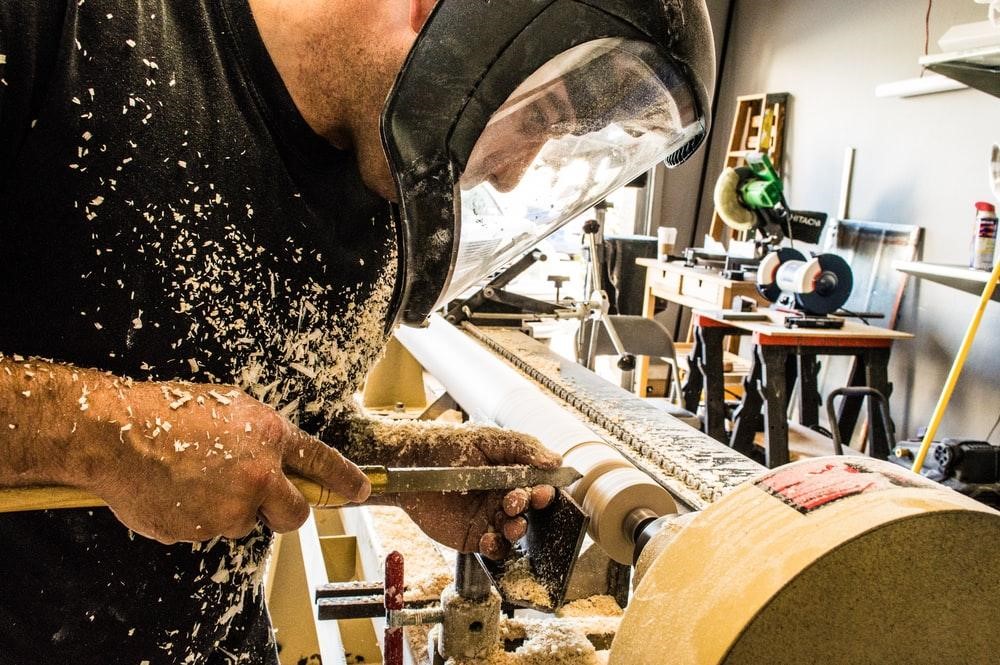 2.1- The First Step – How Do You Want Your Company to Be Known?
When naming your business, any business decides how you want it to be perceived by your prospective customers. You want to identify your brand personality. For the woodworking business, many carpenters try to differentiate themselves based on various factors. Some might want to be known for their sustainable practices. Others might want their business to be all about crafting unique, bespoke pieces for their clients.
Your business name should be easy to remember and recall, and it should have relevance to your target market. The name of your business needs to convey a sense of expectation that you want your customers to feel when they think of you.
You need to ensure that you are aware of t target demographic, what appeals to them, and what you want your customers to think of when they hear your brand's name? This will help you find the proper woodworking business names for your company.
2.2- Next, You Start Thinking of Suitable Names.
Thinking up proper woodworking business names can be done in a variety of ways. This is the part where your creativity can shine. Listed below are a few techniques, which can help you get that creativity flowing and inspire the best possible names for your woodworking business. Let's find out what they are.
List a few critical keywords that you want to be used within your business name.
Next, you need to visualize what kind of business you want yours to be. Then, think up words and ideas that embody or represent that vision to discover the best woodworking-related business name for your company.
Next, list a few adjectives that you feel describe your business or its offerings. This will help inspire the right names for your business, as you will know which aspect of your business.
Research various branding strategies to find proper names that match your brand archetype. Understanding the concept of branding will help you create a firm business name for your woodworking company.
These are just a few of the techniques businesses use to come up with appropriate names. Some people might go simple and use their names for the company, while others may ask their friends and loved ones for ideas. In short, use whatever technique that works best for you to come up with good naming ideas.
2.3- Third, Decide The Naming Strategy That You Want to Follow.
As mentioned above, there are various strategies when it comes to finding suitable woodworking business names. The ideal solution is to find the best solution that works for you. Have a look at some of the most common naming strategies employed by various businesses.
Using your Locality Within Your Business Name
Using the name of your city or your general area is a great way to attach your business to the fabric of the community. It lets the locals know about your business and portrays your roots as one of their very own.
That increases the likelihood that they will choose you over a competitor from out of town. Moreover, it allows you to use various nicknames, like "The Big Apple" for New York City, for your business name. Woodworking businesses who use such titles include:
Dallas Wooden Gems
Spokane Woodworks
Poughkeepsie Woodworks Association
Using Emotions and Sentiments in Your Business Name
Psychology is quite common in branding. It allows businesses to connect to the people, and it also allows the people to relate to the company. This two-fold effect works excellent in ensuring that companies choose you over your competition.
Certain words and images tend to elicit specific emotions. They can make people remember certain personal experiences or memories. That is quite effective in business if used correctly. Nostalgia can be a strong motivator for business, helping you gain valuable and loyal consumers.
A few examples of these types of woodworking business names include:
Wistful Woodworking
Thrush Nest Creations
Outback Woodcarvings
Wordplay Can Be Used to Make Your Brand Name Memorable
Your perfect business name does not need to be boring or serious. You can play around with words to make the perfect name that makes it easier for people to remember your business.
A great way to do that is to use puns or alliterations to make the name sound appealing. That will make the name catchy, and people will be more likely to remember it.
Examples include:
Whittled Down Works
Arborful Woodworking
Wooden Willows
Using a Single-Word Name for Better Recognition
Many famous brands have shown us the power that a single-word name has in branding. Foremost among them is that it makes it easier for a consumer to remember that name. Moreover, it can be a great way to create an iconic brand.
From company brands like Nike and Adidas to personal brands like Cher and Madonna, single-name brand names are truly iconic.
Examples of woodworking businesses who such a naming convention include:
Sapplings
StumpedWorks
ArborArtists
Using Someone's Name to Give a Sense of Personality
Finally, using your own name or a loved one's name is by far the most straightforward of these naming techniques.
Your name can connect your business to your brand, like a famous independent carpenter deciding to open their shop and naming it after themselves. Or, it could be a way to honor someone or pay homage to a personality.
Woodworking businesses who use such names include:
Amelia's Carvings
Woodcrafted by Shelby
Pa's Woodworking
2.4- Choose the Name That Seems Suitable, and Register It.
Finally, once you have shortlisted a few suitable woodworking business names, the next step is to visualize your business with each name. The name that suits your business vision the best is the one you need to choose.
Look up your local business registry to find out if that name is available. Once you know that it is available, the next step is to register it for your business area. This will help ensure that your ideal business name is not taken by another business operating in the same place.
3- What to Do Once You Name Your Woodworking Business?
Once you've chosen and registered your perfect woodworking business name, the next step is to secure its relevant domain name. Today, a website is essential if a business is to succeed. A few other ways to ensure that you succeed include: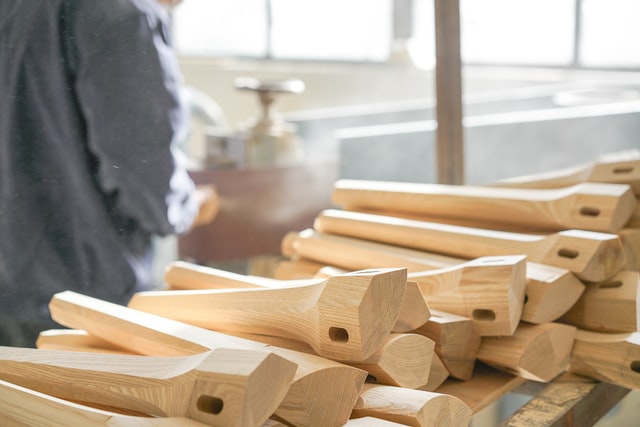 Choosing a Business Structure
Ensuring that your business is appropriately structured as an LLC, a corporation, or even a sole proprietorship, will help you reduce your liability and maximize your revenue.
Designing a Suitable Logo
A logo is a visual identifier for a business and is as essential as a name is for a company. It will help increase your brand awareness and provide a visual cue for people to remember your name. You can hire a professional logo design service to create a suitable logo for your brand.
A website is essential for a brand's success in the 21st century. It does not need to be elegant and could even be in the form of a portfolio site that showcases your products and gives out your contact information. This will help your business tap a section of the market that you would not access manually.
Maintaining Your Social Media Presence
Social media, too, is essential today for potential consumers to know about your brand. Keeping your social media handles active on popular platforms like Facebook, Instagram, and LinkedIn will help your business increase.
Frequently Asked Questions
You can either use a little wordplay like using puns or alliterations, or you might even consider using a single-word name to make it catchier and more memorable.
It depends on your business practices. If you market your company well, and provide a high level of service to your clients, then it is a very profitable business.
No it is not. If you are skilled in your craft, and are skilled in running a business, you can easily start a successful woodworking company.
You can name your business after your locality, you can use a little wordplay, or even name it after yourself.
Conclusion
Finding the right woodworking business names is not that difficult if you know how to do it. If you follow the guidelines listed above, you will find your brand the perfect name in no time.
Are you looking for a professional branding service to help your woodworking business make its mark? Logo Poppin can help you increase your brand awareness and reach previously untapped customer segments.