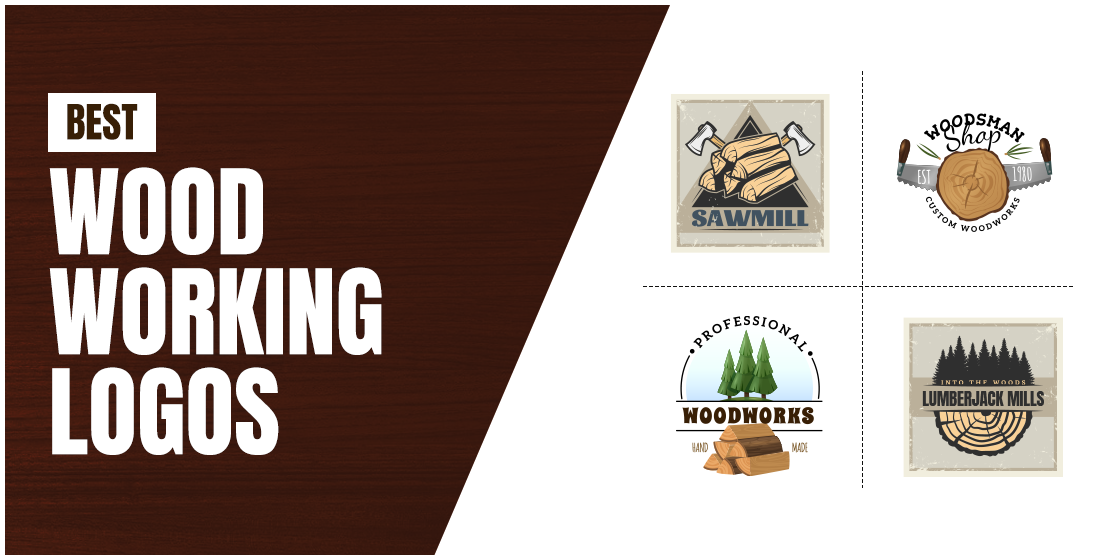 Discover How These Custom Woodworking Logos Represent the Business So Well
Working with wood, building fittings and furniture, is a popular hobby nowadays. The ability to work with your hands to carve something of great beauty from a shapeless block of wood is something that attracts many of us. And it is that same feeling that good woodworking logos aim to elicit from us, their viewers.
For a woodworker, their specialty is something they take pride in. For example, a carpenter who builds beautiful tables out of gnarled pieces of wood would be extremely proud of the items they produce. And if they run a business doing that, they would want their company logo to showcase that.
However, with few companies opting for a logo design agency for their company sigil, the ones that do opt for professional services are rewarded with a truly great brand symbol. So without further ado, let's take a look at some great carpentry and woodworking logo designs to inspire our own brand symbol.
1- Woodworking Logos – Why Does My Carpentry Business Need It?
For a new business, a logo is an important factor that helps the company establish its brand identity. That is especially true for scenarios where the services you provide are quite similar to your competition. That is why, for a woodworking or carpentry shop, a well-designed logo that embodies their uniqueness is a great necessity.
Now, why you need a logo for your carpentry business, is due to one simple reason. You need a symbol that quickly identifies your brand, and makes it distinct in the minds of your customers. That is how you can establish a unique identity in the market, and carve a niche for yourself out of a highly competitive customer base.
Different woodworking logos are designed to represent the specific carpentry niche of their businesses. For example, a carpenter that specializes in creating custom doors and window frames would want that portrayed within their logo. Similarly, a woodworking shop that creates bespoke bedroom sets out of a few quality woods would want their logo to portray the factor that sets them apart.
And that is exactly why your carpentry business needs their own woodworking business logo.
2- Wood Craft Logos and The Design Elements Common to Them
Every industry has a few design elements that signify that the company belongs to that specific business niche. Business that sell tropical drinks and cocktails generally use elements like umbrellas, pineapples and coconuts to sway the customer towards their product.
Just like that, there are several design elements and cues which can help a viewer know that the logo in front of them represents a woodworking business. Let's have a look at some of the most popular elements used in the carpentry and wood crafts industry, and see the types of logos in the industry who use them.
2.1- Woodworking Logos That Include Trees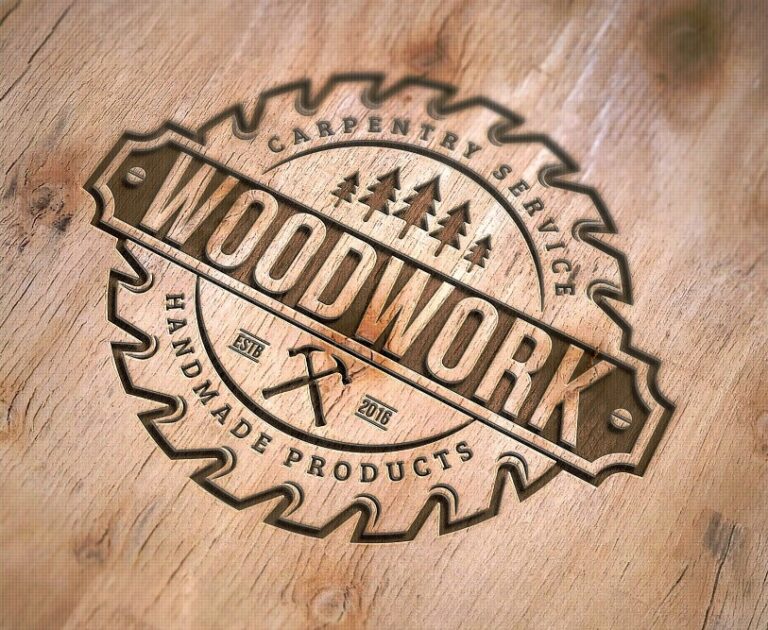 Woodworking inherently requires the use of wood, wood that we get from trees. So, naturally, the imagery of trees would be a common occurrence in woodworking logos. If we look at the wood crafts business logo above, we can see that the logo features a mix of tools and raw materials involved in creating finished products, from trees, to hammers and a rotary saw blade.
Aesthetically pleasing and perfectly portraying the business as one that works with wood, the design is expressive enough for the message to get across without the viewer having to read the text. That is how the imagery of trees within a woodworking logo helps make your memorable.
2.2- Woodworking Logos with Carpentry Tools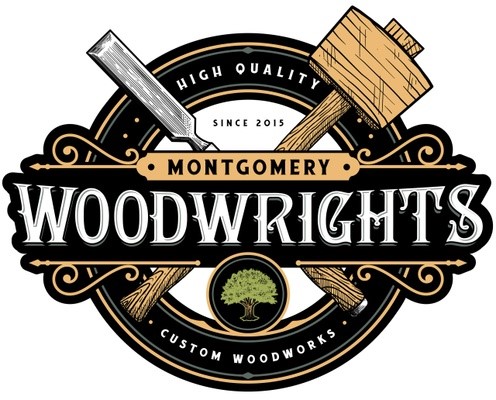 One of the most obvious elements to use, the addition of woodworking tools to your carpentry logo would be it instantly obvious what your business stands for. Moreover, different tools can be used to portray specific niches. For example, a wood crafts company that specializes in hand-carved wooden products can portray it using a set of chisels and wooden hammers.
Comparatively, a company that builds plain wooden furniture would be better off using images of tools such as planers and the like. This versatility of use, and the great results achieved by using these design elements make them one of the most popular designs incorporated within woodworking logos.
2.3- Woodworking Logos Designed Using Wood Grain Effect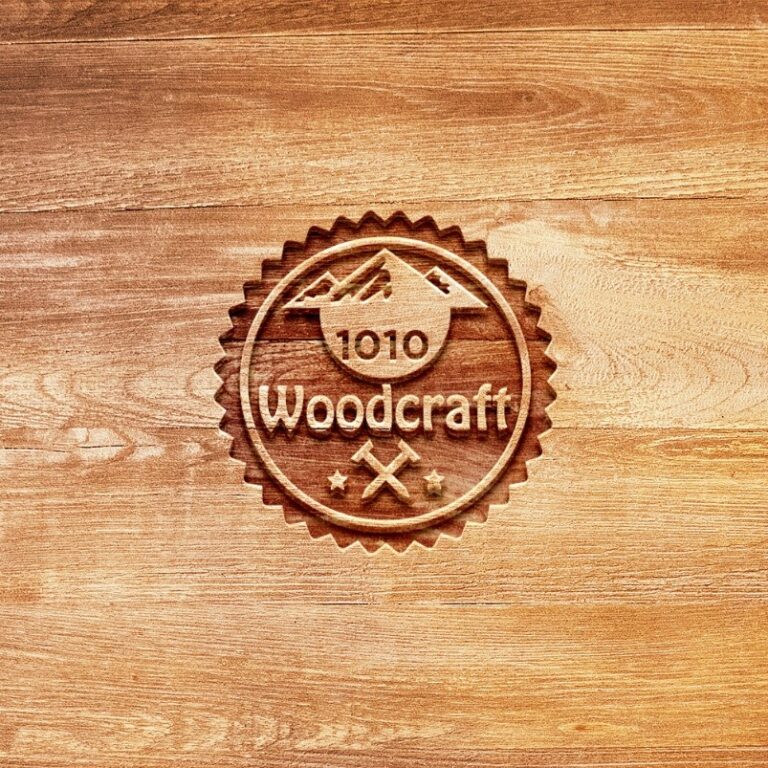 Many logos, such as the one above, use the different shades of the whorls and wood grain to give their design a sense of depth. Such logos, when used on different digital media, use a simulated texture to give the same effect, as say, it would if displayed when carved onto a wooden block.
One of the lesser used techniques, it is quite successful nevertheless.
2.4- Woodworking Logos Showcasing Articles of Furniture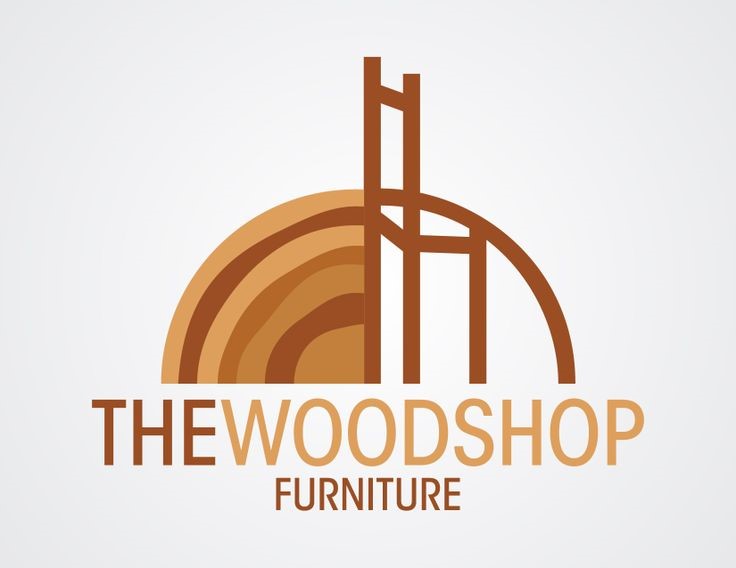 We discussed woodworking logos being able to portray the company's niche by using the right imagery and design elements. And the brand logo displayed above is the perfect example of that. Using a unique yet simple design, the logo for The Woodshop Furniture was able to portray that they build wooden furniture.
A simple concept to implement, but one many businesses either ignore entirely, or fail to implement properly.
3- How to Create Your Own Wood Craft and Carpentry Logos?
Now, there are various ways you can get a logo for your wood craft business. However, a point to note is that the quality of your custom woodworking logos highly depends on how well the designer understands your business, and what it requires from the logo.
Let's take a look at the most common options available to the majority of those looking for a brand logo.
3.1- Using an Online Woodworking Logo Maker
The first and most basic option for someone looking for a simple brand logo is to use an online logo maker too. Now, there are different logo maker tools available to create logos for businesses from specific niches.
These online woodworking logo makers assemble your logo from a set of pre-designed elements. The result is that there is a high chance that your logo will be similar to others created using the same tool. For a woodworking company requiring the most basic brand identifier, it might be the perfect option, and the most economical too. however, if you want something a little more unique and custom built for your brand, then the next option is the one for you.
3.2- Hiring a Professional Logo Designer to Create Your Logo
The best option for a business that wants to establish their identity and grow as a brand, is to hire a professional logo designer to create your brand's symbol. These experts begin the process by first understanding your business. Next, they will discover what you expect from your logo.
Once they have all the information they need, they will create designs that would perfectly compliment your brand aesthetic, and embody your intended message. Such woodworking logos would be the perfect building block for your business, helping it grow into a hugely successful brand.
Professional designers have an edge over automatic tools, in such that they are well-versed in choosing design elements that complement each other perfectly. These elements, such as the right logo fonts, color palettes, logo styles and more, are all necessary to portray the intended message, something that AI tools currently lack.
4- Custom Woodworking Logo Ideas – What Styles of Logos Can I Design?
Now once you have decided that your woodworking business needs a logo, the next step is to decide how to design a logo that compliments your brand aesthetic. There are several styles of woodworking and carpentry logos that can inspire your own brand symbol, but you need to choose one that works best with your overall intended brand image.
5- Retro Woodworking Logos for the Nostalgic
One of the most popular styles of logos in general, are designs that portray a vintage or retro vibe. With skills like carpentry and the like being considered something rare, these logos are perfect to give your brand an established, grandfathered look.
Let's look at a couple of retro woodworking logo examples.
5.1 – J. L. Woodworking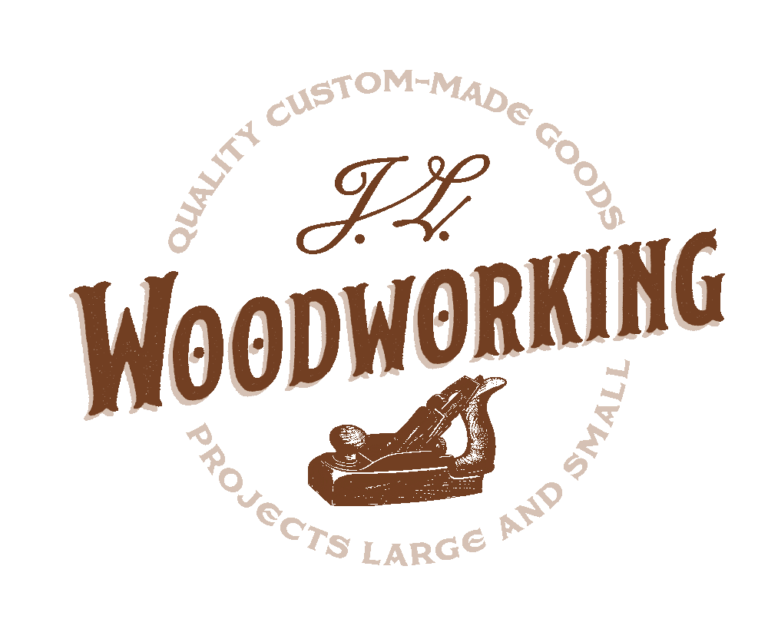 J.L. Woodworking's logo take a simple approach to giving their brand's symbol an antique look. Using a typeface that belongs to elegant vintage fonts, paired with a loopy script for the initials, gives the design a decidedly retro look. And when combined with the image of an antique wood planer, the overall design looks attractively vintage.
5.2- Inter Wood Craft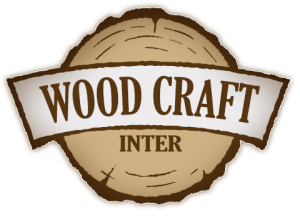 This logo for the Inter Wood Craft Company takes a simpler approach to creating a vintage logo design. using a simple imagery of a log, and a small banner with the name unfurling over it, gives it great rustic charm. The use of a classic style of font, and design inspiration taken from brand logos of old, this is a great retro woodworking logo.
6- Modern Woodworking Logos for The Fashionistas
For carpenters and woodworking companies who want to give their brand a hip, upscale vibe, a stylish logo is a must. These logos use the latest design trends to ensure that the end product exudes a modern vibe, showing that the company it represents follows the fashion aesthetics of today.
Let's take a look at a few examples of modern wood craft logos.
6.1- Willington Woodworking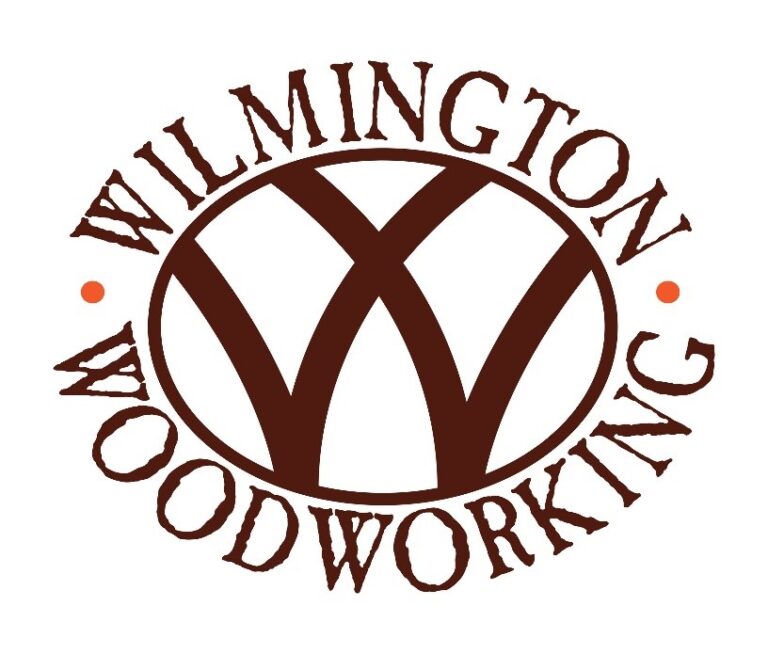 The first example for a modern woodworking logo on our list, the brand symbol for Wilmington Woodworking is a great logo that manages to combine elegance and modern charm. Combining the two, it exudes a sense of simplicity combined with elegant modernity.
6.2- The Grain House Woodworks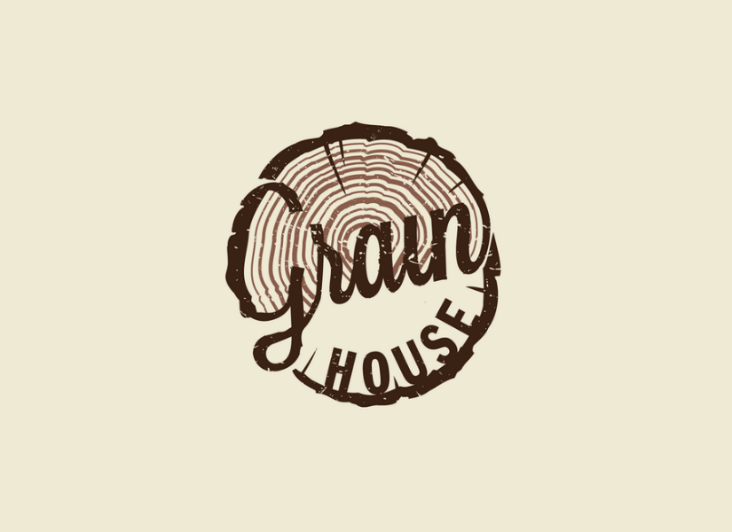 The logo for Grain House is another modern logo that goes for minimalist design to portray its. Using just a pair of fonts and a basic illustration, the company manages to portray that it works with wood. That makes it a great example of simple, yet highly expressive logos, making it the perfect candidate for a fashionable, modern logo design.
7- Playful Woodworking Logos for The Whimsical
Many companies do not aspire to be the stiff and serious businesses their competition might have. For those brands, there are several other option, including the option to design a fun logo. And the examples below portray just that.
7.1- Rustic Valley Woodworking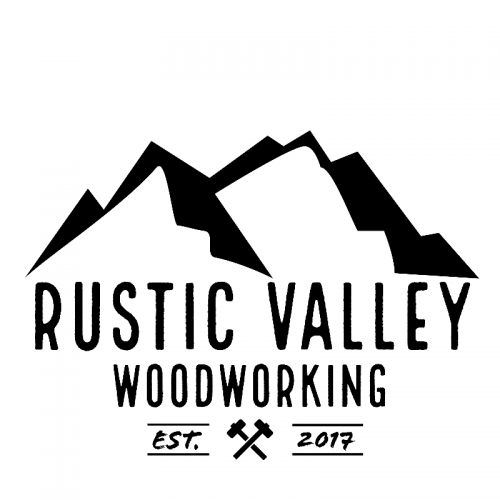 Rustic Valley Woodworking might look like it has a simple and straightforward logo. But if we consider the name, as well as the company expertise in construction, then the imagery above the logo's wordmark can be construed in two ways. This efficient use of negative space to give the effect of both craggy mountains as well as the roofs of houses, depending on how you look at it, makes this logo quite different from the others on this list.
7.2- The Lumber Jack Club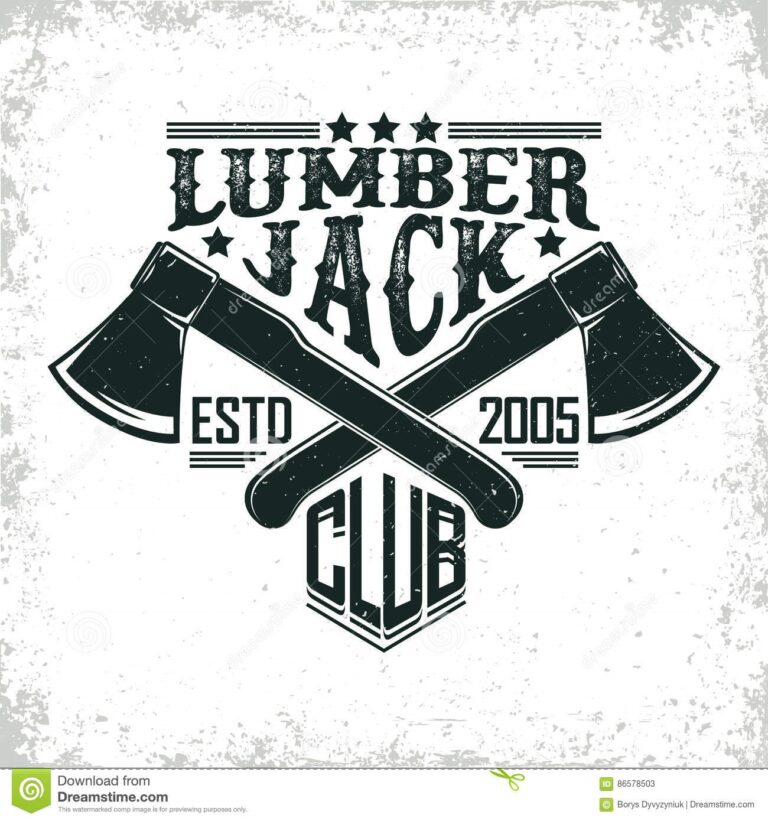 There's no logo full of more fun and intrigue, then the one for Lumber Jack Club. At first glance, the symbol looks to be a symbol representing an entity for people who are in the business of felling trees. However, combined with the name of the business, it is a fun way of representing a woodworking business and setting it apart from the competition.
8- Elegant Woodworking Logos for The Regal Aesthetics
Finally, for high end carpentry and woodworking businesses, regal woodworking logos that represent the elegance of their products are in high demand. Now, it is not just the apparent beauty of the products that can make that carpentry shop exclusive. It can also be portrayed via logo designs that portray their business as creators and purveyors or custom, bespoke items.
8.1- K. Alger Woodworking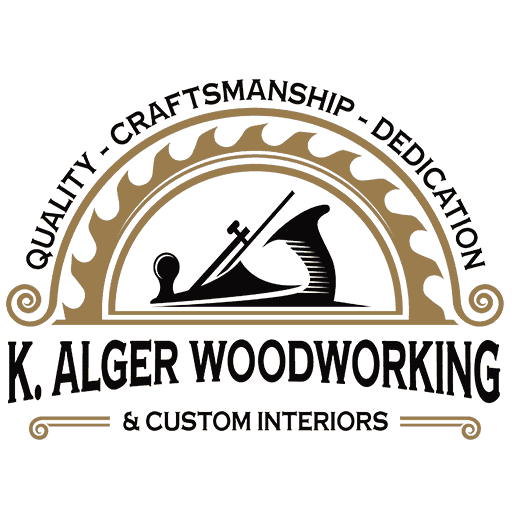 The first of our elegant woodworking logos, K. Alger Woodworking sports a logo that is highly functional, yet has the elements designed in a way give it a look of regal beauty. The matte color palette, combined with design elements that take inspiration from both the new and the old style of design, this brand symbol is a great for representing a wood craft business that deals in custom, high end wooden products.
8.2- Oakwood Custom Woodworking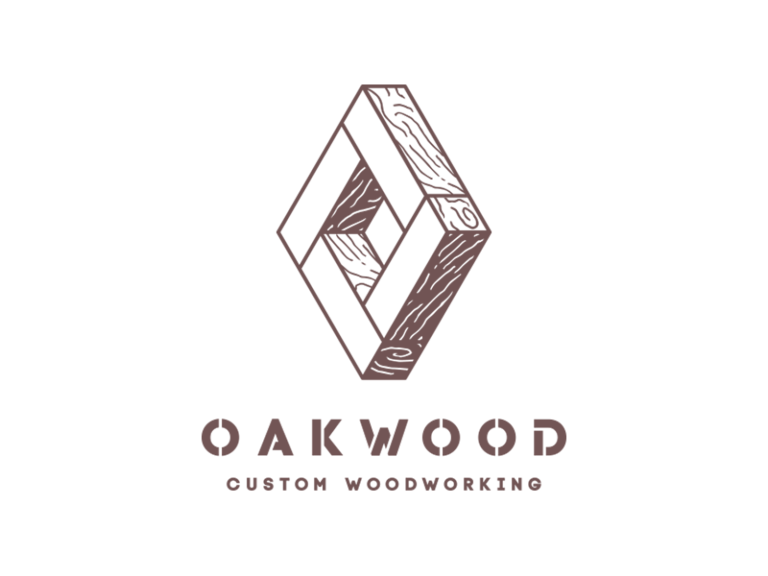 The simple design of Oakwood Custom Woodworking might seem a little bland to some, but for those understand logo design, it is a masterpiece. Using a simple design for the image element, the company uses a plain uppercase typeface, made to look like the characters are assembled from different pieces of wood. That not only looks good, but is a very different approach to simple elegance.
What Style of Woodworking Logos Suit Your Aesthetic?
Now that we have discussed a number of woodworking logos and the various styles they embody, it is up to you choose the style that best suits your brand's dynamics. Once you find the right fit, you can hire a designer to create logo designs based on that brief, helping you find the best fit for your brand.
Frequently Asked Questions
You can create your woodworking logos by:
Using an online woodworking logo maker
Hiring a professional logo designer
To create woodworking logos suited for business cards, you need a vector graphics file for your logo. You can:
Hire a designer to create a vector file of your existing logo
Hire a designer to create a new logo for you, and include a vector file in your deliverables.
To get a woodworking business logo free, you can use a free online logo maker to create one for you. However, these tools do not share the design's vector file with you, making it hard to scale the logo for various purposes.
Woodworking logos usually contain:
Trees and wood
Axes and saws
Carpentry tools like chisels, hammers, planers etc.
Wooden articles such as tables, chairs, armoires etc.